Peer-to-peer marketplaces are mushrooming across the globe. While the idea of sharing house and car to make few extra bucks is already popular, now you can even make a pretty penny for renting out your basement or garage. For that, you need an online marketplace where users can search for storage, including privately owned parking spaces and garages. It solves a big query of many users, who find it difficult to keep their items or cars in cities for a limited time.
It is known fact that storage facilities can be a pain. It is a billion dollar unregulated sector where the affordable ones are far away, and anything within city limits is ridiculously expensive. Yet Americans spend more than $30 billion on storage units each year. Websites like Roost, SelfStorage, and Boxbee provide a simple answer to those users by connecting them with hosts who have unused space in their basement and garage. Due to the growth potential of this sector, FATbit Technologies did an in-depth analysis of this business model and key website traits that will help any entrepreneur start a storage space marketplace. Before we move ahead to analyze required website features, let's take a look at the business model and how can a website based on such business model make money.
Business Model of Storage Sharing Marketplace
A peer-to-peer marketplace for self-storage and parking connects people who have extra garage, closet and basement space to people in need. Often website pertaining to this business model are termed as Airbnb for storage. Users list their available space on the platform, which can be booked by renters.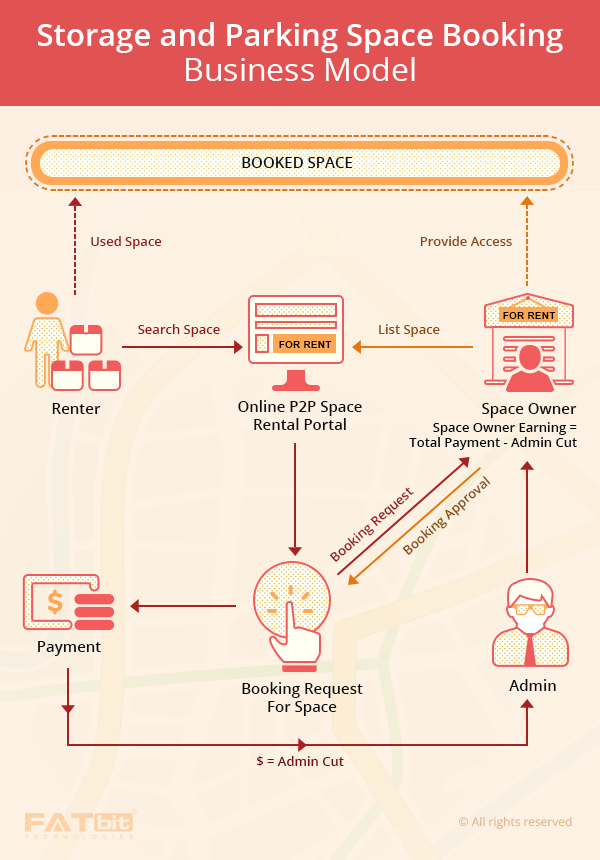 How Do Such Websites Make Money
One of the vital things to note is that hosts decide what they are willing to store and how much access they want to grant to the renters. This is where the privacy lines is drawn. Although listing on the platform is totally free, the website take a percent fee from each transaction as commission. You can also employ paid listing on the platform, where some users push their listing to the top for better traction.
Targeted market
The target markets for such platforms are high-density city centers with low urban sprawl and high property value. The target users are split into two categories—hosts and renters. Hosts get to earn money from their unused space while renters get economical storage space without the need to buy additional storage for short term.
Website Overview
The overall website design of a website based on this business model needs to be user engaging and ought to have a distinct feel to it as compared to traditional websites. This can be achieved by focusing on the interactive nature of the website, designed in a way to make everything look well-organized. The easy to navigate website offers a user-friendly browsing experience. Let's take a closer look at each functionality to have a better understanding.
Also Read: Looking for a P2P Meeting Scheduling and Planning Website? Crosscheck these Script Features
Homepage
The moment a user lands on the homepage, they need to have a viable understanding of what the website is all about. A banner with a prominent message, search option, and relevant imagery instantly communicates the core architecture of the website with the user. Most peer-to-peer platforms use this strategy on their homepage to attract users into using their service. Other key recommendations by FATbit analysts include:
A top banner that houses vital links to login/signup, become a host and how it works.
Search is the key aspect for finding a particular listing which is it has to be placed prominently on the homepage.
Process flow diagram for user registration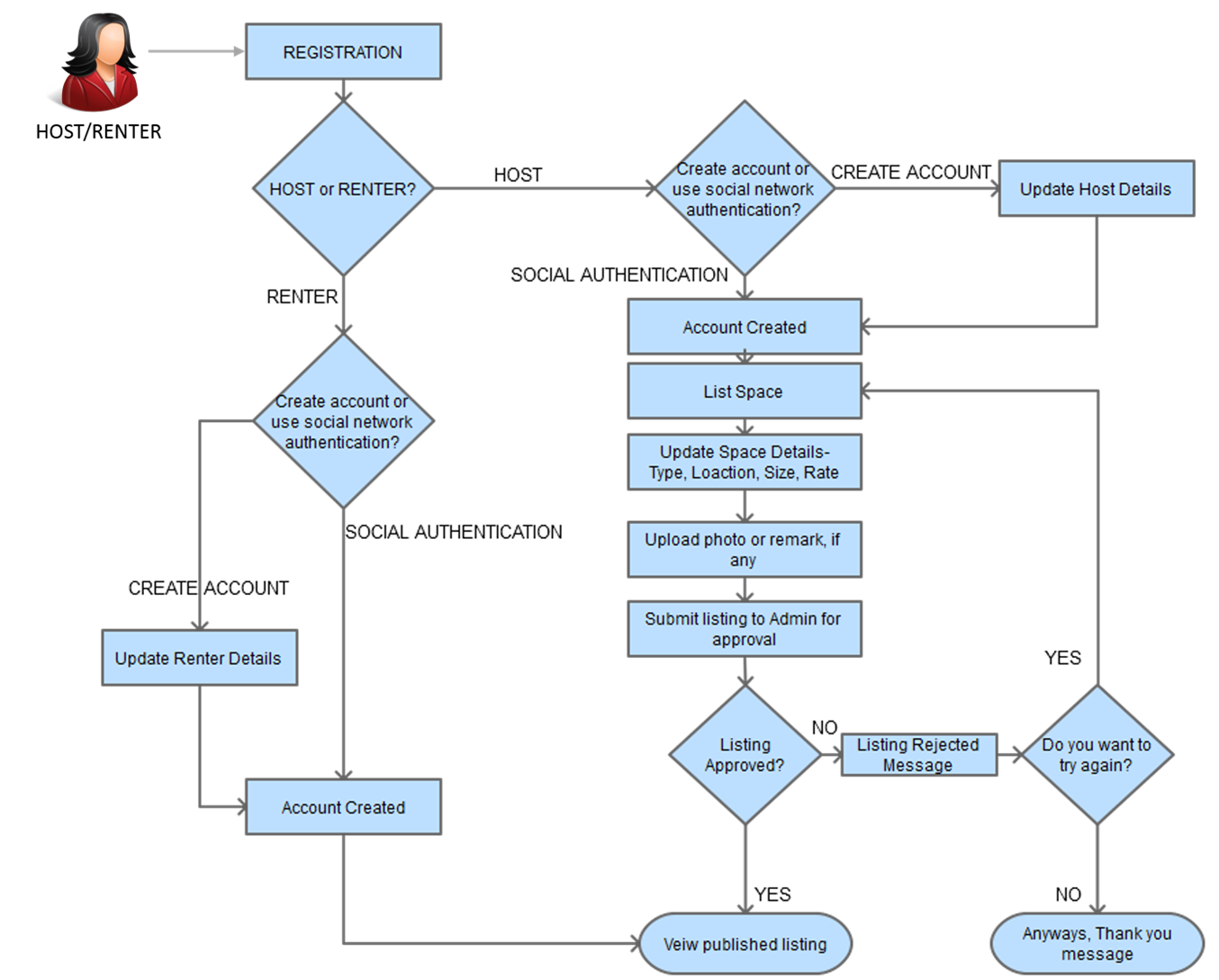 Click to Enlarge
Benefits for Renters
The second fold of the website should follow the same theme of enticing users by displaying a user engaging image along with benefits. The benefits can include:
Cashless payments
Transparent pricing
Availability of local storage
Flexible terms between renter and host
Process flow diagram for booking a space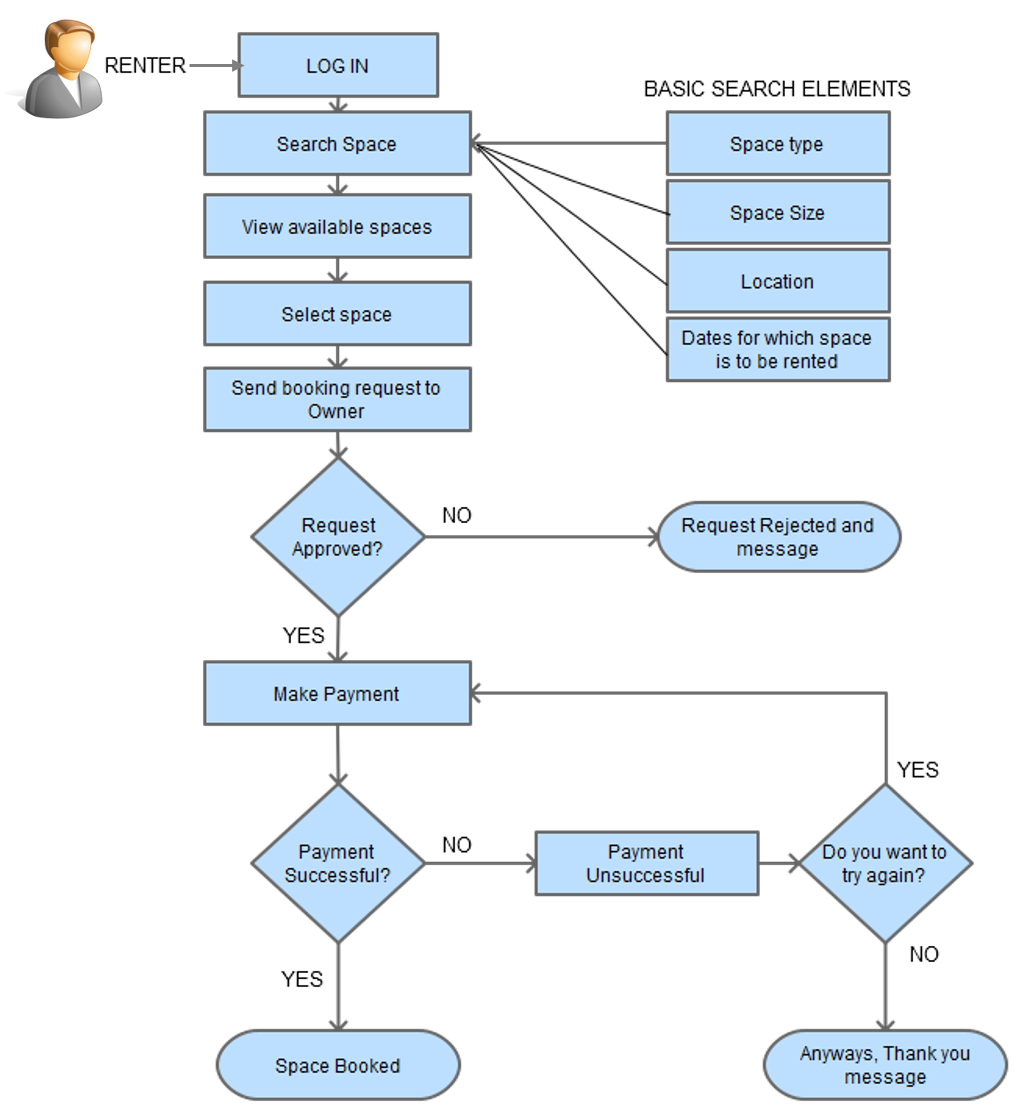 Click to Enlarge
Benefits for hosts
Because such websites work on a peer to peer platform, it has to take both its user base into account. This is why like renters, you also have to showcase benefits for hosts on the homepage which can include:
Passive Income
Quality Renters
Full control over space
Guaranteed payments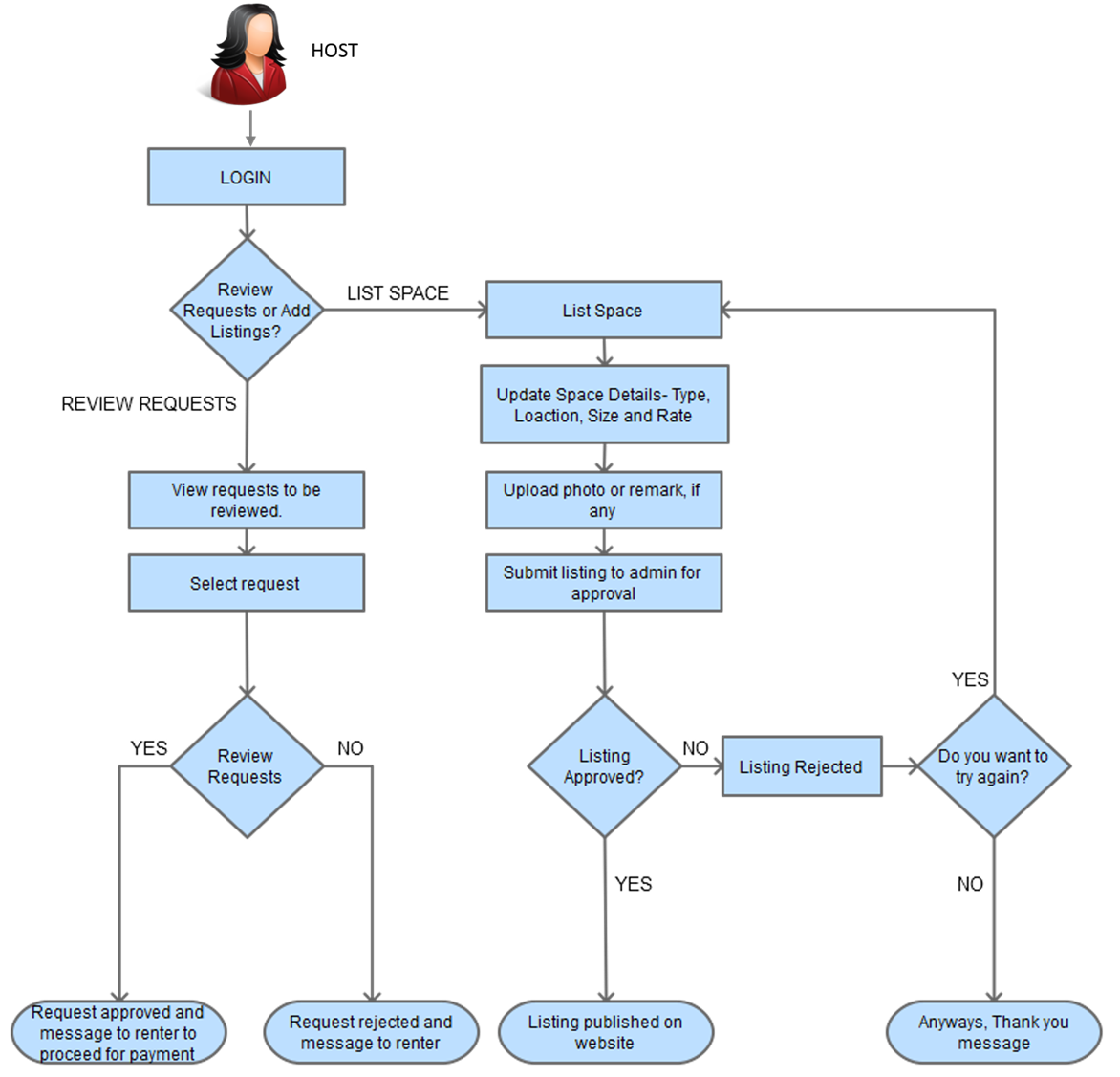 Click to Enlarge
Media Coverage
In the current age, startups often get featured in the news media. Leveraging media coverage of your online platform is essential to gain trust of the users. Most of the websites fail to take this strategy into account. You must have a dedicated section, which displays links to prominent media houses which have covered your website. FATbit analysts are of the view that this approach is highly effective and recommended.
Suggested Read: Launching P2P Freelancing Marketplace: All Critical Script Features
How it Works
As this is a niche market, some of the novice users might have some queries related to how it works. Keeping the best interest of such users into consideration, you must have a dedicated webpage named "How it works" which describes how the platform works for both hosts and renters. When it comes to the former, the overall process can be streamlined into four different steps. These include:
List your space
Communicate with the renter
Coordinate with renter to lease out your space
Get paid
PRO TIP: Use of eye-catchy and properly placed CTAs can surely increase the conversion rate of your website.
Similar to the hosting, you also need to focus on "How it works for renters", which takes into account the overall process of renting space on the platform. This includes:
Search for space in a particular location
Contact the host
Reserve space
Confirm the booking
Informative pages like these are highly vital from user's perspective, making them accustomed to the overall functionality of the website.
Signup
The signup/Login page should have multiple options like choosing the traditional way of email and password or signup via social network authentication. After creating an account, users can be forwarded to a popup screen which asks users their requirement:
Rent a space
Host a space
Others
It is essential to note that customer and a user does not need separate accounts for renting or hosting.
Dashboard
In the current age of web design, it has become essential to have a whole different approach. Having a unique identity is the need of the hour. This is why FATbit analysts believe that a web application approach will be more user engaging. The dashboard ought to be user engaging and all the information is available in relevant places.
The top bar can house search, messaging, listing and other important sections.
The bottom right corner can have a help chat button
Search
Search is one of the key areas for any website, and you must incorporate a nice interface that makes it easy to find a storage/parking space at a relevant location. You can take inspiration from Google maps with a nicer intuitive user interface. With autocomplete search functionality, it becomes extremely easy for anyone to find a location. The search results can be marked with numbers in the map and users can also be provided with a geolocation functionality.
Hire experienced coders to develop unique features for your website
Get in touch
Location Page
Like other overall websites, the location page also has to be designed exquisitely with all the relevant information at proper places, making it easier for users to make an informed decision. Some of the suggestions include:
The top fold consisting of an overview of space, price and a booking tool to send requests.
The second fold consisting of detailed description about space as well as the host.
There can also be a tool present to send a message to the host before making a request.
Payment Information
Once the user makes the request, they are directed towards the payment page, which asks about credit card details and billing information. This page can also list total price with cost breakdown plus credits (if applicable). It is essential to note that users are only charged once their request is accepted by the host.
Reservations
This section can display all the reservations requests sent as well as received. As the platform does not require a separate account for becoming a host or renter, all the information is present alongside. Users can have the option to view new requests, active reservations as well as past reservations. This type of approach makes it easy to differentiate between all the requests and approved reservations.
Also Read: P2P Home Renting Script Guide: Detailed Feature List & Business Model for Entrepreneurs
Add new Listing
One of the key areas of any peer-to-peer marketplace is the overall process of adding a listing. This part is different from traditional e-commerce store as users themselves have to add the listing. This makes it imperative to provide a user-friendly process in order to enhance the usability of the service. FATbit analysts have some unique suggestions to make this process as efficient as possible.
You can incorporate a unique approach by dividing the overall process into a checklist. This includes:
Create a listing
Type of space
Approximate size
Accessibility
Address
Price
Photos
As the hosts fill in the details, the checklist is also completed, which makes the overall process seems like a breeze. As per our analysis, it should not take more than 2 minutes to create a new listing, which is rather impressive.
My Listing
The "My listing" section houses all the listing created by the host. Using this section hosts can edit any listing, duplicate it and even delete it. It is a complete tool to manage all the listings.
Messages
End to end communication is one of the critical areas for the success of any peer-to-peer marketplace. It also reduces the dependence of the marketplace in the overall flow of information between the two users. Users can easily access this tool from the menu or the notification bar. All the messages are divided into three separate tabs – inbox, sent and trash.
Help Chat
Help Chat or Live Chat is by far the most intriguing USP of any website as it creates personalization with the platform. Whenever you land on a particular section of the website, this Help chat can display a message to provide users with pointers. What makes it interactive is that these notifications are not generic in nature and particular to that specific page. Users get a feeling that there is a dedicated manager provided to them by the platform for making their experience highly engaging. Users can also use this tool to ask any queries related to the platform. Look for the similar feature while short listing you storage and parking marketplace clone scripts.
Also Read: Build a Workspace Sharing Website with these Features – Complete Business Analysis
Ending Note
When it comes to peer-to-peer marketplace, the approach detailed by us can surely lead to a robust platform. The overall website design and functionality needs to be user centric. Platforms like Roost, Boxbee and Storagespace not only caters to the users looking for space but also makes it easy for the hosts to make money out of their unused space.
A platform that is able to bridge the gap between the two would surely take the cake. It only needs to pay attention to listed features and improvements suggested by our team to come up with an advanced Storage and parking clone website. Go for a clone script that has all these features, or talk to designers and developers at FATbit for a custom solution.
Do you have any other queries? Contact us today!
Build a global Storage space marketplace like website for bigger profits
Get a quote