What it takes to run online grocery store successfully- Powerful Website Features. Grocery stores have wide array of products and to offer users the ease of buying, the new stores should make the products easily accessible. In short, make the website as simple as a physical grocery store. Since several online grocery stores have emerged globally in recent times, they act as inspiration to new stores, and this is true particularly for emerging markets. In the wake of attempts made to build a clone of top brands, new websites ignore the importance of few website features that have serious upshots. With many stores in view, it has turned into a great difficulty for new businesses to make a grocery shopping website as good as the successful grocery stores without killing user experience. To name a few ShopFoodEx.com, FreshDirect, InstaCart, are the dream stores of websites like MeraGrocer, Grofers, BigBasket, Natures Basket, but receiving a good response from end customers depends on many factors.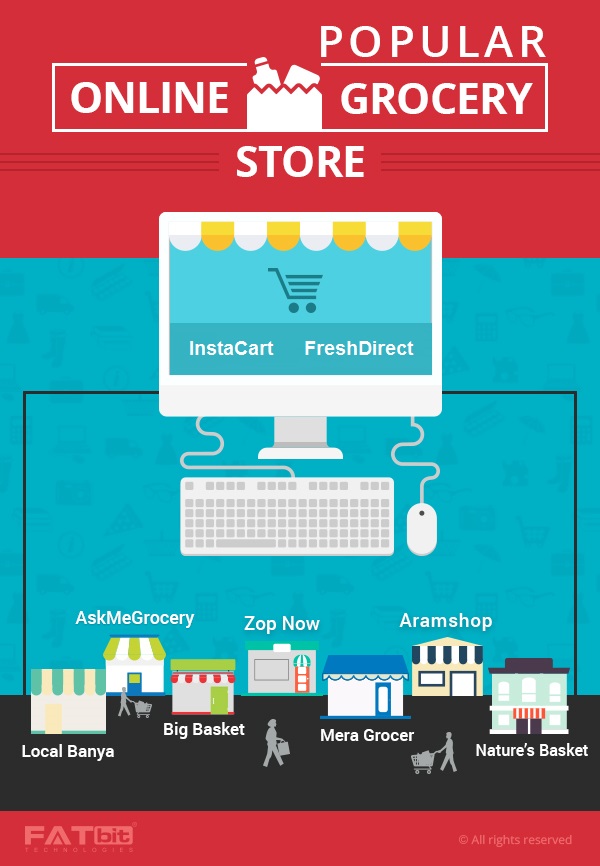 While ecommerce powered ventures are growing rapidly, only those offering impressive website features along with value will sustain and become big brands. With that in mind, researchers at FATbit Technologies studied the business model along with website features of established online grocery stores and came up with this detailed post carrying improvement areas for upcoming and newly launched stores.
Overview
An online grocery shop aims at delivering the best quality grocery items directly to customer's doorstep at competitive prices. Users in this case have the ability to order products from the company's website and choose a time slot for the delivery. Few websites force users to pay online before the order, and few offer cash on delivery payment option too.
Business Model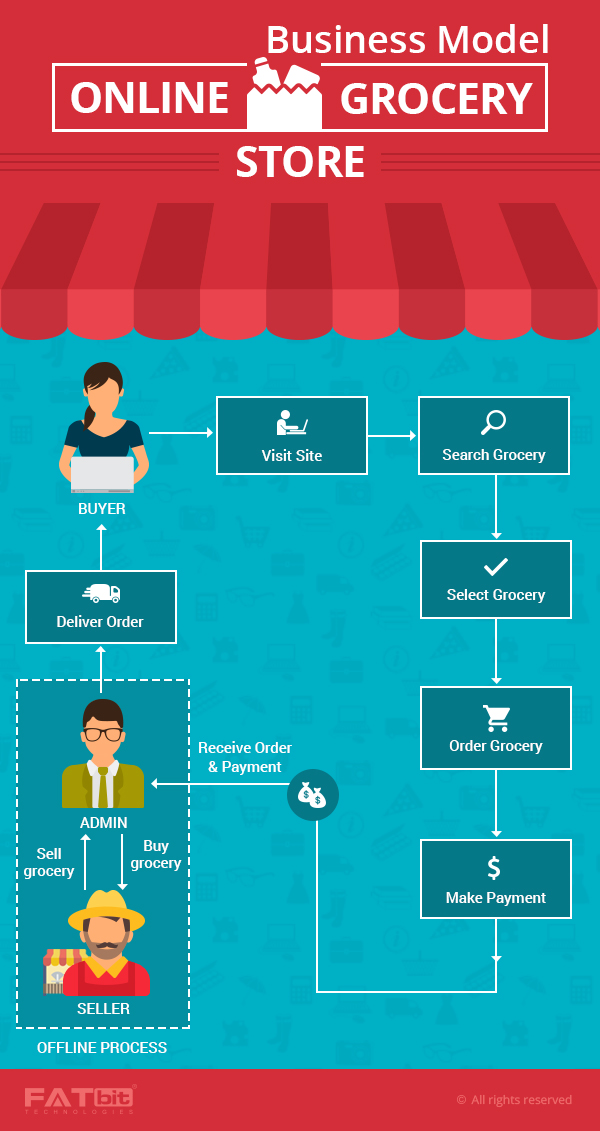 A grocery shopping store is like an ecommerce site that lets people buy grocery items online and delivers it to their doorstep at their favored time. Some highlights of this business model are following:
Absolutely free delivery.
Prices of all items are displayed on the site are inclusive of taxes.
The homepage of grocery websites must offer a neat design and should avoid any clutter of text or images. First fold can contain sliding header images with main navigation above it. This header can be used to display distinct categories or offers of the store.
Want to know the web development cost of grocery ordering website?
Connect with FATbit
Main Navigation
Navigation is the most important part of an ecommerce store. Make sure the main navigation of your website stands out; using a prominent color can be useful in this regard. This navigation should contain all the major categories of grocery items being offered by you. Show product names in the drop down with sub-category names mentioned in bold when a user hovers over a particular category.
Footer
The footer area must contain links to all the important pages. Navigation links should be categorized as Products, About, Shopping, Payment Method, Get in Touch, etc. On the homepage, you can add an email subscriber widget, which can be placed just above the footer. This widget will be quite helpful for building an email base.
Essential Website Features
Adding a few powerful features will make a new online grocery delivery platform more promising. Let's go through major features that no grocery ordering system can ignore:
Select your location
Most of the brands give the option to 'Select Your City' in the beginning. This can be added as main section on the homepage or be shown in Pop Up. As soon as a visitor lands on the site, ask them to choose a city through a popup. If your service is available in one, two or very few locations, refrain from adding all city options in this part. Just show the ones that come in your delivery zone.
Sign-In/Register
Sign in area usually has less scope of adjustments yet you can make it the most rewarding section of your website. Use distinct terms like 'New User', 'Register' or 'Sign Up' and try to make the registration process smoother. You can also add a banner image telling visitors about a promotional offer related to registration.
Asking for phone number at the time of registration helps fight spam and handles the issue of multiple accounts from same household. Assign different pages for login and registration.
Search Feature
A flawless search feature is one which lets users search products from different categories in fraction of a second. Some unique points about the search feature used in online grocery shops are below:
Instant results in the drop down.
Searched products in various categories given as an option.
Option to search a product in a particular category by choosing the specific category.
Want to know more about Script Features and Upgrades of Online Grocery Store?
Check This
Filter Options
Filter options are very important for an ecommerce website as users often want to select products based on price or brand. Make sure you provide users with filter options at appropriate place. These options can be based on:
These options may vary according to the products or categories.
'Add to Cart' Feature
The feature of adding a product into shopping cart and then proceeding with payment is the backbone of any ecommerce site. Adding some uniqueness to this feature can be fruitful. For instance, you can make the added products appear at the bottom of the page. However, most ecommerce websites display the added products in a side bar for the ease of users. We leave this upon you to try and decide whether displaying the cart at bottom in a bar will add value to the website or will be a hassle for users.
Checkout Feature
The checkout page must be designed neatly and to accomplish this, the place of everything including the listing of products, quantity and prices must be planned beforehand. Some noteworthy points are:
Offer ease to remove products without any stress from this page.
Allow users to increase the quantity of any particular product at checkout stage too. A 'plus' sign can be given just next to quantity box to increase the number by simply clicking it. The 'add quantity' button should have a color that can prompt action (like green).
An 'Update Cart' button and 'Proceed to Pay' button can be given on this page. The colors of both these buttons again need your attention. Instead of 'Update Cart' button, the 'Proceed to Pay' button should be given some prominent color to indicate the next step.
A feature to use discount voucher can be given at the end. We suggest that this part should come before the update cart or proceed to pay button.
User Account Features
"My Account" section for registered users of a grocery store must contain:
My Profile: It lets users change their name, address etc.
My Orders: It lists order history according to the chosen dates.
My Wishlist: Items that a user saves for later or does not buy now but wishes to do so sometime later.
My Wallet: It lists the amount of money one has in online account of a grocery store.
My Saved Cards: The debit or credit cards get saved here.
My Referral: Many websites add a referral section where the list of people referred by customers appears.
My Password: This option lets users change their password.
After analyzing major features of grocery stores, we realized that there are repetitive errors in some sections. To educate future grocery startups, we have listed some suggestions/improvements below:
Suggestions to improve your online grocery store
If you want to be nothing less than Instacart, we suggest some changes in the UX, design, content and functionality of various sections on the website.
Homepage Banner
Add catchy copy to educate first time users about the highlights of your website.
Use Website Favicon
Online brands use favicon to help their target audience recognize it from logo. Take care of such small details before spending Millions on Media Advertising and Inviting Partners/Distributors.
Non-functional Important Links
Conduct thorough testing to ensure that no non-functional links are available on the site. Such glitches leave a bad impression on users and also hamper the trust factor.
Design of Filter Options
The filter options usually get ignored by design team and lack attention grabbing features and layout flaws mostly.  And if they pay attention, chances are that users have to face several UX issues. So make sure your filters are designed sagaciously.
Make Website Mobile Ready
–        Build a Mobile App
Not having a mobile app is a big constraint in the present era in which everyone is working hard to stay ahead of competitors.
–        Make it Responsive
If you are still not ready to invest in mobile app, you should at least have a mobile friendly website.
Absence of 'how it works'
Even though it's evident from the information architecture yet there is a need of "How It Works" section on homepage to educate first time visitors about buying and delivery process. This is also an important part of user interface that guides users about the basic process of an ecommerce website.
No Interactive Components
Add interactive components on the website to grab visitor's attention. In highly competitive ecommerce industry, it is necessary to have some unique components like hover effect on buttons and text links.
Some 'Must-Have' features
Adding items to wishlist from product page.
Zoom feature on product page.
Refer a friend feature – Specify benefits too.
Change location.
Provide submit button for the 'Rating and review section' on product page.
Live Chat (Support)
Social media logins
Fixed side widgets and top navigation
Up-selling and cross-selling features
The Bottom Line
It's true that the online grocery shopping websites have a bright future but only websites with impressive features can survive the competition. Website experience will not only generate sale from first time visitors but also help earn referrals.
If you have a vision, using few design upgrades and feature enhancements will make your journey successful.
Get Expert Advice on Starting Grocery Ordering Store
Contact Us