Classified sites have a bright future as more and more people are using the internet to search for products and services locally. This made business analysts at FATbit Technologies study the business model, site features, and revenue model of popular classified ads platforms.
During our research, we discovered that the following features can help entrepreneurs launch advanced classified ads portal. But before proceeding to features, let's first understand the business model and revenue generation method of classified ad platforms.
Business Model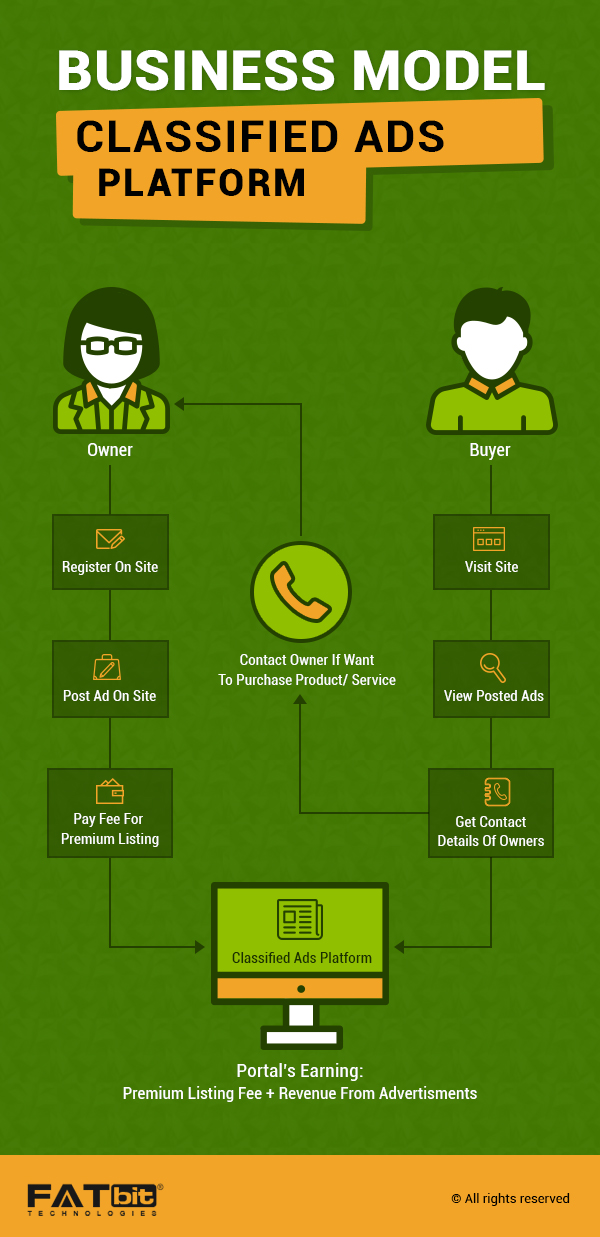 Classified ad platforms help people list products and services for sale as well as purchase. Here are some major highlights of classified ad platform business model:
Anyone can list a product/service for sale.
Creating a listing is absolutely free.
Paid options to enhance your listing.
Buyers can see product pictures and other details without registering.
Buyer can directly get in touch with the seller.
How Such Platforms Make Money?
The most common way of profit generation is the membership subscription where users can post multiple ads based on a monthly fee. Driven by a simple business model of connecting buyers and sellers, a classified website offers great scope to make money. Let's understand the 3 revenue generation streams. Add these monetization options into your classified ad clone to make big profits:
1. Google Ads
Such platforms put Google ads on their website to generate income. The ads are placed on the homepage as well as product pages. Each new product added to the website gets a new page. This means more products, more pages and hence greater revenue from Google AdSense.
2. Paid Options for Classified Ads
Apart from Google ads, classified ad portals offer some paid ad options as well. User can choose the paid services at the time of posting the advertisement. These paid services are basically used to enhance the visibility of the ad on the site. There are multiple package options to choose from, and the payment is securely handled by that particular website. Every classified ads website should have this feature.
3. For Business
This is meant for advertisers who want to buy advertising space on the website. Here advertisers can select a space to display their ads according to the available packages and can upload the banner on their own.
This feature can be integrated in your classified site at a later stage. Now, let's get acquainted with the biggest names in the online classifieds industry.
Industry leaders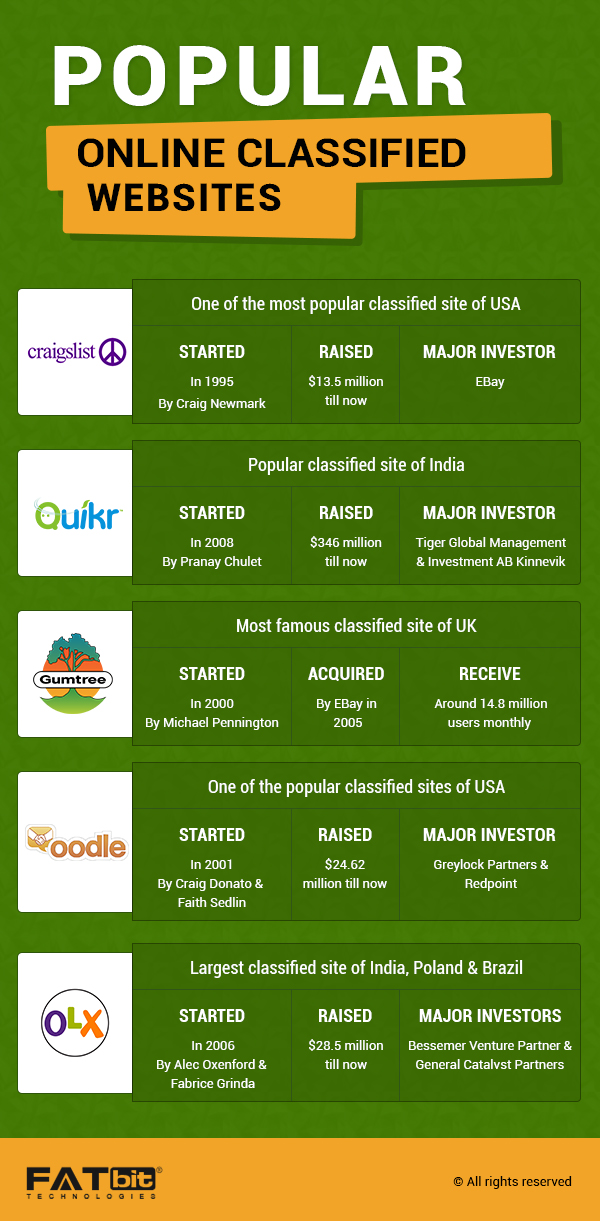 Classified sites are rarely global. They mostly cater to a particular country or geographical area. We are sharing the most popular names in the classifieds industry:
Gumtree
Craiglist
iLister
OLX
Flugpo
Because of the 'local' nature of such sites, it would be best to target a location that doesn't presently has one.
Let's move on to study the features and functionality of classified ad portal, starting with the homepage.
Interested in launching your own classified ads site?
Get in Touch
Major Homepage Features
The homepage must be designed beautifully. The first fold can include an aptly planned banner that carries the website's central message, and major classified categories. These categories can include:
Business
For sale
Property
Jobs
Services
Community and
Pets.
The latest products should be displayed on the homepage along with filter options. Let's go through the most impressive homepage aspects and understand some sections one by one:
1. Display of Latest Ads in Different Sections
The latest ads can be listed in different sections with the functionality to change the category. This will help the user in quickly discovering ads most relevant to him.
2. Premium Ads
Make way for premium ads on the homepage. This will help generate a recurring stream of income. Add such a section of premium ads on your classified site's homepage to make additional dollars without ruining the user experience.
Create Account
Place the Register/Login links on top and make the provision to open them with a pop-up. This will make it prominent and help increase the number of sign-ups. Keep the signup process explicit with fields like:
Name
Email ID
Password
Confirm Password
Phone Number
Login
Just like registration feature, a special pop up can be dedicated for login purpose with fields like:
There should be an option to login with social media accounts also. This will further simplify the process of joining the site.
Features For Sellers
Everyone should be able to create an account and post an ad for free on the website. Let's see what features can make your platform unique and one of the most popular classified ads sites across the world.
1. Post an Ad
Like any other classified ads website, yours also needs a form to list their products. Below are the main highlights of this feature:
Every ad requires a title.
Images to be uploaded.
YouTube videos can be added.
A long description.
Special price section.
Paid option to make an ad stand out.
Contact info (email and phone number) with contact person's name.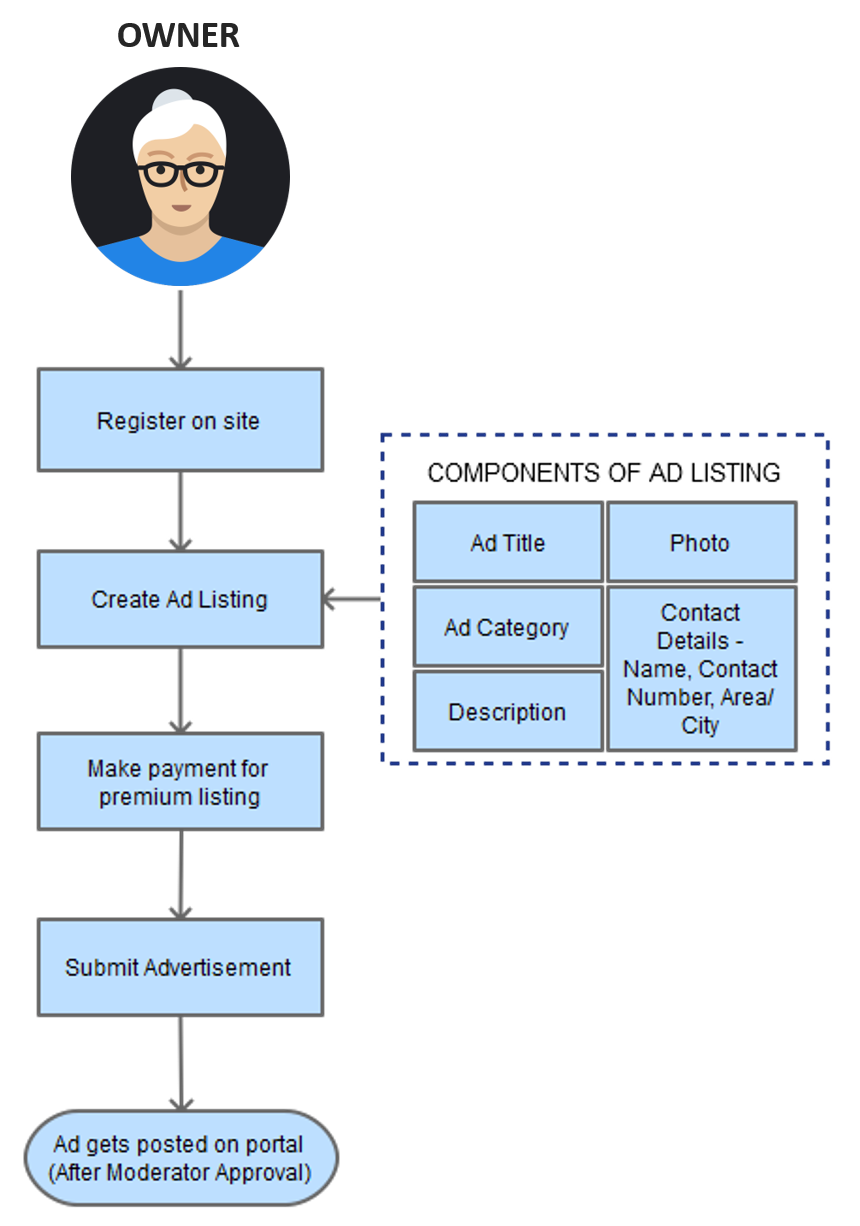 The 'post an ad' form should be well-designed and easy to use. If building on a classified ad clone script, make sure it brings an intuitive 'post an ad' feature.
2. Phone Verification
All ads posted on the website must undergo an account verification. This can be done through a code which sent to the seller's mobile number. This feature helps fight spam to a great extent.
3. Manage Ad Tools/ User Profile
Once a seller has listed a product on the website, he should be provided a dashboard to manage the posted ads. Highlights of this ad management feature are:
Posted ad can be edited, deleted or promoted.
Sellers can see the number of views received on their ads.
Detailed statistics including views, listing views, email replies & time bumped.
Features For Buyers
It is very essential to attract a huge number of visitors on your classifieds website. Let's see what features will make your classified ad portal appealing to buyers.
1. Search Feature
The search feature is the backbone of every classified ads website. Professionals from FATbit Technologies studied the search feature of leading classified ad platforms and came to the conclusions that yours should include:
Instant suggestions
Category suggestions along with keyword suggestions.
Option to search a product in a particular category.
Location filter as part of the search bar.
Filter options to refine the search results.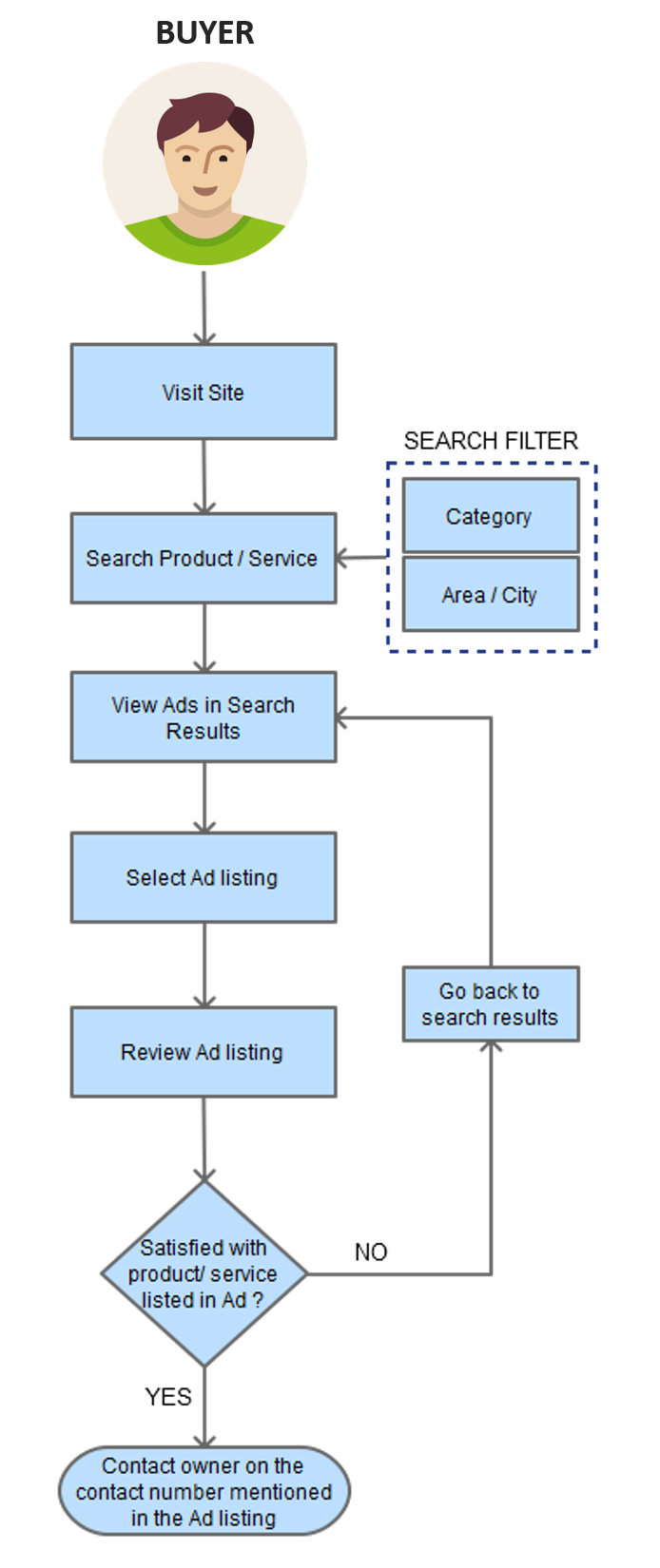 Add these advanced features in your classifieds website
Contact Us
2. Favorites & Saved Searches
Favorites and saved searches help users to review the ads they have liked and saved, eliminating the need of searching through thousands of listings again. So, there should be the feature to save classified listings to wish list. All the listings marked as a favorite should appear in the "Favorites" section which can be added in the top navigation. Make sure that your chosen classified ad clone script has this feature because popular names like Gumtree have it.
3. Map Integration on Ad Page
Map integration lets a buyer know the location of seller. The location should be marked automatically based on the area filled by the buyer while listing the product. This is yet another highly recommended feature for your classified ad clone.
4. Report a Classified Ad
Classified ad websites must take stringent measures to fight spam. Add a special "Report" form on each page which should allow users to report irrelevant or misleading ads. Some websites also have dedicated teams to find and remove spammy content from sites. So, in addition to 'mark as spam', you can also take manual action.
Help Section
Create a vast help and support section. Help section can include all the important queries that a user can face while using your platform or while posting a particular ad. If you are planning to start your own classified ad clone, then you should have a vast FAQ section to begin with and also a dedicated support team when user base increases.
Website Blog
The site must have a special blog where the company can share tips for sellers & buyers on vast range of topics. Along with informative posts on how to be safe and make the maximum of this classified ads portal, use your blog to share major company happenings.
In short, make sure that your classified ad clone script has an inbuilt blog.
The Final Call

Classified portals like OLX, iLister and Craigslist are the most popular classified ads website in the world, and have the most advanced features. If you have ever thought of launching a classified website, then, this is the right time to take action. However, make sure you hire an experienced team of designers and developers for your classified site. Else it will have a difficult time competing with popular ad listing platforms.
Want to know how much-classified ads site will cost you?
Ask our team