Building an ecommerce store earlier used to mean endless lines of code, lots of compiling, quality testing, bug fixes and more testing. And all this would happen after spending innumerable days and nights to get the business idea right. From the aspiring entrepreneur to the business analyst to the programmer, it was an interminable stream of discussions, miscommunications and miscalculations.
The Result: Waiting too long for a simple ecommerce website to get ready.
Meeting the need of hour, turnkey solutions came across as a great help to launch a new ecommerce store quickly, and cost-effectively. So now turning a business plan into reality is not about endless codes, compilation, and testing. You've got these turnkey solutions to kick start your business with most effective, business focused, and UX rich websites.
White-label eCommerce platforms like YoKart, YoRent, YoYumm, Growcer are available to entrepreneurs who want to create the likes of Amazon, Foodpanda, Rent the Runway, and Instacart. These platforms offer budget friendly options as well as ease to start online marketplace. Let's divulge more about such ecommerce platforms and how they are the most conducive options.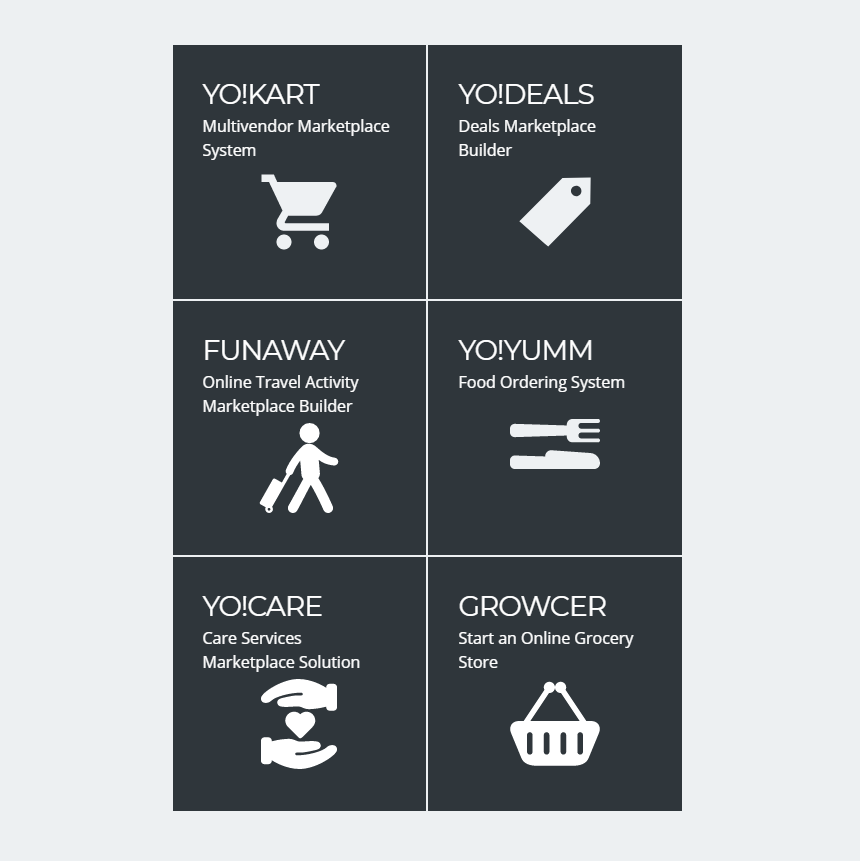 Start accepting orders in minutes
A readymade ecommerce solution comprises of everything you need to set up your business website and start selling online. It's like an already constructed and fully furnished brick and mortar store where you simply need to put your products to start selling.
Launching your online business is extremely easy with its quick and easy implementation. A quality readymade ecommerce solution gives you plenty of themes to choose from. You simply need to pick a business model and find the right theme that resonates with it.
Things like adding products, is easy with inbuilt catalog feature and you have numerous other features like tracking sales, adding vendors, to facilitate buying and selling on your marketplace.
Buying a readymade ecommerce platform enables you to start accepting orders and generate revenue within a week! It's just like a plug and play peripheral.
A Multivendor Ecommerce Store like Amazon, is that what you have in mind?
Extend the functionality With Custom Packages
Readymade ecommerce marketplace solutions such as YoKart, YoRent, YoYumm, Growcer, etc. come with additional features that you can implement as add-ons.
The benefit of these features is that you can customize your ecommerce website as per your requirement. This is by far the fastest and easiest way to make a robust readymade suit all your business needs. Turning your dream ecommerce startup into reality doesn't get simpler than this.
You can choose to add more features to your store website anytime you want. Be it now, or later on, you can add any function to increase your store capabilities.
The readymade versions come with all the essential features preinstalled in the package. However, if your niche or business goals need more features, you can add the same at an affordable cost.
Anything that makes your shop even easier to manage and enhances user experience, or if there's any module you need, you name it and we add it!
Detailed customer profiles
The "Customer" area in your marketplace website's admin panel lets you learn more about your customers and their shopping habits. You can find their contact info and order history at a glance. This information plays an important role in tweaking your product recommendations for each customer. The same information also helps you in optimizing your marketing campaigns.
Analytics & Retargeting
Segregate customers on the basis of their location, purchase history and other criteria to target them through customized marketing campaigns. Once done, use the power of Analytics to check the efficacy of your marketing strategy.
Analytics is an important tool that helps you know what campaign works well for what kind of audience. The reports you get also help you in figuring out what went wrong and how to fix it. This further helps in retargeting your target audience.
A fully-featured website CMS
A turnkey store website solution gives you more than just a website. With complete control over your website's navigation, content pages, and design, you enjoy a fully-featured Content Management System in addition to an online store.
Content management system, or simply CMS, offers a plethora of benefits such as easy usability, better content scheduling, better and easier site maintenance, easy content management, and above all, total control of the site.
Conclusion
Our primary objective is to break the quality-price barrier by offering premium eCommerce solutions at an affordable price. Developed and designed while keeping the current eCommerce trends and stats in view, we ensure our solutions help our clients stay in the lead.
We all know improvement is an ongoing process. And thus, we always keep making our solutions even more streamlined and future-oriented. And yes, your unique requirements also help us grow, and we'd love to thank you for that.
From Rental to Grocery, Restaurants, and Local Sellers, Everything Is Searched Online