There are many successful online businesses that act as prototype for new startups. And yet, it is a challenging task to start an ecommerce business, considering the cost of planning and developing an ecommerce platform from scratch. The changing dynamics in the ecommerce industry and the technical expertise required in building an ecommerce website is another roadblock hindering the startup dream of aspiring entrepreneurs.
In order to ensure that the startup journey goes without any hurdles, choosing a ready-made ecommerce software for setting up an online business is the wisest decision any entrepreneur can take.
However, with so many readymade eCommerce solutions available, finding the best ecommerce platform for startups is complicated. Moreover, choosing an ecommerce solution that boasts of being "jack of all trades" is not ideal. Each business has a different need, therefore one must choose a dedicated ecommerce solution catering to that business.
Make sure the eCommerce platform that you choose:
meets your business needs
is customizable (So that you can make changes as per changing market scenarios)
is SEO friendly (You want your ecommerce website to show in search results, don't you?)
is easy to manage
To make the overall process of choosing the best ecommerce platform easy for entrepreneurs, we have curated this list of few ready to launch systems catering to the popular ecommerce sectors:
1. Yo!Kart
This award winning multivendor ecommerce system is ideal for setting up an online store for apparels, electronics, personal care products, home appliances and digital products.
Loaded with marketing, payment, product management and reporting features, Yo!Kart offers everything that is necessary to make an online store a successful online business. Some of the features of Yo!Kart includes – multiple payment gateways, PPC Module Integration, fully customizable script, SEO ready website, blog integration, smart product recommendations and sales tracking & reporting.
By paying a one-time fee of $250 for Yo!Kart startup package, you can turn your entrepreneurial dreams of launching an ecommerce marketplace like Amazon and eBay into reality.
Check Demo
2. Growcer
Want to be the next big thing in the online grocery business and compete with the biggies like FreshDirect, Ocado, Grofers or Walmart? You will definitely need Growcer- grocery supermarket store software.
Brilliantly coded with features like cart Sharing, delivery slot management, and customer wishlist, Growcer is apt for handling online grocery business. The dedicated admin area makes order management a hassle-free process giving full control to the website owner to accept/reject customer orders.
To help business owners take strategic decisions, Growcer offers in-built analytical tools to track sales, the number of online customers, traffic source etc. Overall Growcer is a powerful ecommerce platform for starting an online grocery website.
Check Demo
3. FunAway
FunAway is a fully customizable travel activity marketplace system catering to the needs of entrepreneurs who want to make their mark in the online travel industry.  With features like calendar management, map integration, social media integration, sophisticated user and booking management it is very easy to manage and handle travel bookings with FunAway.
FunAway takes into account all the crucial features required for front end users (Travelers), Host (Travel Agents/Merchants) and Admin (Website Owner).
Check Demo
4. YoYumm
Those thinking of starting an online food business should definitely go for Yo!Yumm. It is an online food ordering and delivery portal builder known among the enterprise ecommerce platforms for its amazing features like intelligent order management system competent to handle any number of food orders and deliveries.
With distinct features like review management, delivery slot management, SMS integration and Discount coupon management, Yo!Yumm surely has an edge over other online food ordering platforms.
View Demo
Planning to build an online food ordering portal?
5. VivoGigs
VivoGigs is a result of the growing demand for an online gigs marketplace. Focusing on bringing event planners/organizers and artists/performers at one place, VivoGigs is known for its useful features such as location mapping, easy gigs posting, power search, review and ratings, and many more.
VivoGigs just doesn't stop there, for it is a comprehensive system that lets you launch your business in the most efficient manner without burning a hole in your pocket.
6. Yo!Care
Building a care services marketplaces has become a walk in the park for aspiring entrepreneurs with YoCare. It is a revolutionary solution, offering secure wallet, Map based job search, Easy job management, advance reports and appointment calendar.
It has been carefully crafted keeping in mind all the key features vital for service seeker, service provider, and website owner. YoCare is also mobile friendly meaning an online care services marketplace built using YoCare would easily run on any screen.
7. Stitch
Custom clothing is the latest fad among millennials, and what better than en-cashing this opportunity with an online custom tailoring platform powered by Stitch.
The inbuilt product customization feature which helps buyers (front end users) customize the products as per their style and requirements, makes Stitch a popular choice amongst those who wish to start a custom tailoring website.
This custom clothing platform is powered by a highly customizable CMS, which means you can manage the complete website without any help of a developer.
Social media integration, discount coupon management, email notification, multiple payment options and blog integration are some of the Stitch features which can take the custom clothing business a long way.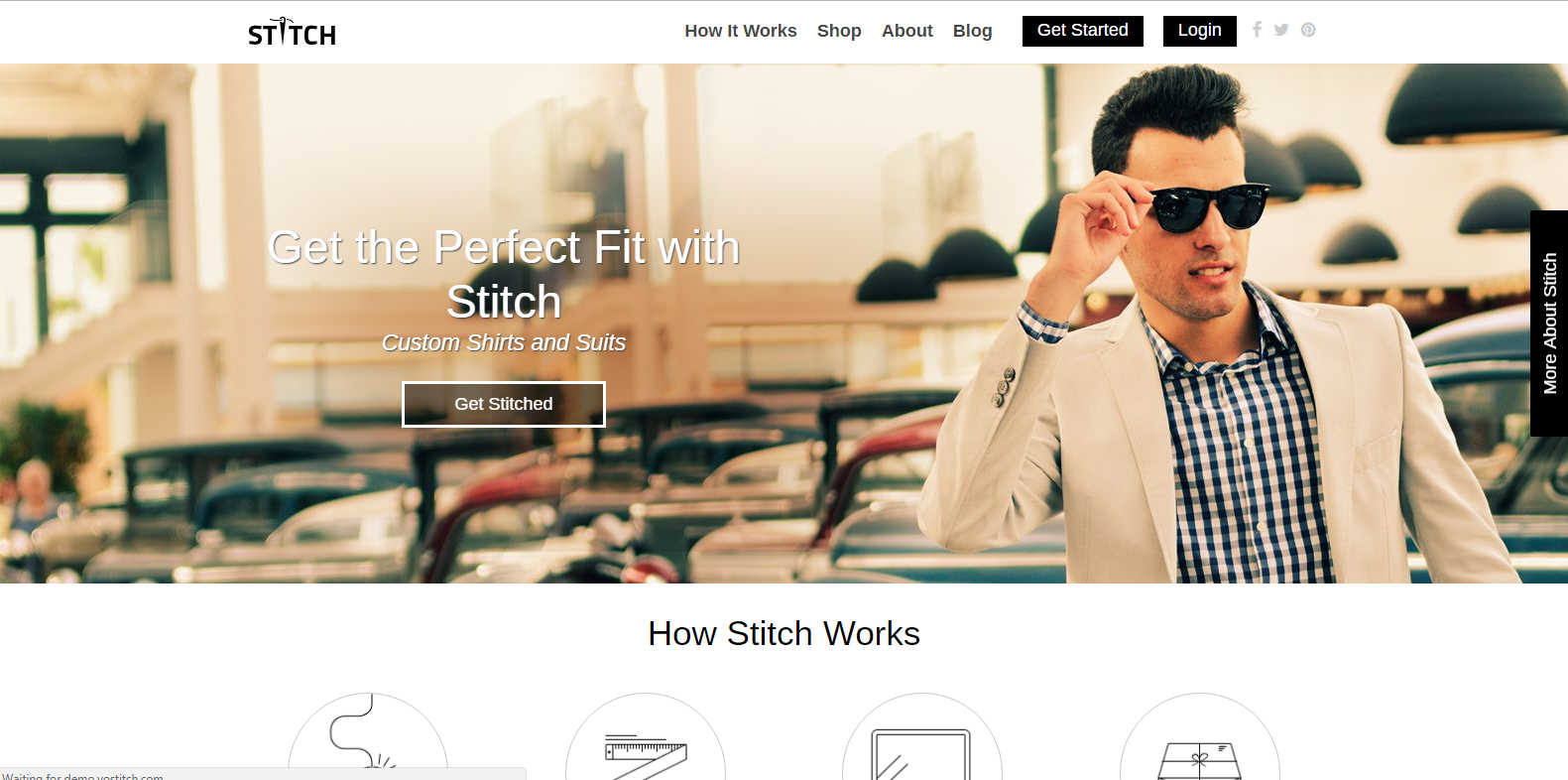 View Demo
Conclusion
Readymade ecommerce solutions have made it easy for anyone to launch their own startup. The solutions mentioned in this post have the potential to convert an idea into a successful startup. For those entrepreneurs who want to live their startup dream and launch their own ecommerce store, there is no better proposition than those mentioned here.
Make your dreams come true with vast range of FATbit products