Online shop owners make searches like "How to improve the rank of my eCommerce website" and "How to increase website ranking on Google" because establishing a new online shopping website amongst already established brands is nothing less than a challenge. FATbit SEO professionals knew this when it was approached by MyStore – leading Nigerian online shopping website team for managing its online presence.
After conducting initial market study, our team of SEO & website optimization experts accepted the herculean task and within just three months of time, our team:
Made MyStore Google rank organically for almost all the critical keywords.
Gave it an enviable position on social media.
Made drastic improvements in usability and conversion funnel.
Made changes that pushed up sales and revenues.
Below is list of steps using which we increased online store ranking by resolving SEO issues with MyStore ecommerce website and made Nigerian shoppers favor it over established online shops. Hope this ecommerce store SEO case study can help you figure out how to improve online store ranking on Google search results.
How we optimize this Ecommerce Site Using On-Page SEO
Step1: Extensive Keyword research
Keyword research is the very first and most critical step for search engine optimization. Lack of quality keyword research is one of the most common issues with ecommerce websites that don't sell. Using company feedback, AdWords Keyword Planner, Google Auto-complete, and Google Trends, a list of phrases & keywords commonly used as search terms by normal users was created.
SEO team also did a complete Competitor analysis to find out keywords being targeted by MyStore's competitors organically and through advertisements. Some keywords were combination of:
Search terms related to featured products.
Discounts and special offers.
Seasonal search terms.
General queries related to online shopping.
Does your website rank for the most profitable keywords? Is the website optimized to generate maximum sales?
Get a FREE Website Analysis
Step 2: On Site Optimization
On page optimization is the second step. On-page optimization makes the content of online store easily readable for search engine crawlers. The focus is primarily on:
Information Architecture (URLs, tags, headings, sitemaps, content indentation, product and category pages optimization etc)
Textual Content
Images
Videos
Internal Linking
Social Media Integration
The ecommerce store was custom designed and developed by FATbit and was integrated with an SEO friendly Content Management System. The CMS helped us conveniently optimize website's loading time, web page size, page titles, meta-tags, URLs, headings, alt tags for images, image & product description, and other various other details for targeted keywords.
Our team ensured proper categorization of featured products. If the question, 'How to increase website ranking on Google' is occupying your mind, then, on-page optimization could be the answer.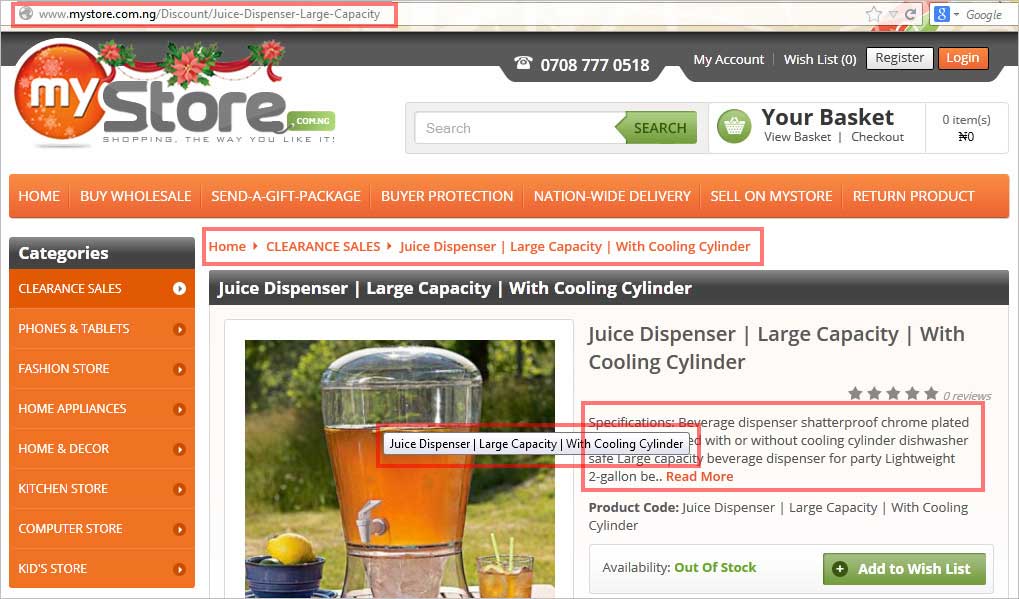 Step 3: Work on Website Loading Time
Our team brought down website loading time to further improve user experience and in the process managed to reduce website bounce rate as well. High website load time is one of the major issues with online shopping websites due to large number of pages. This helped the online shopping store score in one of the most important search engine ranking factors. Our design team accomplished this by reducing the size of various website components, using better development techniques to fetch data, and deploying faster servers. Working on website loading time is often forgotten by designers and SEO specialists and thus this point is missing from most SEO case studies.
You can use Pingdom, a tool to test website loading time.
Step 4: On-Site Content Optimization
We advised the category managers of MyStore to add detailed, keyword rich and user friendly product descriptions and update the content on a regular basis. Search engines prefer websites with fresh and quality content. MyStore team was warned against copying content from any other online stores as content duplication is strictly penalized by search engines. FATbit recommends you to improve your online store by paying extra attention to on-site content optimization.
After all these efforts,we were able to steadily increase organic traffic for MyStore -leading Nigerian online store as you can see in the screenshot below:
Step 5: Removal of Duplicate Content
MyStore had duplicate content on some pages as some of the products being sold were very similar. Sometimes, multiple URLs were being generated automatically for the same page every time a new buyer left a review. To counter such issues with the ecommerce site, robots.txt was used. This blocked areas that created duplicate content.
Canonical tag was used to indicate web pages to be indexed and no-follow attributes were assigned to links that contained duplicate content.
Step 6: Established Multiple Sources of Traffic
On site SEO takes time to generate returns. So, from the very beginning, FATbit team looked beyond website to generate multiple sources of traffic. Targeting excessive keywords through the official website and getting decent online store ranking for all is not always possible. So, we constantly invested resources towards generating regular traffic through company's blog, guest blogging, social media marketing, etc.
All these external sources were linked to dedicated on-site landing pages for better conversion. If you want to improve your online shopping website sales, then, create as many sources of traffic as possible. If any SEO experts company or their case study claims that excellent results were achieved by just working on the official website- you need to think twice before hiring them.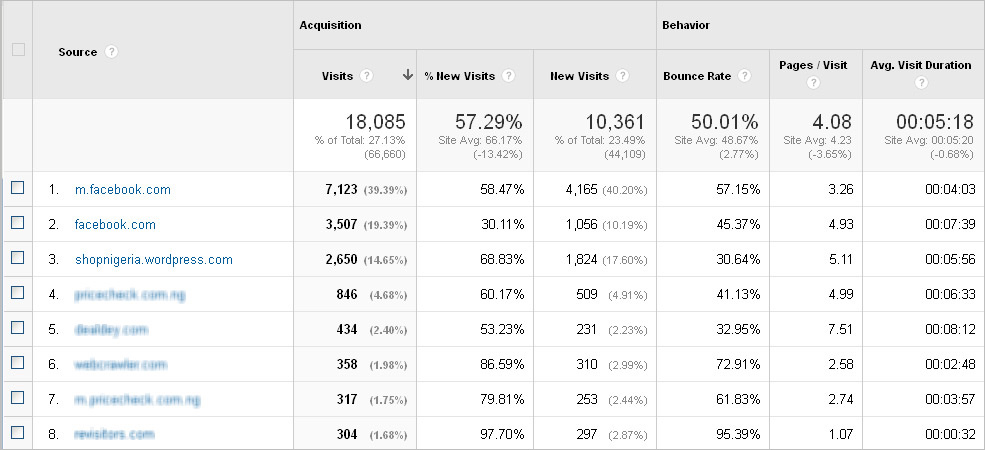 Rank your ecommerce store or any other business website on Google with FATbit's digital marketing experts
View our SEO packages
Step 7: Domain Authority Improvement
Our team of professional content writers generated quality, informative, and engaging content to share with target audience. Videos, Infographics, Slideshows and various such resources were also created to push as many resources on top 10 search results for targeted keywords. The content was optimized for keywords which affected the online store's ranking. This helped the brand avoid cannibalization. Content was always created with publishing platform and target audience in mind. Posts were then marketed through social media sharing, participation in discussion forums and comments section. All the external links also helped in link building and improved MyStore's domain authority.
Within 3 months, the website was appearing in top 3 organic results for important keywords like:
Online Shopping Stores
Best Online Shopping Stores Nigeria
Buy Online in Nigeria
Online Shopping Store Nigeria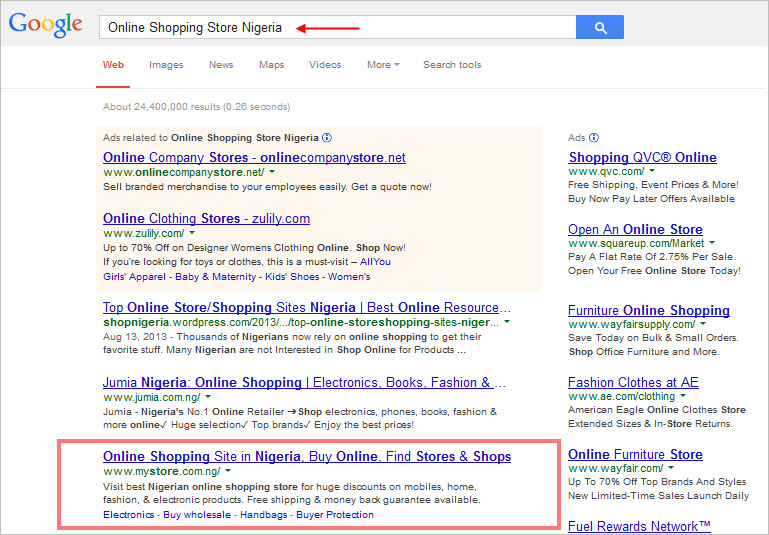 Step 8: Optimization of Social Media Resources
Our SEO team strongly believes that Social Media Optimization is as important as on-site optimization. Various relevant keywords of MyStore were targeted through company's official and unofficial social media profiles on Facebook, Twitter, Pinterest, Google+, etc. Competitive keywords were used in the profile details, posts, image titles and descriptions, various board details and pins created on Pinterest, etc. Hashtags were used to increase content visibility for both visitors and search engines.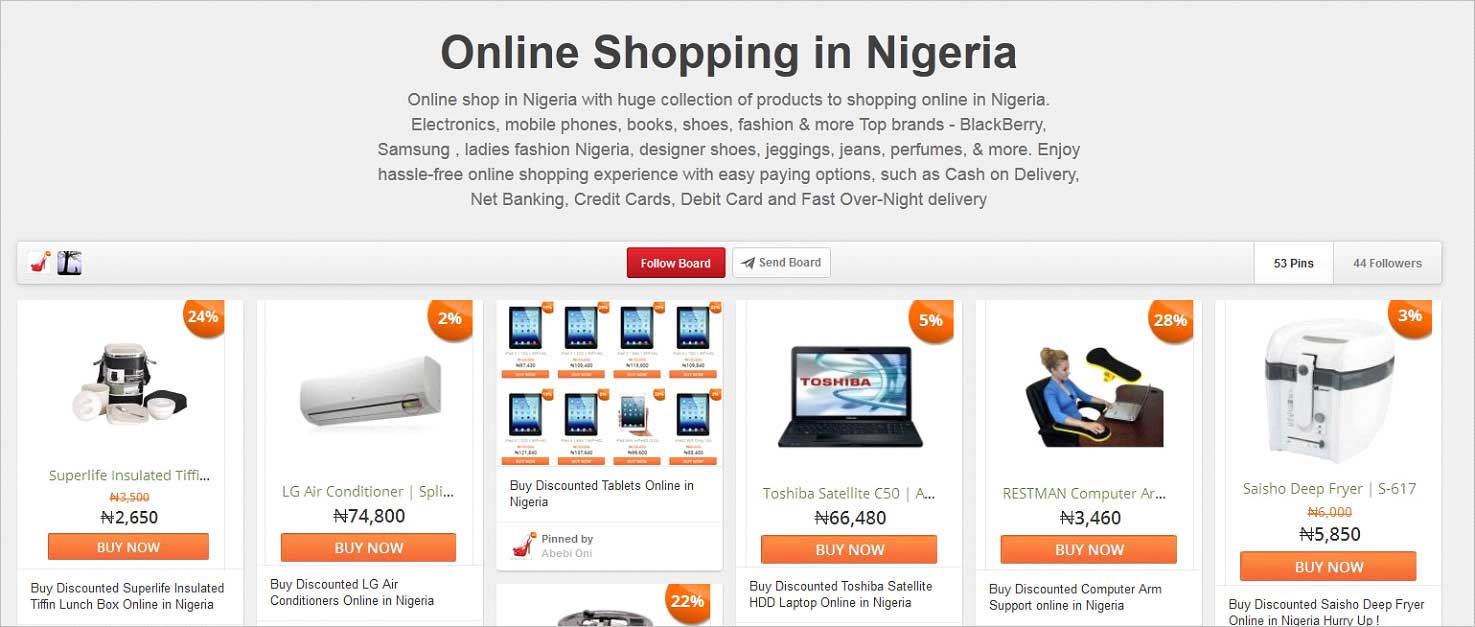 Step 9: Conversion Funnel Optimization
MyStore was then tested for usability and visitor user experience. Loopholes in the conversion funnel were identified and corrected to reduce bounce rate. Some corrective steps were taken to increase overall visit duration of the website and they contributed hugely in improving sales for online shopping website.
Also Read: 25 quick tips to increase your online store's conversion rate
Step 10: Regular Monitoring
MyStore performance was continuously monitored through Google Analytics and various other tools. Target keywords, homepage, landing pages, external sources of traffic, etc were constantly tracked for fluctuations and areas of improvement. The website's overall traffic and individual page traffic, visit duration, bounce rate and exit rate, etc were also analyzed.
All this helped MyStore in steadily improving its search engine performance as well as presence.
Also Read: Your website's bounce rate can tell you about your lost sales. 
Results achieved within 3 months:

MyStore is presently growing by leaps and bounds, and is quickly emerging as one of the leading ecommerce stores of Nigeria. Accomplishing the same in such a short time would have been impossible without optimization and website improvement efforts of FATbit team.
Also read: Google Analytics reports to monitor your website's performance
Have you been lately spending your nights wondering 'why doesn't my online store ranking increase on Google" and how to improve Google SEO.
If yes, then, our ecommerce SEO experts can help you build constant sources of steady traffic and guide you about making small website changes. FATbit can help you drastically improve your sales prospects just like you read in this online ecommerce store's SEO case study. Request a free consultation session to get your free online store improvement tips.
Find defects in your online store that are limited sales & profits
Ask for FREE Conversion & UX Analysis Report