Last Updated: 27th January 2021
India is one of the most popular destinations for web design & development outsourcing due to the availability of resources and domain expertise. Choosing the best web design & development company for outsourcing your services in India is indeed a challenge as there are several firms that work in this very domain. Here we make it easy for the individuals, freelancers, small scale organizations, and large scale businesses looking to outsource their web design & development projects, by listing the top companies in India.
Being one of the leading agencies to provide custom web-design & readymade ecommerce solutions, we understand what makes a company reliable and a team efficient. So, in this post, we are going to list the top web design & development companies in India, after conducting detailed research and in-depth analysis. You can find the perfect tech partner by filtering the list for companies that cater to your requirements and suit your budget.
(Disclaimer: Display order has no connection with skills, expertise & professionalism of the listed firms. We are facilitating search of best website design development companies to outsource in India. We advise visitors to employ due research from their end as well.)
FATbit Technologies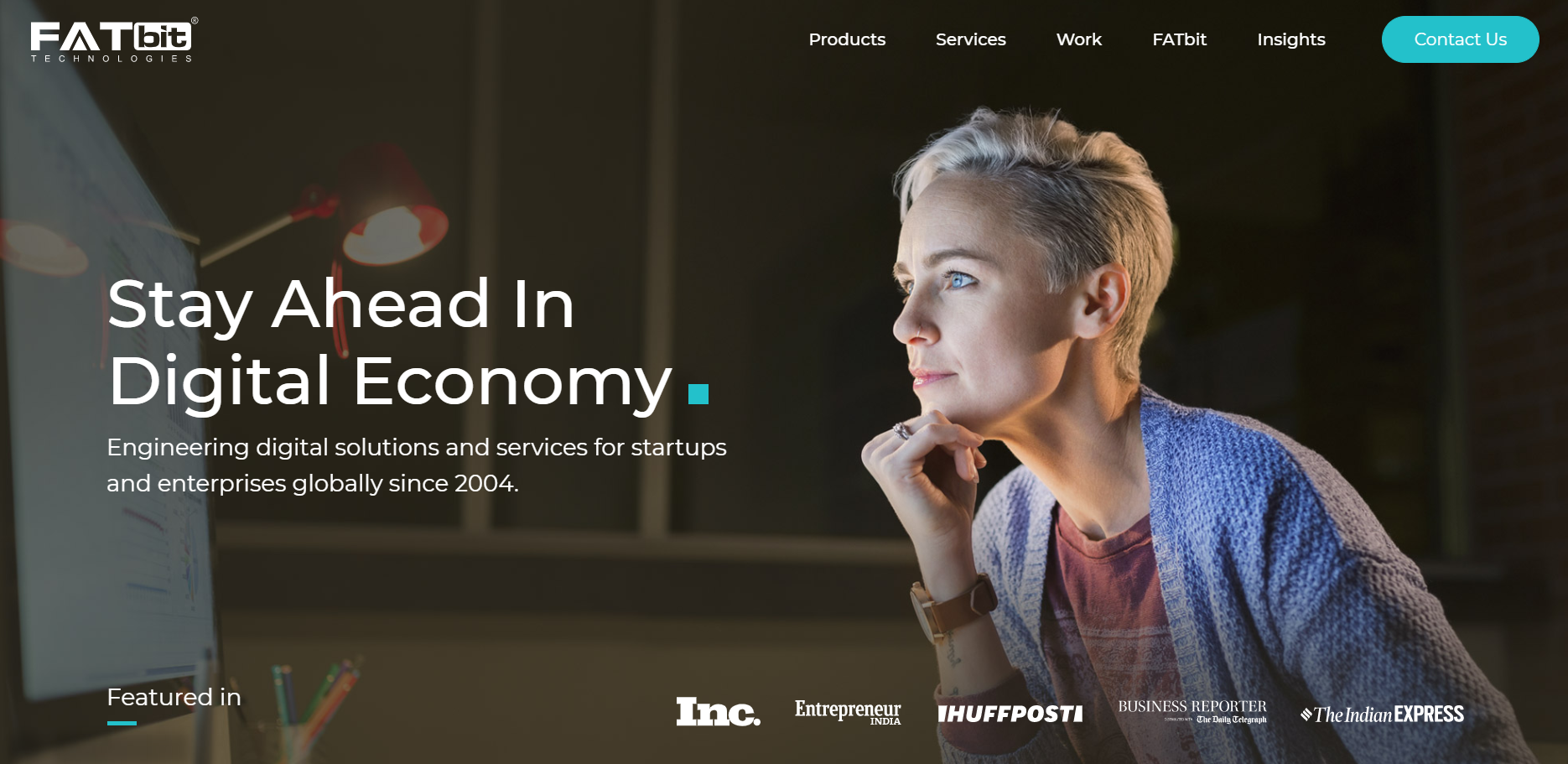 FATbit Technologies – Best web design development company India
FATbit Technologies is a leading web design & software development company that offers a wide range of white label services & products to the businesses looking for outsourcing their work. Headquartered in Mohali, India, the company caters to the business requirements of its vast clientele spread across the globe by providing top-notch web design & development solutions. The company was established in 2004 and since then it has been helping businesses ranging from small scale enterprises to Fortune 500 companies to deliver faster and better services. Having a multidisciplinary team of smart working and result-driven professionals, FATbit excels at delivering mobile-first web solutions, high-performance UX/UI designs, data-driven marketing solutions, enterprise-grade e-commerce software, light-weight mobile applications, &  purpose-driven motion graphic videos. FATbit recognized as one of leading eCommerce development company by ecommercecompanies.com
FATbit is an ISO certified company that has earned several accolades for providing growth-oriented services. The company offers a wide range of ready-to-market B2B e-commerce products resolutely developed for entrepreneurs who want to launch an online business based on digital commerce and seek an affordable system for that. These products enable businesses to improve their time to value & launch multi-vendor e-commerce platforms like a rental marketplace, e-commerce multi-vendor marketplace, an online grocery store platform, an online food ordering portal, and many more, in no time. 
The company has years of experience in developing high-performance websites and has successfully delivered many projects that take it to the top of the list of the best web design companies in India for outsourcing.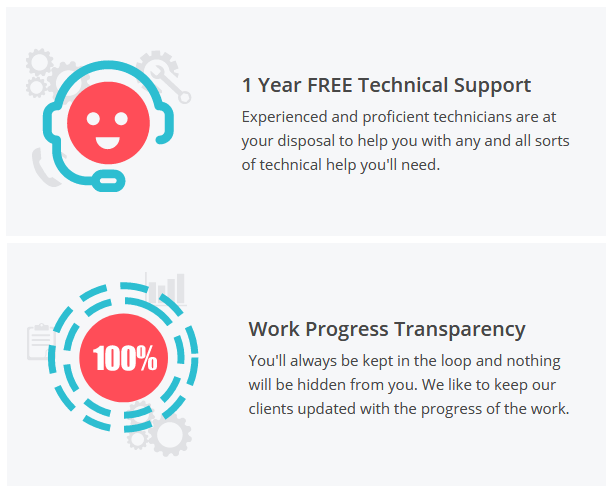 Location: Mohali, Chandigarh Tricity, Punjab
Technologies/Skills:
–MVP development services
–Web Designing
-e-Commerce Solutions
-Mobile App Development
-SEO
-Digital Marketing
-UX/UI Designing
-Motion Graphics
-Custom CMS Development services
-Conversion Rate Optimization
Established In: 2004
Total Team Size: 140+
Products:
YoKart (Multivendor Marketplace System)
YoRent (Rental Marketplace Software
FunAway (Travel Activity Marketplace Builder)
Growcer (Online Grocery Store Builder)
YoYumm (Online Food Ordering System)
Stitch (Custom Tailoring Website Builder)
And more (View all marketplace solutions)
Awards & Recognition: Products of the Year (YoKart), Member of Nasscomm
Best Web design Projects/Clients: Ingizly, UNI Diamonds, MALCA-AMIT, FootLoos,  Gearflow, Website for Embassy of Oman in Paris, Mode & Seek
ValueCoders
ValueCoders a leading global software development company enabling startups, entrepreneurs, and enterprises to bridge the gap between ideas and reality through innovative web and mobility solutions. They have a talented team of more than 450 developers, who have successfully delivered more than 4200 projects to 2500+ clients around the world.
Whether it's a consumer-facing application or an enterprise-grade transformative solution, their team processes it from ideation and concept to delivery and provides full ongoing support.
Location: India
Established In: 2004
Technology/Expertise: Android, iOS, Xamarin, Flutter, Angular, Reactjs, PHP, Java, Python, .Net, Blockchain, AI, ML, IoT, AR, VR, Big Data, AWS, etc.
Awards & Recognition: ISO 9001 certified, Magento silver partner, Indian eRetail winner, Deloitte technology fast 50 winner
Xicom Technologies
Since its inception in 2002, Xicom Technologies is known as one of the best web design and development companies in India, engaged in offering both web and mobile app development services to startups, SMEs and leading ventures of all domains. They deploy best in industry processes and technology frameworks to transform their client's vision into an actionable solution. Their 15+ of experience and back of 300+ experienced experts, empowers them to integrate calibrated and proven process methodologies then ensure high-performance solutions and significantly reduce the development cost. By keeping a prime focus on quality and on-time deliveries, they not only attained 98% client retention rate but also hold the trust of 1500+ clients from all across the world. In addition, with the track of delivering 7500+ projects, they hold the caliber to handle any level of project complexity.
Location: India, USA, Dubai

Established in: 2002

Technologies/Expertise: Mobile app development, custom web development solutions, React Native, Flutter, Native Android/iOS app development, Hybrid apps, Cross-platform app development, Ecommerce applications, IT consulting, IoT and Blockchain Development, AR & VR development and more.
Team Size: 300+

Awards & Certification: ISO 9001 Certified and NASSCOM & STPI accredited, top app development company recognized by Clutch and GoodFirms
Aalpha Information Systems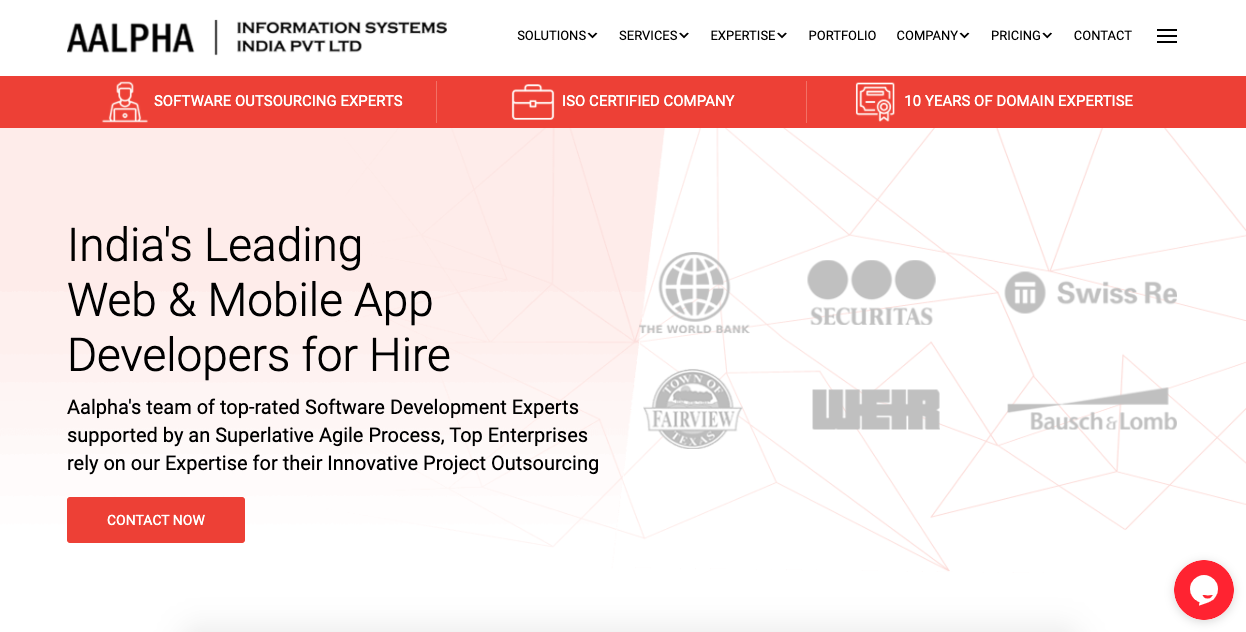 Aalpha Information Systems India Pvt. Ltd. is one of the leading Software development company that provides IT consulting and bespoke software development solutions all across the globe. Moreover, it is an ISO 9001 certified company. Aalpha Information Systems offer a highly reasonable starting at $20 USD per hour. Moreover, they assure you top notch quality work at affordable rates as compared to their competitors.
Location: Bangalore – India
Established in: 2007
Team Size: 250
Technologies/Expertise: Software Development, Web Development & Mobile App Development, WordPress Development, Saas Product Development, IoT App Development
Offshore Offices: USA, Norway
Awards & Certification: ISO 9001-2000 certified company.
BC Web Wise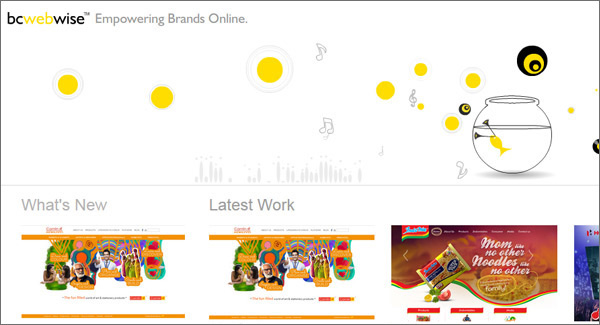 BC Web Wise is a digital advertising agency known for offering strategic brand solutions and creative team of professionals. In its decade spanning existence, it has catered clients in the field of finance, consumer products, telecom, and entertainment.
Location: Mumbai
Technologies/Skills: website design, eMarketing, intranet development, media planning
Established In: 2004
Offshore Offices: None
Best Web design Projects/Clients: Emami, IPSA India, Nanhi Kali, and HUL Intranet
Also Read: Top 10 Mobile App Development Companies in India 2020
Ebrandz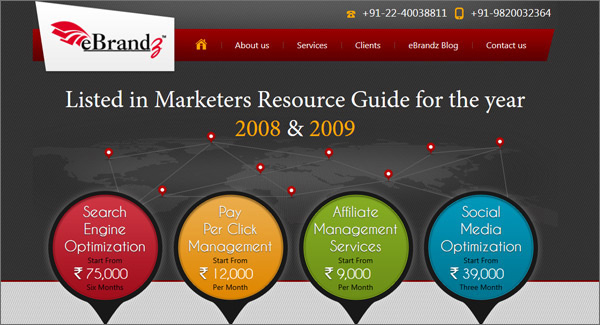 Ebrandz focuses on giving its clients SEO advantage and better brand presence. It doesn't promise any guarantees for Google and Bing presence. It has more than 10 years of experience in the industry and offers affordable SEO packages. Its focus on affordability makes it a strong contender for a position in top 20 budget SEO companies list.
Location: Mumbai
Technologies/Skills: website design, eMarketing, affiliate marketing
Established In: 2003
Offshore Offices: Singapore, New York
RipenApps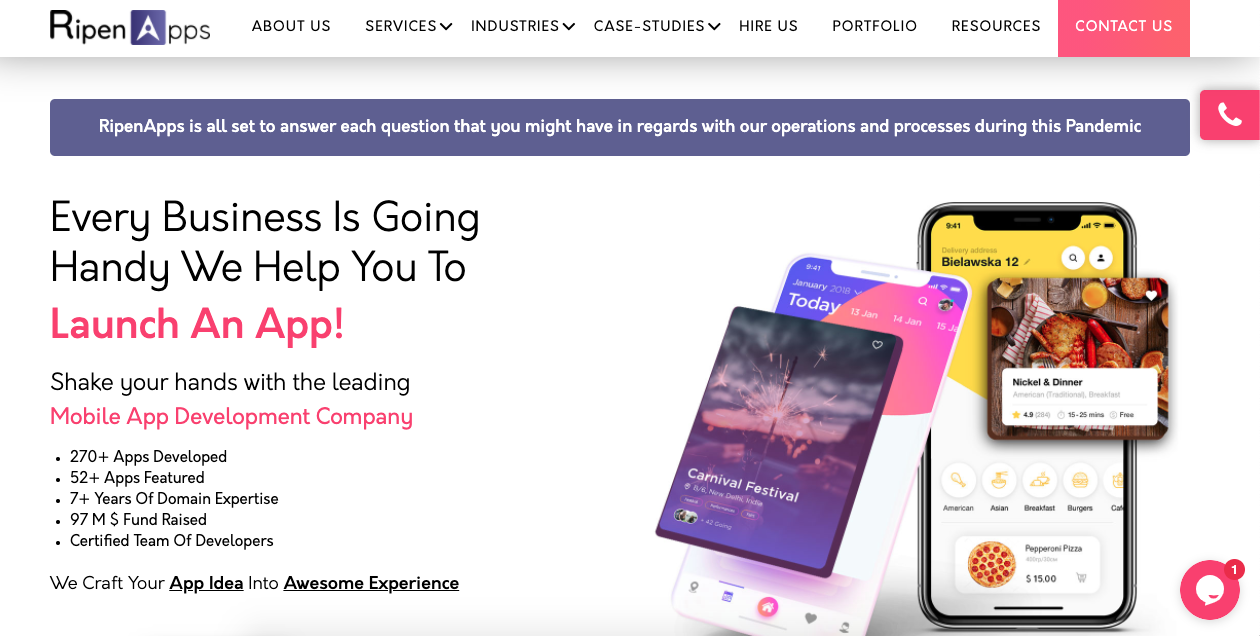 RipenApps is a globally renowned, leading & the top-reviewed mobile development, web design, and development company that has set a new benchmark of mobile innovation and services' quality in the app designing market. Since our inception from 2017, The company has gained a noteworthy position in the world with our vast expertise in Mobile app designing. The company has designed and developed 400+ mobile & web apps, out of which many apps are creating buzz & become hot-seller (Top Trending & Gigantic download counts) apps on app stores & PlayStores.  RipenApps has deployed beyond excellence to almost every industry including travel, education, dating, healthcare, real estate, enterprise, entertainment, and finance.
RipenApps has a team of 149+ highly-skilled, experienced and innovative UI UX designers who have expertise knowledge of UI UX designing.
Location: Noida, India
Technologies/Skills: Web design, web development, mobile application development, and designing.
Established In: 2017
Offshore Offices: USA, UAE, Germany, Malaysia, Canada.
Best Web design Projects/Clients: eGurukul, Jana Co, UFP, LickyLucky
Trionn Design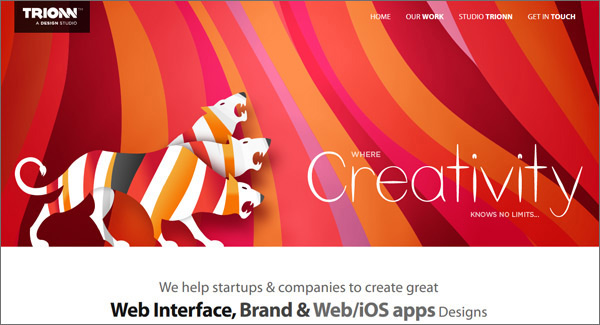 Trionn Design is located in top ten investment friendly states in India. Its focus on creativity becomes clear above-the-fold itself. The web design agency India claims to have strong hold in web interface, and iOS app design. Website homepage claims to have industry experience of 15+ years.
Location: Rajkot, Gujarat
Technologies/Skills: Web design, web development, mobile application development, SaaS development.
Established In: 1998
Offshore Offices: None
Best Web design Projects/Clients: Chamber of International Commerce, One by Zero Design studio, and Acuterays
TechGropse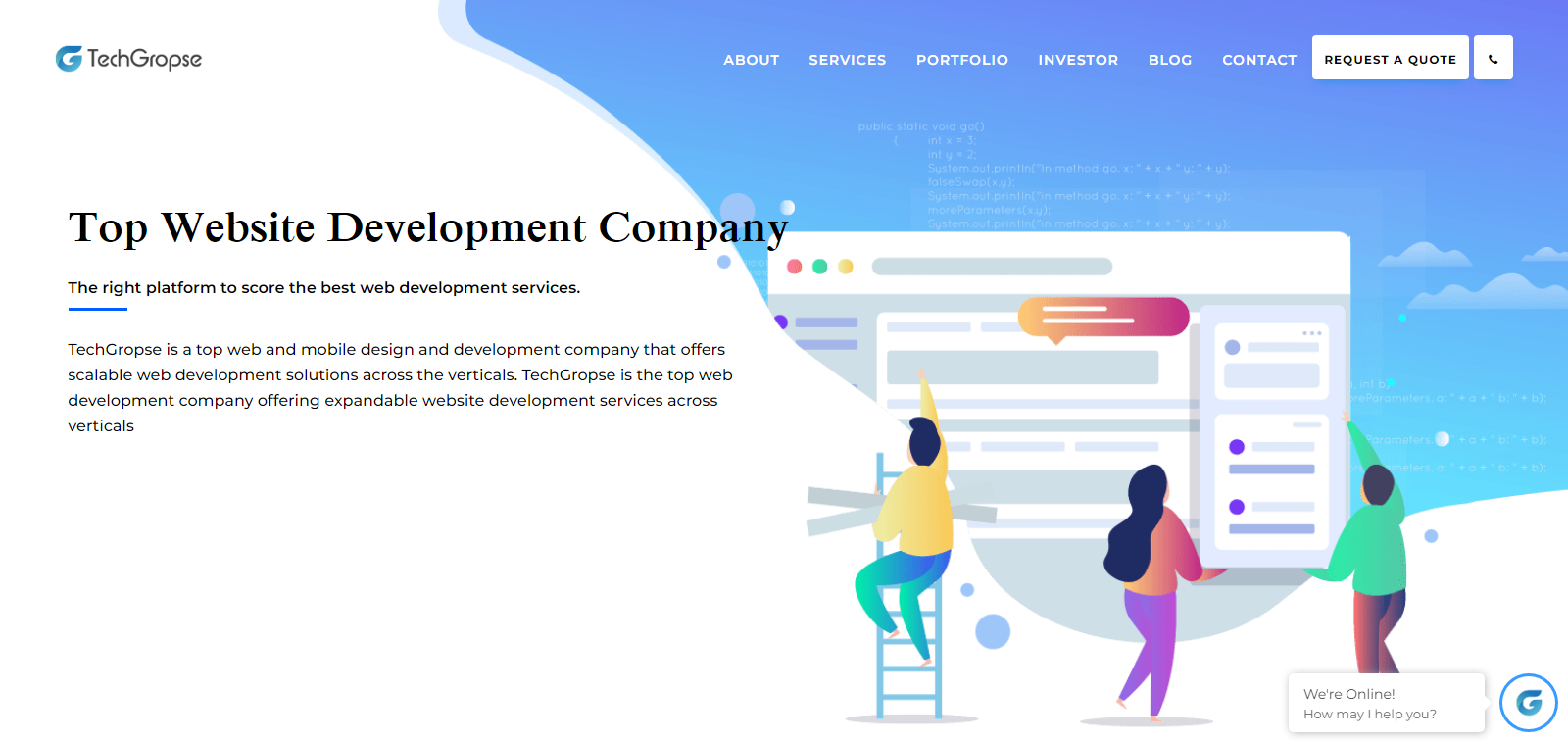 TechGropse is one of the best web design and app development companies that extends a helping hand in the web and app development domain to startups, SMEs, well-established ventures, and Fortune 500 companies. The company's strength is its employees. Right from the top management to the developers and from think-tank to the quality assurance specialists, everyone has a role to play. With its exemplary work ethics and culture, the app development company has successfully catered to over 1000 clients and has developed more than 500 apps and websites.
Location: Noida, India
Technologies/Skills: iPhone App Development Android App Development Flutter App Development Blockchain App Development Game App development Web Design and Development Wearable App Development
Established In: 2015
Total Team Size: 100+
Offshore Offices: Saudi Arabia, US, and UAE
Awards & Recognition: Top App Development Company 2019 by Clutch, Best App Developers 2019 by GoodFirms, Development Company 2019 by AppFutura, Top App Development Service Provider 2019 by Extract, Top App Development Company 2020 by Develop4u.
Net Solutions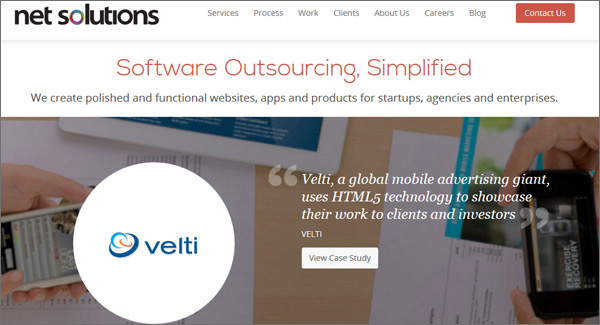 Net Solutions is a web development company with industry experience of around 13 years. Its testimonial section includes words from Gurbaksh Chahal, (CEO & Founder, Radium One), and Digvijay Chauhan (CTO of Ask Me Corp)
Location: Chandigarh
Technologies/Skills: Web design, branding, web and mobile application development.
Established In: 2000
Offshore Offices: None
Best Web Design Projects/Clients: Radium one, Ping Me, Velti, and IMG Worldwide
List of Top Web Development Companies 2020
Opposite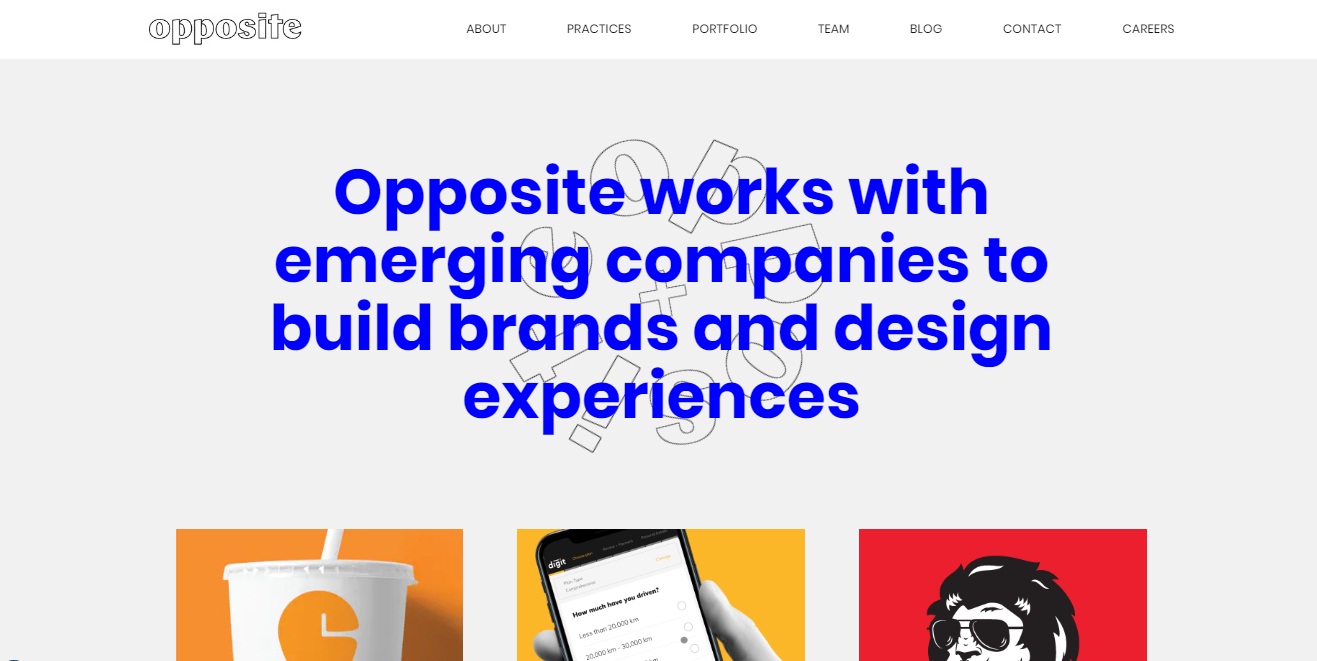 Formerly known as Beard Design, Opposite stands to be one of the most trusted design agency in India. The company has expertise in branding and design services and helps businesses create their unique brand identity. Opposite has a portfolio laden with brochure design, magazine cover design, and brand identity samples.
Location: Goa
Technologies/Skills: web design, branding, poster and infographic design, user experience design
Established In: 2012
Offshore Offices: None
Best Web design Projects/Clients: Chumbak, Kaipo Che – Goa Kite Flying Festival, Veserv, Studio 11
Webzguru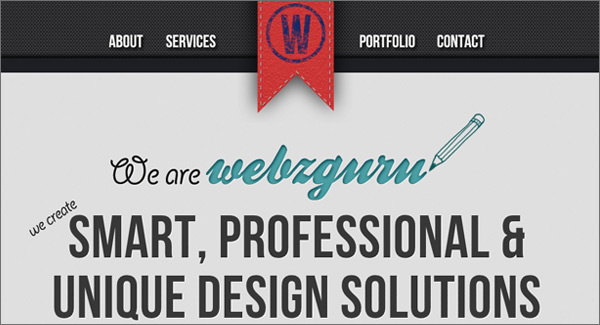 The web design development company has a single-page website and specializes in design, multimedia and SEO. With industry experience of a decade, Webzguru has a lengthy range of website design & development services to offer.
Location: Rajkot, Gujarat
Technologies/Skills: web design, web and mobile application development, ecommerce, emarketing
Established In: 2003
Offshore Offices: None
Best Web design Projects/Clients: Priority Sport, Alina Fashion Wear, Vista Business College, Buttons & Threads
Have a Web Design & Development Work?
Techuz
Techuz pitches itself as a digital agency offering various web-related services. The company offers cost-effective mobile & web design solutions to meet various business requirements of its clients. Techuz is globally known for providing innovative web solutions catering to the clients' advanced business requirements. 
Location: Ahmedabad, India
Technologies/Skills: Web design, Mobile & Web App Development, UX & UI Designing, JavaScript Development
Established In: 2012
Offshore Offices: USA, Singapore
Best Web design Projects/Clients: MR BUTTON, Countly, Right ArmAcademy.
FulleStop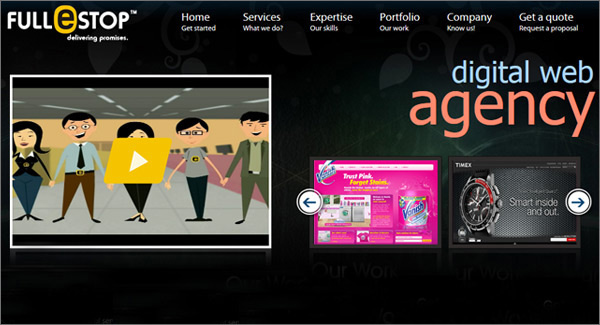 FulleStop is a web design agency India that claims to have worked with brands like Hidesign and Peugeot. Some of its most unique services revolve around corporate identity, flash animation and Java.
Location: Jaipur, Rajasthan; Gurgaon, Haryana
Technologies/Skills: website design, development, emarketing
Established In: 2004
Offshore Offices: None
Best Web design Projects/Clients: Peugeot, Vanish, Himani BoroPlus, and Timex UK
Olive Global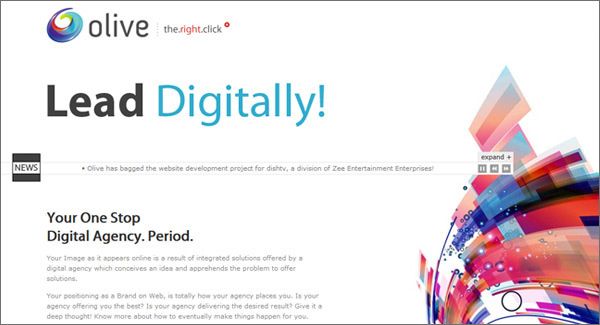 With 500 clients and 1000 plus successfully delivered projects, Olive is a leading name in web hosting, applications and interactive marketing. It has worked for known Indian companies
Location: New Delhi
Technologies/Skills: website design, development, emarketing, web hosting, content writing
Established In: 1996
Offshore Offices: Dubai, UAE; Cardiff, UK; Muscat, Oman; Vancouver, Canada
Best Web design Projects/Clients: Max Bupa, Max Healthcare, Subway, Dulux, and Greeply
TIS India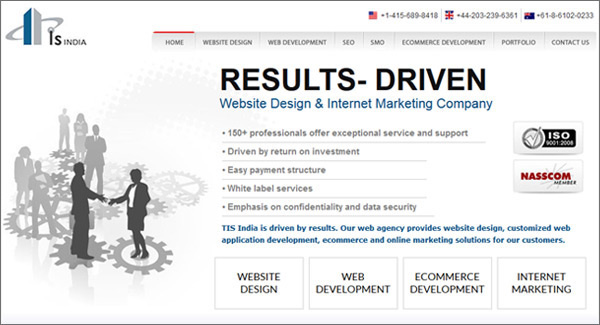 TIS India pitches itself as a web design & internet marketing company, and has been in the web services industry for more than a decade. It guarantees top 10 ranking on Google.
Location: Jaipur, Rajasthan; Gurgaon, Haryana
Technologies/Skills: website design, SEO, branding, 3D animation
Established In: 2000
Offshore Offices: None
Best Web design Projects/Clients: Animalia Paris, The Mob App, and Destination Financial
Quarter Pie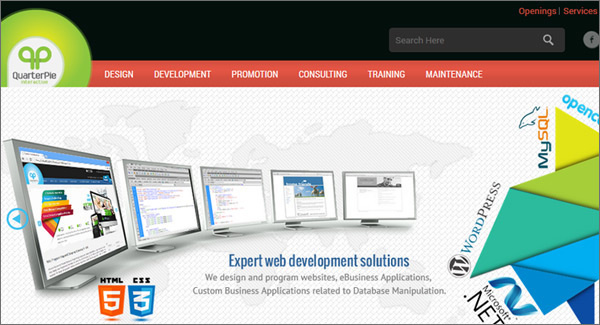 QuarterPie is a young company with exemplary design and development work. It is well known for custom business applications related to database manipulation. The team is also approached for its WordPress expertise.
Location: Faridabad, NCR
Technologies/Skills: website design, development, eMarketing, maintenance, training
Established In: 2009
Offshore Offices: None
Best Web design Projects/Clients: Mitsubishi Electric, LAMAbooks, Albatross Asia, and Unicane
You must be wondering why, being a team of Indian website designers & developers, we made you familiar with our competitors.
Well, the answer to the question is that we like to face the competition head-on and want our potential clients to make an informed decision. Though we are known globally for creativity, technical expertise, and affordability, we wish to make you familiar with other service providers in the Indian subcontinent.
Also, we understand how troublesome & confusing Google search can be and how time-consuming it is to go through irrelevant sources under the title of "best 50" or "top 100" firms. So, we thought it would be nice to list the celebrated web design agencies in India to level the ground for competition.
What makes FATbit different from the rest?
We use the latest and newest technology to deliver the BEST.

We offer one year of free technical support for bugs and error removal. 

We offer highly distinct yet affordable solutions.

We offer custom solutions to match any business idea and need.

We always believe in exceeding clients' expectations with exceptional service.
Have Any Query Related To Web Design & Development Work!
Note:
If you believe any piece of information about the listed companies need to be updated, write to us at [email protected]. Also message us if you think any other Indian web design or development firm deserves a spot in this list.
Disclaimer:
The Blog has been created with consideration and care. We strive to ensure that all information is as complete, correct, comprehensible, accurate and up-to-date
as possible. Despite our continuing efforts, we cannot guarantee that the information made available is complete, correct, accurate or up-to-date. We advise - the readers should not take decisions completely based on the information and views shared by FATbit on its blog, readers should do their own research to further assure themselves before taking any commercial decision. The 3rd party trademarks, logos and screenshots of the websites and mobile applications are property of their respective owners, we are not directly associated with most of them.
Expand