Post Updated On: 24th May, 2019
As a web based company, we get numerous queries from business students, enthusiasts, innovators and investors who want to start ecommerce business. Commonly people ask for small-yet-profitable investment ideas, while some seek to discuss new business models. There is another class of aspiring entrepreneurs that is clear of what they want to build, so they either need a turnkey solution or custom development to convert an idea into a real business.
FATbit Sets High Standards With Its Technology Products
Viewing this dearth of ideas and web-technology resources, we began researching the startup options, ongoing demand and the role of turnkey and other technology solutions in developing start-ups. It's the outcome of a journey of years dedicated to research, analysis, planning, and development that FATbit today owns a range of technology driven products, which include:
Solutions developed to start a new online business
Software meant for business management (Different sectors)
We focus on helping entrepreneurs bootstrap a business by making the technical part easier; FATbit's list of software (for founding business) denotes the similar emphasis. Catch a brief look of all products below:
1. Yo!Kart – Multi Vendor System
Everyone around is attracted by the hold and power of eBay, Amazon, Flipkart and other popular ecommerce stores but not all of them know the right path to own one. Yo!Kart provides a perfect platform to individuals lacking an advanced multi-vendor ecommerce solution to launch a new ecommerce website. Yo!Kart's unmatched features and outstanding benefits have been highly acknowledged by startups running on this marketplace script. Designed by extremely talented designers and coded by perfectionist developers, it is one of the most sought after ecommerce solution.
Get Quick-To-Launch Solution & Capitalize on the Ecommerce Startup Boom
Go to Yo-Kart.com
2. Yo!Rent – Online Rental Portal Script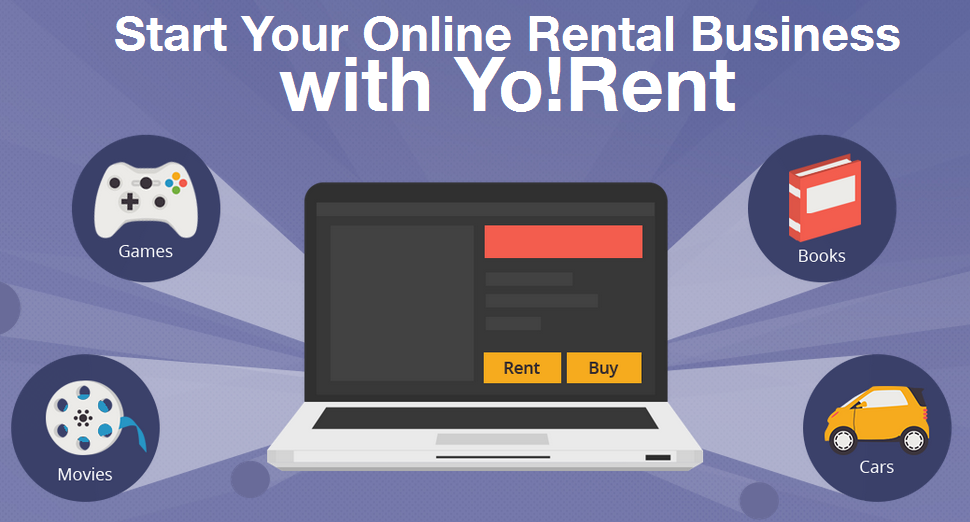 Yo!Rent is a rent business portal script based on the revenue model of online renting. The notion behind renting has always been there in the society. But who would have thought that you could create a small business and earn big bucks while renting things that you seldom use. The idea of online renting has not been explored much yet. FATbit took the initiative and launched an online renting portal for entrepreneurs looking to capture this highly profitable market. Yo!Rent's turnkey solution allows anyone to start his or her online rental business in no time. Moreover, it can be clubbed with Yo!Kart and Yo!Deals to make it multivendor store as well as add daily deals respectively, resulting in an innovative online ecommerce website.
3. Yo!Coach – White-Label Tutoring Software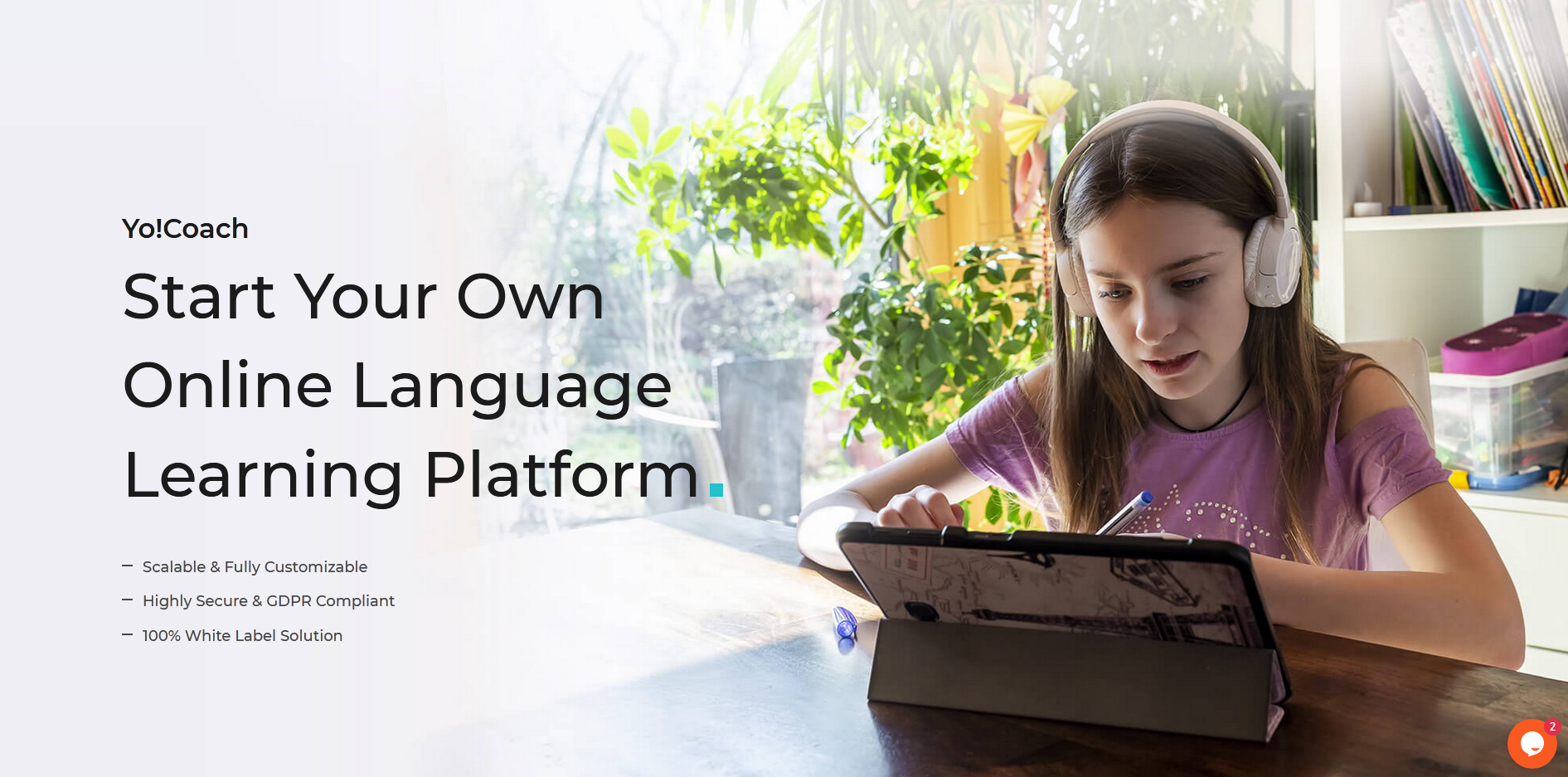 With the increase in popularity of online learning trends, tutors, as well as learners, are shifting their base from traditional classrooms to virtual classrooms. Yo!Coach is a perfect solution for entrepreneurs who are planning to launch an online tutoring and consultation platform. The online tutoring platform powered by Yo!Coach ensures effective and efficient collaboration between tutors and learners with its advanced features. The solution supports a plethora of industry-specific features such as video conferencing, geo-location, reviews, multilingual/multi-currency, review/rating and many more. For seamless payment flow, the solution is integrated with secured payment gateways. What makes the software outstanding is that it does not require any technical expertise for any user to navigate the platform. What's more, the software comes with 1 year of free technical support to help you run your business seamlessly.
4. FunAway – Travel Activity Marketplace Builder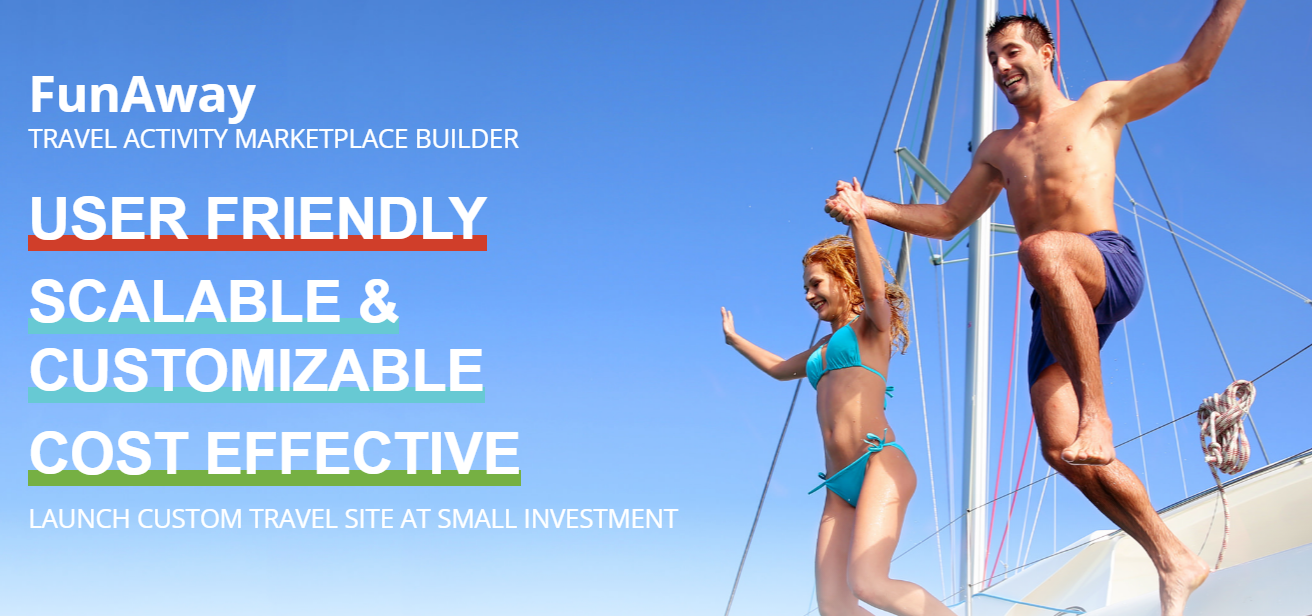 These days, people are relying on the internet quite too often to book their travel tickets, to discover hotels, local fun activities, etc. And this shift in customer behavior is mirrored in the fact that online travel industry is growing at a rate of 10%, annually. Stats clearly indicate that it's a good time for aspiring entrepreneurs to dive into online travel sector as it has huge potential for new investors.
Recognizing this trend, Fatbit team developed FunAway to help entrepreneurs in starting their own online travel activity search & booking marketplace in a swift & cost-effective manner. FunAway is mobile-ready, search engine friendly, offers performance metrics analysis features and much more – pretty much everything that is needed to establish a successful online travel business.
5. Yo!Yumm – Food Ordering Marketplace System
Online food ordering businesses have gained immense popularity among consumers. However, the biggest predicament of potential entrepreneurs eyeing for this business model is a feature-rich platform that can serve better than exiting business. This is where the excellent website script comes into picture. What makes Yo!Yumm so unique as a food ordering software is that it does not require any advanced knowledge of coding and a food ordering website can be launched in no time without any hassle. The innovative features make it an ideal solution to create an online food ordering system.
6. Growcer – Online Grocery store Builder
Growcer is one of the best online grocery store builder out there with a long list of innovative features, making it easy for anyone to launch an online grocery store. It is mobile smart and fits every screen allowing consumers to shop even on mobile. There are also a plethora of options available like cart sharing, delivery slots, and wish list, that makes it a complete online grocery store solution. The best part of using Growcer to launch an online grocery store is that you do not need to have the technical expertise for managing the store. Its robust CMS and powerful report generation system makes Growcer a complete product.
7. VivoGigs – Performance Gigs Marketplace Solution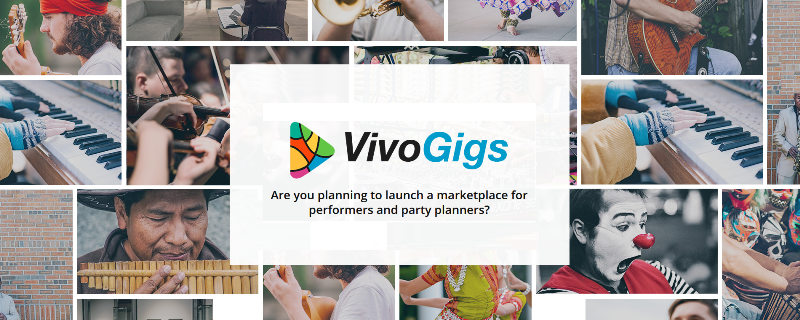 A huge number artists and performers are looking for gigs, and at the same time, many event organizers and planners are looking for artists.
VivoGigs is specifically created to cater this relatively untapped market. It empowers entrepreneurs to launch a fully-functional gigs marketplace in a time and cost effective manner. Websites built using VivoGigs boast of high user experience, easy management, power search, review & rating, email notifications, and a lot more.
And just like all our other products, VivoGigs also comes with a 12-month free technical assistance.
8. Yo!Gigs – Futuristic Solution to Create Service Marketplace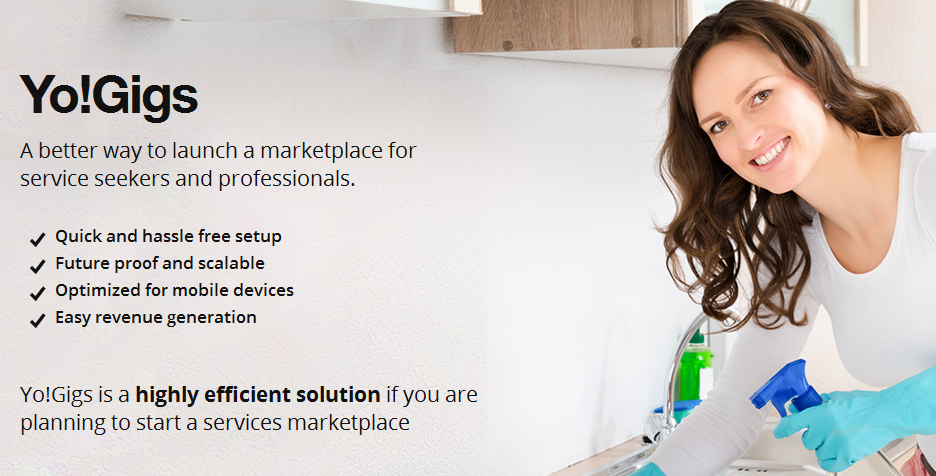 Internet has surely made information readily available and one of the biggest beneficiaries of it has been service industry. Finding a service professional has become a lot easier with task marketplace. So what do you do when you have to launch your own marketplace for service professionals. You do not look beyond Yo!Gigs. It is quickly gaining the reputation of a master turnkey solution among startups based on small-tasks delivery model. Packed with all the major features that bridge the gap between service seekers as well as professionals, it is apt for creating a service marketplace online.
9. Yo!Care – Care Services Marketplace Solution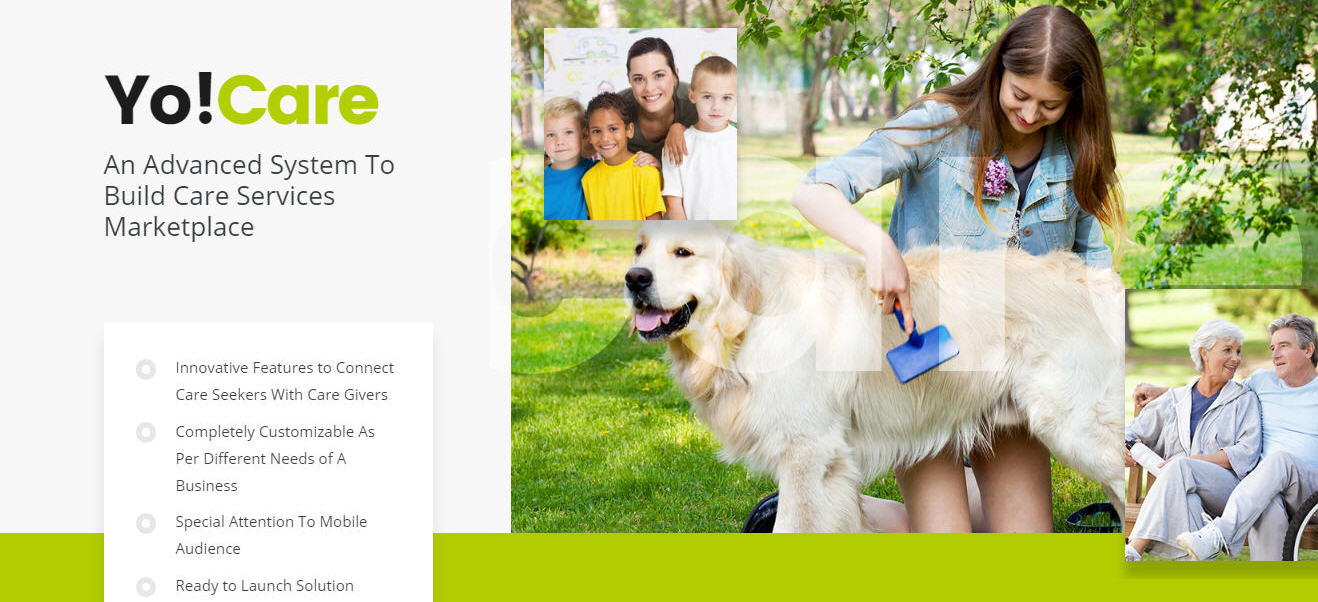 Finding and hiring a good caregiver nowadays can be a huge hassle, which is why people are preferring online marketplaces to find a reliable caregiver. This has given an immense opportunity for entrepreneurs who want to launch an online caregiver marketplace. However finding the right ready-to-launch platform with all the necessary features can be a daunting task. This is where Yo!Care shines as a perfect solution for building an online caregiver marketplace. It's completely customizable architecture and mobile friendly design makes it ideal for entrepreneurs to launch a premium marketplace at low cost. YoCare has been specifically designed keeping in mind all the crucial features required by both caregivers and seekers.
10. Yo!Deals – Daily Deals System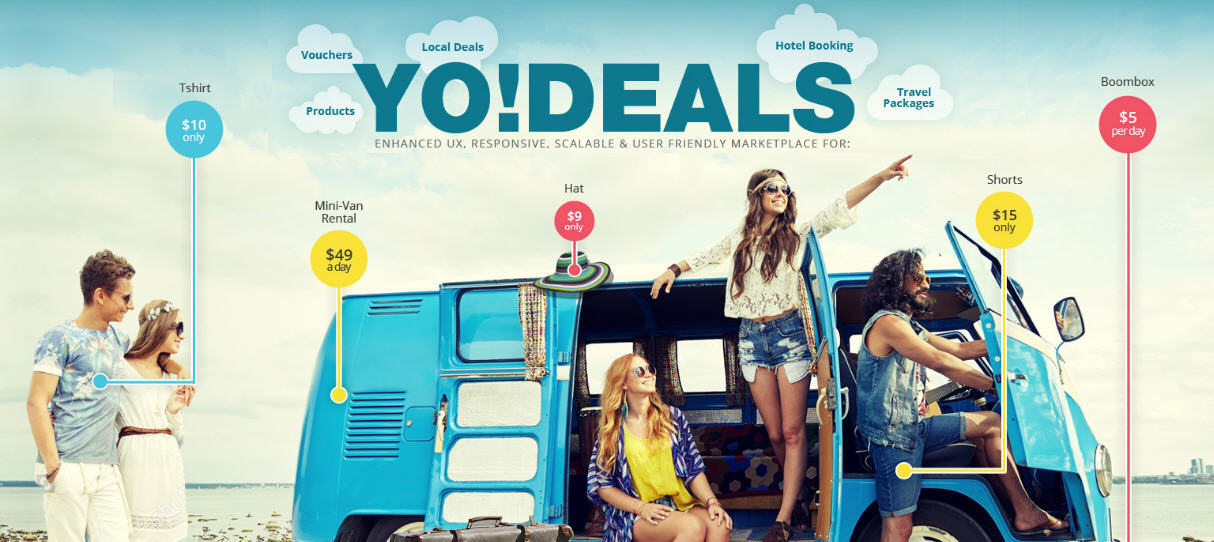 Instead of offering a Groupon clone, we decided to build Yo!Deals, a daily deals system that incorporates varied features targeting generation Y & Z. It's a smarter solution for individuals looking to start discount selling business and need a scalable deals website for it.
Being an advanced daily deals script Yo!Deals brings vast range of features meticulously crafted by experienced team of designers and developers. The biggest advantage of Yo!Deals is that it can incorporate local deals, vouchers, lets you sell products, travel packages, and even hotel booking making it an all-in-one deals solution.
Are you thinking over the Idea of Launching a Daily Deals Website?
View Yo!Deals Demo
The fact remains that consumers are always in the lookout of offers that give them deep discounts. A website catering to such idea surely has immense growth potential. FATbit took note of this popular business model and developed an exclusive solution that helps individuals create daily deals website.
11. Yo!Drive – To Launch a Car Marketplace
When everything is getting online how the automobile sector can remain untouched of ecommerce growth. Observing this drift, our development team accomplished the task of creating this smart system, Yo!Drive that will reduce all hardships of people wanting to start a car dealership site.
With Yo!Drive you can own online car marketplace where users could buy and sell used/new cars without any difficulty. Therefore, it developed a robust online car marketplace script for launching a website, which facilitates both buying and selling of new/used cars. With its amazing features and competitive pricing, Yo!Drive has quickly become one of the best turnkey solutions for starting a car marketplace. In addition to it, this car portal system can also be used to create a car dealership website making it a multi-facet solution.
12. Yo!Pro – Feature-rich solution for opening professional search marketplace
Nowadays, people tend to use internet more often to carry out their daily task, which has led to mushrooming of numerous online business models. Finding professionals has always been an arduous task involving painstaking search through numerous directories. However with Internet coming into picture, finding a professional has become seamless. Yo!Pro works on the same principle and makes it easy for anyone to launch their own online professional search marketplace. It has a wide array of features like responsive design, social media integration, reviews and ratings as well as a powerful CMS to name a few. In addition to it, Yo!Pro has multiple revenue channels for entrepreneurs to make money making it a complete package.
13. Yo!Tree – A turnkey solution for starting classified ad business website
Yo!Tree is one of the most well packaged software solution aimed at entrepreneurs who want to launch their own classified ads websites. It has a host of features offering a user engaging and feature rich solution. Clubbed with social media integration, advance search option, intuitive ads management, communication channel, Yo!Tree makes it easy to launch and manage a user friendly classified ads marketplace. FATbit has laid special focus on ensuring security of the data which is why the overall architecture of Yo!tree has been built around security. Additionally it also offers multiple way to easily monetise the marketplace.
14. Yo!Funding – Ideal platform to kick-start a crowdfunding website
Nowadays, most of the entrepreneurs with an idea of a startup tend to use crowdsourcing as a mode to generate funds. This has made online crowdsourcing marketplace highly popular and one of the growth oriented business models. Yo!Funding, a product from FATbit makes it easy for anyone to launch their own crowdfunding marketplace and tap into this burgeoning market. A highly functional admin dashboard of YoFunding allows you to seamless manage the crowdfunding portal in the most effective and seamless manner. It also has a wide range of features like responsive design, social media integration, secure payments etc.
15. Stitch – Online Custom Tailoring Solution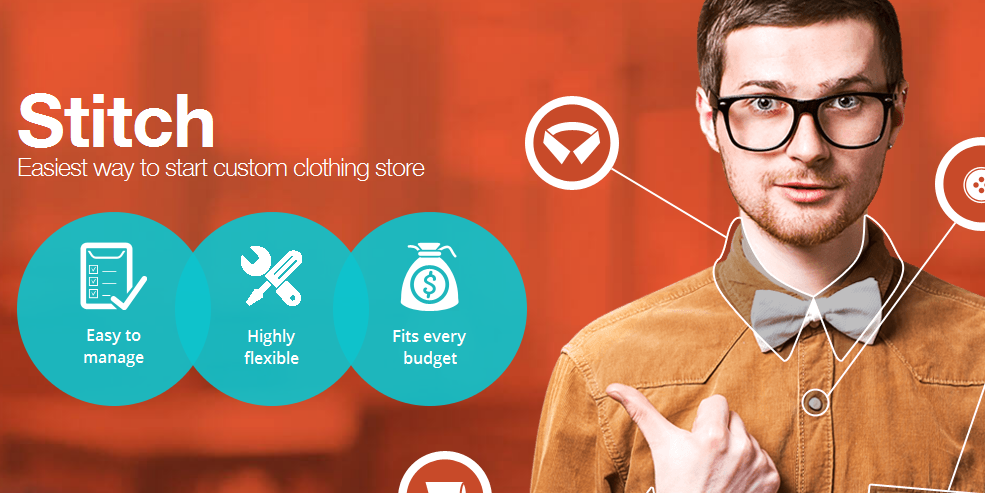 Stitch came into existence as a powerful solution for building a custom clothing website. Custom clothing was an inseparable part of our society until the advent of readymade apparels. This long lost trend is re-emerging in the twenty-first century with online portals acting as real tailors who get the clothes sewed as per customer's body measurements. The analysts involved in the development of Stitch realized that the shoppers' inclination towards ready-made clothes has decreased a bit due to growing habits of shopping online and interestingly men are the front runners. Most of the leading businesses that offer tailor-made suits online cater to men segment. If we look at the current men's custom tailoring portal, it is undeniable that custom clothing market has a promising future.
Curious About How a Custom Clothing Portal Works?
View This
Developed after rigorous brainstorming, Stitch incorporates some of the most innovative features that are required in a custom clothing website. It has created a huge buzz in the lifestyle industry and highly recognized by several startups.
16. Campus – ERP Software for Universities & Colleges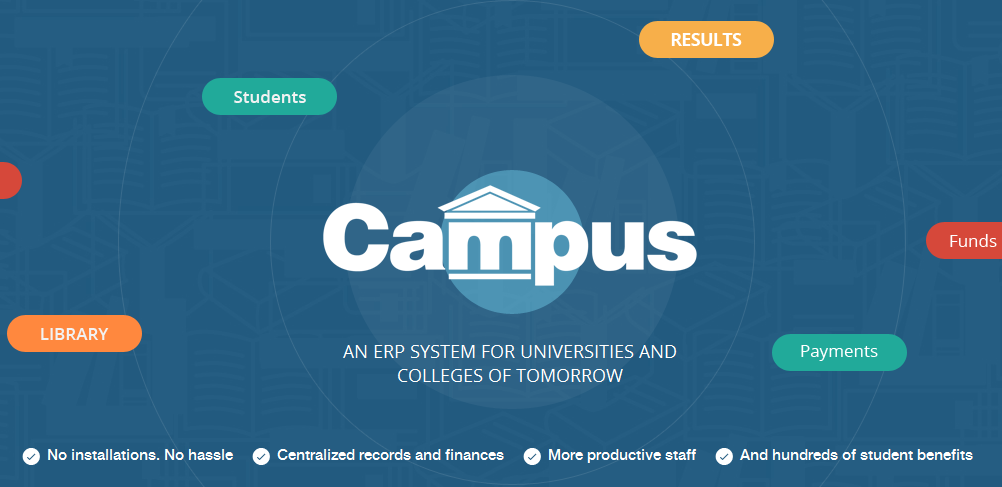 After carefully analyzing the current predicaments faced by universities as well as colleges, FATbit incorporated some of the most cutting-edge features that can take care of all the academic and administrative functionality. The result was Campus, a perfect university ERP solution that minimizes the challenges faced by staff and students of a college on a daily basis. It perfectly fits the bill as a powerful and complete package. It not only comes as a boon for staff members to minimize their workload but also allows students to simplify their daily academic chores. It has taken the academics arena by storm and appreciated by several universities.
Also Read: FATbit is one of leading educational mobile app development companies. 
17. Paperweight – Freelance Writers Marketplace System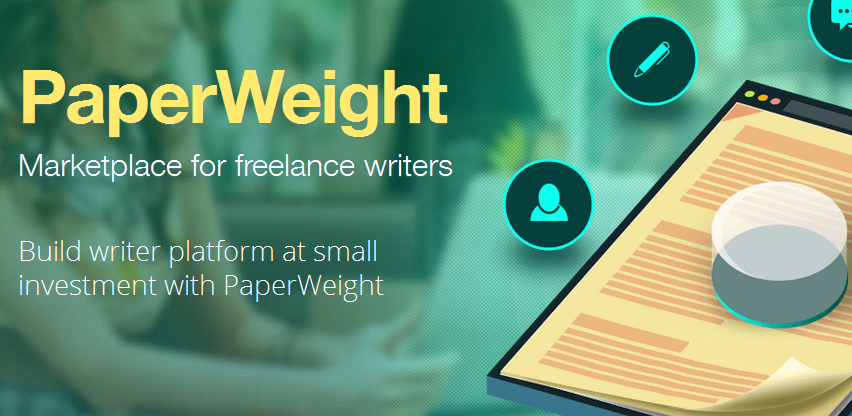 The internet boom has surely paved the way for global sharing of information. Writers in that aspect have seen immense surge. However, there was a dire need for quality platforms that can connect freelance writers with prospective clients. FATbit took note of this void and created a highly acknowledged ecommerce script used for starting a marketplace for freelance writers. With a simple and hassle free setup, a marketplace for freelance writer can be up and running in no time. For entrepreneurs looking to enter this booming business model, there is no better choice than Paperweight.
Start a Marketplace for Freelancers Writers & Cash in on the Huge Demand of Content
Choose Paperweight
The products stated above although target various industries including ecommerce and education yet they have one thing in common; they aim at revolutionizing specific sectors and garner the power of technology to help businesses, organizations, future startups. Most appreciated by the organizations that were trying to restructure their old processes and small-new businesses, these FATbit products have raised the bar of technology standards by offering quality for an inexpensive cost.
FATbit has always been known as a quality driven web solutions provider and all its technology based products clearly state that there is no mountain too high, when you have the desire and competency. If you have a new business idea waiting for experts' suggestions, or a query to discuss, send it to us and clear all your doubts about running online. We promise you a valuable session.
Have an Idea waiting to be developed into Real Business?
Discus Now to Launch It Soon