Moving home or planning to transport something as simple as a piano or a car? The task of hiring transport service providers has been simplified by mover marketplaces. On such web driven portals, people can list items for delivery, and get bids from different transport providers.
A transport service marketplace is synonymous to moving anything and everything. After discovering the emerging industry, FATbit analysts did a detailed study of the business model and website features to come up with a post that will help entrepreneurs in launching the perfect transport service portal.
So, without wasting time, let's start by taking a look at the business model and critical features that can be included in your transporter listing site:
Business Model
There are many transport service marketplaces that are simplifying transportation for people across the world.
For Customers
Your transport service site must be an online platform that makes it easy for users to list delivery jobs. It should help customers to transport vast range of belongings at a reasonable price.
For Transports
Your site should simplify complicated tasks for transport service providers as well. Here are some major points:
Choose the job that interests you.
Bid for deliveries.
Contact client and set a schedule accordingly.
Get customer feedback to win more jobs.

While transport service providers make profits from every new assignment, customers get the best deal for the transporting job. Your portal can generate profit by charging a small fee for every complete assignment. Profits can also be made through ads and promoted transporter listings.
Biggest industry players
While the potential in transport focused portals is huge, there are companies that are already making big profits in the industry. Here are some of the biggest players: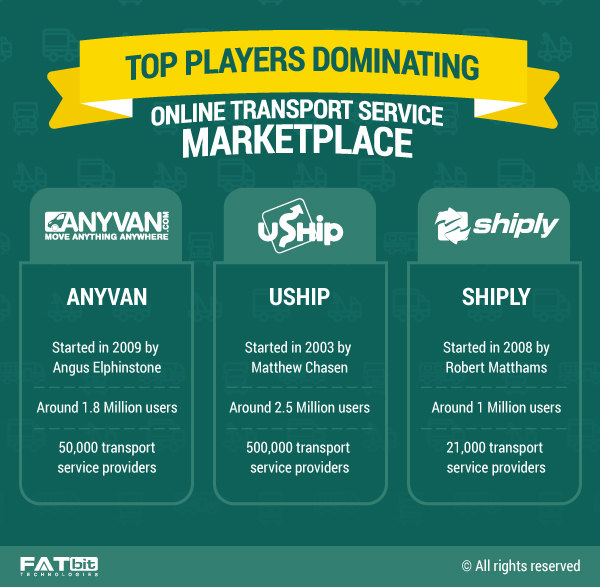 Now let's have a look at site features you need to clone for taking your share of the pie in the growing industry.
Feature Analysis
The website should be designed in a way to make everything look well-organized. An easy to navigate website offers a user-friendly browsing experience to the visitors. Let's explain the website features one by one for better understanding.
Features for Customers
The whole website should be built with concepts of UX and conversion in mind. Here are the most critical features and design aspects that must can make your portal appealing to customers:
Engaging Homepage
Divide the homepage into different sections to fit work process, company goals, reviews and much more. Let's have a look at the major homepage sections worth focusing on:
Design an attractive homepage banner along with business offers. This will boost customer engagement and give visitors a reason to stay longer and explore further.
The first fold of the website should display names of different media agencies on which your website will be featured. It can also share the number of customers using the service. This will help gain customer trust.
There should be a search tool on the homepage that let users find local transport providers in their area. The search functionality must rank high in terms of UX and should be planned using postcode or neighborhood name. A postcode or location based search interface can generate more conversions from this section.
Homepage must give an insight about how the website works through a dedicated section. It should clearly explain the working of the website in different steps.
Get UX redesign for your ecommerce portal to multiple leads
Get in Touch
Include customer review section on your home page. According to FATbit analysts, this is a good move as it will help your business build credibility. It has been found that online users trust peer recommendation instead of advertisements. Showcasing reviews on the homepage thus helps you form a closer relationship with your clients.
The homepage must also display all the services offered by your platform in a unique manner. Services that you can choose to offer:
Man with a Van
Courier Services
Removal Companies
Vehicle Transport
Furniture Delivery
Student Movers
The footer of the website should be kept minimal with links to all important pages. The footer must include social media icons that give a link to your website's Facebook, Twitter, and Google+ account.
Get Quotes/ Sign up
Make it easy for the users to post their job and get quotes. The site should offer a simple functionality to share information about goods that need to be moved along with product details, postcode of the location where user presently reside, and also postcode of location where the goods will be moved. Include a quote verification feature to check spam.
My account
After creating the account, a user must have an array of options before him. Below details can improve user experience and help in giving control in the hands of customers:
My Profile
My Active Listings
My Previous listings
My Messages
Edit My Profile
Recommend a Friend
PROCESS FLOW DIAGRAM FOR BOOKING A TRANSPORT PROVIDER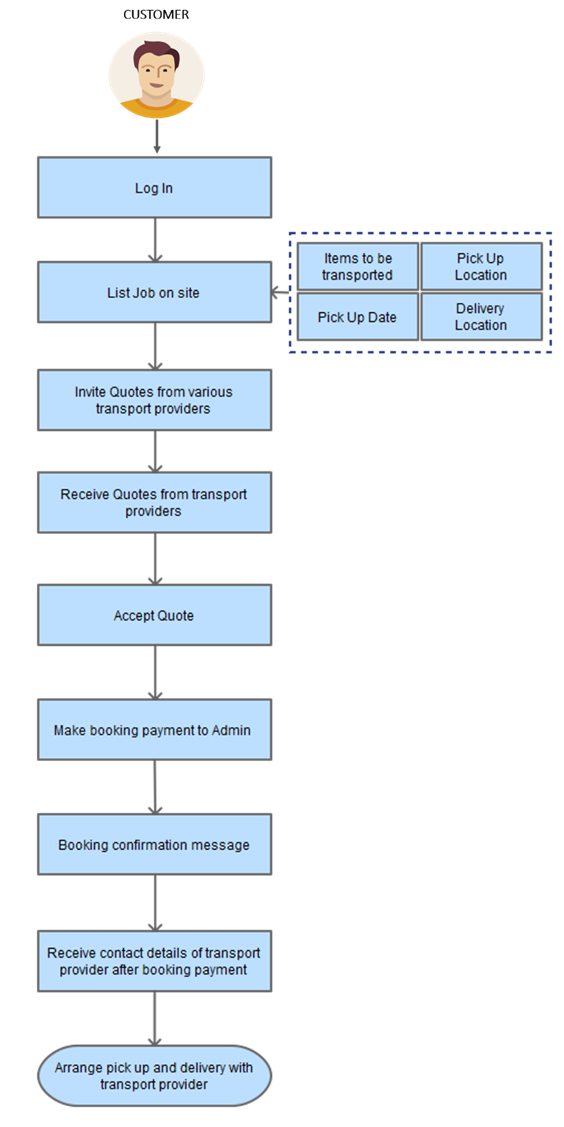 Edit My Profile
Your transporter hiring website must offer the ease to edit your profile. The user must be allowed to pick up an option based on his preferences.
Through 'edit my profile', users can easily make changes in profile, notification settings, contact details, and much more.
Recommend a friend
The success of an ecommerce business always depends on a connected user base. The website must give its users the power to recommend the services to their friends and in turn earn credit. For every recommended friend that becomes your website customer, user can be rewarded. confirm this feature if you are planning to build on a transport service clone script.
Another impressive feature can be the presence of a link that can be copied and shared anywhere.
FAQs section
The FAQs section answers all queries that may be bugging a user. Add a search bar that will make it easy to find answers to specific queries. The FAQ section can include:
Common questions
My account queries
Listing items queries
Recommendations
Transport Provider Profile
The login page must make it easy for customers to access complete information of the provider. On this page, make provision of details like general insurance, customer feedback, market reputation, and also reviews from previous customers to help customers make an informed decision.
Optimize Your Website to Offer Best UX and Gain Competitive Edge
Know More
For Transport Service Providers
Keep the sign-up process simple for transporters. Multiple steps can be added to confirm identity and other critical details. In the first step, gather contact details (like email address and phone number).
Second step can ask for all the business details to proceed further. Account activation can be handled via email. Unless the user has activated his account, he should not be able to log in to his account.
In order to start bidding, the site should ask the transport provider to fill up the following details:
Insurance documents
Driving license photo card or Identity Card
Profile
As a transport provider, the user should be able to fill in or edit the details easily. He should also be provided with the option to describe his business in detail to help customers know more about the services. The website must allow the user to upload a picture of his vehicle, and fill in other important details.
My Account area
Transport service providers deserve a UX focused account management area to make changes in their profile and undertake other critical updates. A simple dashboard focusing on most critical aspects of the account can simplify the task for service providers.
PROCESS FLOW DIAGRAM FOR LISTING ONESELF AS TRANSPORT SERVICE PROVIDER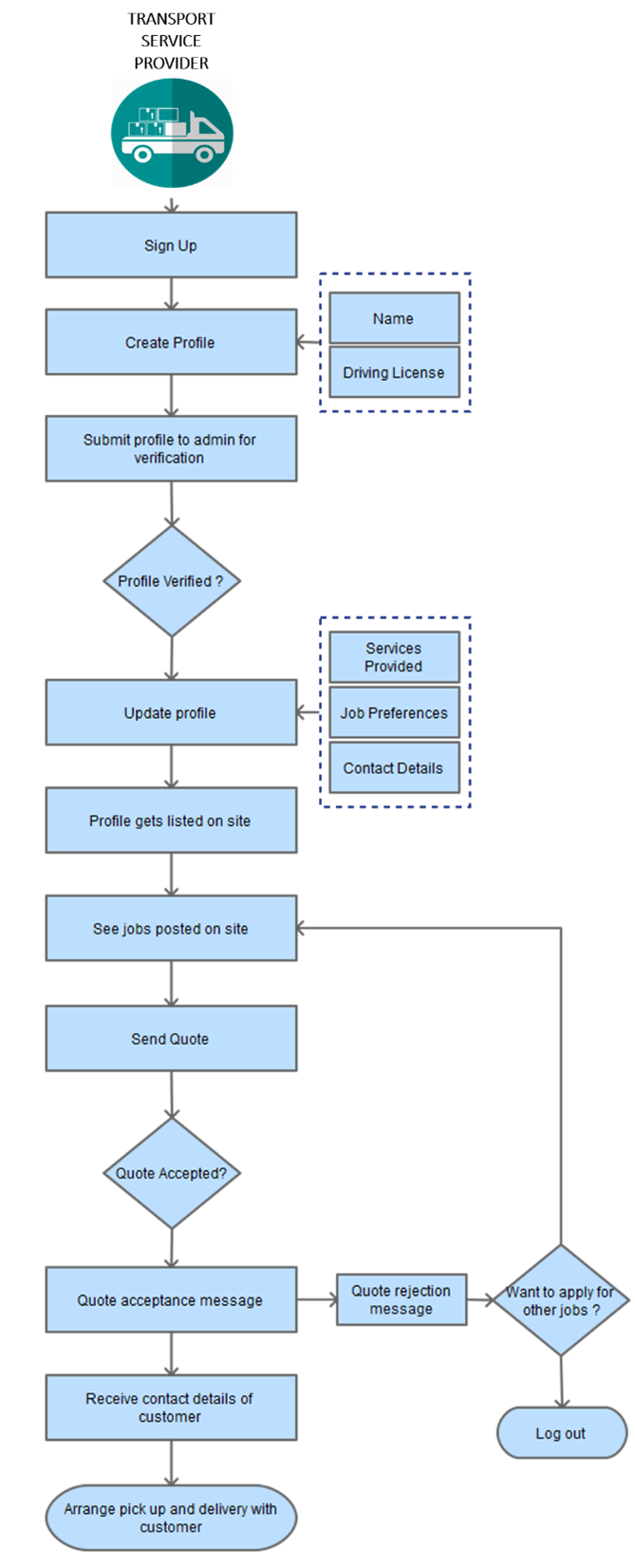 Live chat help
The website must be provided with live chat help option. The live chat option makes it easy for the users to find relevant answers to their queries. While designing a Transport Service site, include this feature to clear your customers' doubts. Opting for a turnkey script solution? Confirm this feature!
Mobile app
From hotel booking to shopping, everything is going mobile. So, why not give your customers and transport partners the advantage of mobile technology? If you want to dominate the market of goods delivery, then, a highly functional mobile app can do wonders. Choose a script solution that promises a mobile site so that you get the advantage from mobile devices from the very beginning.
Native/Web/Hybrid – How to Choose a Mobile App Development Platform?
Transport service websites like AnyVan and Shiply have certainly built a large user base and have evolved into renowned brands.They have become popular platforms that help customers meet prospective movers ready to offer their services at a competitive price. Your transport service clone must include all the features mentioned above to gain an edge over established players. Or you can opt to operate in a region where there is no competition.
Interested in building a Transport Service clone or have something unique web driven startup in mind? FATbit's expert team of designers and developers is here to help you.
Launch a Marketplace to Connect Transport Providers and Customers
Consult Experts