Sharing Economy or the collaborative consumption has made people leverage the use of surplus or idle sitting assets. According to a report by Nielsen, people in emerging areas of the world are becoming increasingly open about sharing and renting products. Financial gains, freedom from ownership or struggles of proprietorship has made the idea of sharing or renting community thrive across the globe. The sharing economy touched $115 billion in 2016 and is projected to reach $335 billion globally by the year 2020.
If you think those household items that you rarely use are of no value, then, think again. You can add value to these barely used items by renting them out. With changing market dynamics, every item these days has a value. The business model of peer-to-peer renting platforms for individuals and businesses have made it possible to extract money out of rarely used items. Platforms like RentTycoons, Rentmyitems, Rentything, provide huge benefits for both product owners as well as renters. While product owners get economic benefits, a renter gets to use those items without buying them.
Within a short span, this rental business model has generated huge popularity which is why FATbit analysts did an in-depth analysis of its workability, and key website functionality. This will help entrepreneurs start P2P renting marketplace and also undertake upgrades in their rental portal.
Table of content:
Business Model of Peer to Peer Renting Marketplace
The business model of an online renting marketplace facilitates around peer-to-peer renting.Websites like Fat Llama, Adorama Rentals offer a platform where vendors can rent their household items, vehicles, electronic equipment, tools when they are lying free. The website owner is the medium through which the renter and customer connect with each other. When a product is lying idle for quite some time, the renter would want to rent it out to earn a few bucks of money. The person in need of the product i.e customers can easily access the product through the website. The peer to peer rental platform owner or admin charges a fixed percentage of the fee as commission.
The peer to peer rental portal enables the admin to do the following:
Create a platform where renters and rentee can rent their products easily.
Earn commission on each product that is rented.
Run Advertisements or find different ways to generate revenue.
Manage the marketplace and reviews submitted on the website.
Renting not only generates economic benefits for product owners and renters; it is also a sustainable way of diminishing reckless purchase. Instead of buying, renting relieves the burden of ownership and the need to carve out a space to store the item, especially for items that are rarely used. Check the Business model of P2P Renting marketplace to understand the working in a much better way.
How do equipment rental Marketplace generate revenue?
Listing an item or service may or may not be free. The product owner is charged a commission fee, which the platform deducts from the total Rental Charges, upon making a successful transaction. Besides, the commission on booking fee, there are few sources of generating revenue from the peer to peer renting marketplace:
Featured Listing- The listings are strategically placed for maximum exposure to potential buyers. The product owners can get their products listed on the homepage itself and in turn, the platform owner can earn money from the listings
On Page Advertisement- Banner ads or on page advertisements help to promote the products on-site.
Membership/subscription Fee- This is another source for recurring revenue where vendors are tempted with annual, monthly or weekly subscription fees.
Peer to Peer Equipment Renting Website/ App Features and Functionality
There have been many peer-to-peer marketplaces catering to niche sector but online renting marketplaces have given a new name to peer-to-peer interactions. The idea is unique and has captured the interest of users which is evident from the massive unique monthly visitors of such websites. Let's take a closer look at all the features that can help any website/ App become a big name among peer-to-peer marketplaces.
Recommended Post: Online Heavy Equipment Rental – A Market Ripe For Expansion & Innovation
Website Overview
There have been many peer-to-peer marketplaces catering to niche sector but online renting marketplaces have given a new name to peer-to-peer interactions. The idea is unique and has captured the interest of users which is evident from the massive unique monthly visitors of such websites. Let's take a closer look at all the website features that can help any website become a big name among peer-to-peer marketplaces.
Homepage Features
You have the option to either go the traditional route when it comes to the design of its homepage, or a more modern look via huge banners and sliders. But it is vital that you keep everything to the minimal, focusing mainly on the website functionality.
As soon as the user lands on the homepage, an intuitive banner should greet them that highlights what the website is all about. In addition to it, the top fold can house important links like how it works, categories and login/signup.
Search Bar– A search bar should also be present above the banner image. The search bar has to be at a prominent place so that it is visible to all the users on the website. Make sure that the search bar shows results on some common keywords too.
Recently Rented- The second fold of the homepage can showcase a dedicated section of recently rented items. This is an ingenious move as it provides additional leverage to the website. Many ecommerce websites have started to infuse this particular strategy into their homepage. FATbit analysts recommend this approach while developing an online renting website.
3. Featured Products
There should also be a dedicated section right on the homepage which showcases all the featured products listed on the website in a paginated form. This can also be a paid option for members to increase the visibility of their items. the information would include:
Product Images
Product name
Category of the item
Price per day
4. Footer
Like most of the eCommerce websites, the footer should be kept to the minimal. It should just house the content pages along with certified payments gateways.
Besides, the above listed features on a peer-to-peer renting marketplace the navigation for the website should stand out and be consistent without restricting the flow of the user.
How it works
It is vital to understand that e-commerce is fairly a new concept for many internet users. This is why it is always recommended to have a How It Works section on your website so that novice users can get accustomed to the functionality of the marketplace. There should also be a link to the FAQ section for users with additional queries.
Product Category Pages
Define clear product organization with smooth navigational and distinct product categories. Users should be able to differentiate between the different categories and leverage the main navigation bar to show what product categories are present.Always maintain the hierarchy by placing certain items and sub categories under one single parent category.
Well curated and uncluttered information on the category page is the key step in designing the category pages for the website. Helpful differentiating product information on the category page should include concise name, clear images and rental prices.
To refine the results on the category page, there should be sufficient amount of filters like brands, price, shipping, availability. The filters help to narrow the results, increases the discoverability of the preferred items and avoids the overload of choices.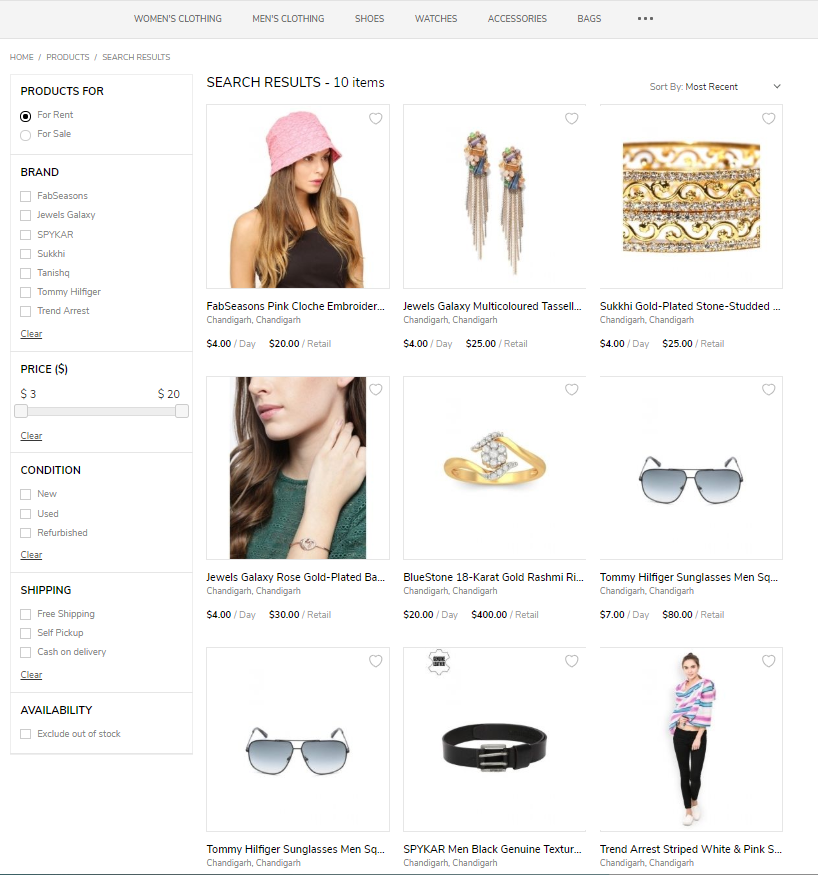 Product Page
The product page on the website should be designed in such a way that it provides all the information related to the product on a single page. From item description to renting option and contact product owner, you should emphasize on every critical renting detail. The information available on this webpage can include:
Renting Details
Description
Pickup and return instructions
Item Reviews
Message product Owner
Recommended items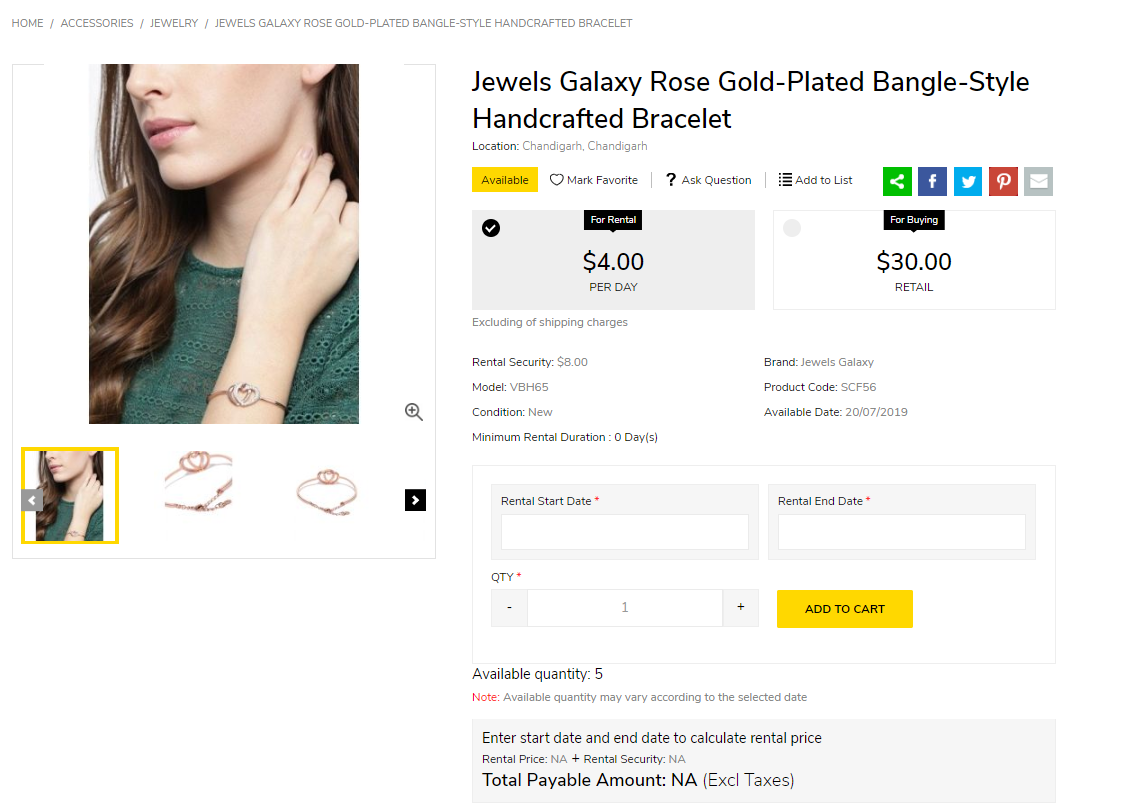 Streamlined Checkout Process
Besides engaging on the landing page/product description it is highly paramount to optimize the shopping cart and reduce the cart abandonment rates.  In order to streamline the whole customer checkout process it is very important to make it easy for customers to login. The shopping cart page holds the key to the conversion, therefore display all product details in the shopping cart including the photo.
Pro Tip:
Include an option for the user to save the product for later or add to wishlist.
Include the overall price that is to be paid by the customers which includes taxes, shipping prices etc.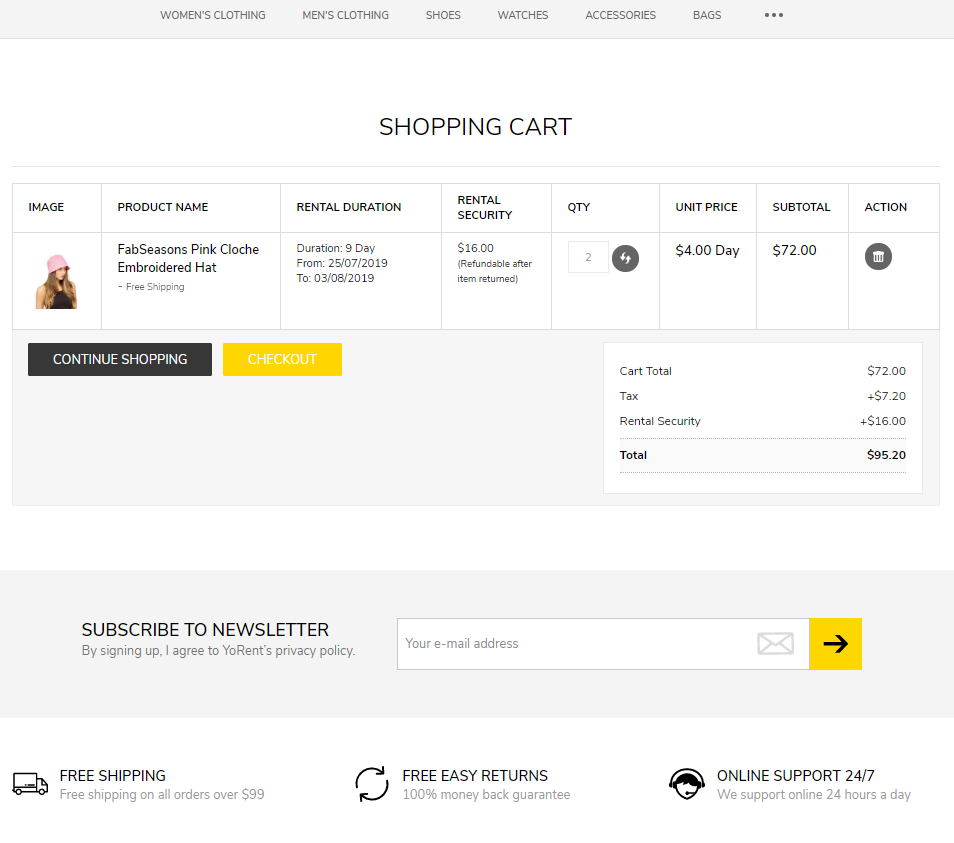 Payment Option
Payment page is one where the customer chooses the payment option and pays.  Payment page is another important page where more than half of the cart abandonment happens. To avoid the high scale abandonment, provide customers with multiple payment options.  Draw attention on the security features of the page
Process Flow Diagram of P2P Equipment Rental Marketplace
1. Request an Item
Your platform should not only allow users to search through the available items but also empower them to request items which are not listed on the website. This gives additional leverage to the platform to become a one-stop gateway for renting items. FATbit analysts recommend a similar approach while creating an online renting marketplace portal.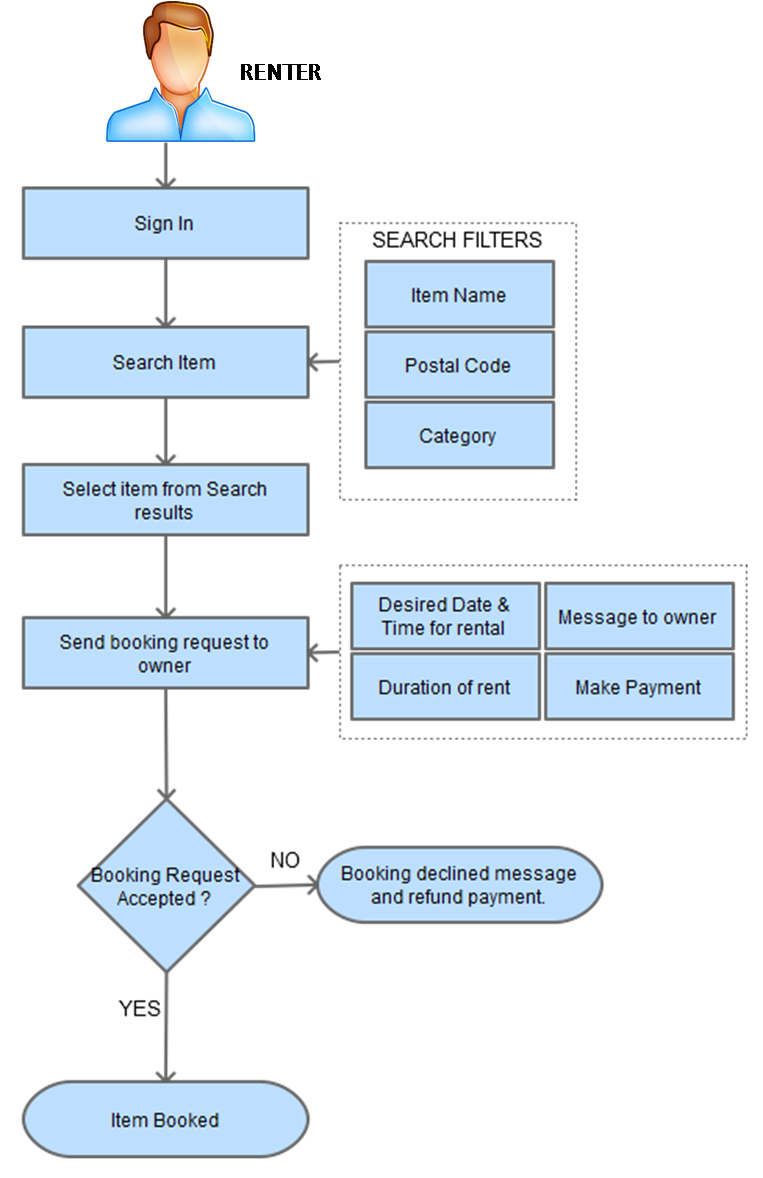 2. Post New Item
There are numerous peer-to-peer e-commerce marketplaces where users can post items to sell. One of the biggest hurdles in front of these marketplaces is to keep the "item posting" form as minimal as possible without compromising product details. When it comes to your "post new item" form, it ought to walk a fine line between minimal yet descriptive form. The basic information required by the form should include:
Category
Item name
Full description
Tags
Delivery/pickup
Security Deposit
Price per day/week/month
Upload image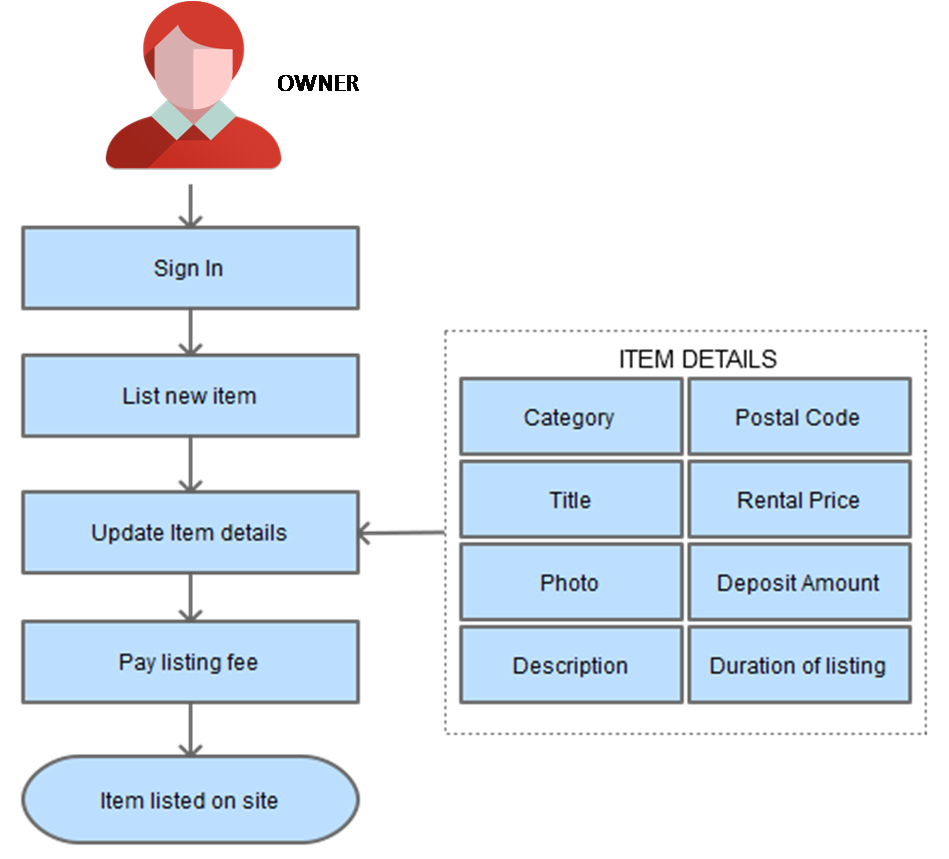 It should not take more than 3 minutes to add a new listing, which is ideal from a user's perspective.
3. Manage Items
The main aim of your website marketplace is to allow people to rent out items that they barely use. To make it easy for the user to manage inventory, you should offer an efficient tool. Users can easily delist any item, view item page, make changes to the item page, and even delete the item from the inventory. Such unique features must be part of your online renting marketplace platform if you want to succeed.
Discuss With FATbit About Converting the Idea of Online P2P Rental Portal Into a Profitable Business  Get Started
Business Model Canvas of Peer-to-Peer Renting Marketplace
Here's the business model canvas clearly illustrating the value proposition and customer segments etc. These nine segments outline the building blocks of running the marketplace

Things to consider for the Equipment Rental Marketplace Business
Login/Register Functionality
One of the key reasons behind the success of any e-commerce website is enticing users into creating an account. It has been seen time and again that most platforms fail to convert visitors into registered users. One reason behind this is cumbersome login/signup process.
In order to keep spam accounts at bay, your website can use email confirmation. This is important to check system abuse as well.
Invitation/Referrals
The success of every peer-to-peer marketplace depends upon a connected user base. This is why you should give users the power to invite friends via email. There can also be an option to share profiles via Facebook and Twitter. In addition to Invitation feature, you can also put a promotional campaign in place through which users get benefits for referring the platform to others. This type of campaign is used widely by ecommerce platforms in order to expand their user base. Consider using the same for your online renting marketplace solution.
Dashboard
This section houses all the vital information related to platform as well as user account. These are a few of the details available on the dashboard of different users:
Top 10 rented items based on transaction amount and number of transactions.
Top 10 renters
Top 10 lenders
My income
Reviews by renters
Statistics of each item article
Review System
A vital aspect of your website marketplace that would give you an edge of the rest can be the review system. Under this section, owners can review renters and vice versa. In addition to it, the renter can also review items that makes decision-making easy for other users. Studies have shown that most first time users tend to make purchases online after going through the reviews.
Feedback
A platform that takes feedback from its users surely can garner huge popularity as far as user engagement is concerned. this is why you must also have an out-and-out feedback form, which makes it easy for users to send in suggestions as well as queries.
Income
This section houses all the details related to owner income. Product owners can also claim their rental income via this section. It is vital to understand that platforms working of such a business model does not forward all the income directly to the bank account of the product owner. Instead, the renter have to claim the income after successful rent transaction of each good.
Search Results
With thousands of products listed online, search is the only possible way of item discovery (of course other than category browsing). This is the reason why it has to be placed at a prominent location on the homepage. Users should have two search options; from available items or items requested. A long with autocomplete feature your marketplace website should also incorporate following options in search:
Search via keyword or postal code
Availability
Category
Users can also sort the listing based on highest and lowest price. All the items should be visible in a grid-like structure that shows name, category, image, and rent per day of the item.
Mobile applications for the peer-to- peer renting platforms
Mobile applications have helped ecommerce businesses to reach a larger audience with enhanced customer satisfaction and shopping experience. Mobile applications are one of the best ways to engage and interact with online users at multiple platforms. Hence with the emerging markets, it is very important to develop mobile application for the online stores to provide exceptional user friendly approach.
 Final Word
The idea of renting less-used items is highly unique and there is huge growth potential in it. Because such marketplaces can be active in different geographical regions without becoming direct competitors, it is suitable for entrepreneurs who can come up with advanced features. If you want to start an online renting marketplace, be sure to find a solution that has all the above-mentioned features along with improvements suggested by FATbit analysts. In case you have something unique in mind, then, our team of designers and developers would be glad to help you.