After a record valuation of $120 billion back in 2019, the global construction equipment rental market is further estimated to grow at a CAGR of 4.5% between 2020-2026. The growth of the market is largely spurred by the increasing demand for cranes, backhoes, excavators and a progressive trend towards automation and telematics. The market has also witnessed the emergence of modern technologies such as digital services for automated service improvements, mapping features and equipment service tracking.  
Renting construction equipment also makes economic sense as it saves not only the cost of buying new equipment but also brings down recurring expenses like labor, maintenance and operational costs. The construction equipment companies carry out all these tasks regularly in order to eke-out long term profit from machinery.
Table of Content:
Business Model of Online Heavy Equipment Rental Marketplace
Revenue Generation Model of Online Heavy Equipment Rental Business
Key Differentiators of Heavy Equipment Rental Industry
The Rise of Online Construction Equipment Rental
Major Players Heavy Equipment Rental Industry
A New Entrant Into The Heavy Equipment Rental Market
Business Model of Online Heavy Equipment Rental Marketplace
An online heavy equipment rental marketplace is based on the collaboration of dealers, original equipment manufacturers and individual spare part owners. Collectively known as vendors, they list their assets on the website to receive rental requests from construction companies or individuals.
As soon as the rentee places an equipment rental request, the money is transferred to the platform owner's account. Once the vendor accepts the request, the money is transferred to his/her account with the stipulated commision deduction. Furthermore, a security deposit is kept in the admin's account, which is refunded to the rentee's account once the equipment is returned safely.
Subsequently, the requested equipment is dispatched by the vendor at the specified delivery address. To safeguard against any damages or accidents, there could be a provision to verify listings with necessary insurance coverage.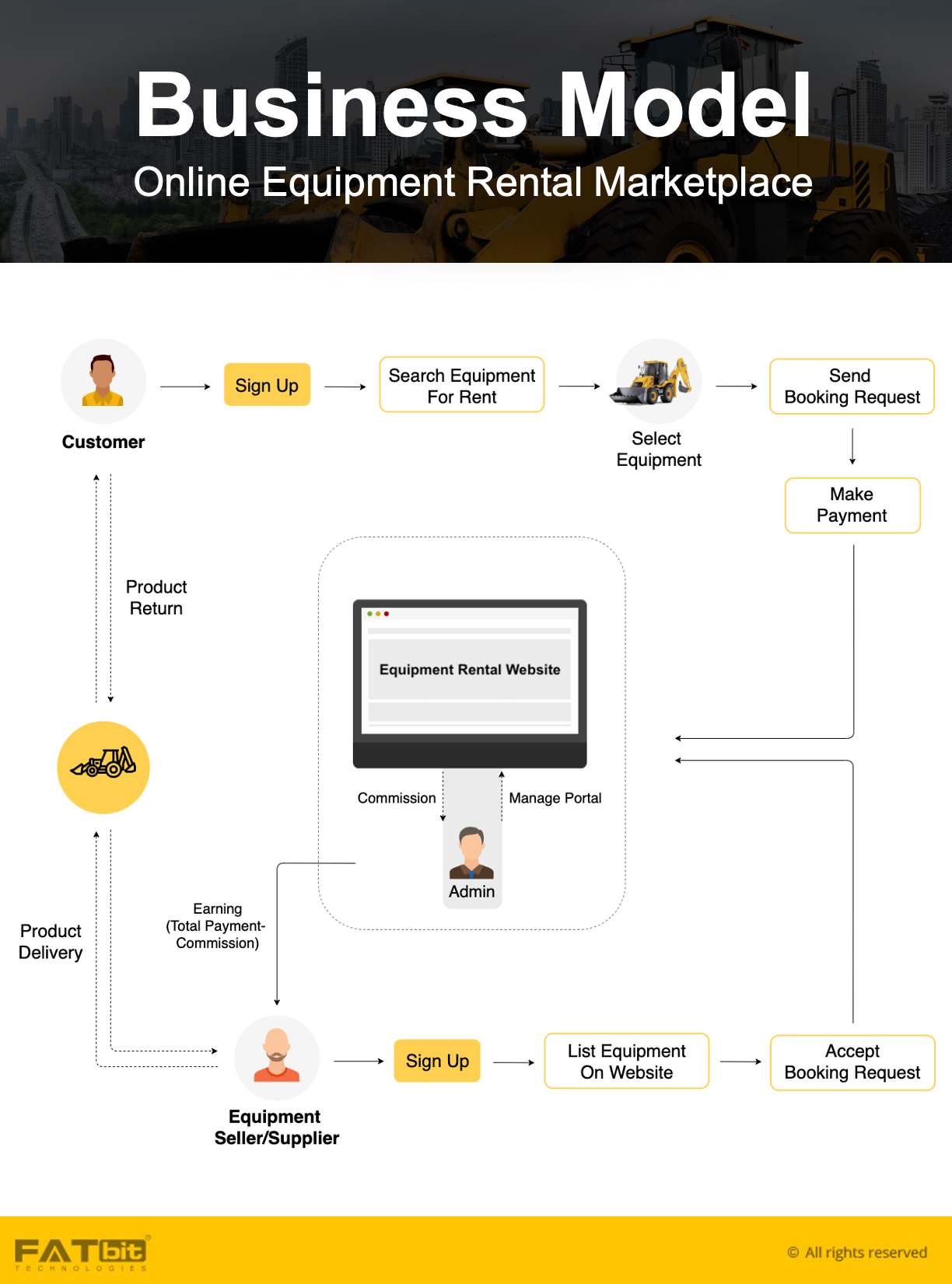 Revenue Generation Model of Online Heavy Equipment Rental Business
An equipment rental business has a wide-range of revenue generation channels at its disposal. From the outset, the platform owner can list his/her own equipment, much like the other vendors on the platform and earn money in the form of rent. Curiously, since the vendor is also the platform owner in this case, the transaction carries no commission charges. These are the other revenue generation channels described;
1. Commission – The owner earns a commission on every transaction that takes place on the platform.
2. Advertising – The owner can host various advertisers to display their ad copies on the platform. The advertising cost can be decided on the basis of number of clicks/views.
3. Featured Listing – The owner can invite vendors to list their equipment on the main focus spots of the websites, such as the homepage or a 'Featured Equipment' section. This should be a premium feature to generate competition on the platform and earn a decent amount of returns at the same time.
4. Subscriptions –The owner can create certain subscription plans with added benefits such as reduced delivery charges, flat discounts, or even special equipment verification for maximum quality assurance.
Finally, the platform can also offer an option for equipment selling, which will open another revenue generation channel in the form of commission.
Key Differentiators of Heavy Equipment Rental Industry
A combination of different factors are responsible for driving the construction equipment rental trend. Following are the most notable ones:
1. No Upfront Cost
Purchasing any heavy construction equipment such as an excavator, telehandler or a tracked dozer is a massive capital investment. It requires careful pre-planning since the returns can take more than a year to materialize. The money remains tied up within the equipment until you sell it. But if the equipment is kept and used for a long time, the resale value goes down. Rental offers the perfect solution in this situation. It eliminates the need for a capital investment upfront that a business could divert towards its upkeep or pursue other undertakings.
2. Avoid Storage, Transport Costs
The purchase of any heavy construction equipment brings with it the additional requirement of storage space. It's undesirable to leave new and expensive equipment under the sun all day long, lashing rains and blustery winds. Continuous exposure to the elements causes incremental damage to the machine. There's no escaping the fact that space is expensive irrespective of the location and the purpose it serves. That's where Rental proves most effective as it virtually eliminates the need for long-term storage.
Moving on, rental also simplifies the logistics and transportation of equipment from one site to another. Since both the delivery and pickup are managed by the rental service, the business has little to worry about in the way of organizing and streamlining of operations. In fact, processes whose dependence rests on the timely delivery of equipment at the right place are made more efficient through rental.
3. Save at Tax Time
A number of factors impact a business's tax return but the simple fact is that compared to purchased equipment, which is taxed at a depreciated rate throughout its lifetime, rental equipment is counted as a deductible expense. It's not that much of a secret that rental expenses are financially flexible than the major, capital intensive purchases. In many cases, they're seen as part of project expense and can offer tax-saving benefits owing to the nature of certain businesses.
4.  Sharpen Your Competitive Edge
Smaller players in the market always have this fear of being outweighed and out-competed by bigger companies who generally have access to the latest and most technologically advanced machines. But with equipment rental, the smaller players can easily procure the same kind of equipment necessary to take on big and enterprising projects. No more do they have to face rejection by clients due to lack of access to a diverse, efficient and compliant fleet of machines generally associated with bigger companies.
Also Read: How to Build a Truck Rental Website- Business Model & Key Features Analysis
The Rise of Online Construction Equipment Rental
The impact of modern technology can be felt right across the rental market segment. Its most standout benefit is safety. Operators these days can get detailed knowledge about the state of the machinery and carry out their job with relative ease. But it's important to note that technology also makes equipment expensive. This is perhaps the biggest factor in the growing trend of online construction equipment rental. Instead of making a huge capital investment, renting allows operators to employ the new technology on an ad hoc basis. Following are the major factors contributing to the rise of online construction equipment rental.
1. A Fragmented Industry
The heavy equipment industry is highly fragmented. 25% of the market is owned by the top five firms, while the next top five own the 8%. The remaining 2/3rd is shared by some 2500 firms. The easy domination of the major players acts as an insurmountable barrier to evolution in the industry's strategies and practices.
2. Transparency & Centralized Management
While technology continues to pervade all the major industries around the world, its role is still quite limited in the oil industry. Technology's absence creates a chain reaction where there is no transparency, which results in low-quality service that finally culminates in a large number of dissatisfied customers.
Up until recently, it was tough to keep track of when the order was dispatched and where it was in transit. But online platforms such as Uber for taxi-booking and Food panda for food-ordering have given us a glimpse of what order management and tracking should like. As such, people have come to expect a similar experience in the heavy equipment rental industry where technology adoption has been relatively slower.
3. Yard Expansion
Through an online network, businesses can rapidly increase their rental yards to meet their clients' demands all without owning any of the equipment or yards themselves. On average, a large construction equipment rental company owns approximately 900 yards. This is dwarfed by BigRentz – an online construction equipment rental business whose network spans some 7,500 rental yards. This is the power of an online platform – it connects the suppliers and consumers of a given service and simplifies transactions.
4. Rating & Review System
Through an online platform, one can offer all kinds of equipment for rental such as scissor lifts, forklifts, boom lifts, excavators and so on. It acts as a single point of contact with a self-service portal. But the benefits don't just end there. A construction equipment rental software consists of a rating system that allows equipment providers to earn a reputation and rise to the top.
Earlier, purchases were made based on existing relationships or word of mouth which wasn't always ideal. Now, customers can meet equipment suppliers that can meet their exact requirements and at the same time the supplier benefits from the customer's feedback.
5. Data-Driven Process
By joining an online equipment rental platform, suppliers are able to tap into an up-to-date, comprehensive data for their target location. This allows them to achieve better inventory utilization, and optimize their supply chain. The ultimately results is an increase in incremental revenue.
The Online Rental Industry Report 2019-2023, further strengthens the case for the growth of online heavy equipment. Approximately $150 million have been invested in new startup ventures in the construction equipment rental businesses.
Major Players In The Online Construction Equipment Rental Industry
There aren't many online construction equipment rental businesses of note in the GCC region but there are plenty out there in the western world. Following is a list of the leading and most successful online construction equipment businesses:
Gearflow – A New Entrant Into The Heavy Equipment Rental Market
While there have been a few new entries in the heavy equipment rental market in the recent past but few have made quite an impact as Gearflow. It's a construction equipment and parts marketplace of dealers, OEMs and contractors. In October 2019, the company announced that it has raised $1.1M seed funding to support the growth of both its platform and the team. 
It's worth mentioning that Gearflow's website is developed using Yo!Rent – the industry-leading online equipment rental software. To make the software highly advanced for launching a heavy equipment rental business, the team behind Yo!Rent released Yo!Rent V3. This new version comes with dedicated features and functionality that increase its utility for heavy equipment rental operations.
See What Else Yo!Rent-V3 Can Do
Final Thoughts
It's fair to say that online construction equipment rental is still an emerging niche that has a long journey to realize its full potential. But a combination of factors such as an increasing demand for equipment rental, the immense profit-making potential and the impact of modern technology are all precipitating its growth and appeal to the entrepreneurs.
If you're planning to build a construction equipment rental website, then Yo!Rent is just the ideal solution for it. With hundreds of successfully launched websites, Yo!Rent is fast becoming the go-to market solution for building an online rental marketplace for an array of businesses. Yo!Rent is a highly customizable and scalable rental marketplace solution that allows businesses to meet their ever-expanding and diverse requirements.