Last Updated: 9th March, 2023
Web-based dress rental platforms like Rent the Runway, Bag Borrow or Steal, Le Tote, etc. let the style-conscious people rent designer dresses, clothes for special occasions and accessories and have become the topic of discussion in the fashion industry.
The idea of renting out clothes may seem odd at first, but the success of all the aforementioned platforms have proven the potential that this emerging marketplace.
In this post, FATbit Technologies would like to educate aspiring entrepreneurs who want to launch a similar business by explaining the process they need to follow to build a dress rental website like Rent The Runway.
Read on and learn what online dress rental features you need to consider to make a superior website and app to rent out designer, weddings, prom or other dress collections.
Business model of online clothes rental business
An online dress rental portal is more than just a fashion company. It is also a technology company that is reinventing the fashion industry. The business model is based on strategic partnerships with multiple designers and agencies to give their audience access to their newest outfits and accessories.
As a dress rental website owner, you will rent out items for up to one week and charge a certain percentage of the rental price as the fee. The fee covers the service charges, dry cleaning, and other minor expenditures.
When an order is placed, the product will be dispatched from the vendor's inventory with per-addressed packaging. There should also be a provision for holding an insurance amount during the rental period to cover any sort of accidental damage.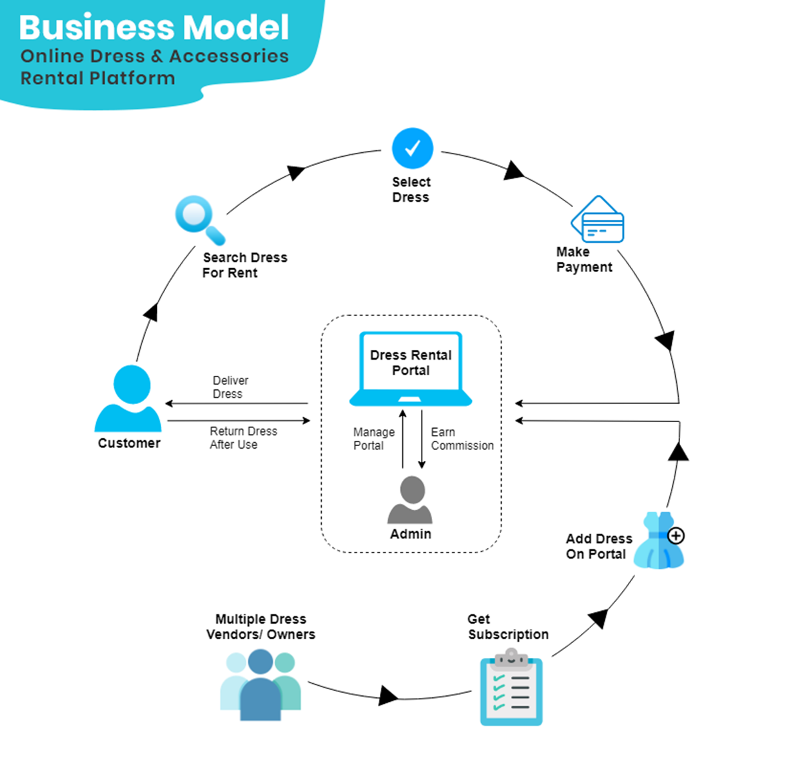 Online clothes rental business revenue model
Besides making money from renting clothes, your online dress rental platform can generate revenue from the following channels:
Commissions: Get a small commission from every dress rental transaction on your website.
Advertising: Make advertising on website or app a part of your long-term monetization plan
Featured or Sponsored Listing: Allow dress owners to feature their offerings on homepage & other highlighted sections of the website in exchange for a small fee.
Subscriptions: Create an annual subscription model where users purchase a subscription in exchange for perks like relaxation in delivery fees, cashbacks or even a free dress rental on successfully registering themselves.
In addition, you can also upgrade your online designer dress rental platform by adding a selling feature to it. Allow fashion brands to sell their products on your website, and it will serve as another source of revenue in the form of commissions from those sales.
Looking for a readymade solution to start a dress rental business?
Top online dress rental marketplaces
letote.com
renttherunway.com
rentez-vous.com
bagborroworsteal.com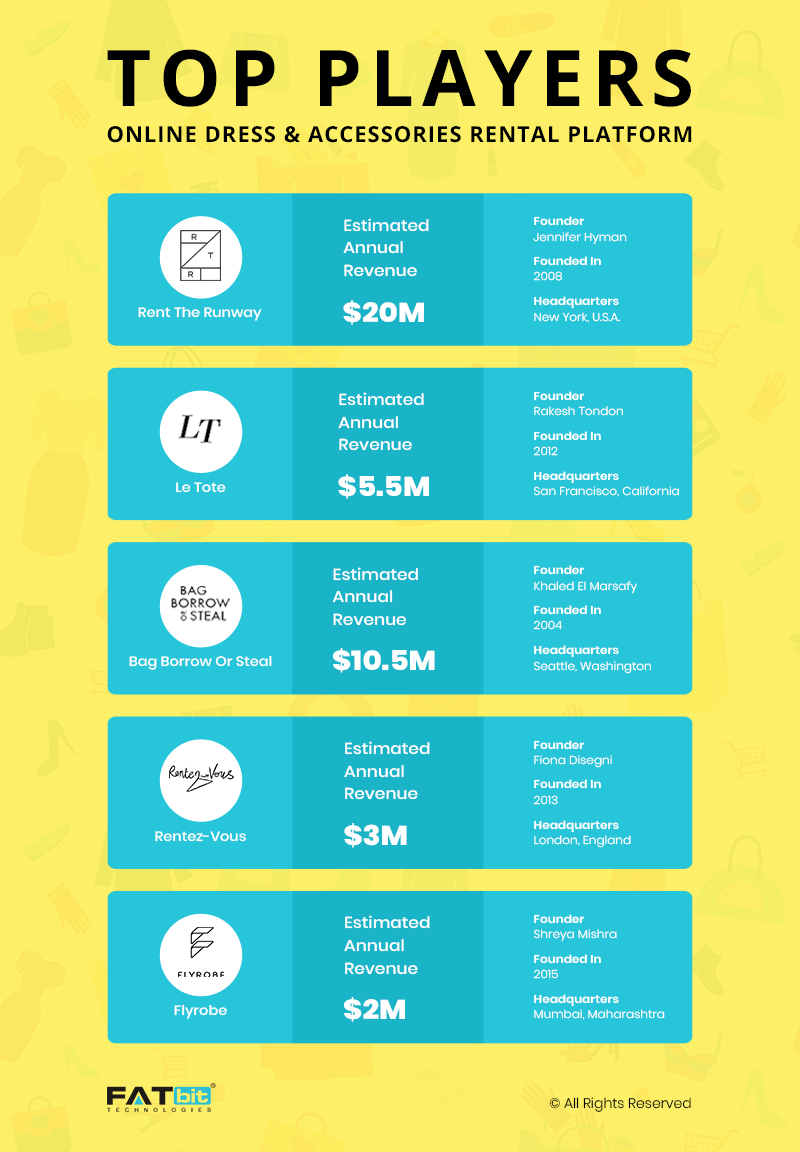 Most of these dress rental websites cater to a specific geographical area. So, it would be wrong to consider them as a competitor to your dress rental portal, unless they operate in the same market that you are targeting.
Now that we have understood the business model and have an idea about the top online dress rental marketplaces, let's find out more about the required website features.
Note: If you are planning to build a multi-vendor dress rental website powered by Yo!Rent, then make sure it has the most – if not all – features listed in this post. Let's begin!
Dress rental website features
As mentioned earlier in this post, your online clothing rental platform is more of a technology business, thus, its website should be loaded with interesting features.
Let's start with the homepage and highlight the elements that can make it highly conversion-focused and engaging.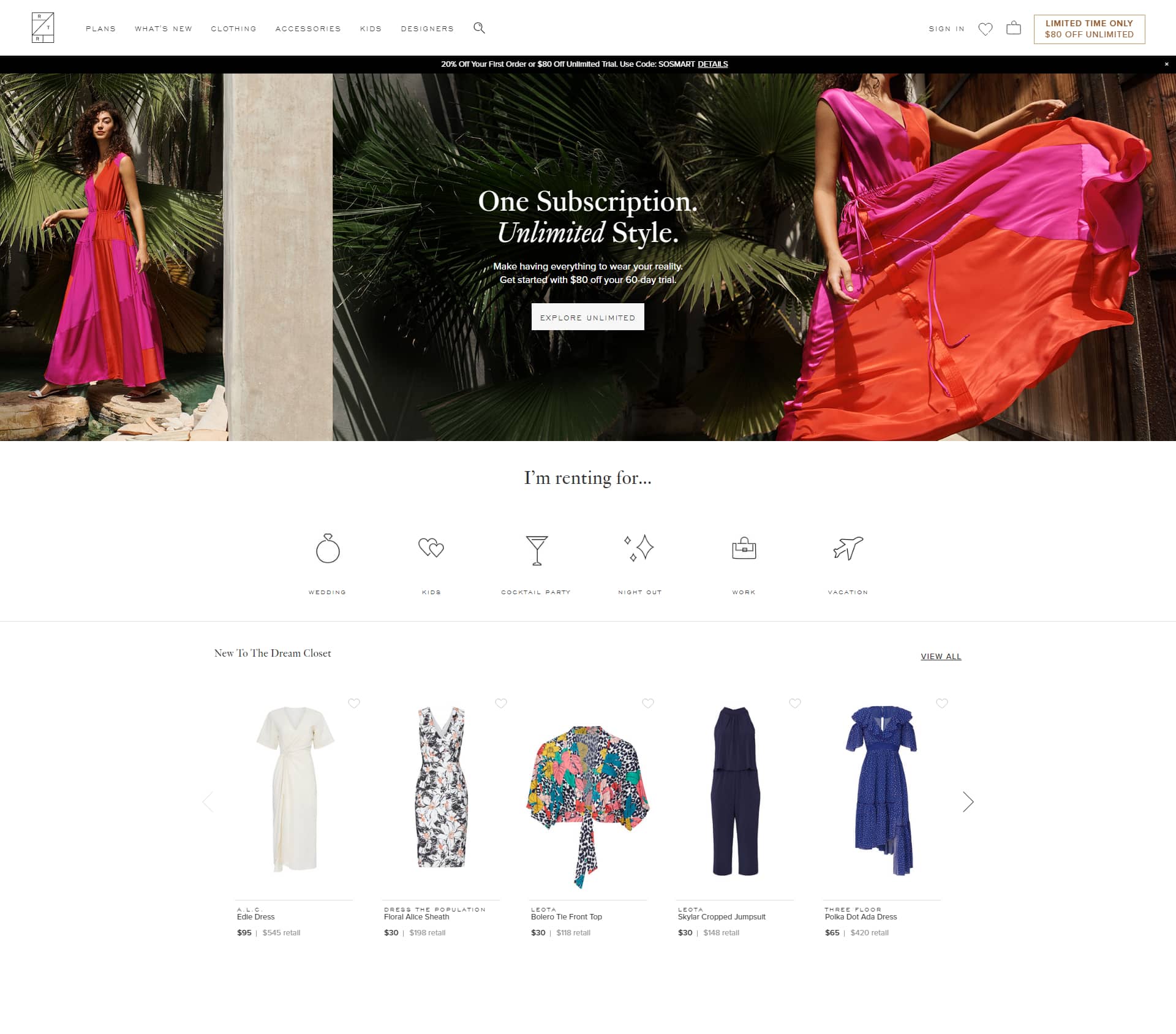 Homepage
The homepage should focus on two important things that customers care about i.e. discovering and renting dresses. The homepage should also have a neat design and use the white space carefully. It should not be lengthy and only consist of the most important sections. Here are the most prominent ones:
Banner: You need to add a pinch of innovation on the homepage banner by adding two conversion elements. One should take visitors to How It Works page while the other should start the dress booking process instantly. Don't forget to use an image and a website message for the banner area to make it more attractive.
Most popular styles: Some designers and dresses would be popular amongst customers. These should be displayed on the homepage in a slider to get visitor's attention. The ideal place for this section would be below-the-fold area. In addition to dress images, the section should also display:
Dress name
Designer name
Rental price
Add to favorites option
Seasonal Styles: The homepage should feature another eye-catching section that introduces the visitor to different seasons. This should be in the form of a dedicated page and display lists of seasonal collections. You may also add filters in a side panel to generate tailor-made results.
In addition to that, you can offer a discount on the first purchase to encourage users to buy from your website or app and boost conversions..
Make sure that they get to know about it by displaying a pop-up that highlights the discount & registration link when a user lands on the homepage of your dress rental website.
A large number of e-commerce stores are following this strategy to increase user registrations and establish communication through email even if the visitor doesn't place an order.
Now, let's take a step ahead and discuss how a website's inner pages should be designed.
Dress on rent pages
Item pages of your website should be an inspiration for e-commerce stores as well as users. They should be highly informational with zero clutter.
From renting process to image reviews, everything has to be organized while keeping the user experience in mind. It would be best if you cover the dress page one section at a time.
Rental Form: The process of reserving a dress should be quick. Users should be asked about necessary information like zip code, size, delivery date and at the end of the form, there should be the 'Reserve' button. The following value added options can also be featured in the section:
Stylist notes: Details about product being in trend
Size and fit: Size guide table
Product details: Technical details about the product
Share buttons: Share product on social networks
Dress Images: Like most online stores dealing in clothes, your website should consist of high-quality images clicked professionally. But you shouldn't stop there. Beside the product images it should also have a place to display customers' photos who previously rented them.
These images can be fetched from reviews and would help the customers see how a dress really looks. Implementing such competitive features will add more value to your brand.
Review system: The rating and review system should be implemented in a way that users can easily discover relevant reviews. Here are a few things you can  implement to deliver a satisfying user experience:
Filters like size, height and bust
Details like age, body type, and height
Review and photo sliders
Recommendations Section: Sometimes, just one dress is not enough. That's why your website and app should add a 'You may also like' section just below the product details.
From design to implementation, everything should be right with dress recommendation feature.
Up-renting (like upselling): A dress needs accessories to complete the look and you can give your users the option to get them using a 'Complete the look' section on the dress page that suggests supplementary accessories.
Process flow diagram for an online dress rental platform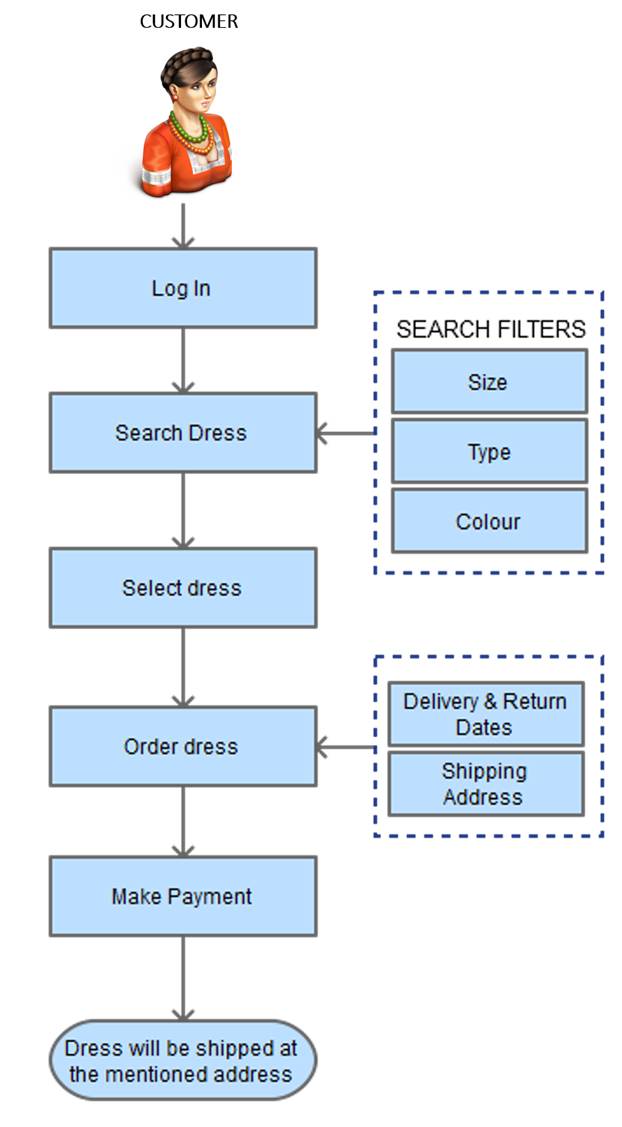 Suggested read: Launch A Multi-vendor Rental Ecommerce Marketplace with Yo!Rent
Navigation
On the main navigation bar, there should be tabs for main product categories like Dresses, Clothing, Occasions, and Accessories to lead users to the selected product category page. Other than that, following tabs can also be displayed to make the section easier:
Subscription
Designers
Stores
Let's discuss how the page tabs listed above should be designed and understand their unique features, starting with the Subscription tab.
Subscription: This page deserves a special mention because it carries the service that is at the apex of a website's revenue generation strategy. In order to accomplish the feat of making your customers rent from you on a daily basis, you need to come up with some engaging subscription plans. For example, year long free delivery, unlimited clothes, and more.
Here is a list of sections that  improve engagement on the subscription page:
Banner with service introduction
Brand associations
FAQs
Note: For all web designers working on rental clothing websites and apps, our recommendation is to plan & craft this page meticulously.
Designers: Under this tab, list the designers associated with your dress rental marketplace. Designers should have a dedicated page that features an introduction about them followed by their products and their availability for rent or sale.
Stores: Under this section, list the stores that act as physical addresses for a brand. Clicking on any store will take users to the respective store's page, which should feature the following:
Services
Location
Hours
Contact info
Booking system
It is recommended that you use a reliable third-party solution for booking functionality. This will reduce the website building cost and provide a secure and tested payment gateway to your customers.
Product category pages
How to find the right size, length, color, sleeve, body type, neckline, age, trend, style, and designer when looking for a dress? The answer is simple  — use filters. Make sure that you offer a detailed set of filters that give complete freedom to your customers and helps them search for what they are looking for in a seamless manner.
Checkout process
The details required to rent or shop a dress were gathered in the beginning. Now, it is time to furnish the card with shipping details. Unlike most e-commerce stores, your dress rental website shouldn't divide the whole process into different sections and wrap it all up on a single page. Don't forget to emphasize the security of the payment gateway.
Additionally, you can enable a feature that allows your customers to pick up the order from nearby locations instead of getting them delivered.
User account
Through their account, registered shoppers should be able to view and manage every detail related to their orders, profile, and rewards. It should have dedicated sections for:
Upcoming order – View and modify your orders.
Order history – View history of your orders.
Profile – Update your profile
Credits – View referral credit available
Invites – Send invites to earn credits
Assessment – Submit personal details to get style assessment.
My appointments – Appointment details with sellers
Basically, users should be able to manage every aspect of their activities on your website and app through their respective accounts.
Help section
Features of a dress rental website can be overwhelming for people who use e-commerce websites regularly. Hence, to simplify things for users your team should plan and deliver an extensive Help section. Major highlights of the Help section include:
How It Works page
FAQs
Contact Us page
Section to ask a new question
Detailed search filters, intuitive contact forms, and links to other helpful resources should enable your website's Help section to answer every query related to the website's features and functionalities.
Incorporating the features discussed so far will help you in building an ideal dress rental website. But why stop there? Take it a level further with the following recommendations.
Quality assurance
Quality assurance is a challenging aspect of every e-commerce business. But since the products are reused things become more challenging for rental marketplaces.
Renters get a dress in the condition it is displayed on the website, but when the dress is returned, will it be in the same condition?
Such concerns that need to be addressed proactively to ensure a smooth sailing for your online rental business.
Here are some steps you can take in this regard:
Charge an insurance fee from the renters to cover any unexpected damages
Conduct a thorough quality check before renting a product
Implementing the provision of insurance for expensive items
Request an item option
There is a possibility that your target market already has an online rental marketplace and maybe new ones will emerge with time. And in order to stand out from the competition, you need to offer something unique.
Request an Item is one such feature. Its purpose is simple, if customers don't find the dress or accessories they are looking for, they can request for it on your marketplace. In the long-term, this feature will also help you expand your product categories without spending extensive efforts on market research.
Login relaxation
Not every visitor will be comfortable with registering right away. Many e-commerce stores let their visitors 'like' products and even add them to cart without registration. This feature can increase the time customers spend on your website or app and improve conversions and must be taken into consideration when building a dress rental website.
Optimized checkout pages
Every e-commerce store owner hates cart abandonment. Optimized checkout pages can play a pivotal role in minimizing cart abandonment rate. In an effort to close the deal on a single page, do not clutter the checkout section. Take inspiration from other e-commerce stores and implement a design that is a best-fit for your business.
Other features
You may incorporate some other interesting features like creating a rental product calendar that displays real-time stock availability, define buffer days for product return, block unavailable dates for rented products and extend rental duration from the admin panel.
Yo!Rent dress rental software makes it easy to create a clothing rental store
Conclusion
The rental model has its positives, especially when it comes to variety and savings. Incorporate the features and recommendations mentioned in this post and create your own advanced online dress rental platform today. Make sure it is flexible so that changes and enhancements can be made.