Last Updated: 22nd June, 2023
The adventure gear market is thriving with an astonishing CAGR of 7.2% in the period 2022-2029. In these years, the market is estimated to cross $40 billion. A major contributor to the adventure gear market is the rental sector, which operates as an easy solution to the heavy costs of owning new gear, their maintenance and storage. Because of heavy interests in recreational activities, return of post-pandemic normalcy and B2B lease contracts, adventure gear rental operations are gaining momentum.
However, modern entrepreneurs are looking beyond the traditional rental business models to launch ventures that are more sustainable and scalable. One such business model is the online rental model. Let's take a brief overview at how the online adventure gear rental model works, and what are some possible business ideas to invest in. With the help of a sports equipment rental software, you can capitalize on all aforementioned adventure gear rental ideas.
Table of Contents
Online Adventure Gear Rental Business & Revenue Model
There are two possible business models in the adventure gear rental industry, which are single vendor and multi-vendor.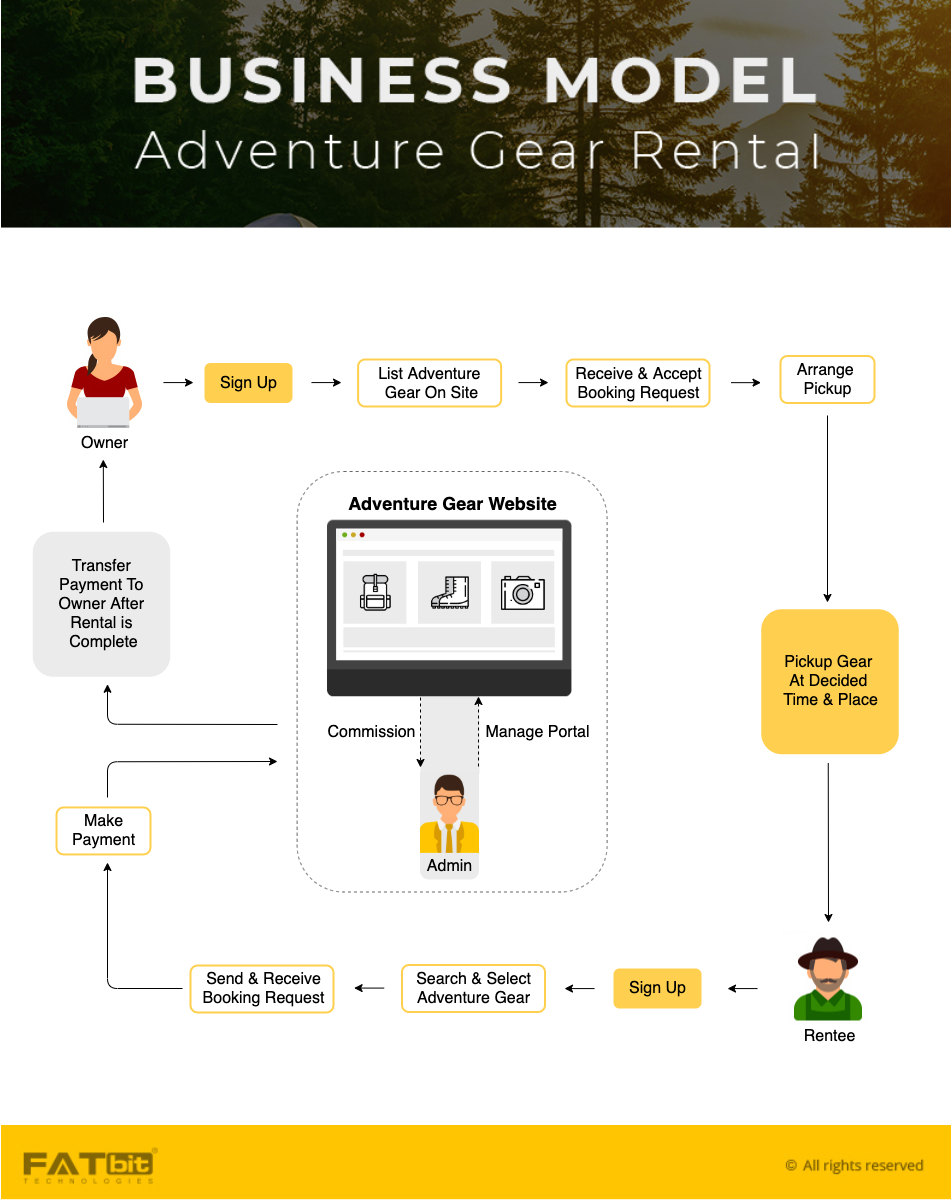 Single Vendor Model
The single vendor model requires the business owner to collect some rental security and documents from customers. Once the payment status and documents are verified, customers can come and pick up their booked adventure gear. 
User Types Involved:
Business/Platform Owner

Customer
Single Vendor Workflow
Step 1:

The business owner uploads detailed adventure gear listings on the platform

Step 2:

Customers browse those listings and input rental dates to place a booking

Step 3:

The owner collect identity proofs and necessary documents from customers along with the rental security 

Step 4:

Customers make the payment to complete their booking and pick up rental gear

Step 5:

After return, the business owner inspects the rented gear for any damages and reimburses the same from the customer's rental security

Step 6:

The business owner returns the remaining rental security to the customer.
Multi-Vendor Model
In a multi-vendor rental model, multiple adventure gear rental businesses sign up on the platform to lend their equipment. On the other hand, the marketplace owner is only responsible for managing the platform and facilitating payments.
User Types Involved
Admin:

The marketplace owner

Vendor:

Product owner

Customer
Multi-vendor Workflow
Step 1:

Vendors sign up on the platform and upload detailed product listings

Step 2:

Customers explore those listings and place a booking with the help of a rental calendar

Step 3:

Along with rental fees, customers also submit a rental security to the admin

Step 4:

The admin deducts his commission from the rental fees and adds the rest to the vendor's digital wallet

Step 5:

The customer collects the booked adventure gear

Step 6:

On the return of the adventure gear, the vendor inspects it for any damages and reports the same to the admin

Step 7:

In case of any damages, the admin reimburses the vendor from the customer's rental security deposit and returns the remaining amount to the customer

Step 8:

On reaching the minimum withdrawal balance set by the admin, the vendor can withdraw his earnings from the digital wallet to bank account. 
Note that the following business models are only for exemplary purposes. The original steps and business model may vary depending on geographical location, consuming patterns and business preferences. 
Revenue Model 
On an online adventure gear rental marketplace, you can earn money from the following revenue channels:
| | |
| --- | --- |
| Single Vendor | Multi Vendor |
| Rental fees | Rental commission |
| Rental add-ons | Featured listings |
| Subscription packages | Rental add-ons |
| Delivery costs (if applicable) | Subscription packages |
| Display ads | Delivery costs (if applicable) |
| – | Display ads |
Popular Adventure Gear Rental Businesses You Can Start
The term 'adventure gear' in itself is an all-inclusive term encompassing various types of equipment suitable for all sorts of outdoor sports. In this article, we are emphasizing those adventure gear types that are the most profitable and viable with a rental business model.
1. ATV Rental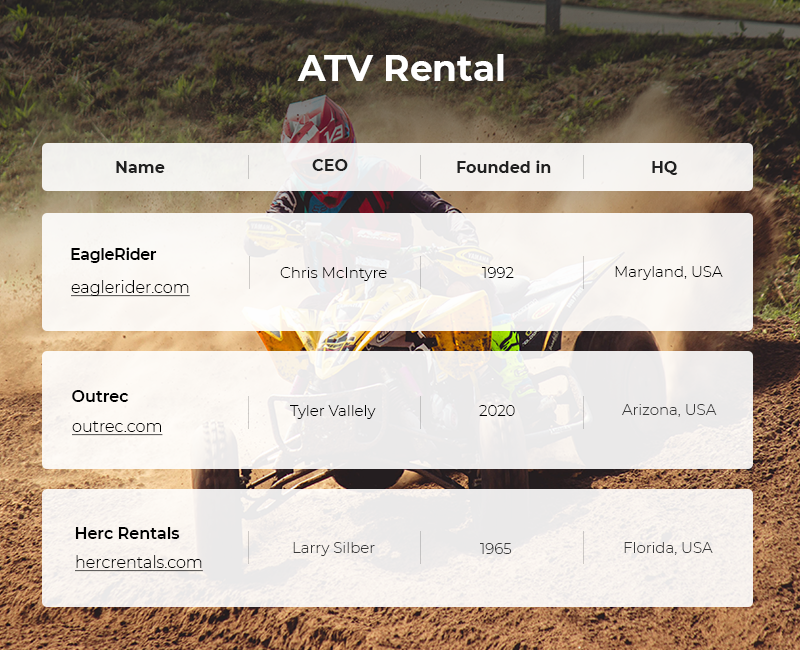 The ATV industry is mining into new regions with lots of business potential. In January 2022, Alexander Kunst of Statista published a research in which out of 4000+ respondents, only 5.5% of those who were questioned about purchasing an ATV had plans to purchase one. Implying, the rest of the respondents would prefer renting or sharing an ATV over buying to meet their recreational objectives. The market scope of the industry also falls on the bright side and is estimated to reach $7.54 billion in 2026. Some examples of top ATV rental businesses are EagleRider, HercRentals, United Rentals, and Outrec.
2. Skiing and Snowboarding Gear Rental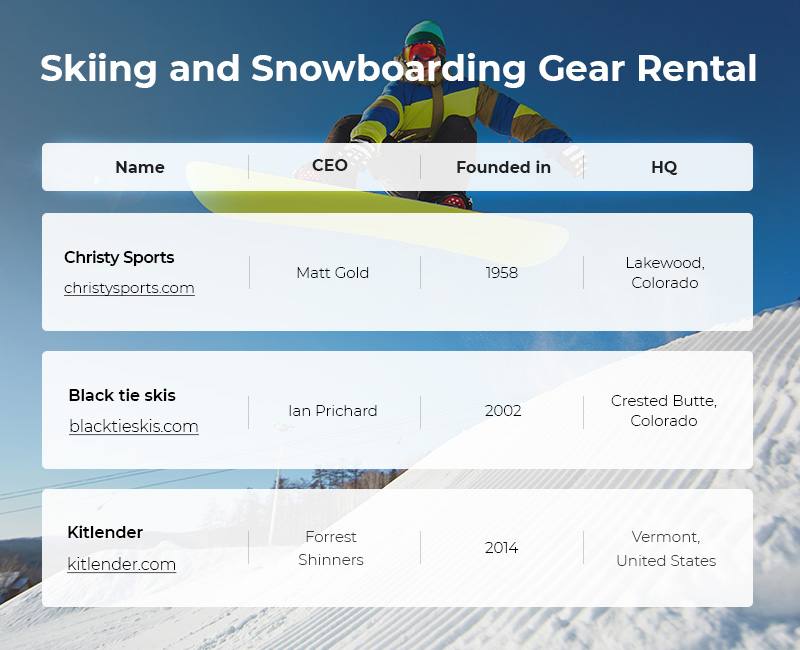 According to Stats, there were 61 million skiers in the US during the 2021-22 season. Their numbers have only increased due to the growing Gen Z population and the popularity of these two sports. The top markets for winter sports equipment rental are US, Canada, France, Germany, Japan and Switzerland, indicating a huge scope for new entrants in the industry. The top players renting out skiing and snowboarding gear in the aforementioned regions are Christy Sports, Black Tie Skis and Kit Lender.
3. Hiking and Camping Gear Rental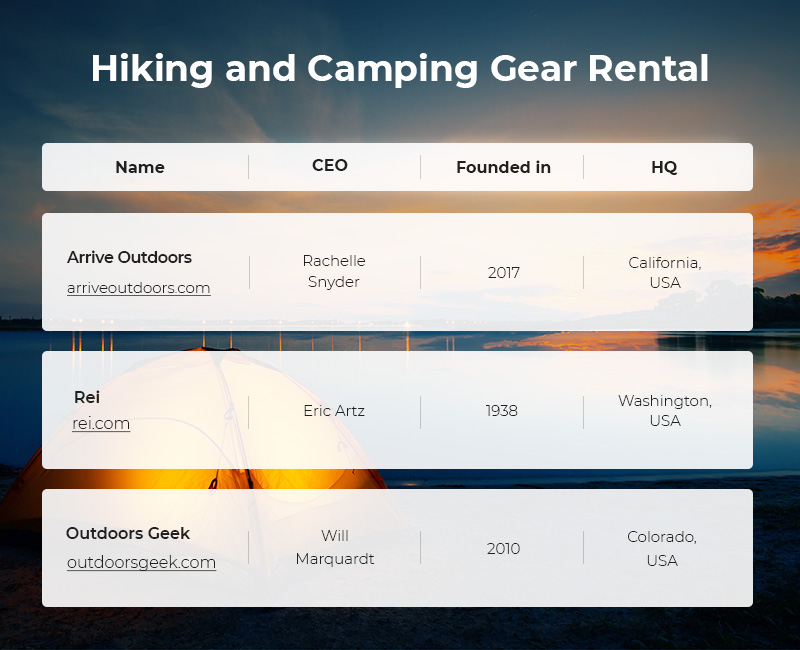 Activities like hiking, trekking and trail running have gained immense prominence in the past five years. Also, camping is quite popular as hiking with statistics showing the active numbers of US campers as 41.67 million and a CAGR rate of 8.1% (2022-2031). The top regions where hiking and camping gear is regularly rented are the United States, Canada, Spain, United Kingdom, Germany and France. Notable players in this industry are Arrive Outdoors, Rei and Outdoors Geek. A popular and safer alternative to camping is RVing, which is also a very lucrative business idea. Here you can find all information about the RV rental business.
4. Surfing Equipment Rental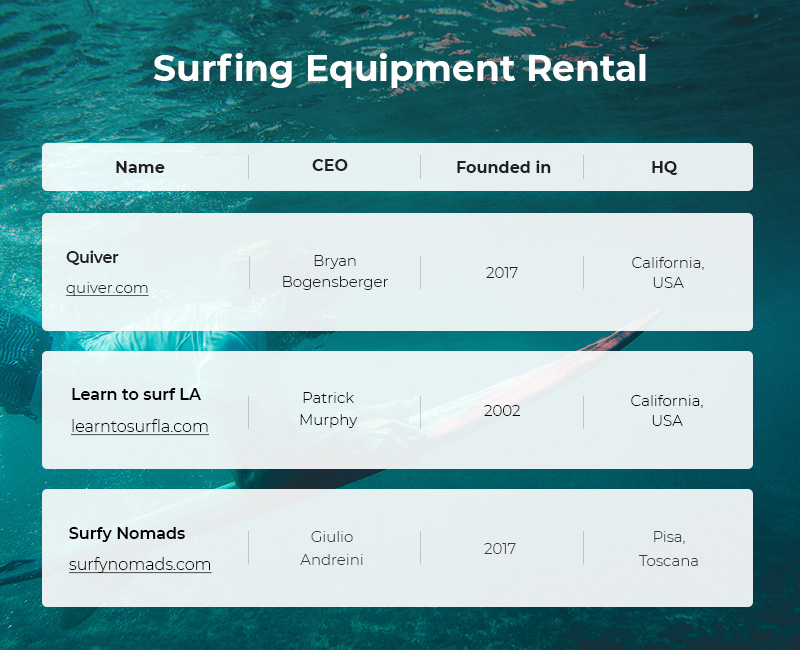 Surfing as a water sport has over 35 million participants all over the globe. In fact, it is immensely popular in the US where an average of 1.7 million people go surfing on an annual basis. The second country with maximum recognition for the sport is Australia, which is followed by the United Kingdom and France. Additionally, surfing equipment like surf boards and wetsuits are rented frequently due to training sessions and pool surfing in regions that aren't in close proximity to water bodies. The top players in the surfing equipment rental industry are Quiver, rentsurfboard.com, Learn to Surf LA, and Surfy Nomad.
5. Scuba Gear Rental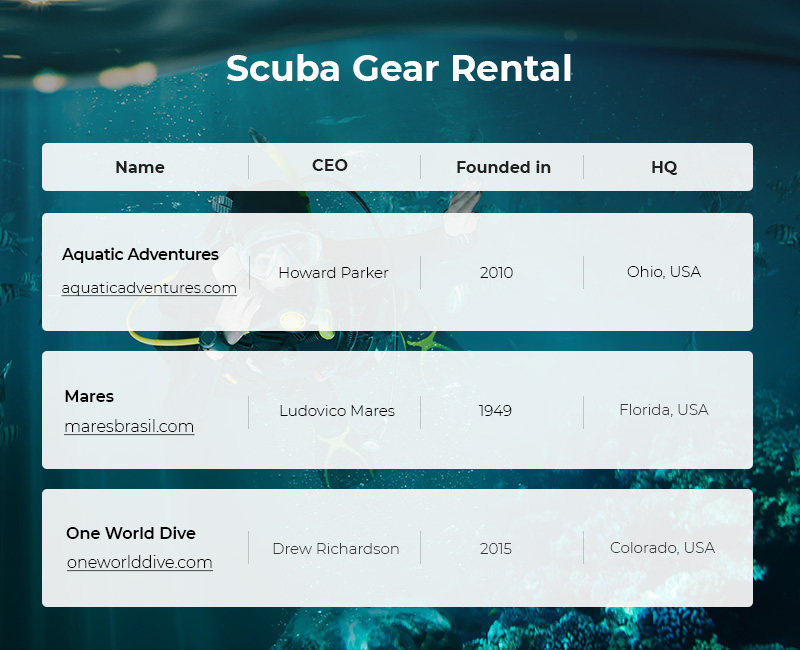 The world has a total of 9 million scuba divers out of which 3.5 million and 2.8 million reside in Europe and the United States respectively. The scuba diving industry is growing at such an astonishing rate that its evaluated market share of $1208 million in 2022, is estimated to reach $1591.7 million by the end of the year 2029. With countries like Australia, Indonesia, Thailand and the United States taking the lead with most popular scuba diving destinations, it's safe to assume the profitability of scuba gear rental business in Asia-Pacific region along with America and Europe. Top players in the industry are Aquatic Adventures, Mares and One World Dive.
6. Biking Gear Rental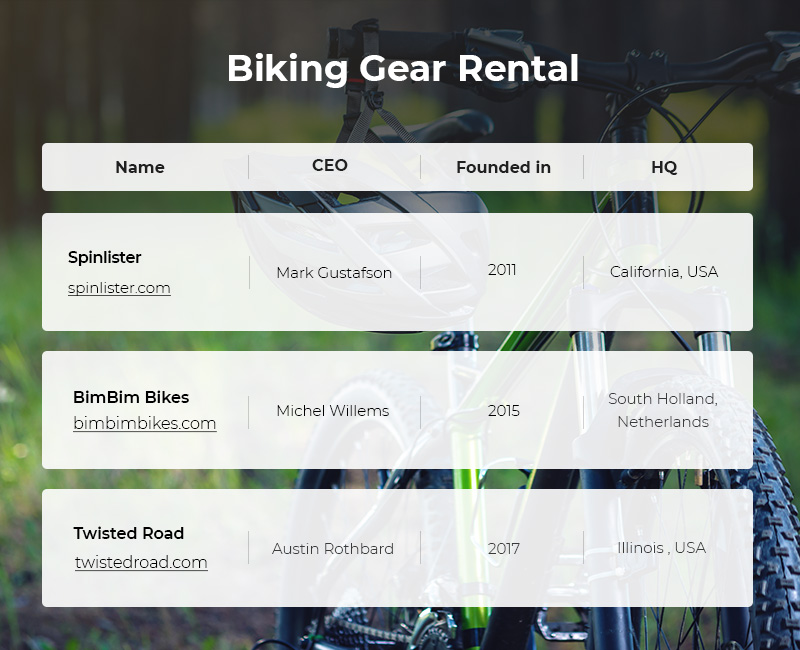 The global bike rental industry is projected to achieve a market share of $11.3 billion by the end of 2031, demonstrating a CAGR of 18.1% in the forecast period 2022-2031. With advancing technology, particularly, GPS navigation, bike renting has become a reliable, safer and comparatively more accessible adventure sport than ever before. It is practiced all over the globe and is a highly profitable business idea with a simple business model. The top online biking gear rental companies are Spinlister, BimBimBikes. The application of bikes as a micro mobility vehicle also increases the business potential of a bike rental marketplace.
Outdoor Gear Rental Marketplace Overview & Features
Like most online ventures, peer-to-peer renting platforms also get a major boost by focusing on user experience and engagement. Hence, focus on simplifying the UI/UX for consumers. Let's take a look at the crucial sports equipment rental software features and various other aspects that are highly recommended by major rental marketplace software developers.
Check all Sports Rental Software Features in Action
Homepage
As soon as users land on the homepage, they must get a clear idea about what the website is all about. It's crucial that designers apply more emphasis on creating a powerful UX. Some of the ways to do that could be:
Adding an engaging banner with a compelling message.

A search bar prominent on the banner.

Top navigation bar with signup/sign-in buttons, and 'post new listing' and a menu bar.

How it Works section that describes different aspects of the platform.
Signup/Sign-in
It's good to keep the sign-in/sign-up process simple. There should be a dedicated page for both options. You can also provide an option for signup/sign-in via Facebook. The overall signup process needs to be highly efficient. Asking for too much information will only turn users away.
Dashboard
After the user has logged-in, he/she should be directed to the dashboard, which showcases the listings straightaway. This will be a unique approach for your adventure gear rental marketplace. Usually in other peer-to-peer platforms, dashboard comprises a central hub which showcases all the information related to users' accounts. Make a user-centric approach by offering a provision for a single account for rentee and renter.
Map View
Some marketplaces use a detailed map view of the listings, making it easy for the rentee to find products he/she is looking for. Rather than searching for a specific item, the platform must allow its users to find all the gear available in a given location. This is not only a simplified approach for the rentee, but also streamlines the overall process from searching to finally renting a product.
Search Filters
Search is one of the key areas in any peer-to-peer rental website. With thousands of items, it becomes cumbersome for users to browse through each and every listing. The search functionality should be simple yet powerful. The search filters can make it easy to find relevant items within a few clicks.
Users can also be allowed to sort the listing based on rentals as well as stores. Other useful filters can include:
Categories

Price

Experience level

Brand

Other features
Listing
The listing page needs to be highly user-friendly with all the information at relevant places. Take special care in making the renting process fast and efficient. You can segment the page in this way:
The top banner must show the title of the item

Left panel can showcase the images with the option to maximize the view.

The right panel should be dedicated to renting and contacting the item owner.

Rating and review section in the second fold to facilitate trust-building on the platform.
Requesting The Gear
Your website must have an efficient booking system in place. Once users have selected a particular product and the respective date for rental, they should be taken to a booking form, showcasing the final price. Instead of booking an item straight away, they should first be asked to make a request to the owner. Only once the owner has approved the request, the rentee should be allowed to make the due payment. This is an effective approach to rule out the possibility of unavailable items.
Moreover rentees should have the option to have  direct conversation with the renter to discuss their questions and other requirements before making a request. If the vendor agrees to the, then the rentee can go ahead and make the corresponding booking request. This is an innovative booking procedure that focuses on creating a conversation channel between the renter and the renter/vendor.
Adventure Gear Marketplace Solution for Rental Operations
Post New Listing
It's important to keep the overall process of listing an item easy and simple. Place a button on the header that takes the users to "add a new listing" form. The form should ask for some basic details about the rental product, which are vital from the rentee's perspective:
Category and subcategory

Listing type

Title and description

Price per day

Images
The overall process shouldn't take too much time. Moreover, consider adding some insurance policies that will safeguard both rentee and the vendor. This can increase user's confidence in sharing a personal item with a stranger.
Payment Options
The overall process of making as well as receiving funds should be simple. Although PayPal is a robust and secure payment gateway, try to allow users to make and receive payments directly into their bank accounts without the interference of any middle gateway. Whatever option you go for, make sure it is secure.
Messaging
Communication channels help renter and rentee interact before making the exchange. A robust messaging tool will go a long way in creating a community feel amongst members. With this, prospective rentees will be able to contact product owners to discuss their queries before making a rental request. FATbit recommends a similar approach for your adventure gear rental marketplace.
Vendor Profile
Each and every vendor must have a distinct profile page to make it easy for the rentee to get an overview of all the items they have to offer. Allow store owners to make profiles on the website and rent their products. The overall page should be highly intuitive and must offer detailed description related to the vendor. Additionally, all the open listings can be made visible to the users to facilitate product selection.
Help section
The concept of peer-to-peer rental marketplaces has been around for some time but is still confusing for new users. This is why a Help section is important. We at FATbit believe that rather than a query-sharing feature, a real time help chat can drive user trust in your favor. This is the reason why real-time chat functionality has become an industry standard. Go for a detailed FAQ section to get additional points.
Conclusion
Your outdoor gear rental website must incorporate some unique ideas in order to stand out from the competition. If you are planning to compete with businesses like Coozie, Outdoors Geek and Xscape Pod then, the above mentioned features are a must.
By implementing these features you'll be able to create a powerful and sophisticated outdoor equipment rental website. If you're looking for a turnkey rental software to launch your online rental marketplace, then Yo!Rent can help. Yo!Rent is a product of FATbit Technologies, built specifically to cater to the needs of online rental businesses. The solution is highly customizable and scalable allowing you to incorporate features that are crucial for your businesses growth.
Learn how much adventure gear rental platform will cost