It's a known fact that enjoying outdoors doesn't come cheap. The cost of owning new gear, maintenance, storage coupled with the essential equipment needed for camping or backpacking can very easily rack up the bills to thousands of dollars. This is the reason for the growing popularity of P2P marketplaces that rent out equipment for a vast range of outdoor activities.
Online entrepreneurs seem curious about ventures based on rental models. So, let's take a look at the business model of an outdoor gear rental marketplace to get an understanding of how they actually make money.
Adventure Gear Rental Business & Revenue Model
A P2P adventure gear marketplace allows people to rent and borrow gear from each other at affordable prices. The marketplace charges a small commission on each transaction. The owners(renter) make money by renting their equipment for a specified time period.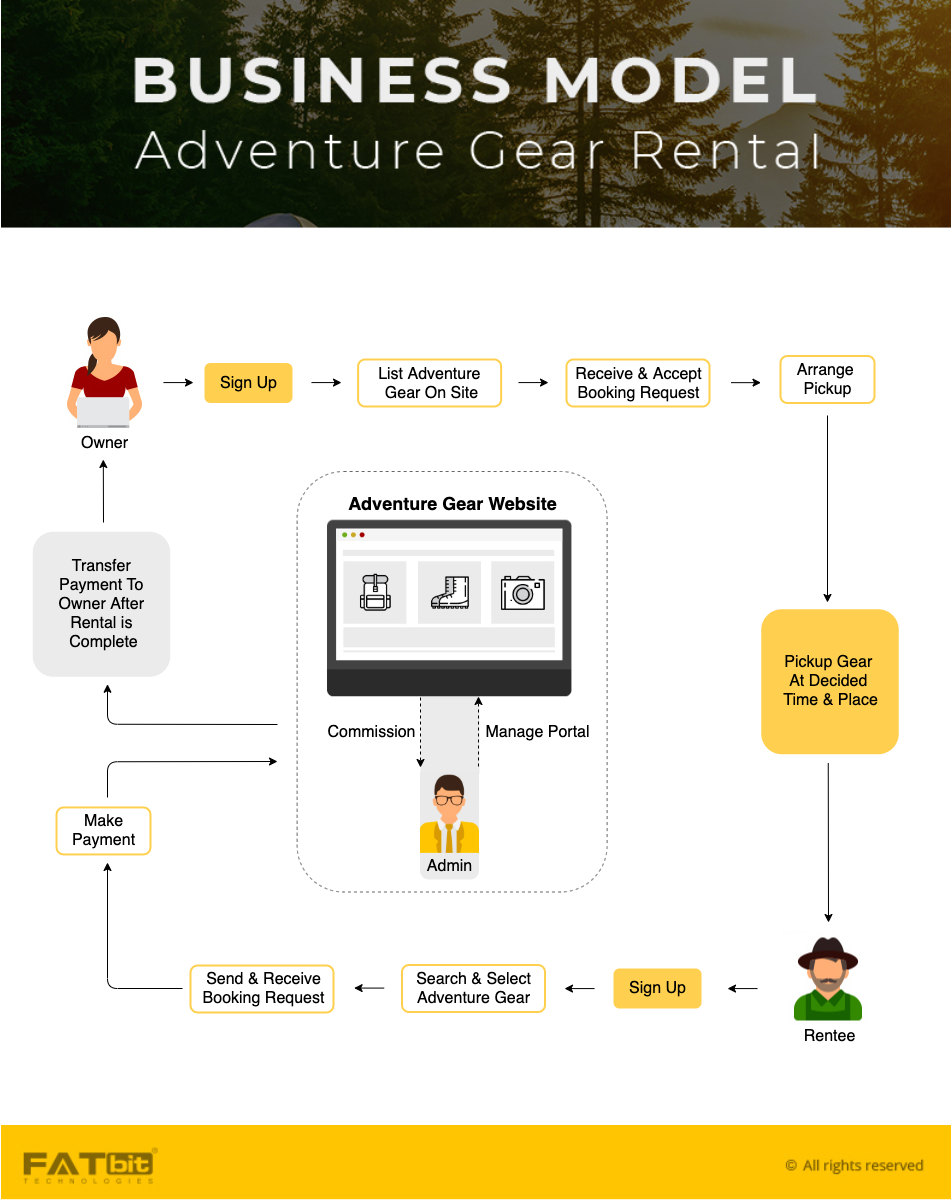 Now that we have a clear understanding of online outdoor equipment rental business model, let's see how the overall architecture of a rental portal works:
How it Works?
Equipment listing with real photos.
Set price which can also be adjusted per rental.
Renters can search for gear as per region.
View availability in that area and make rent request.
Renter must pay for the rental and pick up their equipment at the agreed time and place.
Money is transferred securely through the platform to both accounts after commission deduction.
Every listed item must be insured, making the experience completely safe for every person.
Leading Players
While some businesses are solely focused on specific types of sporting equipment, others are more eager to capture a bigger user base. The following are some of the biggest names in the online adventure gear rental space:
In order to better understand the sustainability of the adventure gear rental platforms in the market, let's take a look at their key features.
Outdoor Gear Rental Marketplace Overview & Features
Like most online ventures, peer to peer renting platforms also get a major boost by focusing on user experience and engagement. Hence, focus on simplifying the renting process. Let's take a look at the crucial website features and various other aspects that highly recommended by major rental marketplace software developers.
Homepage
As soon as users land on the homepage, they must get a clear idea about what the website is all about. It's crucial that designers apply more emphasis on creating a powerful UX. Some of the ways to do that could be:
Adding an engaging banner with a compelling message.
A search bar prominent on the banner.
Top navigation bar with signup/sign in buttons, and 'post new listing' and a menu stack.
How it Works section that describes different aspects of the platform.
Signup/Sign-in
It's good to keep the sign-in/signup process simple. There should be a dedicated page for both the options. You can also provide an option for signup/sign-in via Facebook. The overall signup process needs to be highly efficient with options like email, name, username and password. Asking for too much information will only turn away users.
Dashboard
After the user has logged-in, he/she should be directed to the dashboard, which showcases the listings straightaway. This will be a unique approach for your adventure gear rental marketplace. Usually in other peer-to-peer platforms, dashboard comprises a central hub which showcases all the information related to their account. Make a user-centric approach by offering a provision for a single account for rentee and renter.
Map view
Some marketplaces use a detailed map view of the listings, making it easy for the rentee to find products he/she is looking for. Rather than searching for a specific item, the platform must allow its users to find all the gear available in a given location. This is not only a simplified approach for the rentee, but also streamlines the overall process from searching to finally renting a product.
Search
Search is one of the key areas in any peer-to-peer rental website. With thousands of items, it becomes cumbersome for users to browse through each and every listing. The search functionality should be simple yet powerful. The search filters can make it easy to find relevant items within a few clicks.
Users can also be allowed to sort the listing based on rentals as well as stores. Other useful filters can include:
Categories
Price
Experience level
Brand
Other features
Listing
The listing page needs to be highly user-friendly with all the information at relevant places. Take special care in making the renting process fast and efficient. You can segment the page in this way:
The top banner must show the headline of the item
Left panel can showcase the images and an expandable section containing all the vital information.
The right panel should be dedicated to renting and contacting the item owner.
Make an option to post public comments on the item.
Requesting The Gear
Your website must have an efficient booking system in place. Once users have selected a particular product and the respective date for rental, they should be taken to a booking form, showcasing the final price. Instead of booking an item straight away, they should first be asked to make a request to the owner. Only once the owner has approved the request, the rentee should be allowed to make the due payment. This is an effective approach to rule out the possibility of unavailable items.
Moreover rentees must be allowed to have a direct conversation with the renter before making a request in order to discuss their questions and other requirements. If the vendor agrees to the whole arrangement, then the rentee can go ahead and make the corresponding booking request. This is an innovative booking procedure that focuses on creating a conversation channel between the renter and the renter/vendor.
Post New Listing
It's important to keep the overall process of listing an item easy and simple. Place a button on the header that takes the users to "add a new listing" form. The form must ask for some basic details about the rental product, which are vital from the rentee's prospective:
Category and subcategory
Listing type
Title and description
Price per day
Images
The overall process shouldn't take too much time. Moreover, consider adding some insurance policies that will safeguard both rentee and the vendor. This can increase user's confidence in sharing a personal item with a stranger.
Payment Options
The overall process of making as well as receiving funds should be simple. Although Paypal is a robust and secure payment gateway, try to allow users to make and receive payments directly into their bank accounts without the interference of any middle gateway. Whatever option you go for, make sure it is secure.
Messaging
Communication channels help renter and rentee interact before making the exchange. A robust messaging tool will go a long way in creating a community feel amongst members. With this, prospective rentees will be able to contact product owners to discuss their queries before making a rental request. FATbit recommends a similar approach for your adventure gear rental marketplace.
Vendor Profile
Each and every vendor must have a distinct profile page to make it easy for the rentee to get an overview of the items on offer. Allow rental stores to make profiles on the website and rent their products as well. The overall page should be highly intuitive and must offer detailed description related to the vendor. Additionally, all the open listings can be made visible to the users to facilitate product selection.
Help section
The concept of peer-to-peer rental marketplaces has been around for some time but is still confusing for new users. This is why a Help section is important. We at FATbit believe that rather than a query-sharing feature, a real time help chat can drive user trust in your favor. This is the reason why a real time chat functionality has become an industry standard. Go for a detailed FAQ section to get additional points.
Your website must incorporate some unique ideas in order to stand out from the competition. If you are planning to compete with the likes of Coozie, Outdoors Geek and XscapePod, then, the above mentioned features are a must.
By implementing these features you'll be able to create a powerful and sophisticated online gear rental website. If you're looking for a turnkey solution to launch your online rental marketplace, then Yo!Rent can help. Yo!Rent is a product of FATbit technologies, built specifically to cater to the needs of online rental businesses. The solution is highly customizable and scalable allowing you to incorporate features that are crucial for your businesses growth.
Learn how much adventure gear rental platform will cost
Get in touch