Last Updated: 14th March, 2023
RVshare was the first ever peer-to-peer recreational vehicle rental marketplace that was started in the year 2013 by the business enthusiast Jon Gray. The idea of launching such a unique business first emerged in the mind of co-founder Mark Jenney, when he and his wife returned home after a cross country road trip to realise that now their RV will sit idle for a long while.
As a result, Jon and Mark inaugurated RVShare, which now has over 60,000 RVs listed on its website, all owned by the general US public, protected by hefty insurance and earning hundreds of dollars per booking. Little did the founders know that their business will gain immense success and raise up to $70 million in funding.
Table of Content
Why Has Online RV Rental Business Been A Huge Success For RVshare?
The main reason behind RVShare's success is the minimalist lifestyle approach of the modern generation that prefers renting over purchase and values privacy. Millennials could afford a fully furnished recreational vehicle at a little cost and enjoy comfortable outings. For the older generations, traveling with family in a motorhome could be a ride full of nostalgia.
What expedited the growth is that for both the age groups, RVing is seen as a huge lift in status symbol. This factor, along with the minimalist lifestyle and affordable rental pricing paved the way for the success of RVShare.
Is it Worth Starting an RV Rental Business Now?
Following the minimalist trend, more and more people have started renting RVs instead of purchasing. According to reports, the average age of an RV owner in the US has declined from 48 years to 45 years and there's a continuous increase in the number of owners with children living at home. It means that the single gen Z and the majority of the millenials are yet to enter the most lucrative customer segment whose size is increasing rapidly.
Just to help you keep a record, over 40 million people in America go RVing regularly and spend 3-4 weeks on an average per year in a recreational vehicle. If you do the math based on the aforementioned facts, you'll find it obvious that the RV rental industry is about to bloom in the near future, making the business worth investing.
Not to mention, the pandemic has fueled interest in recreational vehicles. Motorhome sales and rentals have dramatically ramped up. While industry-wide data is yet to be compiled, RV dealers who reopened in early May, reported an approximate 170 percent hike in monthly sales in comparison to last year. Bookings through RVshare for the Fourth of July weekend went up by 81 percent. These statistics indicate the immediate scope of business in the RV  rental industry.
The Business Model of an Online RV Rental Business
Check out the following graphic that will help you understand the working of an RV rental business and booking software.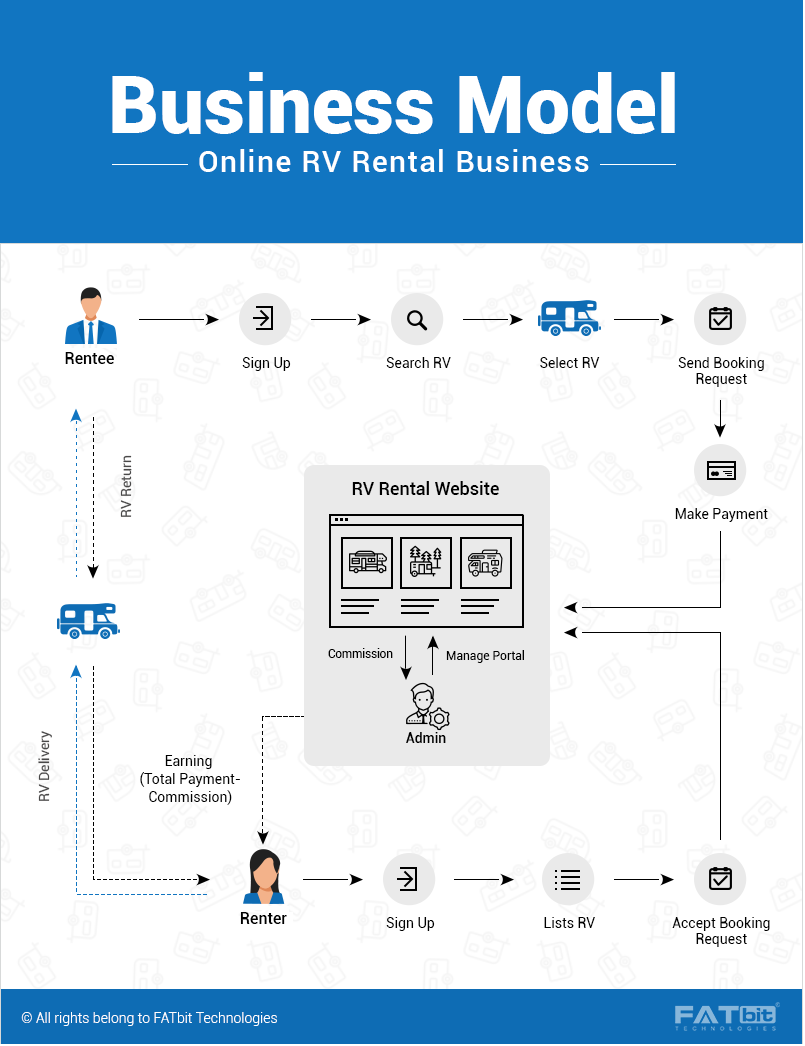 An online RV rental marketplace consists of an admin who provides the online platform to RV owners(renters) to lend their vehicles and customers(rentees) who rent those vehicles on the platform. Read more about the roles of these three entities below:
The business model involves three main entities:
The Admin
The admin/owner enjoys the complete control and authority over other entities involved in the business. The main role of the admin is to supervise business operations and manage transactions. He/she is responsible for accepting or declining a listing and managing the successful delivery/return of the vehicle. The admin also earns a commission in every transaction that takes place on the platform.
The Renters
The renters are the peers who lend their RVs to your main consumers. Finding renters for your RV rental business is equally important as finding rentees as both of them are the end-users. While your goal is to help prospects find RVs suitable for their needs, it is also to help RV owners find rentees to earn profit. Without a generous number of listings on your platform, the scope of success for your business stays limited.
Learn how RVshare attracts renters:
To attract renters on its platform, RVShare provides free listing spaces to RV owners. However, free listings alone aren't enough to encourage people to rent out their lavishing four-wheelers whose maintenance alone costs a fortune. To resolve this problem, RVShare provides insurance cover of up to $1 million to every owner who lists his/her RV on the platform. Along with the liability cover, the company provides comprehensive and collision coverage up to $200,000 depending on the cost of the vehicle.
Another thing that RVShare does to attract its customers is to add a humanitarian aspect to its business. This aspect allows every RV owner to register his/her vehicle under disaster relief for providing help and support to people trapped in disaster-struck areas.
RVShare also provides complete flexibility to the owners in terms of formulating cancellation policies. They obtain the complete rights to provide a 100% or 50% refund on cancellation and can even fix the days one must request a cancellation before the start of the rental period.
Lastly, RVShare also ensures that any tolls and tickets levied during the rental period will be the responsibility of the rentee.
The Rentees
The rentees are your primary consumers. They are the people who borrow RVs from owners at a handsome price and keep your business working. Understanding the buyer personas of the rentees is essential to create a marketing strategy to attract both renters and rentees.
"Rentees and renters have a symbiotic relationship on RV rental websites. An increase in the number of rentees results in an increase in the number of renters and vice versa."
Learn how RVShare attracts rentees:
RVShare promotes its RVs as something not only useful for outing but also as a temporary but lavishing housing option for guests and visitors. This way, it provides another purpose to rent RVs and adds more utility to the vehicle.
RV replacement is a  valuable unique selling point for RVShare. Under this benefit, the company provides the assurity to the rentees that they can replace their RVs in case of any faults and mislisted features.
RVShare also helps in mediating monetary disputes between rentees and renters. If the owner exaggerates the damage claims in security deposit, RVShare promises to adjudicate the situation.
The option of one-way RV rentals is also available on the RVShare website. Under this benefit, the company takes the responsibility of returning the RV to the owner.
Along with RV owners, rentees also enjoy collision cover insurance on RVShare. The coverage amounts to $200,000 depending on the cost of the vehicle.
Payment protection, trip suggestions and local guides are some other benefits that RVShare provides to attract its primary consumers.
Understanding the Business Model
The booking process on an RV rental software adhere to the following steps to make the RV rental business work:
Step 1:The renter uploads a listing on the marketplace
Step 2: The admin approves or rejects the listing
Step 3: If the listing is approved, the admin displays it on the website
Step 4: Rentees can browse all RVs listed on the website. Once they've found the RV of their choice, they can place a booking request by paying the rental fee.
Step 5: After the booking, the admin deducts his/her commission from the rental fee and transfers the rest to the owner
Step 6: The rentee receives the RV as per his selected delivery method on the website.
Step 7: Upon RV's return, the owner inspects the vehicle for any damages
Step 8: In case the RV is damaged, the renter informs the admin to claim damage charges. Admin deducts the charges from security deposit. In case, there are no damages, the security deposit is credited back to the rentee.
The Revenue Model of an Online RV Rental Website
The online RV rental business is not only lucrative in terms of its growth potential, but also because of its diverse revenue streams that generate high returns. The multiple sources of income on an RV rental website mostly include passive revenue streams, ensuring you a high-profit margin with less recurring work.
Some of the feasible revenue options that you can set up on your RVShare website are:
Rental Commission:It is the main source of revenue on an RV rental website. The admin charges the renters some commission for helping them rent out their vehicles.
Advertisements: You can also set up Google AdSense on an RV rental website to earn money via PPC campaigns. Under this revenue stream, the share of the website owner is calculated via the number of visitors who see or click on displayed advertisements.
Affiliate Marketing: You can promote a third party's service or product on your website and earn commission for every single sale
Featured Listings and Banners: Majority of eCommerce stores provide the option of paid feature listings. The vendors whose products are featured in these special listing spaces are able to drive more sales. You can follow the same on your website by offering paid featured listing spaces to renters.
Membership Plans: You can introduce your service as a freemium, i.e. when the basic benefits and services are free but the better ones cost money such as better insurance cover and free roadside assistance. This way, you can introduce several membership plans and charge your renters/rentees on a monthly, quarterly, half-annually, or annually basis.
Bonus Revenue Streams
You may not find these revenue streams on every other vehicle rental website as we had to go a step further to discover these.
Service fees: Along with commission, you can also charge both renters and rentees a small percentage of the rent as the service fees for using your website.
Video gallery: Rentees like to see the product before renting it. You can upload YouTube videos of all your top listed RVs or customer experiences and embed them on your website's gallery. This way, YouTube will also add to your list of revenue channels.
Pick up and Drop off Services: Just like RVShare's one-way trip policy, you can charge rentees for delivering the RV back to the owner, or even provide paid RV pick-up and drop-off services to both renter and rentees.
To earn money via all these revenue streams on your website, you'll also need to ensure that the RV rental software powering your website supports them.
Also Read: Start Outdoor Gear Rental Marketplace- Business Model & Key Features Analysis
Must-Have Features on an RV Rental Website
Captivating user interface and user experience are two essential elements of a business website. They ensure the delivery of smooth services and play a major role in providing a positive customer experience. Below are some must have UX/UI features that make an RV rental software more useful:
Homepage Features
Search field: A search field will help the rentees in finding an RV that is suitable as per their needs. However, on an RV rental website, the search field should be more specific. It should include the tentative rental date and pick-up location to provide better assistance to rentees in searching an RV.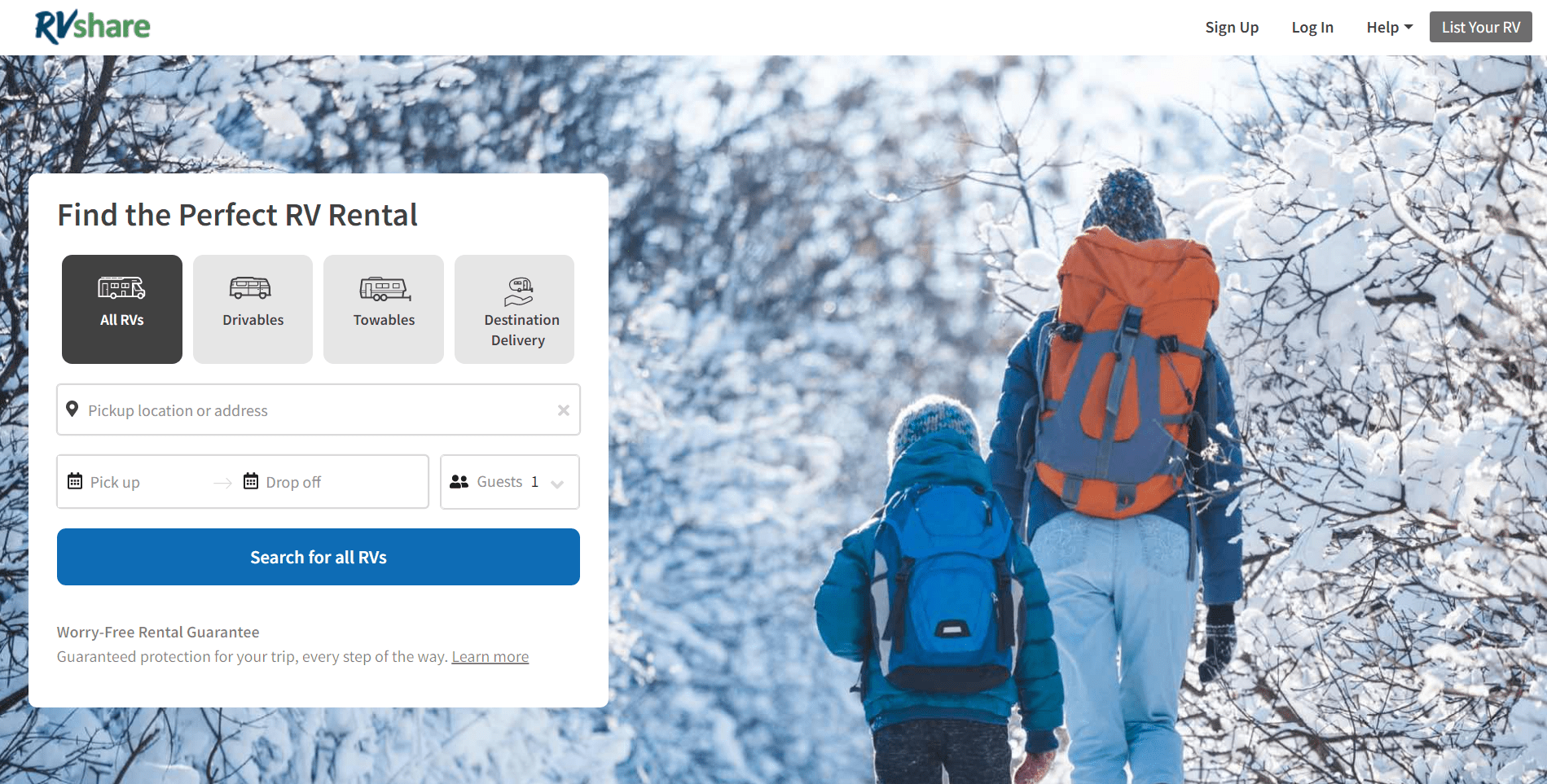 Note: This screenshot was taken during our analysis conducted in March 2023. RVShare continually updates its product and features offered. Explore RVShare.com to view the latest updates in website layout, design, and features.
'How it works' section: On a rental website, it is helpful to let your consumers know how booking works on your platform. This not only helps in building trust but also highlights your unique value proposition.
List your RV button: All other features on your homepage should be for your primary consumers, which are the rentees. But, to attract and inform renters, a 'List your RV' button should also be present in the top fold with a contrasting color combination. This will highlight the peer-to-peer aspect of your business to the first time visitors.
Different types of RVs: The term 'recreational vehicle' or 'RV' is an umbrella term that is used for several types of home-furnished vehicles, like caravan, campervan, motorhome and fifth wheel. To distinguish them further, one can classify them into various types.

Note: This screenshot was taken during our analysis conducted in March 2023. RVShare continually updates its product and features offered. Explore RVShare.com to view the latest updates in website layout, design, and features.
Top-rated RVs: Before selecting an RV, a rentee may like to check its reliability. For this, he/she will look into the reviews and ratings of every listing that interests him. To provide the rentee more convenience in finding the top-rated RVs, listing them on your homepage is more practical and user friendly.
Note: This screenshot was taken during our analysis conducted in March 2023. RVShare continually updates its product and features offered. Explore RVShare.com to view the latest updates in website layout, design, and features.
Featured RVs: Instead of top rated RVs, you can also list paid featured RVs on your homepage. They can make your business more profitable but you must ensure all your featured RVs are in a top-notch condition to maintain your business reputation.
Product Page Features
Detailed description of the RV:

To conduct business on your RV rental, it is better to provide as much information as possible about the listing. Therefore, you can set up some mandatory fields for the renter that he/she must fulfill while listing a vehicle. Do ensure that the information of the RV involves:

High-Quality Images

Name and model

Rental fees

Features and Amenities

Maintenance tips

The renter's terms and conditions

Available delivery options

Rent estimator:

The rent estimator on the product page should provide full details of the availability and total rent of the vehicle. To do so, a rental booking calendar will make the estimator more sophisticated and useful. A direct option to rent the RV should also be present on the rent estimator to make the booking experience swift and more convenient.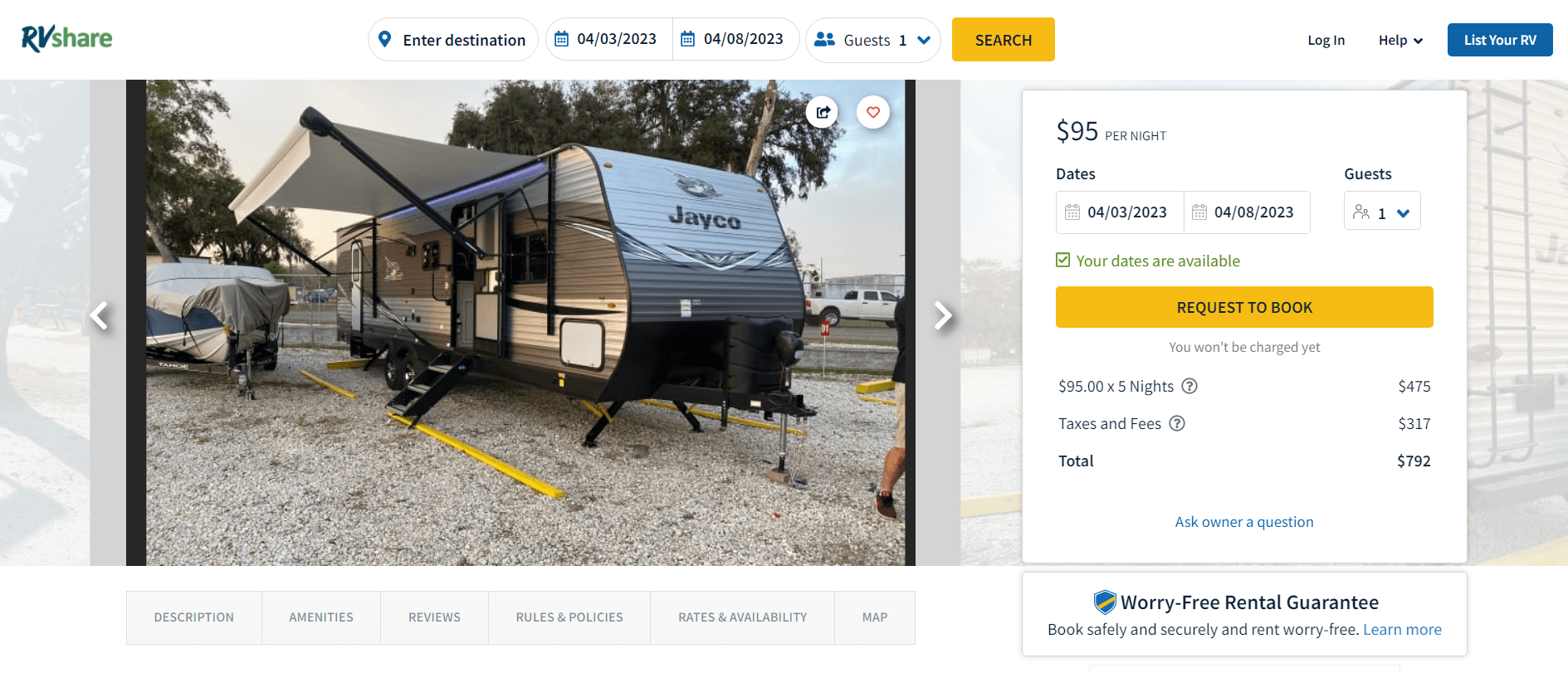 Note: This screenshot was taken during our analysis conducted in March 2023. RVShare continually updates its product and features offered. Explore RVShare.com to view the latest updates in website layout, design, and features.
Brief info of the RV owner: Providing this information will make your service more reliable and trustworthy to the rentees. Not to mention, it will also build the credibility of renters.
RV Owner's Contact Information: Some business websites prefer to provide direct communication information of its renters, others prefer discreet communication mediums like private P2P chat. communication like the guest chat feature. You can select the first option if you don't want to integrate a messenger or go with the latter to provide some privacy to the renters.
Customer Ratings and Reviews: These two will be the most essential trust-building elements on your website and assist rentees in final decision making.
List your RV Page for Renters
Earning Estimator: This option should allow the renters to calculate how much they can earn with their RV model on an average per year. This will help you attract more renters to your business.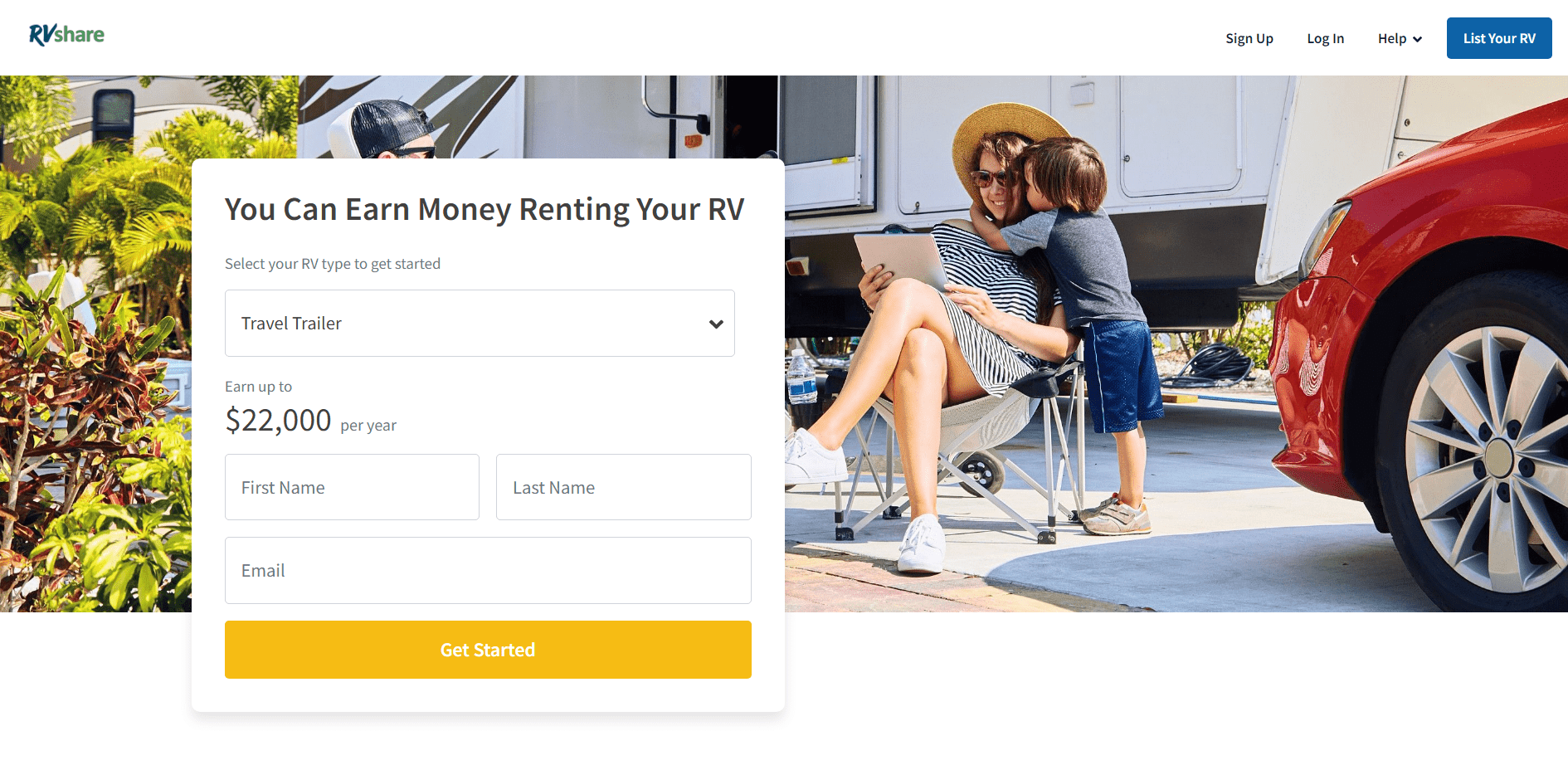 Note: This screenshot was taken during our analysis conducted in March 2023. RVShare continually updates its product and features offered. Explore RVShare.com to view the latest updates in website layout, design, and features.
'List your CV' button: The earning estimator along with a 'List your RV' button works as the perfect call to action. The former persuades the renters to list their RVs and the latter provides the directions.
'How it works' section:The 'How it Works' section is also required on the 'List your RV' page to inform your renters how your business works for them and helps them earn. Building transparency builds trust and generates more business.
The Prerequisites of your RV:Do you want every RV to be repaired or maintained before getting listed on your website? You need to mention all such terms and conditions under the prerequisites section. You can always skip this but that will increase the workload on your team who will have to manually inspect the condition of every RV.
Help Page
The help page is required on your website as it is the first source of customer support. It must have two basic features:
Contact Us Form: For businesses that are low on manpower, it is a better option to provide customers a contact form for clearing booking and renting queries instead of publicly displaying your email address and contact number.
A contact form will allow you to collect the customer's contact details along with their issue or query. Your contact form should include the following fields:
Name

Email Address

Reason for Contact

Leave a comment
FAQs: Another alternative to the contact form is an FAQ section. It provides quick answers to the most frequently asked queries to the customers.
Introducing Yo!Rent V3 with Advanced RV Rental Features
Summing Up
There are various approaches to build an online RV rental platform, such as an RV rental booking software and SaaS solution. Not all of them will be similar to the one you just read above and some might not be suitable for every startup. Regarding the aforementioned features, they are a little different than those available on RVShare as it has a history of almost a decade building its credibility. However, what must be common in all approaches is agility, that is the need of the hour due to increasing demand of rental RVs.
To aggravate the demand, the pandemic has also played a significant role by making people health conscious and value their privacy. There's no vehicle better than an RV that caters to these requirements and is a luxury symbol especially in European and North American countries. Those two also might be the best geographical regions to establish an online RV rental business depending on how early you can start.
Launch Your RV Rental Website With Yo!Rent