Customized products are gaining traction in the digital selling environment. People prefer their products to be customized as per their taste instead of buying "stock" products that every other person possesses.
Customization is a remarkable tool that can lead to higher profit through increased customer satisfaction and loyalty. Although mass customization often adds to production cost, it is highly fruitful since it results in higher profits and people adopt it quickly.
Customized products have become a sensation as technology has taken up a major place in our lives. In the modern digital era, customized products are the new form of old-school luxury and personalization.
The only way to increase profits and customer satisfaction in customization business is by implementing everything correctly. Product customization has become popular because it addresses several important psychological triggers of human brain like over choice, analysis paralysis, and cognitive dissonance.
Online bag industry experiences the maximum number of decision-making challenges. The best way to curb this problem and to provide customers something unique is by giving them an option of customizing their bags. Custom bag website is trending as the customers are looking to own products which they have created as it gives a touch of personalization.
Want to be a part of the custom bag industry? Read the business model, revenue model, critical features, and shortcomings of custom bag websites. This blog will further give a head start to become an entrepreneur.
Business Model
Custom bag designing website provides customers or companies with an option to get their backpacks, purses, clutches, etc. made to order. This provides the customers with the luxury of personalization while sitting at home. With the advent of technology in every sector, people now prefer to get bags according to their own preferences and choices. Here is how these websites work: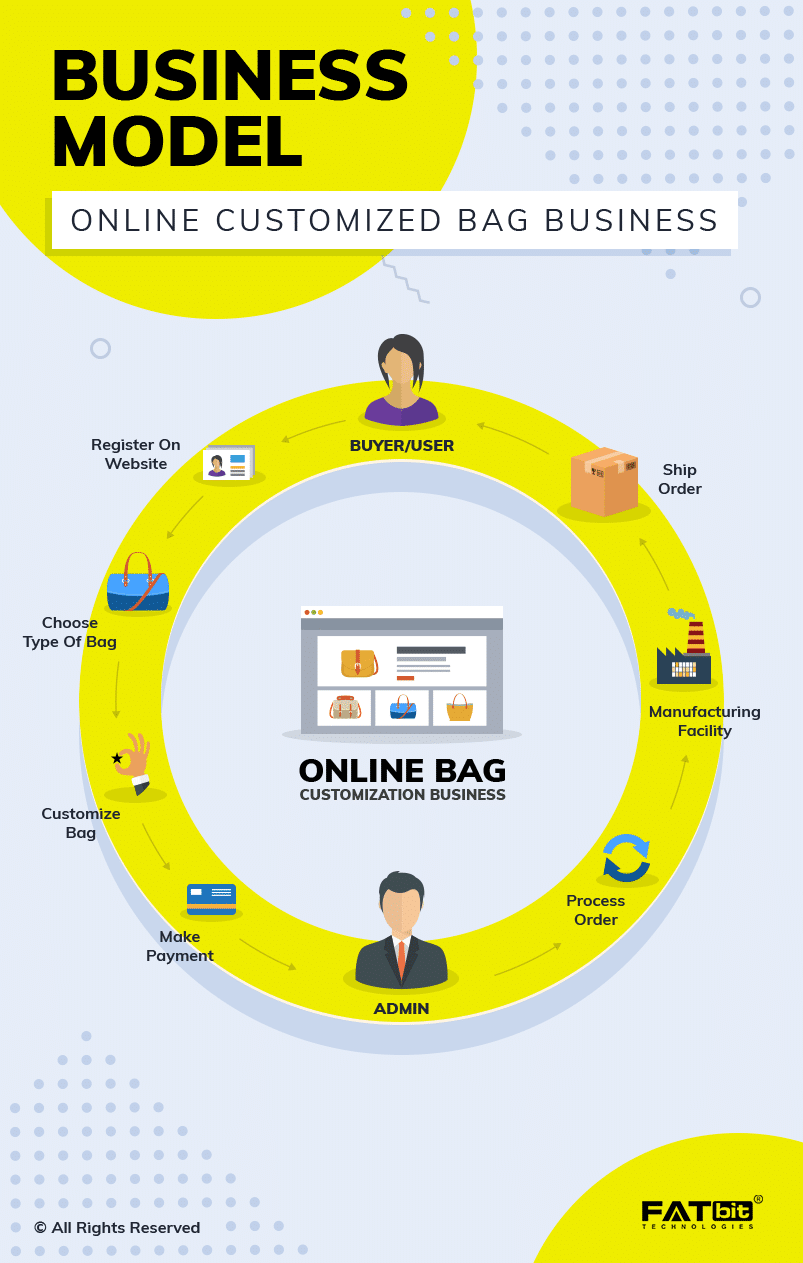 There is a wide range of bags available on the website which the customers can choose from. The bags are further categorized into sling bags, pouches, zip-kits, folios, sleeves, work, travel, and bike messenger bags.
After the customer selects a bag, they can start to customize the color and material of the bag like zip trim, front body, pockets, webbing, flaps and finally add a monogram.
Customers can also add the bag to the cart without any customization. If the predefined style and color of the bag are suitable for the customer, they can check out directly without any customization.
Once the customized or selected item is added to the cart, the customers can then proceed to the checkout process.
Also Read: Top Nine Asset-Light Business Models to Consider For Your Ecommerce Startup
Revenue Model
The primary revenue model of custom bag website is the selling price of the bag, which would include the cost of designing, man-hour, resources used, etc.
Along with the primary revenue source, website owners can also use the below-mentioned secondary revenue channels to make some extra money from the website.
Advertisement
Usually, every customized product selling website enjoys high traffic. Prospects visit them not only to buy a bag but also to get inspired by the design or play with the gamified interface. This is why display advertisement can be a huge source of revenue for custom bag websites.
Also Read: Online customizable cosmetic industry: analysis and features
Additional Services
Subscription for customized bags in bulk orders (for corporates) is another revenue channel that custom bag industry heavily relies on.
Major Industry Players
The key market players of this particular niche are companies as old as Timbuk2, founded in 1989, the age of ecommerce boom. And then there are other established names such as Mon Purse, Better Life Bags, Toteteca, and Dizaind, and the latest of them were founded in 2014. When it comes to understanding how old this niche is and how popular it is, nothing paints a clearer picture than these companies.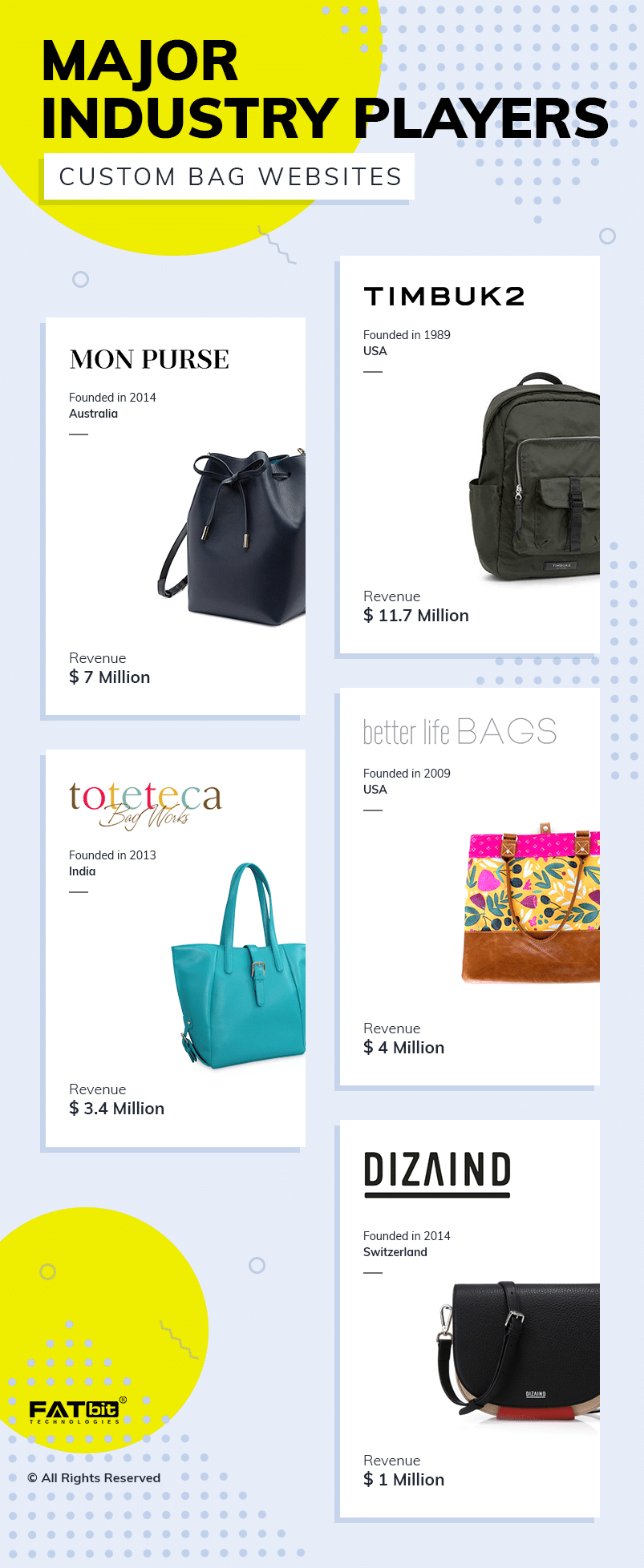 Critical Features
Digital customization
Digital customization along with a preview of the result is the most important part of user experience in this niche. It helps in increasing the sales as people will already know what their bag will look like when they receive it. This also adds an element of gamification to your website. People love it when the UX is designed in such a way that it engages them to take the next step.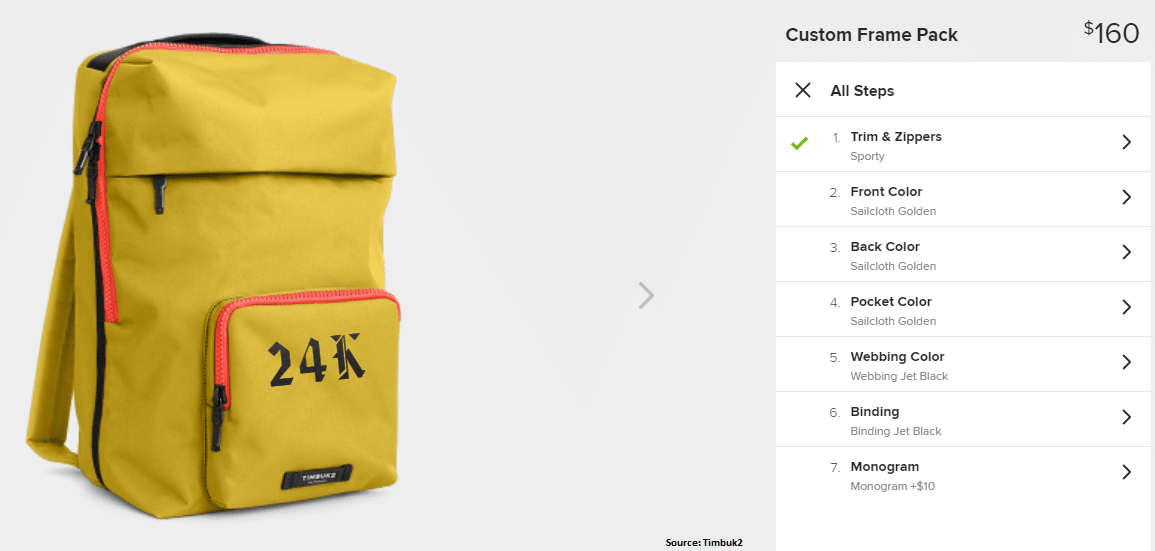 Lifetime warranty
To build a sense of trust among the customers, it is very important, especially for a custom bag website, to provide a lifetime warranty to the customers. Providing lifetime warranty assures the customers that you are using the top quality raw material.
Blogs
A blog section in a custom bag website is not just important for search engine optimization but also to educate the readers. In the blog section educate the client how a customized bag is much better than a regular one, why should they purchase from you, etc. If the blog section engages the client they are more likely to buy the product from your website.
FAQs
Answering frequently asked question assures your customers that you are readily willing to ease any confusion about how things work on your website. Also, a new customer feels that you, as a business owner, care about your dealings, customers and conduct business in a fair manner. Add a section of FAQ as people have a lot of questions while customizing their bag.
Category
Category management is an essential feature of a custom bag website as people would like to first check the category and then customize their bag. The website does not specifically have to be for customization, buying a pre-designed bag should also be an option. This is why the category section has to be managed perfectly.
Social media integration
Integrating social media with a custom bag website is important as people would want to showcase their designed bags on social media.
Register bag
A customer does not get a lifetime warranty till they do not register their bag on the website. Customized bag website must have a dedicated section where they can register their bag and avail the lifetime warranty. This will help the website owners to collect the email address and contact information of their clients. The registration form can have an option where the customer can tick if they want to receive newsletters from the brand.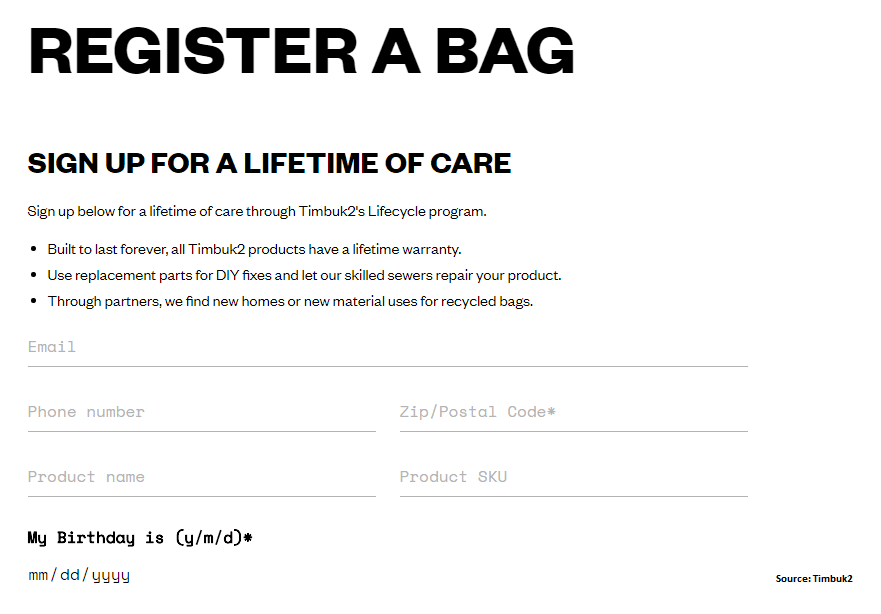 Live chat
While customizing a bag, your customers may have a lot of queries. A custom bag website, therefore, must have a live chat section where queries can be handled immediately. Not everything can be discussed in FAQs, and you'll need to integrate it to enhance user experience.
Shortcomings/Point to consider
Longer duration to be delivered- Customizing a bag is a time-consuming task, delivering it to the buyer takes time.
Solution: Clearly mention that creating customized products from scratch requires a lot of time and effort, and thus, delivery period will be long.
Order cancellation- As the products will be created with specs from the customers; the product after checkout cannot be canceled.
Solution: Inform customers before they make the final purchase that they cannot cancel the order after completing the checkout process. Also, inform them that the amount will not be refunded once the transaction is done.
Inflated Cost- When a bag is customized according to the preference of the customer, the price of the bag will be higher than the regular bags available in the market.
Solution: Understand the psychology of the customers for pricing. Build a sense of luxury and let the customers know the reason for inflated prices of the bag. Reasons that can be mentioned on the website can be lifetime warranty and free replacement for spare parts.
Conclusion
If you are in the business of selling bags or luggage, the e-commerce industry definitely has something very lucrative to offer. Providing custom bag designing services to your audience can set your brand apart from others in the competition.
Make sure you understand how this niche works before starting online bag customization business. An online customization service allows users to craft bags that are very specific to their customer needs.
This concept is fairly young, trending and gives you the opportunity to do something new and unique in this industry. Remember that in this digital and machine friendly age, it is all about providing your customers with a great purchasing experience and user journey rather than simply selling them a product.
Bonus: Checkout the detailed business model canvas of Online Bag Customization Business

Connect With Our Business Analysts to Know About Functional Specifications