Last Updated: 17th Feb, 2021
Before I discuss the gamification examples in business, let us reiterate the fact that all of us have participated in different forms of gamification knowingly or unknowingly. Most marketers have heard the term gamification more than once by now.
Have you ever collected flyer miles and redeemed them on your next travel plans? Ever spun a wheel to win a discount voucher, or felt tempted to buy a product because 500 people have also bought it? These all are examples of gamification used by businesses. In marketing, gamification ideas are used strategically to influence customers' purchase decision or to make them perform an action.
In this article, we have discussed the following points:
Let's get started…
What is Gamification?
Gamification is the application of Game thinking and game mechanism (points, quizzes, incentives) in a non-game context in order to affect behavior. Online businesses and eCommerce stores use gamification to improve their conversion rates, sales, user engagement, ROI, data quality, speed of the process and learning.
Types of Gamification
When we channelize people's feelings for competition, winning, achievement and status to help achieve business objectives, they tend to purchase more with the sense of winning. Following are the most popular techniques that will give you a clear picture of what is Gamification in business.
Provide rewards to your customers who complete a specific task. Rewards can be points, discounts, badges, gift cards, free shipping etc.
Progress bars are a great way of gamification and also informing the person about the stage of the game they are at. The progress bar keeps customers working towards completing a task and finishing the progress bar.
Virtual currency is often used in games. It gives the customers a feeling of achievement without the business spending any real money on it.
Competition has become an important part of gamification. Make rewards, badges and game levels visible to other people on the website. To maintain a competition between people, customers would want to increase these badges. Include a leaderboard on the website where people would want to remain on the top.
If none of the above works along with your business model, then add fun elements to the processes that are otherwise not so engaging in nature. Add cartoon figures which can make the UI engaging.
Also Read: 101 Actionable Tips From Experts On Running An Ecommerce Marketplace
Best Gamification Examples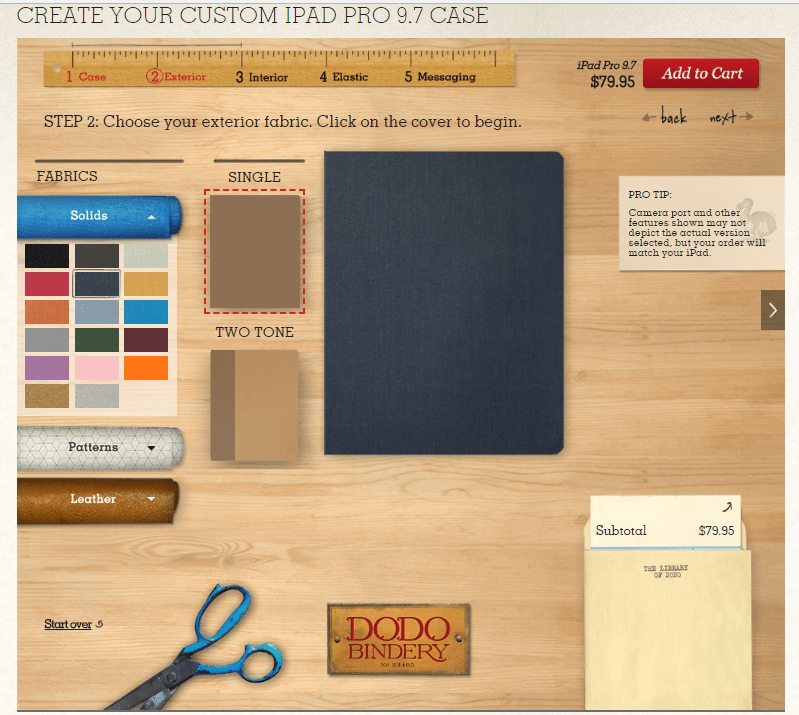 (Source: dodocase)
IPad case Company DODO CASE uses gamification on their online website. They have added game-like elements to their product screen. Instead of providing customers with a boring list of products available, they offer a fully interactive workshop environment. They let the customers customize their own iPad case by choosing the color for the exterior as well as the interior, the elastic and for any message to be added to the case. Also, as shown in  the above image, they have provided a ruler in the progress bar for the customization, adding a fun element on the website for customization.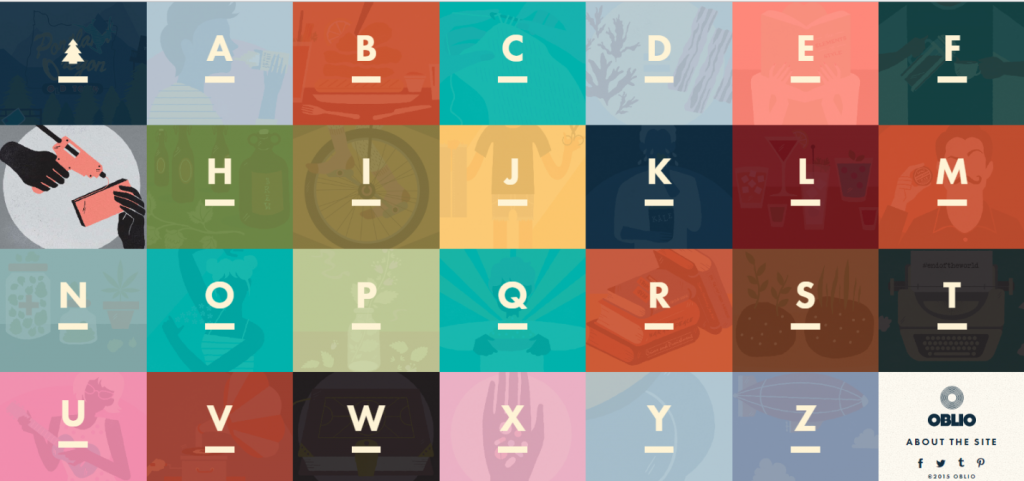 (Source: Keep earthquakes weird)
After a severe earthquake hit Portland, 'Keep Earthquakes' Weird website was created as a part of social awareness. The website imparts knowledge on earthquake safety and survival through an alphabetical list. Every letter when clicked opens up another page that imparts knowledge regarding the safety tip. The site also offers a humorous take, for ways in which they can keep the Portland spirit alive. In return, the website imparts a driving & incentivizing user behavior; a good way to spot a silver lining.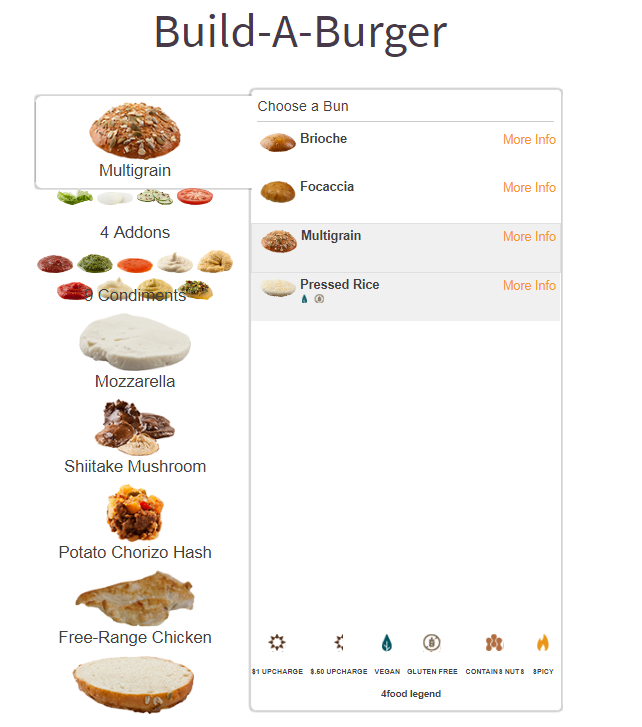 (Source: 4 food)
The whole website of '4food' is basically one exciting game. Check the section where people can read more about the company or the section where the company imparts knowledge about their services. You can also create your own burger on the website. For more details, you can watch their YouTube videos.
The gamified experience of a website engages customers, helps them understand more about your business and appreciate the business' top quality food. If properly conducted, gamification can serve many objectives such as boost a company's performance/reputation and help the brand increase their social media popularity
(Source: Stich fix)
'Stitch fix' is a subscription-based eCommerce website; one of the conversion pointers is to gather a maximum number of email addresses to engage them. While normal eCommerce websites are reducing the size of their registration forms for maximum response, Stitch fix has gamified the registration experience. They added an engaging questionnaire that people would want to answer and register on the website.

(Source: LinkedIn)
Gamification is not the first thing that comes to mind when picturing LinkedIn, as it's a B2B platform. But actually, LinkedIn has subtly but very successfully integrated gamification into their services.
LinkedIn Profile Completion bar is one great example of gamification. It not only displays the percentage of profile information you have filled in, but also motivates you by giving hints on how to reach 100% profile strength real quick.
Another gamification of LinkedIn is the profiles strength shown in a circle. How much the circle is filled symbolizes each person's profile strength. This visual trick is highly successful because it continuously motivates the users to update their profile, change their jobs and remain active on the platform.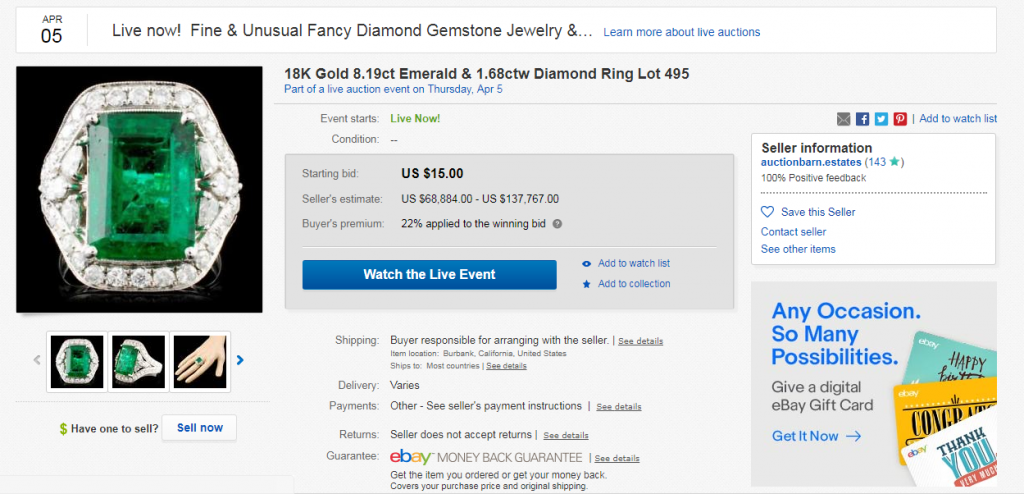 (Source: eBay)
EBay, an eCommerce marketplace for buyers and sellers used gamification to ease the process of e-auction and bidding. So the process of bidding in itself is a game and it also provides ease for the buyers who want to bid on the product. EBay made it easy for buyers to take up the challenge. When customers finally buy the product they experience the joy of winning even after paying more than the expected amount.
The online e-commerce website 'Woot' ran a campaign where they offered a deal of the day. This attracted customers to visit the website every single day. They released the daily deal at 12 noon central time and offered unique products at a competitive price with a limited stock. The FOMO effect came into play immediately and customers rushed to grab the opportunity. Woot enjoyed unprecedented traffic and some of the highest conversions of all time!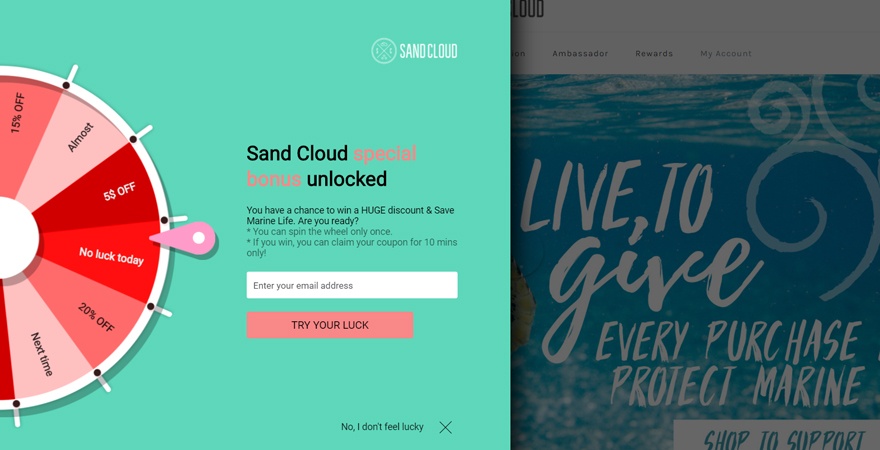 (Source: Sand Cloud)
'Sand Cloud' uses the spinning wheel gamification strategy. When a customer moves the cursor to the tab closing button, a spinner pops up on the website. This engages the customers to spin the wheel, just to check their luck once. To spin the wheel customers have to enter their email address. Spinning the wheel may get them a discount of $5, 20% or sometimes even 50%. When they receive the discount, they get a sense of winning and want to utilize the discount immediately. Thus, gamification glues the customer to the website.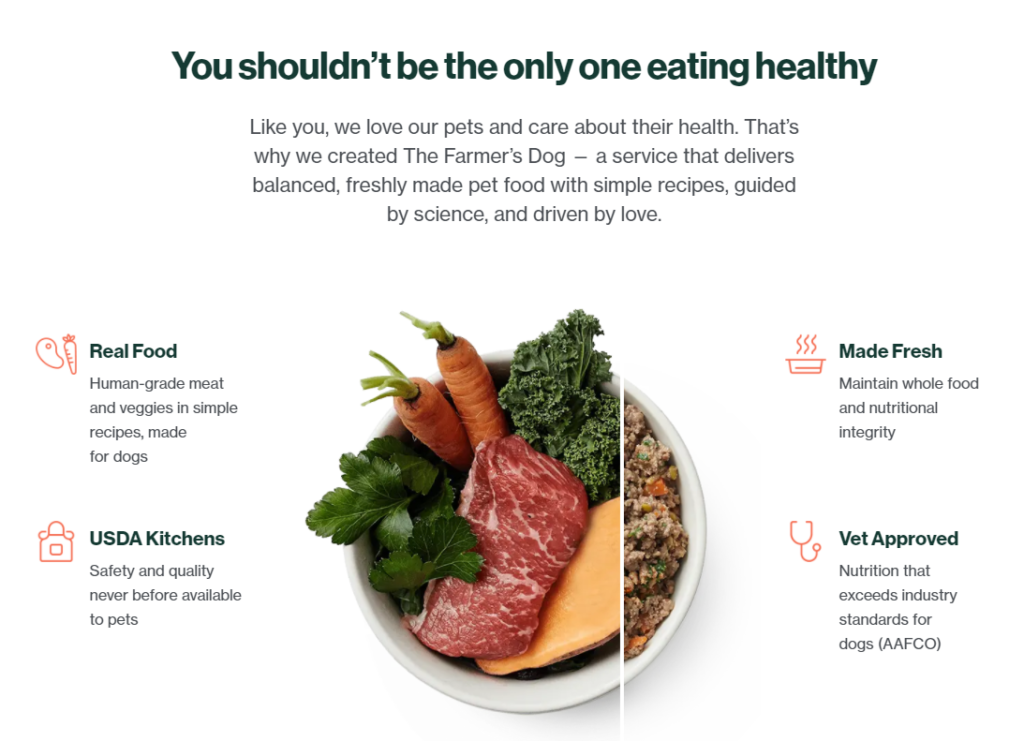 (Source: The Farmer's Dog)
The Farmer's Dog is a New York-Based eCommerce website that uses gamification to inform visitors how it converts fresh veggies and meat into healthy ready-to-eat pet food. As the visitors scroll down the website, the slider moves across the image representing the cooked and uncooked food. Simple scrolling might not appear to be much of a game, but it still helps the company stall visitors on a specific image, only to see the slider move and focus on their 'healthy' food.
How to Gamify Your Online Business
1.Identify the objective
Before you change the design of your website, you need to identify the goal. You need to decide whether you want to increase your presence on social media, make registrations and buying easy, or increase conversions during holiday seasons, etc. The actions leading to gamification should lead to only one call-to-action. A clear objective helps your web designer in creating a befitting game that engages users in a better and more efficient way.
2. Decide the challenges
The next step for building an interactive gamification on your e-commerce website is deciding which challenge you are going to throw on your audience. Is it about being the first, being the fastest or being the luckiest to come out as a winner? The challenge must be perfectly aligned with your objective and should trigger your audience to complete it.
3. Present the reward
No game is complete without a reward. Make sure you provide a reward for which people would be interested in. In case you ask them to collect X amount of points by shopping with them, give them a gift worth their efforts. If you do not give away a suitable reward, it can harm your business badly. The reward you decide should make the customers happy, encourage social media share, increase leads, help in customer retention, will make the customer do repeat business with you and meets the complexity of your challenge.
Get Tailored UI that Best Matches Your Business
5 Possible Ways to Gamify your eCommerce Store
1. Product Quizzes
Quizzes are an interactive way to increase product awareness on an eCommerce store. They do not need to be difficult. Fairly easy quizzes about various products and brands that you sell are enough to grab customer attention and increase engagement. For every correct answer, you will need to provide the visitor some reward points that he/she can collect and exchange for a discount.
Another way to use quizzes on an eCommerce store is by turning them into a  sales rep. For example, take the example of Murad Skincare. It provides visitors with a questionnaire based on which it suggests the products for a complete skin care regimen.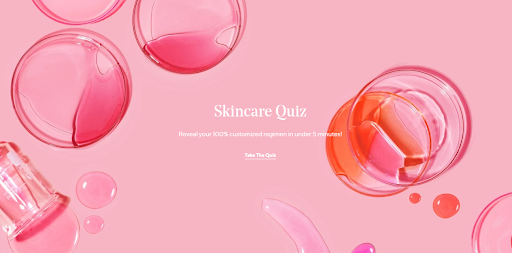 (Source: Murad)
2. Loyalty Program
People already recognize loyalty programs and do not require any explanation. Loyalty programs have become so popular in the eCommerce industry that even the most renowned brands like Reebok, IKEA, PetSmart, and Kohl are providing their consumers with a suitably loyal program.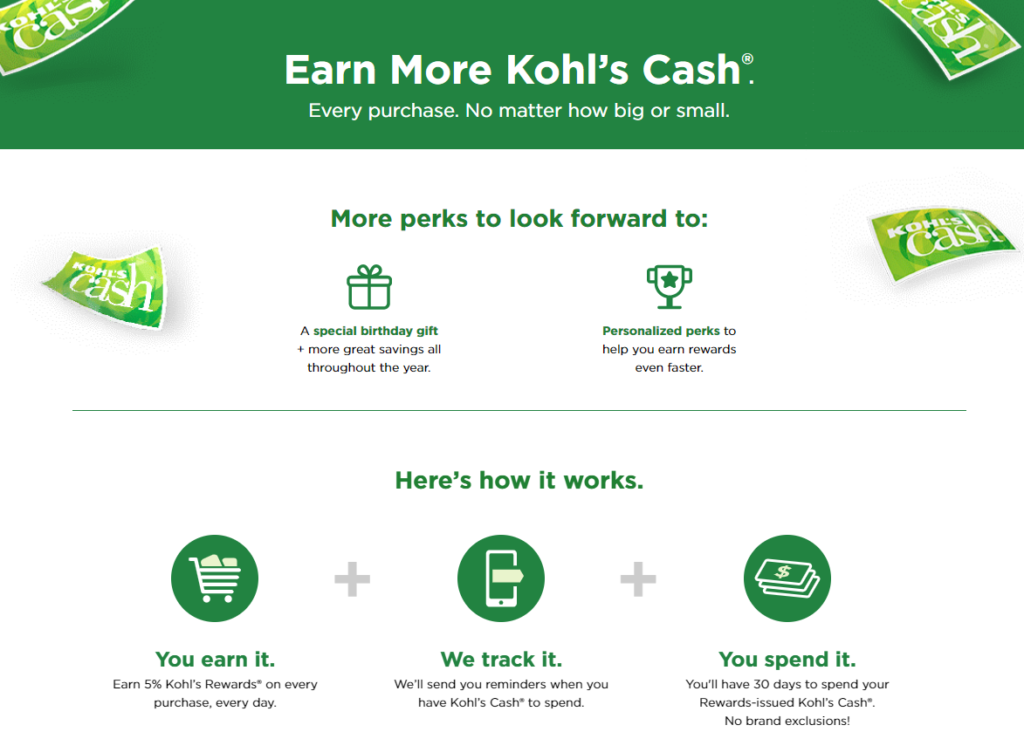 (Source: KOHL)
3. Spin the Wheel
The gamification that we saw in Sand Cloud's example is another way to attract visitors to eCommerce. To further customize your spinning wheel gamification, you can pick seasonal themes like Halloween, Easter, and Christmas or introduce a once in a month spin (with greater rewards) that you can directly inbox to the registered users. This way, along with increasing engagement, you can also collect emails of your prospects for newsletters.
4. Referral Programs
eCommerce stores have also turned referral programs into games to let their consumers do the marketing for them. The fashion brand, Guilt, and Leesa mattresses have used this concept very well. Guilt rewards both the referrer and their invites with a $25 gift card. Leesa goes one step further by providing discounts as high as $50 and $100 for every successful referral.
5. AR Try-Ons
Augmented reality games gained momentum along with VR. Soon after entering the gaming industry, it expanded into eCommerce. SmartBuyGlasses, a US-based online eyeglasses store, uses AR technology to provide virtual Try-on. IKEA is also working on a similar trial concept that you can see in the video below.
Gamification via AR holds too much potential as it provides the customers to virtually try online products right from the comfort of their four walls. In return, they tend to spend more time on the eCommerce store and are more likely to shop.
What is in it for you?
Gamify your website or mobile application to make a difference in your website engagement and conversion rate. Gamers aren't kids anymore. Gamification is a fun and interactive way to ask your website visitors to perform a task. So spice it up and strategically use gamification for your online business.
Increase website engagement with Gamification