Have you ever felt a gap between what people learn from academic courses and the skills they actually need to thrive professionally? Result of the same notion is the websites like Skillshare, General  Assembly, Grovo, and other online learning platforms that connect people who want to learn real-world professional skills with people who have them. Unlike traditional MOOC (Massive Online Open Course) platforms that follow the online lecture pattern, these e-learning platforms offer project-based classes in which learners collaborate and learn by doing. Impressed with this unique approach to online learning, FATbit team created this informative script features based post to inspire aspiring entrepreneurs looking for a unique and potential business idea. So, let's begin the journey by understanding the business model of an online learning portal first.
Business Model
Education and learning are two different things. For learning, things should be interactive. While regular lecture-based classes can be interactive, but they have their limits. That's where project-based classes jump into the picture. And e-learning websites like Skillshare & General Assembly offers such project-based classes to help people learn real-life skills instead or just clarifying the theoretical concepts. These project-based classes can be live online & offline sessions or video recordings prepared by real-life professionals, covering a wide range of topics including programming, photography, cooking, building mechanical parts, etc. The beauty of such online learning platforms is that anyone can be a learner, anyone can be a tutor or both.
How do online learning marketplaces make money?
There can be two ways to earn money from such online learning platforms:
Let the tutors decide the price of their classes & cut a commission from it
Offer subscription-based service to allow learners to access classes on your online learning website & divide the earned money between you and tutors. The amount you pay to a tutor should depend on how many learners have enrolled in his classes.
You may choose any of the above-mentioned revenue models for your e-learning portal, depending on your goals & target market. Take experts' help in case you can't decide which model will work for you. Additionally, you can also include the following revenue channels in your business model:
Banner ads on the website
On-site promotion for tutors and classes
Such online learning platforms not only aid the portal owner but are also beneficial for tutors and students. Let's see how: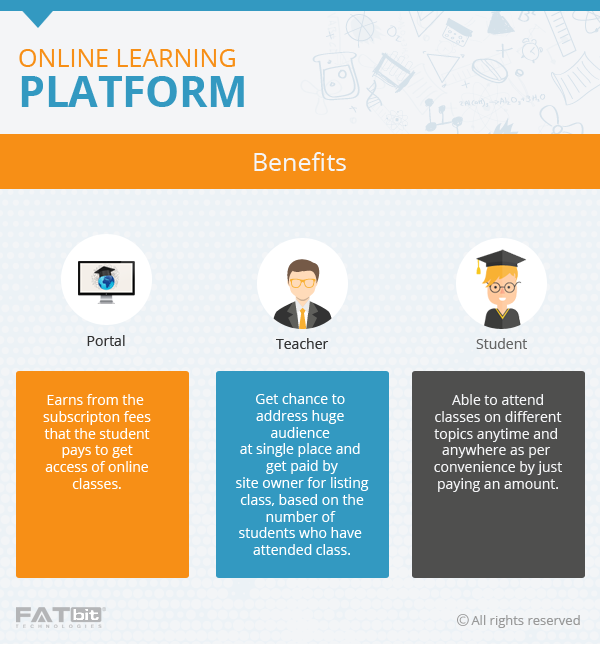 So, this was the crux of how an online learning marketplace business should work. Now, let's dive into the website features and go through some more essential online learning software features for building an e-learning platform.
Key features of the online learning platform
As an online learning platform, your service spectrum should be much wider than just online video classes. But to keep things simple, you should present all these offerings to visitors only one at a time. There should be links to the most important of your services right one the homepage, but at no point should they appear overwhelming to a visitor. Here are some layout design suggestions for the homepage:
The banner area of your e-learning platform should feature a clear & catchy website message with a CTA (especially because of the uniqueness of the business)
The banner area should also feature a search toolbox that allows learners to search for a class by name & category
The Below-the-fold area can be used to display some featured classes in thumbnail view for the most popular subject/topic category. This, in effect, will trigger visitors' curiosity and make them want to look into classes right away, thus, joining the e-learning website.
Benefits of joining your online website on the homepage itself to engage visitors further
Details regarding the website's membership fee (in case you have chosen the latter revenue model
And lastly, the footer area that wraps up all the services for learners & tutors teachers in a grid of quick links
Now, let's explore all the nitty-gritty details of different services and offerings of a good e-learning portal:
Classes
Learners should be able to access classes easily. Apart from the search toolbox, there should also be a tab for classes in the top navigation bar. The result should preferably be displayed as a grid of video thumbnails with class details and appropriate filtering, sorting and displaying options.
Also Read: Build Advanced Language Learning Platform with Must-Have Script Features
Taking a Class
Your e-learning website should also feature some free classes so that prospective learners can get a good idea about the classes without having to buy the membership right away. But to enroll in a premium class, users would have to sign up and buy a membership. There should also be a provision of a limited period free trial under the subscription.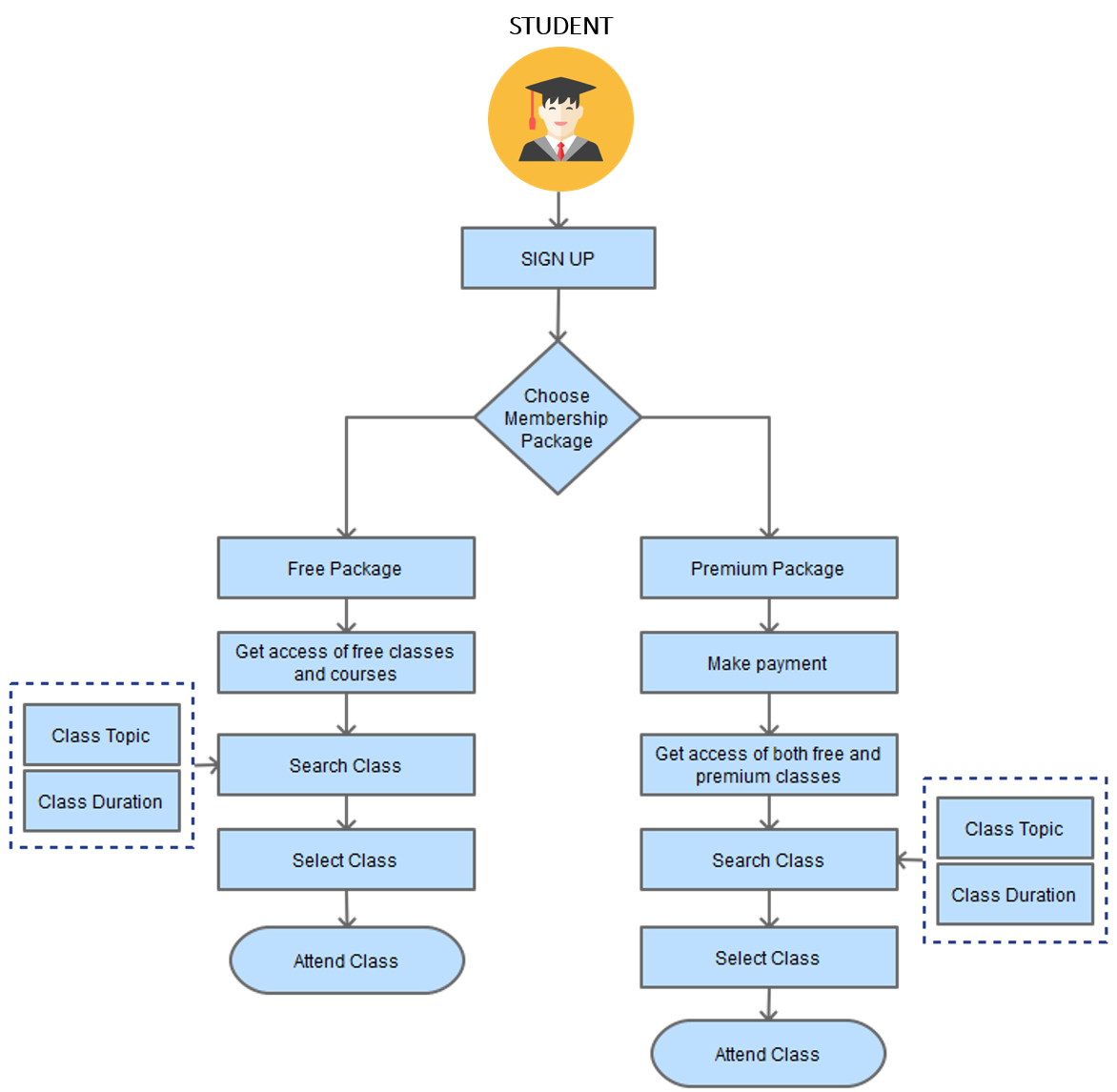 Typically classes featured on Skillshare and other such online learning platforms are a series of short, recorded videos that take learners through the process of creating something instead of providing any bookish lessons. Learners can interact with each other and tutor as well as submit their projects to the class. We recommend you follow the same approach. Plus, here are some ideas to design the layout for the class page:
The first fold area should feature an introductory video to the class with a playlist panel for the lessons that follow in the class (like playlists on YouTube)
Below the fold area can feature the following sections:

Popular projects created by learners & tutor during the class
Class description, guidelines and reference resources (website links and documents)
Project Gallery: All projects created under the class.
Discussions: Different discussion threads about the class where learners can interact with each other and also tutor
A link to tutor profile, which simply features their project and classes

Enrollment, class overview (stats), Favorite (ribbon-shaped icon), and Share with Friend are some other critical options on the class page
User Profile Options
The user profile should have enough features to enable learners to know about their activity history on the website. There should be dedicated tabs that feature classes a user is enrolled in, have saved, have completed and created.
Teaching Feature
Such online learning platforms aren't just about learning; they are also about teaching and anyone can do that. Therefore, all registered users should be provided the teaching option in their profile. The landing page for the teaching page should have the necessary information and features to assist users to get through the process easily. Here are a few suggestions in this context:
How much money teachers can earn on the e-learning website
How much exposure they will get on the online learning website
A few success stories and testimonials
Other benefits of using the online learning website
Appropriate CTA(s)
Point is, the more engaging your landing page is, the more visitors will join you.
Creating a Class
The process of creating a class should be easy. There should be a creative class button in the user profile (as mentioned before), which should open a form which asks users following details:
Class name
Subject category & topic
Type (free or premium)
Documents to upload (video + text)
To provide users some flexibility, you can provide the choice between publish and save as draft once they have provided all the class details.
Resources for Teachers
In most cases, tutors on your e-learning website are not professional teachers. Therefore, you need to offer lots of resources to help them out in getting through the process. Here are some suggestions: Teacher Handbook: A comprehensive database of informative articles that assist teachers with every aspect of teaching on your online website portal, such as getting started, designing class, filming it, publishing it, earning through it, and more. Video lessons: A collection of video classes that take aspiring teachers through the process of teaching on the website in a more comprehensive manner. You can offer either of these features or both. In addition to that, there should also be a blog that frequently posts tips for teachers to enhance their teaching skills and engage students more.
Scholarship Program
Ideally, the mission statement of your online learning platform is to make learning real-life skills easily accessible to all. To build a brand name for yourself around this idea, you should also offer scholarships to learners who cannot afford to buy the subscription for your e-learning website. Based on the market you are serving, you should do some brainstorming on what kind of scholarships you should add.
Referral Program
Your online learning website should encourage users to send invitations to their friends to join your website. And in return, they should be offered some rewards under a referral program. For instance, under Skillshare's referral program, users and friend, both receive a free month of premium membership.
Organization Program
Not only individuals but professional teams too should be able to acquire skills on your e-learning website. For this, you can offer a specific subscription plan under which corporate teams can get access to your classes. Of course, you should raise the subscription price for corporate teams, however, it would still be more cost-effective for them in contrast to hiring a professional trainer.
Partnership Program
You should also include a partnership program in your online learning platform through which you can partner with reputed firms to create better lessons for the skills a particular partner deals with. For instance, Skillshare partners with Adobe to create classes for developing software development skills, with MailChimp for internet marketing classes, and so on. Including such features certainly, enhance the trust level of your platform among learners.
Help
You also need to offer a comprehensive Help section that covers all sorts of questions students and teachers can have about the online learning portal. To deliver good user experience, you can arrange questions into different sections that expand on click. This way, users will be able to go through the questions and then check out the one they are looking for. They should also be able to make a manual search for the answer they are looking for by using a search toolbox.
Mobile
You also need to build a smart mobile app for your online learning marketplace for all the major mobile platforms. The app should be intuitive to use and should allow both types of users to manage their activities on the website easily. It is obvious that a good part of your target audience will be accessing your services through mobile, therefore, you should put adequate efforts towards building the mobile app for your business.
Build a feature-rich mobile app for your business Get Started
Multilingual Lessons
If you are catering to a wider audience, including multilingual lessons on your website makes perfect sense. Currently, no platform in this marketplace offers this feature. By including this feature on your e-learning platform, you can certainly have an edge over others. Remember that you have to put some extra efforts in this direction. For instance, asking teachers to post lessons in other languages, or creating subtitles for classes to make lessons more useful. Of course, creating subtitles in multiple languages will take lots of effort, but it would certainly make the site more useful for your target audience.
Final Notes

There is still a lot of scope in this unique marketplace, especially because most online learning platforms focus on academic lessons. By taking a good note of the eLearning software & value-added features discussed above, you can come up with a much better online learning websites like Skillshare that will score high in user experience, user interface, information architecture, and visual design. And in case, an entirely unique feature has come up in your mind for your online education platform, then you can certainly discuss with us about its feasibility and relevance. We'd love to be a part of your project.
By taking a good note of the e-learning software, you can come up with a much better online learning platform like skillshare
Also Read: Best-in-class Website Features to Launch Tutoring Marketplace
Start your online platform for project-based classes at the right note Get in touch