Have you ever felt a gap between what people learn from academic courses and the skills they actually need to thrive professionally? The result of the same notion is websites like Skooli, Preply, Lessonface, TutorMe, lrnkey, Superprof, Classgap, Varsity tutors, Tutorhunt, Italki, GoStudent, lingoace, Vipkid, Amazingtalker, Wyzant, Tutlo, Tutorful, My tutor, First tutors, Chatterbug and other online tutoring platforms. These platforms connect people who want to learn real-world professional skills with people who have them.
Unlike traditional MOOC (Massive Online Open Course) platforms that follow the online lecture pattern, these online tutoring platforms offer one-to-one live sessions with highly qualified teachers from across the globe. Impressed with this unique approach to online tutoring, the FATbit team created this informative script features based post. This post inspires aspiring entrepreneurs who are looking for a unique and potential business idea. So, let's begin the journey by understanding the business model of an online tutoring portal first.
Business Model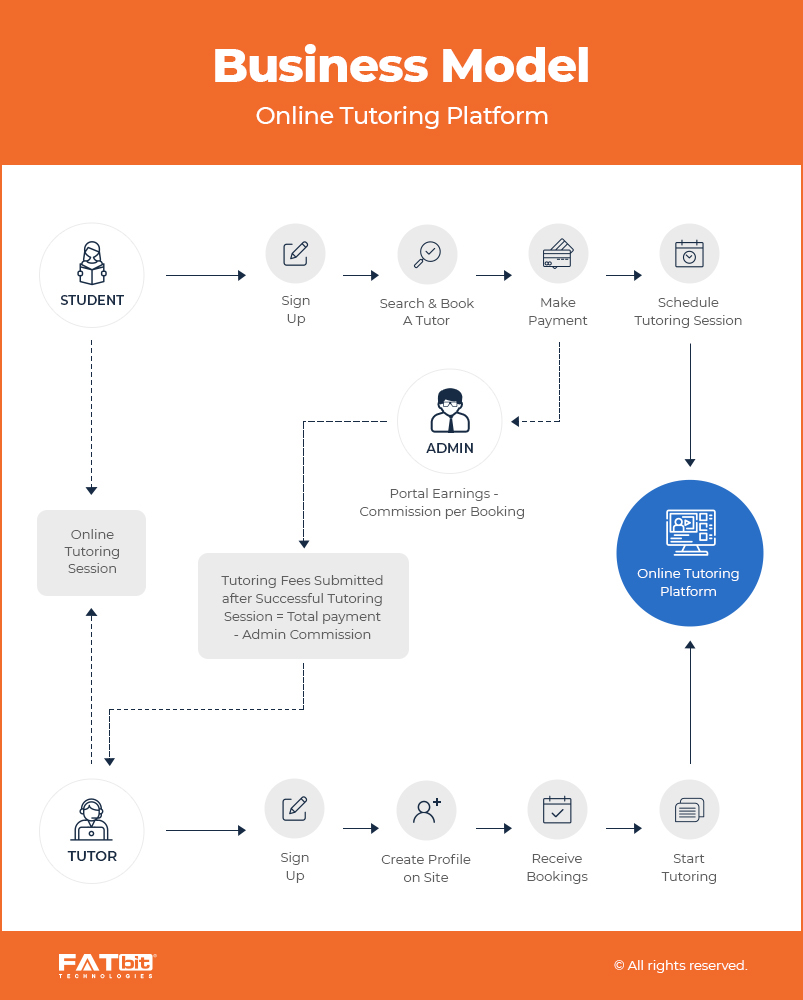 Click to View Business Model Canvas
Online tutoring websites have a quite simple and straight business model. It has two types of users other than admin and workflow of both the users is different. Let's know about them in detail.
The workflow of students:
Initially, students need to create an account on the portal.

Search the teachers on the portal as per their requirements and book a session with them according to their availability.

Make the payment as set by the teacher.

Attend the session by the teacher.
The workflow of teachers:
Teachers create an account on the portal and request the admin to list their profile.

Post listing, teachers set their availability calendar and receive session booking requests.

Confirm the bookings and deliver the sessions. Teachers can also choose to deliver one-to-one sessions or group sessions.

Receive payment of the delivered sessions from the admin.
Looking To Start Online Tutoring Business?
Revenue Model
There are three ways to earn money from such online tutoring platforms:
Admin can charge a nominal commission when the students make payment for lesson booking with a teacher. The teacher and admin mutually decide the commission fee beforehand which is a direct revenue source for the marketplace.

Admin can offer monthly/yearly subscription to the students that include complete access to the lessons on the marketplace. The admin will decide the price of the packages and the distribution of the earned money among the tutors.

Admin can offer teachers to list them in the featured section of the website against a nominal fee. Listing in the featured section will give them better visibility to get more lesson bookings.
So, this was the crux of how an online tutoring website works. Now, let's dive into the website features and go through some more essential features for building an online tutoring website.
Key features of the online Tutoring platform
As there is a steady growth in the number of websites offering online tutoring options, how can entrepreneurs ensure their business stands out. Having the right set of features in an online tutoring platform not only helps students in achieving their academic goals and teachers in achieving their financial goals but also helps business owners to achieve their business goals. Here, we have highlighted some features that need to be present in an online tutoring platform to help entrepreneurs to make the right choice for their business.
Multilingual for Global Reach: An online tutoring platform has users from all over the world. Therefore, a platform that supports foreign languages is also an important feature, which means you can connect with the students without worrying about the language barrier.
Easy to Use Interface: An online tutoring platform should be easy to use. The text and icons should be clear and readable and the navigation through the whole system be smooth. Teachers and students should be comfortable while using the platform efficiently.
Multiple Payment Methods: Offering multiple payment methods on the platform like a credit card, debit card, net banking, etc. which are faster and more convenient for the students is essential for increasing sales and conversions. Also, make sure you only offer popular payment gateways that students know are secure.
Video Conferencing: This feature brings students and teachers together regardless of their location. Video conferencing tools have features like a whiteboard, workspace, TextPad, where students and teachers can interact virtually without any hindrance. The teachers can run ppts, videos, share their screens, making the teaching session more interactive and engaging.
Supports Multi-Currency: Multi-currency support in an online tutoring platform helps users to set the currency as per their preference. This feature enables the students to pay the cost of the sessions in their own currency which is then converted into teachers' currency by the admin before transferring.
Reviews/Ratings: This feature allows students to share their feedback about a course or a teacher after the session. The feedback of the students is reflected in the profiles of the teachers which also help other students to choose their teachers accurately.
Time-Zone Friendly: Online tutoring platforms have users from all around the world. Having a time-zone friendly platform makes it smooth for the students and teachers to work with one another while being in another time-zone.
Discover how we can help you build an interactive online tutoring platform
Final Notes
Online tutoring is the future of education and is definitely going to stay here for a long time growing tremendously globally. And, with the increasing competition, it is essential to choose a reliable solution to launch a feature-rich online tutoring platform. Yo!Coach is one readymade customizable solution that can be used to build an online tutoring platform with an array of features and functionalities.
It can be used to develop an interactive online tutoring platform as per the market trends and deliver a hassle-free experience to the users. Offering ample support for scalability and adaptability, it also has your future covered. And in case, an entirely unique feature has come up in your mind for your online education platform, you can certainly discuss with us about its feasibility and relevance.
Choosing Yo!Coach as your online tutoring solution will not only help accomplish your business goals but also establish you as a pioneer in the education industry.
Start your online tutoring platform at the right note