Last Updated: 23rd March, 2023
Technology acceleration has made the process of tutoring more interesting. It has increased student engagement and has allowed tutors to improve their lesson plans, all from the comfort of their homes. Several websites like Skooli, Preply, Lessonface, Tutorful, First Tutors, GoStudent, and Varsity Tutors efficiently connect learners with tutors via 1-on-1 tutoring and group tutoring so that the former can enhance their skills.
Table of Contents:
In this post, we bring insights to you on how to build an online tutoring platform – its business model, revenue model, key features, and so on. But first, let us have a look at the online tutoring market, worldwide.
Global Market Overview
The global online tutoring market is expected to grow at a CAGR of 13.50% and reach USD 19.47 Billion by 2030. The rapid adoption of smartphones is one of the significant factors for this rapid growth of online tutoring. In addition, the fierce competition among students has put personalized tutoring services in demand. As online tutoring offers flexibility, learners choose it over traditional tutoring methods.
Building An Online Tutoring Platform
As discussed above, online tutoring is on a rise, so as an entrepreneur you are looking to start an online tutoring platform, this is the right time. In this section, we discuss the steps to build an online tutoring platform.
Conduct Market Research
Conducting in-depth research can help you determine what your potential users want and how their needs can be met. It can also help you identify the market gaps and what the competitors are offering. Further, to have a successful online tutoring platform, you must incorporate the latest features that counter the shortcomings of other market players.
Finalize the Business Model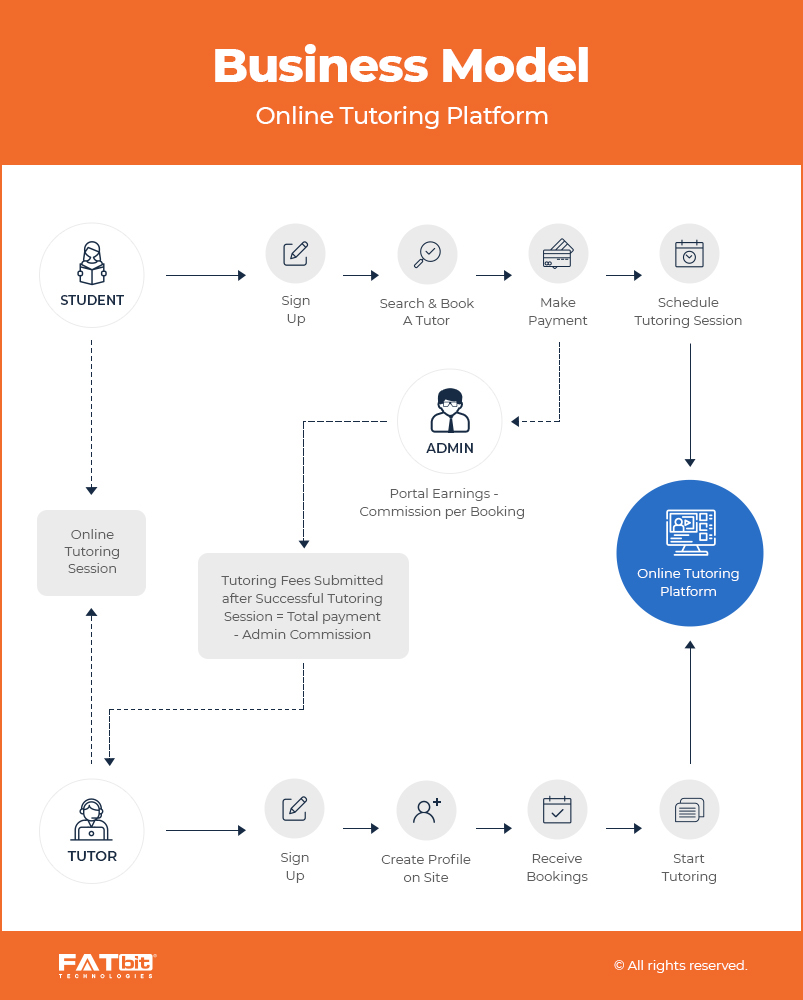 Click to View Business Model Canvas
Online tutoring websites have a simple business model with three main entities – students, teachers, and admin. Let's know about them in detail. 
The workflow of students:
Initially, students need to create an account on the portal.

Search teachers as per requirements on the portal; book a session with them as per their availability. 

Make the payment as set by the teacher.

Attend the session by the teacher.
The workflow of teachers:
Teachers create an account on the portal and request the admin to list their profiles.

Post-listing, teachers set their availability calendar and receive session booking requests.

Then they confirm the bookings and deliver the sessions. Teachers can also choose to deliver one-to-one or group sessions.

Lastly, receive payment for the delivered sessions from the admin.
Role of admin:
Approves the listing request of tutors.

Charges commission and transfers payment to the tutors.

Manages the blog and platform themes.

Handles orders and refund requests.
Looking To Start an Online Tutoring Business?
Choose the Right Features
As there is a steady growth in the number of websites offering online tutoring options, having a platform with the right set of features is a must. Here, we have highlighted some features that need to be present in an online tutoring platform to help entrepreneurs to make the right choice for their business.
Multilingual for Global Reach: An online tutoring platform has users from all over the world. Therefore, a platform that supports foreign languages is also an important feature, which means you can connect with the students without worrying about the language barrier.
Multiple Payment Methods: Offering multiple payment methods on the platform like a credit card, debit card, net banking, etc. which are faster and more convenient for the students is essential for increasing sales and conversions. Also, make sure you only offer popular payment gateways that students know are secure.
Video Conferencing: This feature brings students and teachers together regardless of their location. Video conferencing tools have features like a whiteboard, workspace, TestPad, file sharing, and auto-translation where students and teachers can interact virtually without any hindrance. The teachers can run ppts, videos, and share their screens, making the teaching session more interactive and engaging.
Supports Multi-Currency: Multi-currency support in an online tutoring platform helps users to set the currency as per their preference. This feature enables the students to pay the cost of the sessions in their own currency which is then converted into teachers' currency by the admin before transferring.
Reviews/Ratings: This feature allows students to share their feedback about a course or a teacher after the session. The feedback of the students is reflected in the profiles of the teachers which also helps other students to choose their teachers accurately.
Time-Zone Friendly: Online tutoring platforms have users from all around the world. Having a time-zone-friendly platform makes it smooth for the students and teachers to work with one another while being in another time zone.
Dashboard and Analytics: When building an online tutoring platform, adding a dashboard should be a priority. It not only allows the admin/tutors to monitor the progress of a student against multiple metrics but also allows them to analyze performance indicators, course duration, and conversion rates.
Filtering System: A filtering system is a must in an online tutoring platform. It allows students to find tutors as per their requirements. A few filters can include price, availability, language, subject, and so on.
Authentication: The first step of an access management process is quick sign-in and authentication. Allow users to conveniently sign in via phone number, email address, social media, and so on. Further, integration with Google, LinkedIn, and Facebook enables one-click authorization and allows the collection of data from user profiles.
Other Features Include
PWA: Progressive web app is a website that behaves as if it is a mobile app. It eliminates the dependency on Google and App Store and offers a more seamless experience to users.
SEO: Search engine optimization helps websites rank better on Google. Hence, having a dedicated SEO module with website settings to customize meta descriptions, URLs, header tags, title tags, and so on, improve visibility.
Commission Management: The admin can use this feature to set the commission rate of one-to-one and group classes to be received from the tutors. Different commissions for each tutor on the platform can also be set using this feature by the admin.
Gift Cards/Coupons: This feature allows users to reward or appreciate each other and acts as an additional source of revenue.
Order Management: Using this feature the admin can access the upcoming and canceled lessons.
CMS Management: This feature allows the admin to create, manage and modify the content of the entire platform.
Looking for an Online Tutoring Solution with Unique Features?
Select the Approach to Create Your Online Tutoring Platform
Having an online presence has become imperative for tutoring businesses. Therefore, we discuss three different approaches to creating online tutoring platforms. These are:
Custom Development
Use Third-Party Website Builder
Choose a Readymade Solution
Custom Development 
This approach is followed to create an online tutoring platform from scratch, i.e. development is done to meet the tailored requirements of the business. It allows added security, is more flexible and scalable as you can make changes anytime as per your business needs. But the time-to-market is on the higher end and so is the cost of development.
Use Third-Party Website Builder
A website builder provides pre-designed templates, robust features, pre-designed templates, and extensions needed to create an online tutoring platform without coding. A monthly or yearly subscription is charged, but domain registration, hosting, and SSL certificate are included. Examples: Wix, GoDaddy, Weebly
Choose a Readymade Solution
Readymade solutions are ubiquitous and come with features and functionality for widespread commercial use. They are cost-effective, have been tested by multiple users so the technology is proven, and there is immediate implementation. But the customization and scalability are limited.
However, Yo!Coach (a readymade online tutoring solution) comes with a myriad of features, is fully customizable, and supports ample scalability. It comes at a one-time cost with a lifetime license. Further, Yo!Coach has served a global clientele consisting of WTutors, Read With Us, WeYakYak, Hello Music World, among others, enabling them to do more.
Deployment
Lastly, the online tutoring platform is deployed. As the platform is now working under real circumstances, a small round of testing is performed. Furthermore, improving the platform post-deployment is important.
Launch an Interactive Online Tutoring Platform with Yo!Coach
How to Make Money with an Online Tutoring Platform
As an entrepreneur, you would want to know how to make money from an online tutoring platform. In this section, we share the possible revenue generation methods.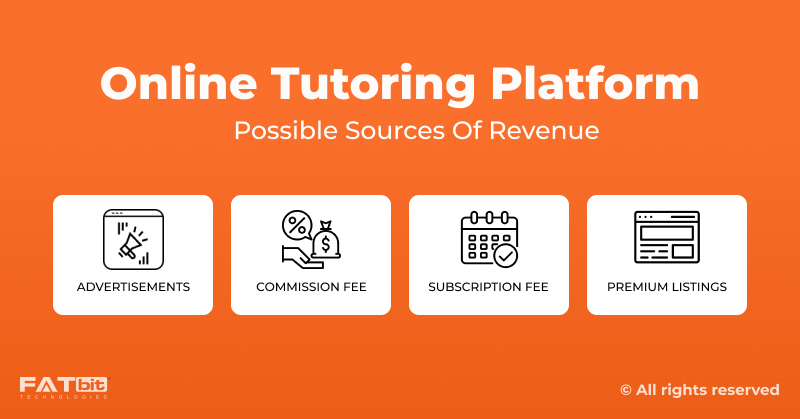 Commission – The admin can charge a nominal commission when the students make payment for lesson booking with a teacher. The teacher and admin mutually decide the commission fee beforehand which is a direct revenue source for the marketplace.
Subscriptions – The admin can offer monthly/yearly subscriptions to the students that include complete access to the lessons on the marketplace. The admin will decide the price of the packages and the distribution of the earned money among the tutors.
Premium Listings – The admin can offer teachers to list them in the featured section of the website for a nominal fee. Listing in the featured section will give them better visibility to get more lesson bookings.
Advertisements – Advertisements are the most common methods of revenue generation. The admin can charge money for displaying ads on the online tutoring platform. 
Looking to Build an Online Tutoring Platform?
Conclusion
Online tutoring is the future of education. It is going to stay here for a long time, growing tremendously globally. But with the increasing competition, it is essential to launch an online tutoring platform quickly. And as mentioned above, readymade or off-the-shelf solutions are easily accessible to satisfy the pressing needs of a business quickly. So, if you are looking to start an online tutoring platform, get in touch with us.