When was the last time you went through a bilingual dictionary to learn a foreign language? Most of us do not remember as it was far ago. This is the era where computers rule the world and learning a foreign language has become fun, easy, and convenient. Technology has offered several powerful learning tools for teachers and students making language learning more efficient and engaging. The technology integrated classrooms have become popular thus strengthening learner engagement.
Digitalization has allowed the lesson delivery to happen in a more interactive manner and the assignment is also available online. The complete process of language learning has become much more efficient enabling students to work in a more collaborative way. The online language learning market was worth 12.48 billion in 2019. It's estimated to grow up to 25.73 billion by 2027 at a CAGR of 10.2% from 2020 to 2027.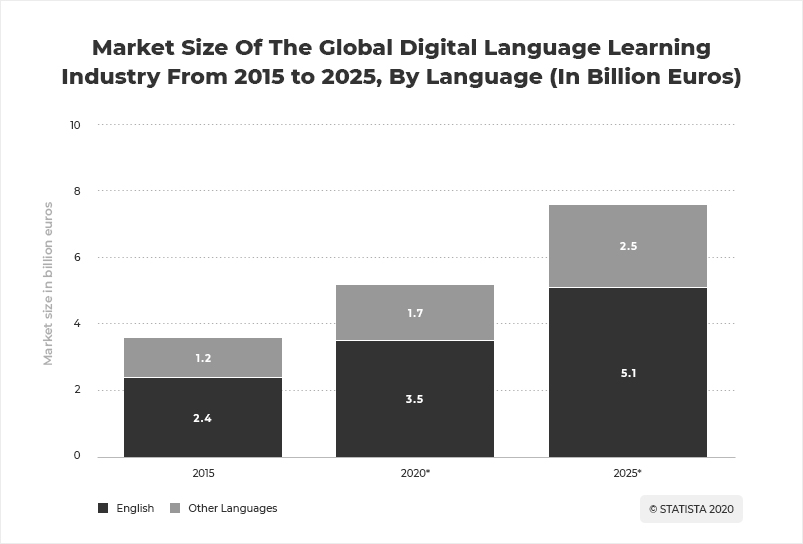 There are myriads of professions and industries where digitalization of language learning has brought about a positive change. These professions and industries bring a number of unexplored opportunities for entrepreneurs. Let's take a look at these industries and the various opportunities they have to offer.
Most Benefited Professions Due to Digitalization of Language Learning
Foreign Education Counselors
These counselors serve as the students' go-to person for foreign education opportunities. They promote foreign education programs, provide consultation to students on how foreign study opportunities fit into their education, provide students with information about travel, and monitor international safety issues. Although it is not possible for a counsellor to have an expert proficiency level in all the languages because of the busy working schedules, online language learning has given an opportunity to learn or at least have a basic understanding of mostly used foreign languages.
Digitalization of language learning has benefited people already working in this profession or those aspiring to start their careers soon. Ultimately it benefits the business owners and entrepreneurs of the online language learning industry.
Interpreters/Translators
This is an obvious one. Translators or interpreters convert one written/spoken language into another. As a large number of businesses are expanding globally, the scope of this profession is huge. Translators and interpreters are constantly required in health services, courtrooms, universities, conference centres, media houses, and many more. The candidates pursuing this career are required to have fluency in both the languages (source and target) as well as knowledge of both cultures.
What's more, the employment of interpreters and translators is projected to grow 20% in the next ten years, introducing a new target niche for the entrepreneurs of the online language learning industry.
Diplomats/Foreign Service Officers
A diplomat is the one who represents his home nation globally and works on influencing foreign governments and officials through negotiation, dialogue, and relationship building. Although speaking a foreign language is not a mandatory requirement for foreign service officers, however, it's a huge plus that makes their daily life easy in another country. Knowing a foreign language also sets them apart from other candidates while applying for a job in this field.
Online language learning has made it easy for aspiring and serving diplomats to learn a foreign language, making this industry popular with new future prospects.
International Customer Service Representatives
With many companies having their customers all over the world, the requirement of customer service in their native languages has become mandatory. The multilingual customer service representatives who can resolve issues over the phone are highly in demand. Employers are looking for candidates who can speak foreign languages to overcome language barriers and widen their customer base. Online language learning comes as a blessing for customer service representatives who plan to work for companies serving international customers.
Entrepreneurs in this industry can now also serve international customer service representatives which is again a not-much explored niche.
International Sales Marketers
International sales positions always require candidates to speak multiple languages to negotiate deals between cross-border businesses. While working as a global sales professional is challenging, and often gets cumbersome during the negotiating process, it can be tremendously simple and satisfying if one is skilled in the client's native language. Online language learning has enabled sales professionals to learn and gain expertise in a foreign language while not disturbing their working schedules.
The introduction of online language learning for international sales professionals brings a new set of opportunities in this niche for entrepreneurs.
Language Trainers
Language trainers who can pass on their language skills to learners who are wishing to learn foreign languages for better career opportunities are also in great demand. However, the profession requires the trainer to be regularly updated with the new language trends they are teaching. Knowledge of additional languages is also considered a huge plus. Online language learning enables trainers to enhance their understanding as per their time availability. At the same time, it helps them improve their profile and give lessons to a new pool of language learners.  
Foreign Correspondents/Journalists
Today journalism has gone beyond borders, therefore, knowing additional languages can take foreign correspondents far in their career. International journalists have to travel throughout the world to cover news stories. Being able to speak the native language of a given country can help them interview locals more easily. Digitalization of language learning has helped the international correspondents as well as the writers to get their message across the world in more than one language.
Tourism and Hospitality Workers
The tourism and hospitality sector has a variety of jobs from hotel management to catering where employees are required to speak different languages from around the world. One with excellent communication skills and proficiency in speaking multiple languages has a long way to go in the tourism and hospitality sector. The digitalization of language learning opens up new avenues for people working in tourism and hospitality to further their careers.
Planning to Launch an Online Language Learning Platform?
How Digitalization of Language Learning Proved Beneficial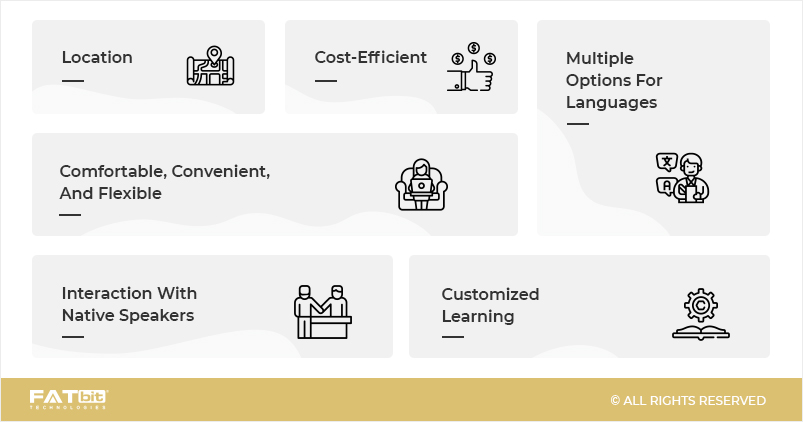 Multiple Options for Languages
Traditional language learning courses teach only limited languages like German, Spanish, French, which are popular among learners. And, if a learner wishes to go out of the crowd and learn a different and unpopular language, it becomes almost impossible to search for a tutor. The online language learning platforms have bypassed this challenge. Popular online language learning platforms like Duolingo, Babbel, and Verbling have tutors registered from all over the world, who are available to teach their native language. Students can select any tutor as per their preference and start learning the language of their choice.
Suggested read: How To Build An Online Language Learning Website Like Verbling– Business Model & Key Features
Location
Online language learning allows learners to learn irrespective of the location of the teacher, which means a learner can learn a language even if there is no teacher available near his location. Prior to this, learners used to travel to other cities and countries to complete a language learning course which added to the overall expenditures. Online language learning enables students to study from where they live, without any additional expenses.
Location flexibility also allows the working professionals to attend the classes without disrupting their daily work routine.
Cost-Efficient
If compared to traditional learning, the cost of online language learning is much less and does not burn a hole in your pocket. All you require is a good Internet connection, a smartphone/laptop, a camera, and headphones. There is plenty of free study material available online and learners just need to pay for the online course. Therefore, online language learning saves a considerable amount of money. 
Interaction with Native Speakers
Online language learning allows the learners to have direct interaction with the native speaker of that language which helps them get the accent and pronunciation at a better level. Learning from a native speaker also helps to gain knowledge of the history and culture of the language. Plus, language learning becomes fun and enjoyable when you talk to native speakers.
Comfortable, Convenient, and Flexible
Online language learning means comfort, convenience, and flexibility. You get the study material in the form of documents, videos, images, which makes the learning more efficient and quick. Missing a class during traditional learning makes you fall behind the syllabus, however, online learning gives you more control over your class schedules and timings if you have any personal and professional obligations. Online language learning permits you to attend classes anytime and anywhere helping you learn, grow, and accomplish your objective.
Customized Learning
Most traditional language learning courses have fixed syllabus and curriculum. Although this is a good practice to teach by following a specific curriculum, what if a student wants a tailor-made session for a particular segment. For instance, someone has to meet a business client from Spain and just wants to learn some Spanish conversational skills. Online language learning offers customized learning for learners who do not wish to go through the complete syllabus of the course.
It not only lets the learner learn at his own speed but also lets the tutor emphasize more on the difficult topics.
Digitalization Redefining Language Learning Business Opportunities
This revolution in the learning process due to digitalization has encouraged the experts to rethink the traditional model of language learning. It appears to be a viable solution to fill the void for efficient language learning and is likely to be integrated into mainstream education. While the language learning market is huge, online penetration is still at a nascent stage. Therefore, businesses are increasingly exploring opportunities in this market.
Despite coming up with superior technology solutions for online language learning, edtech startups are still finding it difficult to reach the full potential of this market due to the lack of essential features of online language learning platforms. To invest in this market, they are looking for online language learning solutions that have long-term growth opportunity, the potential to scale and a successful business model.
Consult our experts to set up your online language learning marketplace.