Buying gym membership is silly when you are not sure whether you will be able to commit or not. Finding unique studios specializing in a specific activity is also tiring. But thankfully, there are fitness startups out there addressing mentioned and similar challenges with subscription based model. Most presently give members access to hundreds of fitness studios by charging a small fee and them discover new fitness regimes.
If you have your eyes fixed on the fitness industry and want to revolutionize it with a membership based startup, then, we did this industry analysis for you. Go through this post developed by FATbit analysts and marketers to learn about:
Membership startup business model
Major industry players and competitors
In-depth feature analysis
Added industry insights
To get started, business model makes perfect sense.
Business Model of Membership startup
For a small monthly fee, gym membership websites gives you the power to join hundreds of classes active in your region including cycling, pilates, yoga, strength training, dance, and martial arts.
Such platforms are for people who are in love with more than one fitness activity, and want to try multiple workout routines before settling with one. They are also for people who cannot keep a fixed schedule for some reason. The platform charges a fee for the membership and splits the profit with member training centers.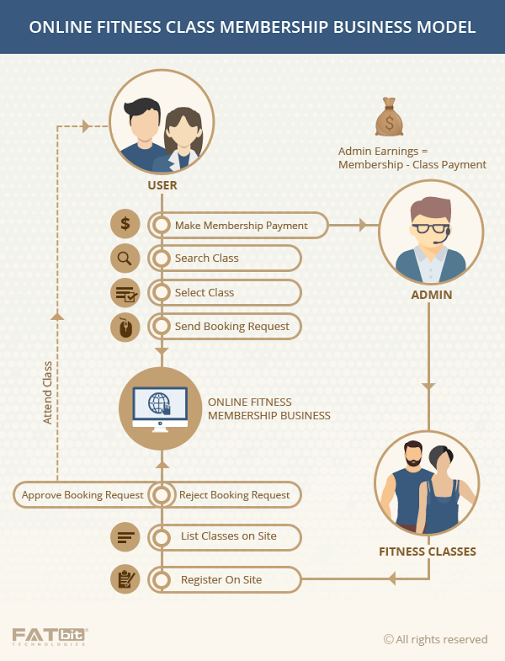 Major industry players
As we said earlier, there are various startups and brands that are trying to disrupt the fitness industry with membership and discovery based ventures. Here are the major ones across the globe:
ClassPass
Classhopper
Kfit
FitReserve
Wooter
Fitmob (Acquired by ClassPass)
MoveUSA
Enough said about the business model and big players. Time to jump right into the website features that can make a world of difference!
Website Features
The first thing that will grab your attention while exploring homepage of most online fitness membership sites will definitely be neat design with big background images, minimum text, and lots of call to action. But there is more to the visually delicious websites. Let's see what you need to ace homepage, and then highlight features required to succeed.
Website Homepage
Your fitness startup needs to communicate instantly to get subscribers, and make smart use of action buttons and links to inner pages. Every section on the homepage should introduce visitors to advantages of signing up. Of course there has to be a quick sign up form and login button on the homepage.
Fitness center search
Search functionality is important to help visitors locate boutique gyms in their region. Your fitness membership website can handle this by listing cities in which it provides the service or using a map to highlight the studios. Search functionality should be powerful and fitted with features like autocomplete and recommendations. Or you can plan a comprehensive search bar to gather requirements like time, area, activity and need. Classhopper has done impressive work in terms to search functionality.
Fitness studio page
Because people need more than just studio name to make a reservation, you need to make provision of dedicated pages for partner fitness centers. The page has to be well planned, and information should be been organized with principles of UX in mind. Gym pages of your fitness startup can include:
About – address and contact number
Map and studio image
Reservation calendar with date filter and class information
Social links and major attractions
There are ample business management software available in the market that can handle major technological challenges like online booking, scheduling, and point of sale. Either go for such a solution or manage everything on your own, which we must warn you will be quite a challenge and may push development cost and groundwork.
Sign up process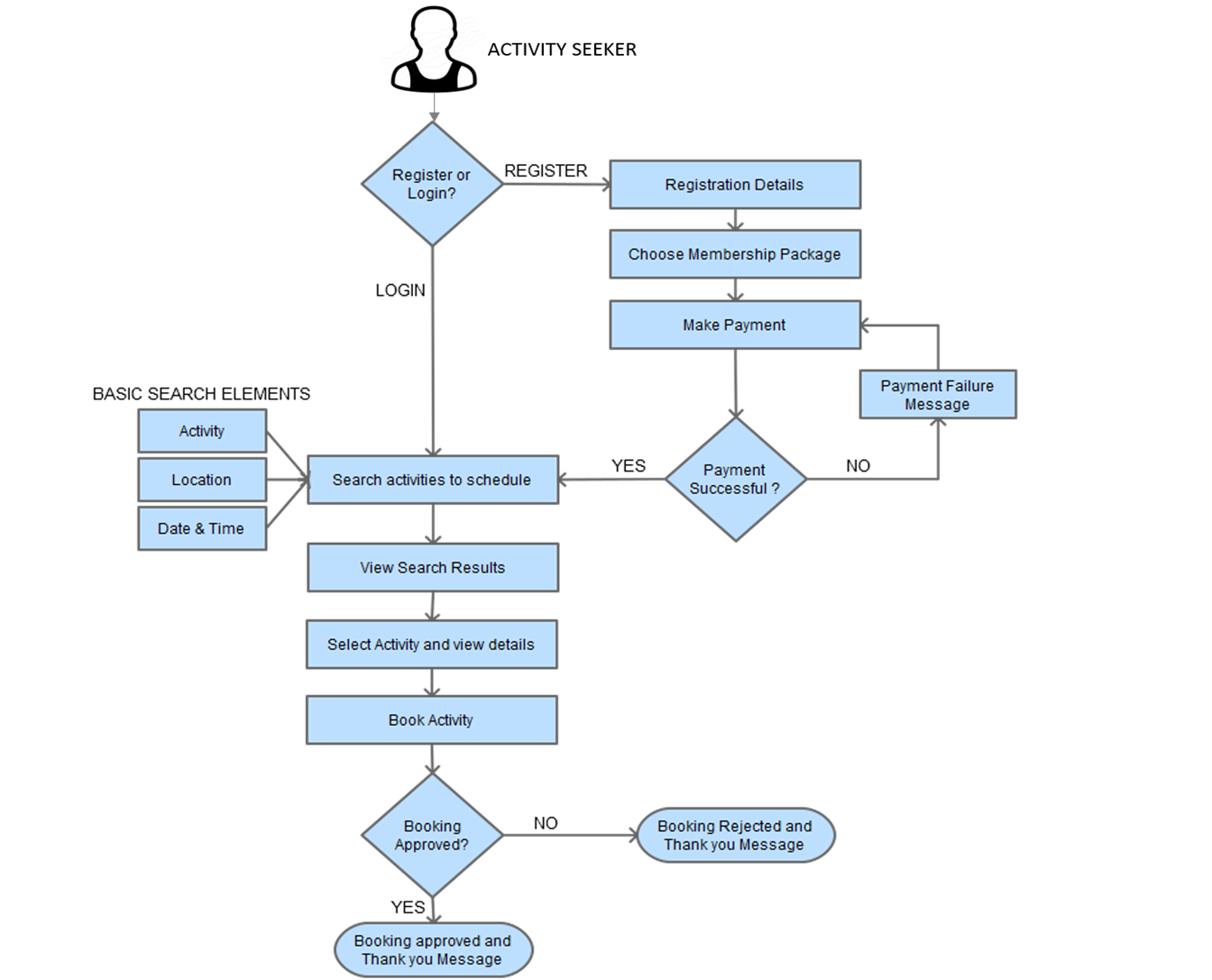 (Click to Enlarge)
Registered users are important for every online venture, whether dealing in product or service. So, you need a super sign up process that doesn't drive above interested users.  Gathering information such as name, gender, and email is obviously important to create an account. The next step can include payment related details. Validation can be used to guide the visitor through the process.
Even if you don't plan to compete with the likes of Wooter, FitReserve or their clones, make sure it comes with optimized signup process.
My Account section
Give members the power to manage their information and update personal details quickly. This includes Membership Details, Profile, Contact Info, Card information, Password, and Emergency Contact. Account section cannot afford to be complicated in nature because users of all kinds will depend on it to manage their accounts.
Because online payments are involved, your fitness membership platform must be highly secure. Take care of this detail to gain user trust.
Partners page
To grow as a membership startup, you would need partnership of gyms and fitness centers. The Partners page will help you in achieving this task. The page lists the benefits of buying your gym membership pass and show off leading fitness brands that you are partnered with. The page can contact address or can carry a form that will request interested owners to share details. Plan the form in such a way that it is easy to use and doesn't ask for unnecessary information.
Blog
As a new fitness membership site, you would require as much marketing mileage as possible to script your success. From blog layout to social media integration, make everything work like a dream. Focus on:
Overall design
Comments section
Search
Side panel advertising content
Don't run a blog just for the heck of it. Care enough to share interesting posts and insightful content. Just like FitReserve and Wooter.
Help page
Because new users will have queries, make provision of an extensive Help section including FAQs. It will not only answer vast range of questions but also help you link relevant pages through internal linking to guide visitor in the right direction. This can turn out to be very beneficial to answer common as well as complicated queries about site and script features.
Get design upgrade for your online venture
Learn More
There is no dearth of fitness startups and membership based portals on internet. If Classpass is becoming a big deal in USA, Canada and UK, developing countries also have their share of fitness based ventures. Fitternity and Gymchalo are the newest ventures to appear in India.
As a leading design and development brand, FATbit Technologies has assisted various internet based startups including gym membership portals in technology front. Have a look at FATbit's approach while launching a gym membership portal!
Gym listings or directory
While most gym membership sites are counting on homepage search to help people discover relevant fitness spots, it wouldn't hurt to add traditional listing pages. Categorization in such listing pages can be done on the basis of location and activity. Listing pages can also be used to show partner gyms and strategic tieups.
(Click to Enlarge)
Trainer pages 
Coaches and trainers help in discovering the truth strength of your body, and that's why people prefer to hire dedicated trainers. Adding trainer pages listing their specialization, experience, and expertise can work wonders for your gym subscription site. Visual media like videos and images can be used to make such pages more engaging and help visitors with decision making.
End note
There are two ways to start a gym membership or subscription website. First, search for a clone script that promises all the features listed in this post and is flexible enough to make space for upgrades as well. Second, hire a team that has proven experience to build gym discovery and subscription based portal.
Whatever option you choose, don't forget to take care of points shared by us in this extensive post. Need any other help related to web design and development? Get in touch with our team to discuss your online venture.
Learn how much development of gym membership portal will cost
Enquire now