This is our first post in the new blog category "What's cooking" dedicated to the new projects that FATbit team is currently working on. Right now we are busy designing and developing a Gym Membership Portal, a unique concept that acts as a combination of a fitness directory and an online store. The portal (when live) allows fitness related businesses like gyms, fitness clubs, yoga studios, athletics instructors, etc. to feature their business details on a common online platform. This in turn will help fitness seekers to buy membership of a suitable service provider according to their personal preferences like costs, geographic location etc.
To get a general idea about how the fitness directory portal works, you can refer to the following flowcharts:
For Fitness Providers: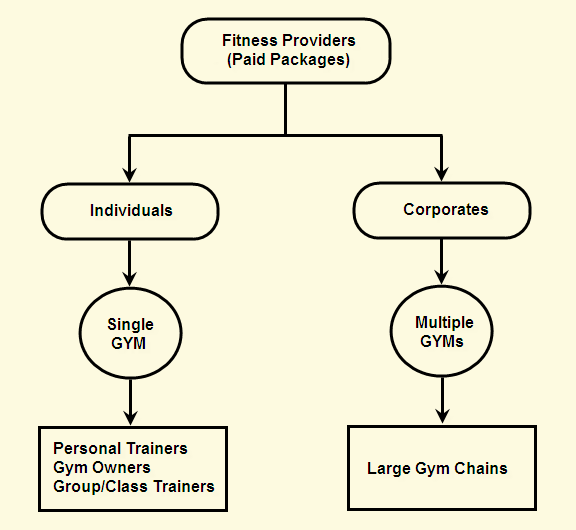 For Fitness Seekers:
5 Complex Platforms Rolled Into 1
If the flowchart is confusing you, let us spell it out in much simpler terms. This is not just a membership portal; it has been developed to outperform anything similar in the market;
1. Fitness Providers can list their business details (like service details, contact details) on the Gym Membership portal, making it a specialized fitness business directory.

CLICK TO ENLARGE (opens in new tab)
Providers have a dedicated dashboard where they can manage monthly membership pricing, special offers (set memberships at a discounted price for limited number of subscribers or for limited time). In return they need to pay a nominal commission to the website's admin.
Gym Providers can also view their overall ratings, check how many visitors viewed their profile, how many visitors followed their gym and they can even upgrade their subscription anytime from the dashboard.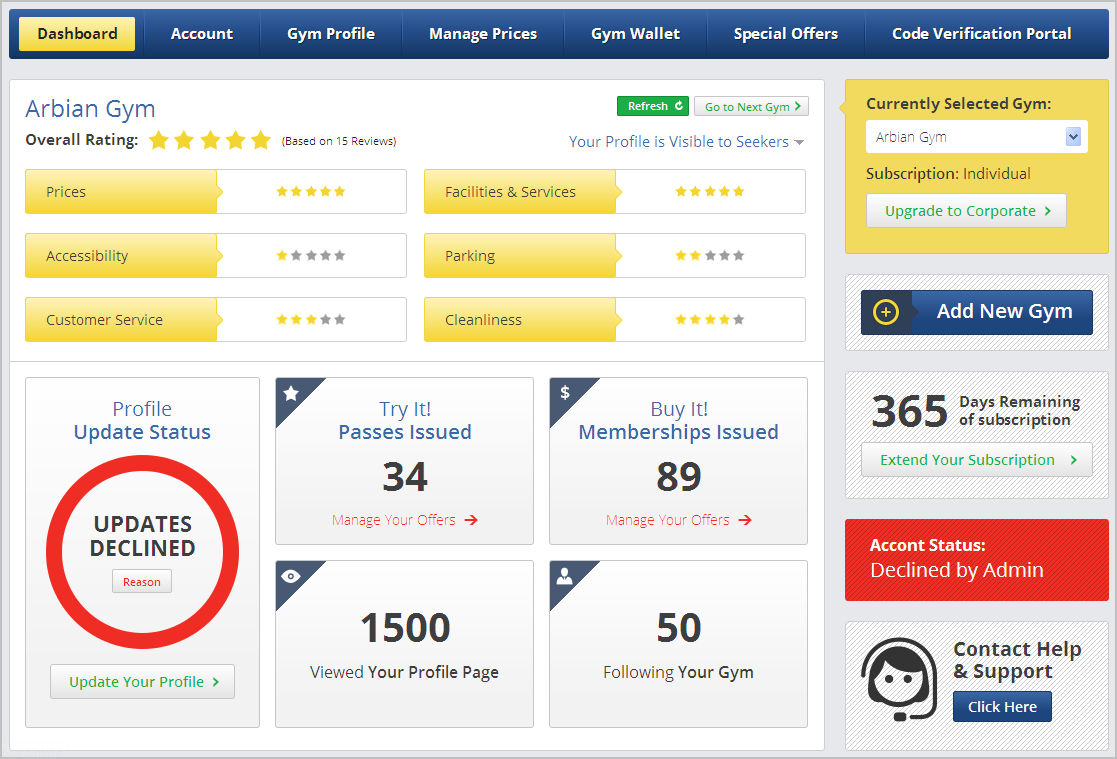 CLICK TO ENLARGE (opens in new tab)
2. Website visitors can Search, View, Browse and Compare available fitness centers, thus acting as a specialized search engine.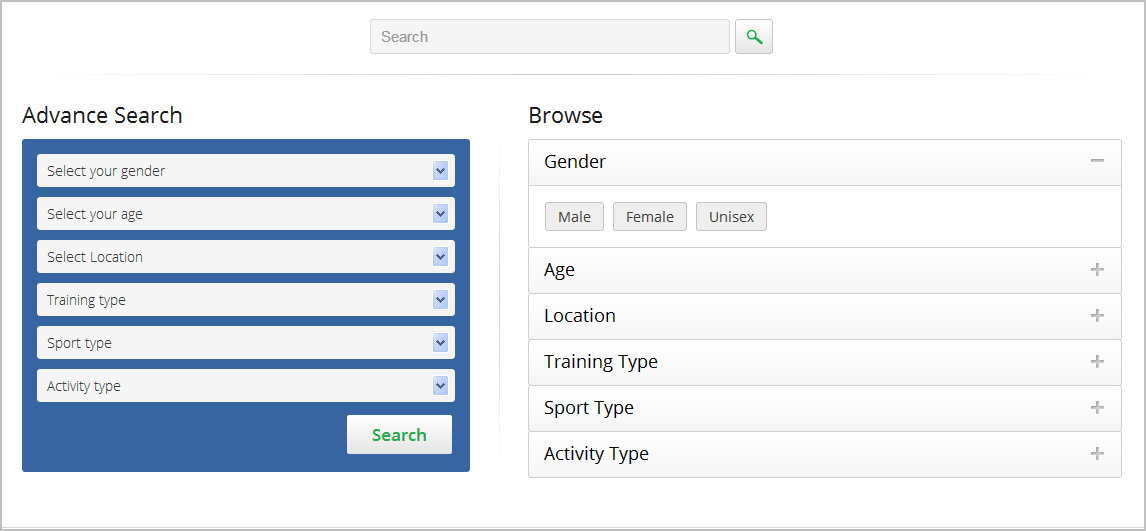 3. The portal lets visitors easily buy memberships. What they receive is a Voucher that includes gym and membership details. (System will automatically issue the pass with a validity for 30 days). This makes it at some point similar to what GrubHub and FoodPanda are doing in the online food ordering business.
4. They can also view latest offers so that they can buy memberships of their choice at the most affordable prices. Thus making the portal similar to a deals platform (like Groupon).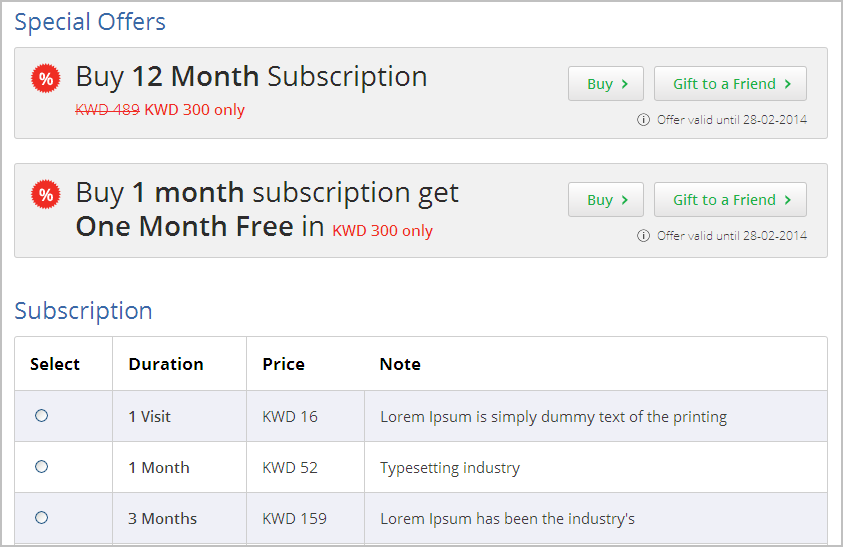 5. Subscribed users can also rate Gyms. This option is only available after a membership holder has completed 5 days of successful payment, making the rating 100% authentic.
If you too want to get a custom developed website or portal powered by a huge database and unique features
Initiate a conversation with FATbit
Addition unique features of the Gym Membership Platform:
A subscribed user earns bonus or Credit points every time they pay for a membership. These points can be used as in-store currency to buy fitness related products on the website's online store.
The visitors can give an Overall Rating to a fitness center followed by Sub-rating for Prices, Facilities, Accessibility, Customer service, Parking availability and Cleanliness. A fitness center with better rating has a higher probability of generating more business through the platform.

For global expansion and diverse user base the system is multilingual i.e besides English it supports other regional languages as well.
The entire gym membership portal is well linked to multiple social media platforms. This acts as an additional source of traffic to the website. The feature allows businesses to share relevant information about their latest offers or any other detail about their fitness center on social media.

A subscribed visitor has the option to follow fitness service providers and receive notifications on regular updates about them.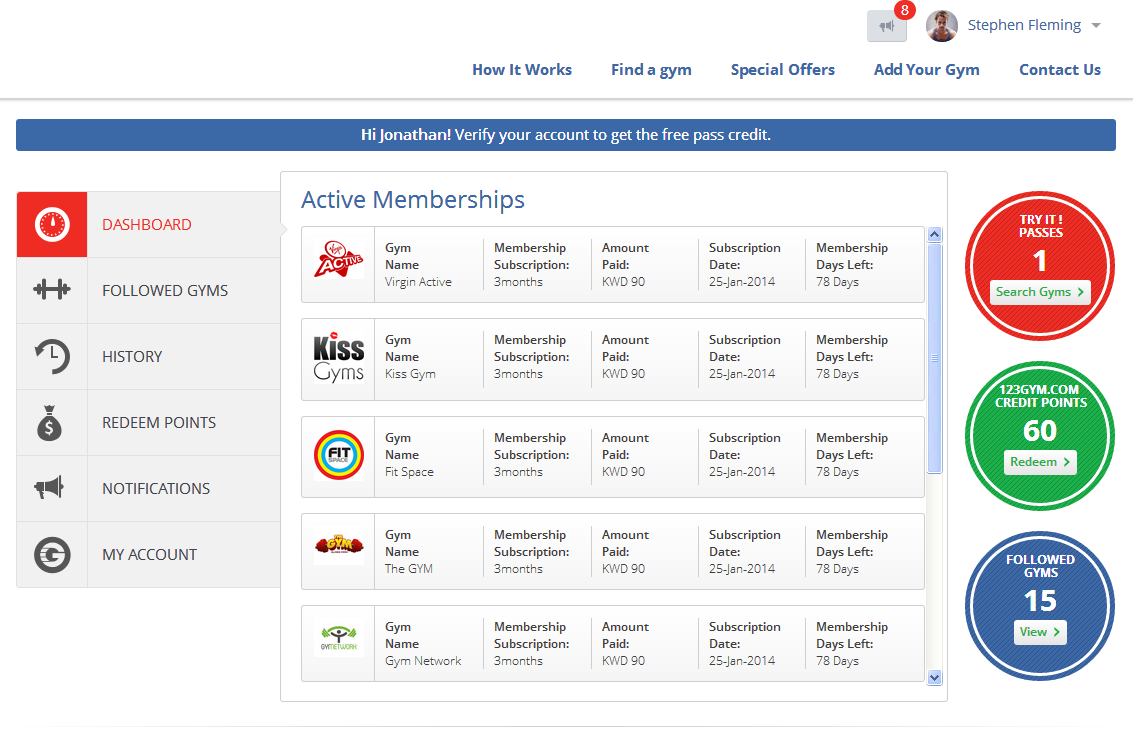 CLICK TO ENLARGE (opens in new tab)
Each provider has access to Code Verification Portal from the dashboard. Through this portal providers can verify the membership of a fitness seeker by using the code or scanning the bar code. This way the whole information of seekers gets stored at one place.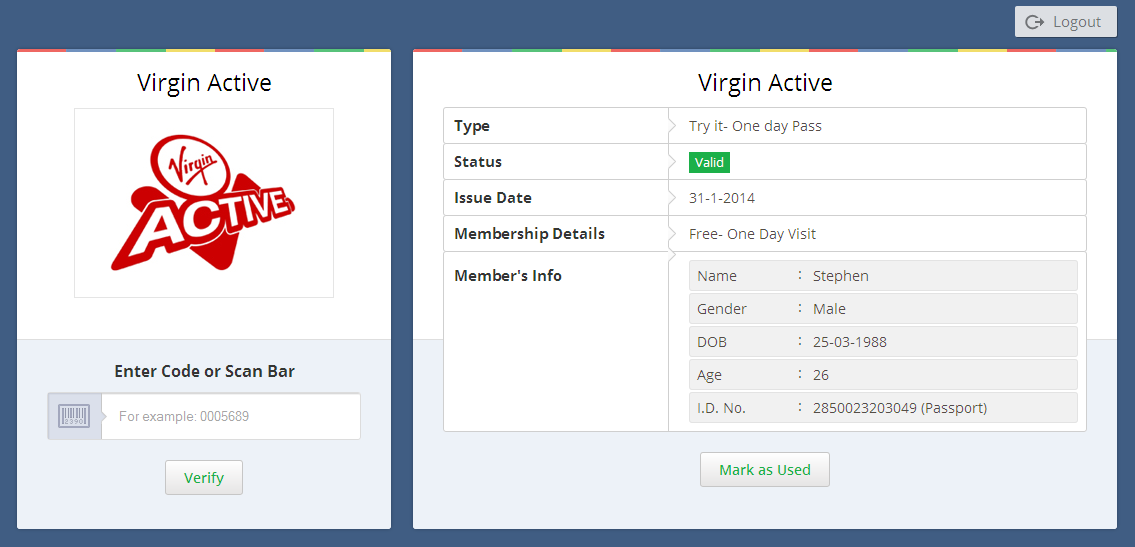 Visitors can compare three gyms at a time in terms of facilities and membership prices.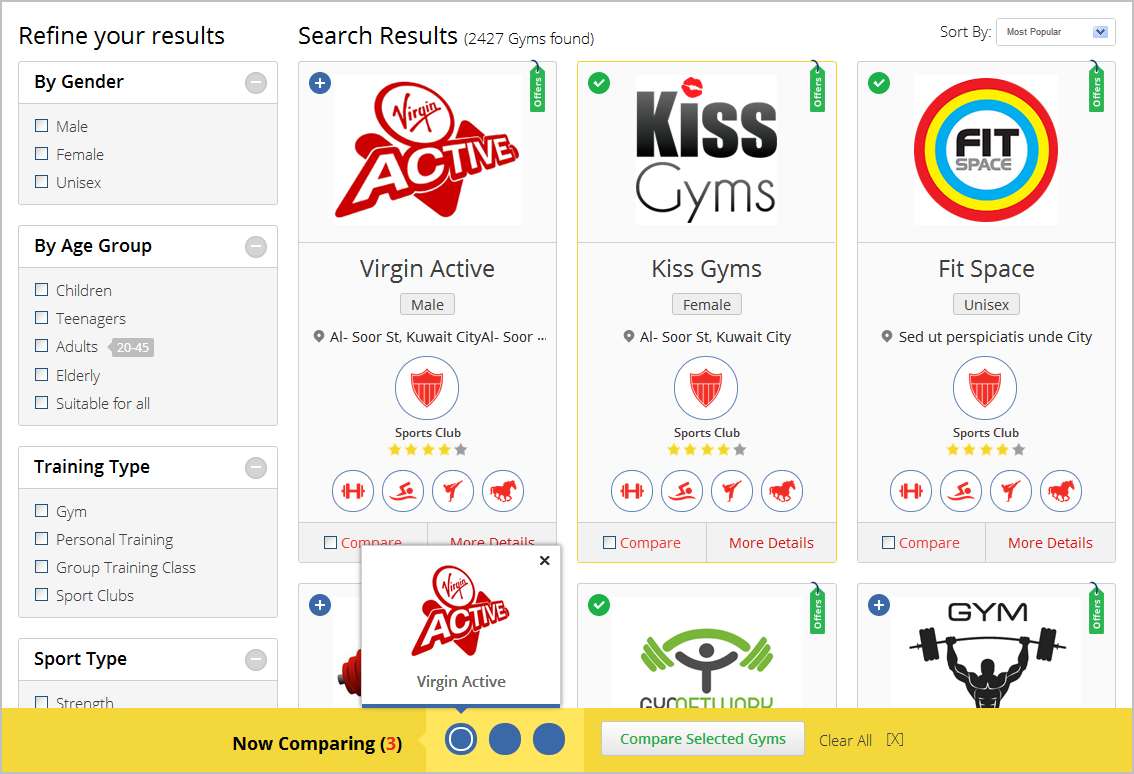 CLICK TO VIEW COMPARISON (opens in new tab)
Extensive UI planning for a UX Optimized design:
Every single page of the website has been optimized to generate maximum user engagement and sales.
The website has a colorful and unique designs (something that can never be achieved by editing templates).
The sign-in and registration process is simple.
The website is easy to navigate through the main menu and proper internal linking of the website.
Every gym detail page is a perfect landing page in itself. Gym information, video and image gallery, membership charges, special offers, and reviews are all well displayed on a single page.
Proper social media integrations connect the website to a larger network.
Every web page has been firstly planned by UX designers through a wireframe (with the help of our favorite mockup tool Axure) and then converted into a web page by professional design team.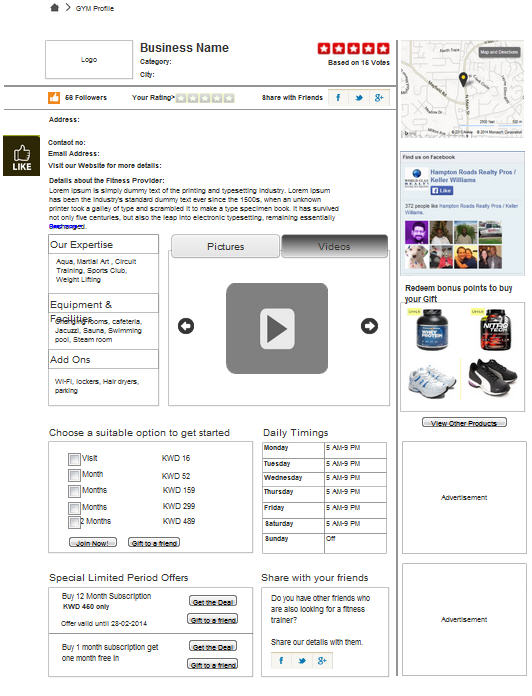 CLICK TO ENLARGE WIREFRAME (opens in new tab)
Responsive website design and layout: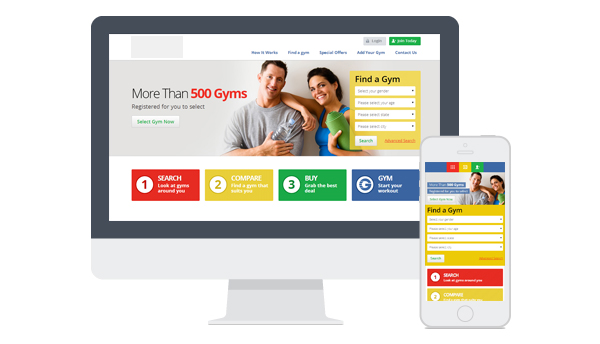 To increase the reach of the website, the entire website's design and content has been optimized so that it look good and performs well on desktops as well as mobile devices. This might seem like a very basic feature for a website to have but still majority websites designed till date are not responsive.
Responsive websites are designed on the latest design technology of HTML5 and CSS3. These responsive websites adjust their text, graphics and other elements as per screen resolution whereas the traditional websites fall apart on smaller screens.Hence, a responsive website renders across all screens and provide excellent user experience
SEO friendly platform:
After the launch of any website or online portal, the biggest challenge is generating traffic for it. Websites that have not been optimized for search engines struggle hard to even get noticed or in technical words get crawled by search engine crawlers. FATbit not only has expertise in web designing and development, but our SEO team equally has experience in helping programmers develop a search optimized CMS that will automatically ensure that the website's information architecture is search engine optimized.
Business Ideas that can run on a similar model
1)      Beauty Salons and Spas
2)      Restaurants
Team FATbit specializes in designing and developing projects that demand extensive research, custom programming and a design that leaves an immediate impact on the visitors. We have served clients from over 30 countries who have involved us in their diverse projects from the very beginning to the launch and till post launch online marketing.
FATbit has 9+ years of experience of launching custom designed and developed projects
Start Your Project