The multi vendor system has undergone huge change that will give major boost to its ecommerce stores in terms of sales, engagement and conversions. Yokart multi-vendor platform has launched 8th version following tests and analysis to make every marketplace user friendly for both consumers and sellers.
George Bernard Shaw once aptly said that, "Progress is impossible without change". This philosophy fits perfectly when it comes to technology and technology based products. Along the similar lines, we make sure that each marketplace built by YoKart team is updated as per latest user trends as often as possible. Keeping abreast of these trends and taking clients queries seriously, we have been improving our multi vendor system by bringing in innovative and consumer centric features in past too.
Our last version, YoKart V7 was an instant hit and succeeded in delivering a rock solid package to entrepreneurs. In our constant endeavour to make it better everyday, in every aspect, our product development team has added new set of features to latest version of YoKart. Following is a detailed report of Yokart – V8 updates made in 2017:
UX focused Redesign
After a complete redesign, YoKart multivendor platform has become more user friendly and been rechristened in a new avatar by taking into account the latest design UI/UX trends, and consumer/seller feedbacks. Our team has restyled both front end as well as back end. This has made managing your ecommerce store more seamless.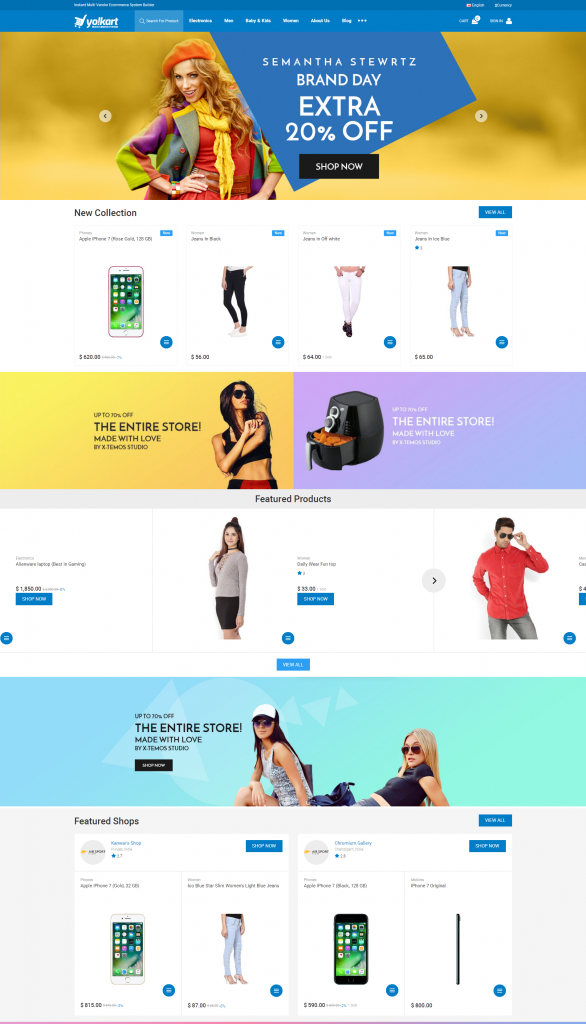 Distinct Themes for Various Industries
Yo!Kart's ready templates are specifically created for industries such as grocery, fashion, sports, furniture, and electronics. All eCommerce marketplace themes are intuitive, responsive and reflect industry segments aptly. The design team delved into user behaviour and the latest UX trends to come up with distinct themes. These ready themes have the necessary elements of a design that are required to engage the target audience in the most effective manner.
New Catalogue Feature
One of the most innovative updates in the current version of YoKart is the catalogue feature, that makes it easy for vendors to add products to the marketplace. Using this feature, marketplace owners can create a catalogue beforehand and all sellers have to do is just select the product from within the catalogue and set their pricing. The sellers can also request product addition for the products that are not in the catalogue.
Multilingual
As ecommerce marketplaces are going global there is a need for them to be multilingual so that they can cater to local populace of different zones. Not all countries have their primary language as English. With YoKart adding multilingual support, marketplace owners can easily cater to consumers without any language barrier. YoKart Version 8.0 has been designed to work best with 2 languages activated at a time and in case marketplace owners need more languages activated at the same time, it is possible through additional customization.
Multicurrency
Just like the above, each country has their own currency and in the current market dynamics it is crucial for multi vendor ecommerce stores to offer pricing information as per local currency. The latest version of YoKart has a built in feature that lets the admin set currency conversion value, allowing consumers and sellers to view prices in their preferred currency.
Smarter Product Recommendation
The recommendation has also become smarter, with more streamlined weightages. This not only gives better suggestion to the consumers but also is useful in enhancing sales of the marketplace.
This is all for now. Do let us know if you want us to add some more useful features to YoKart to make it the best ecommerce software of this industry and help us grow; we will be happy to hear your suggestions and work upon them.