Last Updated: 18 April, 2023
In this age of globalization, learning a foreign language is no longer difficult. Non-native speakers can get in touch with native speakers to learn a foreign language with the help of online language learning platforms. These include Verbling, italki, Preply, Cambly, Livemocha, Babbel, Busuu, Memrise, Fluento, Mondly, LingQ, Anki, HelloTalk, Lingoda, and so on.
In this blog, we discuss in detail the working of Verbling and how a similar language-learning platform can be built.
A Pioneer of Language Learning Platforms – Verbling
Verbling is a leading online marketplace for live tutoring, that pairs individuals with teachers for language learning. Headquartered in San Francisco, US, the company was founded in 2011 by Jake Jolis, Mikael Bernstein, and Gustav Rydstedt. The company's initial platform – Verbling Friends connected users who were interested in learning each other's language via video chat. It was backed by Y combinator and in 2015, the company raised $2.7 million in series A round funding.
In October 2016, Verbling Enterprise was launched. It is a platform that is designed for corporates to upskill their workforce, i.e. employees can take language lessons online. Further, in 2017, Verbling launched iOS and Android apps. Currently, the platform has over 10,000 teachers in more than 70 languages. Besides some common languages like English, French, Spanish, and so on, there are some not-so-common languages like Turkish, Portuguese, and more.
Verbling's Method
Verbling provides individuals looking to learn a language with unparalleled convenience and for a fraction of the price in-house tutors or brick-and-mortar schools provide. Mainly, Verbling involves one-to-one sessions with native speakers of the chosen language. Learners can use Google Hangouts-powered chat to resolve their queries.
Interested in Building a Language Learning Platform like Verbling?
Working of a Language Learning Website like Verbling
An online language-learning marketplace has three main entities –
The tutor creates a profile on the platform and a request is sent to the admin for approval.

The admin after verifying all the information approves/disapproves the profile. The approved profiles get listed on the platform.

The learner browses the platform for tutors using filters such as specialization, experience, price, language, and so on, and a list of all the relevant tutors is displayed.

The learner then selects a tutor and checks his/her availability calendar for the online session.

After making the payment, the learner then books a session with the tutor. The payment of the lesson is however kept in the platform's escrow account.

Once the lesson is completed successfully, the system releases the payment of the tutor after adjusting the commission.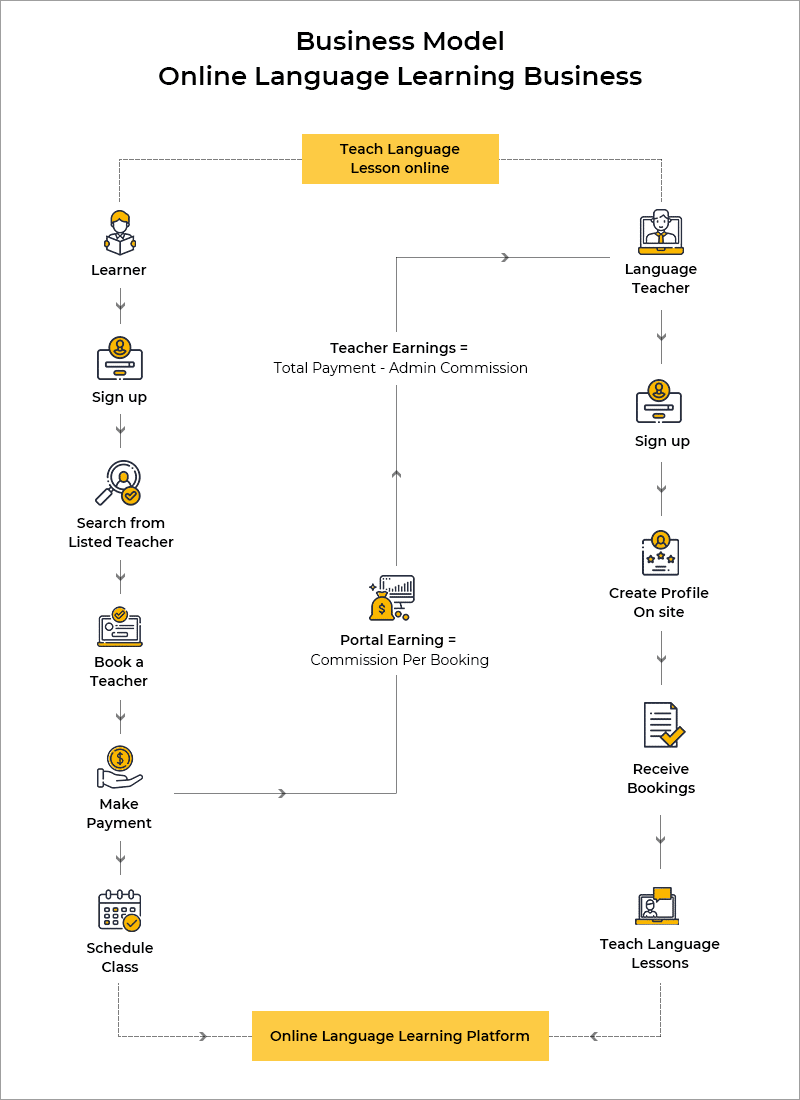 Revenue Generation Streams of Online Language Learning Platforms like Verbling
Offering online language learning to individuals and organizations is a growing opportunity for revenue generation for businesses like Verbling. In this section, we have curated a list of all the possible revenue streams so that new entrants can have an advantage over the existing ones.
A commission cut from the fee students pay to the tutors

A monthly subscription for students to access classes on the website out of which a percentage will be distributed among the tutors

Monthly subscription for tutors to feature, manage, and conduct their language learning courses on the website

On-site promotion for tutors

Banner ads
Building an Online Language Learning Platform like Verbling
Before actually starting to build a language learning platform, it is essential to keep in mind that the design of the platform is key to providing learners with the best learning experience possible. Below discussed are some points on how the prominent pages of the platform should be designed.
1. Homepage
The homepage of a language learning website should have a simplified and intuitive design so that all the offerings are conveyed in an effortless manner. The best shot in this context is an eye-catching and informative first-fold area that allows visitors to navigate the website further. Some suggestions on how the home page should look like:

Place important links such as classes, tutors, signup, etc. in the top navigation bar.

Put on a catchy message on the website banner.

Use a background image in the banner to make it more attractive.

Implement a 'Get Started' button that leads a user to the signup page. Then ask users which language they are fluent in and which languages they want to learn.

Feature popular language learning classes, top teachers, and testimonials of learners.

Other than that, the footer area should feature quick links to various content-based pages like FAQs, about us, blog, and social media handles.
2. Classes Page
As for the layout and design of the Classes landing page, it should unlock a whole new range of options for learners. Below is a list of suggestions that you need to pay attention to while designing this page:
The page right away should tell learners about the classes, their types, and access level.

Live sessions should be featured at the top of the page.

Other classes (for private lessons) can be featured below.

There should be an option to filter results based on the language they want to learn, level of difficulty, and tutor of their choice.

Classes results should be featured with useful information such as class name, language, difficulty level, lesson description, tutor's name, and class timings.
In addition to this, the language learning platform should support different types of classes. Here are the most common types of language learning classes.
Live Sessions:

Live online classes for the most popular languages that users can access but cannot join.
Private Classes:

Private sessions that tutor and learner schedule beforehand.

Class Recordings:

Recordings of past sessions that can be accessed by learners once a tutor provides them the access.
3. Tutors' Page
This page will feature the tutors listed on the website. Like the classes page, the tutors' page should also list tutors with a brief introduction and relevant filtering and sorting options. Here are the elements that the tutors' page shouldn't miss:
Filter tutor results based on the language(s) they speak and teach, price, and availability.

Sorting options based on popularity and price.

View general information about teachers like name, a short introduction, rating, nationality, language expertise, etc.

Options to visit tutor profiles, book a demo class, and message them.
In addition to this, a tutor profile page in a language learning platform should offer detailed information about the tutor helping learners make an informed decision while choosing a tutor. A tutor profile page should have elements somewhat similar to this:
Tutor's resume highlighting his/her career achievements.

Tutor's demo video.

Tutor's general information like nationality, total experience, overall rating, etc.

Option to recommend the tutor to a friend via social media (Facebook/Twitter/LinkedIn) or through email.

Tutor's private lessons fee.

Option to book a lesson by the tutor (trial/paid).

Tutor's availability calendar to book a session.

Tutor's reviews and ratings from past students.
4. Becoming a Tutor
The page for becoming a tutor on a language learning platform should be simple consisting of the following elements:
Benefits of tutoring on the website

Testimonials by existing tutors

FAQ section that addresses general queries a user may have when becoming a tutor; for instance, how tutors get paid, how to create a class, etc.

And, a registration form to apply to teach.
The registration form for becoming a tutor should accumulate the following details:
Personal and contact information

Languages they want to teach

A demo video

Professional experience and certifications
PROCESS FLOW DIAGRAM FOR LISTING ONESELF AS A LANGUAGE TEACHER ON AN ONLINE LANGUAGE LEARNING PLATFORM
5. Learners' Page
The language learning platform should have the following value-added features for the learners.
A dashboard to have a visual display of all the important links like lessons (upcoming, scheduled, unscheduled, canceled, completed), previous tutors, and much more at a glance.

Students should be able to browse and search for tutors as per their requirements by applying various filters such as language, price, proficiency level, accent, experience, gender, etc.

There should be an online wallet for the students to make the process of purchasing lessons/Giftcards a hassle-free one.

The students should be able to mark their favorite teachers.

Most importantly, students should be able to edit/update their profile information like personal information, avatar, email, password, and much more.
PROCESS FLOW DIAGRAM FOR BOOKING & SCHEDULING A CLASS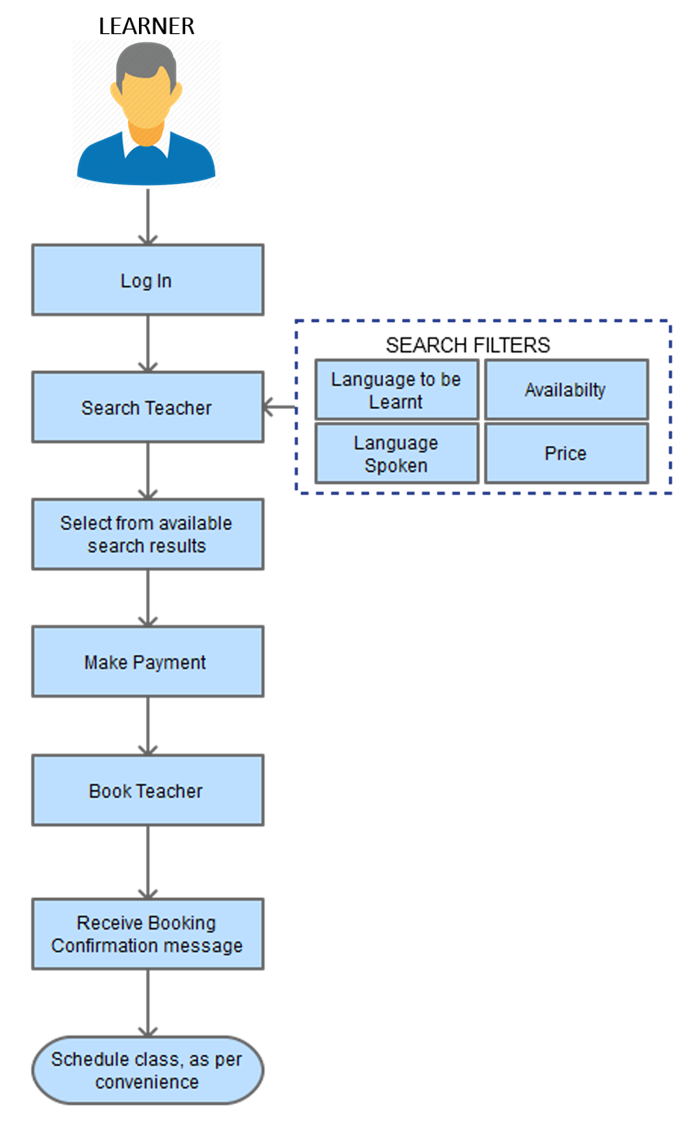 Powerful User-Level Dashboards
In addition to the pages mentioned above, there should be powerful user-level dashboards as they act as a centralized place to see information such as progress, classes scheduled, classes completed, goals met, and so on. The three interactive dashboards include a learner dashboard (mentioned above), a tutor dashboard, and an admin dashboard.
Learner Dashboard: Displays the wallet balance, number of classes, number of lessons scheduled, upcoming lessons with the options for canceling, rescheduling, entering the classroom, and so on.

Tutor Dashboard: Displays total earnings via charts, upcoming lessons, availability calendar, and so on. It also features history, account settings, discussion forums, and more.
Admin Dashboard: Displays the stats for total revenue, admin earnings, total lessons, completed lessons, canceled lessons, total users, top-class languages, and so on. Using the dashboard admin gets complete control to manage the language learning platform. It also features user management, order management, CMS management, settings management, reports and analytics, and so much more.
Interactive Features for Effective Communication
Now that we have covered the working and design of the prominent pages of an online language learning platform, let's list down a few interactive features that will make communication on the platform seamless.
The platform must be equipped with an audio/video chat feature to enable the tutors and students to see and interact with one another. There are various third-party APIs to integrate this functionality in an online language learning platform.

AtomChat:

Replace traditional language learning with a virtual classroom experience by integrating this optimized chat and video calling functionality. 

Lessonspace:

Setting the new normal for top-quality video conferencing, this excellent API is specifically designed to streamline remote learning.

Zoom:

Built particularly for virtual conversations, meetings, and conferences, Zoom provides ideal features for remote communication.

Language learning becomes more enjoyable if done in groups. Language learning platforms should include a shared learning environment such as

group discussions

to prevent learners from feeling isolated.

Language learning platforms integrated with

flashcards

make it easy to review vocab, verbs, phrases, and grammar in exactly the same way the brain needs for maximum memory retention.

Screen sharing

feature in online language learning offers the flexibility to present, lessons, assignments, learning materials to everyone present in the online classroom.

Real-time translation of text messages

helps the students and tutors save time and effort and enhances the communication between them.
Maximize Your Business Potential with These Striking Features
 Essential Features to Stand Out From Competitors
There are some other impeccable features that enable learners to get trained in a versatile environment and increase productivity to a greater extent. Let's discuss some of them in detail:
Time-Zone Friendly:

The platform should be time-zone friendly to enable global users to access the platform as per their time zone. The tutors will be able to set their availability calendar as per their time zone which will be seen by the learners in their own time zone sitting in any other country. This streamlines the coordination between the tutors and learners without any fuss.

Multilingual/Multicurrency:

As the language learning platform will have users from around the world, it is important to integrate the multilingual and multi-currency features. It allows the users to be comfortable under their own skin, explore more conveniently, and develop their learning/teaching skills. Localization features improve communication and clarity in learning, eventually increasing the engagement rate.

SEO Friendly:

The best way to get users to your language learning platform is through a solid search engine optimization strategy. It is essential for the visibility of your business, especially when you are part of a saturated market like online language learning.

Secure:

Users these days are exceedingly concerned about their privacy and security which makes it essential for language learning platforms to comply with the GDPR policies. Having a GDPR-compliant platform builds the trust of the customers in the platform and improves brand positioning.

PWA:

Users these days are burned out by all the necessary apps that are available in app stores. Having a PWA of the language learning platform will eliminate the hassle of downloading the app from the app store. In reality, PWAs are web pages that act like apps on mobile devices. They use offline push notifications and can be added to the homepage on mobile devices.  
Closing Thoughts
Building a unique language learning portal requires in-depth planning about key features. There is no need to compete with the already existing language learning businesses like Verbling, as they are already established in the market. All a new business needs to do is discover the untapped potential and create a solution for it. The best solution is to come up with an MVP and validate the business idea. This is where Yo!Coach can come into play.
Yo!Coach enables entrepreneurs to build an online language learning platform with all the advanced features mentioned above. The software is open to customizations and can be tailored as per the business requirements. Its live demo is also available to get a hands-on experience.
Want To Know more about Yo!Coach?