Online language learning platforms like Verbling, Livemocha, italki, Preply, Cambly, etc. are changing the way people learn foreign languages. These language learning websites help people across the world master new languages by connecting them with native speakers via live audio/video chat feature. Thousands of people visit these websites on a daily basis to improve their foreign language skills.
FATbit's business analysts, who always have a keen eye for growing online businesses, began an in-depth study of this business model to outline clone script features that will make a language learning start-up stand apart. Here are the highlights:
Business Model
The biggest barrier that people face when learning a foreign language is the lack of interaction with native speakers. Social media sites have bridged this gap to some extent in past few years but since interaction is usually text-chat based, they too aren't of much help when it comes to build fluency in a foreign language.
Online language learning platforms like Verbling & italki answer this very need by offering audio/video chat with native speakers. Before these websites, most language learning portals were only offering text-chat based interaction.
This new generation of language learning platforms help people connect with registered tutors and users based on the language they want to learn. People can simply interact with other users with similar needs through audio/video chats for free, or they can join language classes with a tutor (for which they have to pay). Users can also choose whether they want to join a group session or a one-on-one private lesson.
How Language Learning Portals Can Make Money
As we studied revenue generation model of leading language learning portals, we found that they are not leveraging the full power of their platform and missing out on many possible revenue channels. We curated a list of all the possible revenue channels so that new players can have an advantage over the existing ones.
A commission cut from the fee students pay to tutors, OR a monthly subscription for students to access classes on the website (in the latter option you would have to decide how you will distribute the earned money among tutors)
Monthly subscription for tutors to feature, manage, and conduct their language learning courses on the website
On-site promotion for tutors
Banner ads
Interested in Building Language Learning Platform
Get in Touch
Now, let's explore essential language learning marketplace software features that you need to include in your language learning website.
Website Features: Essentials for every language learning platform
Your website should have a simplified and intuitive UX design, so that all the features and offerings are conveyed to in an effortless manner. Here are some suggestions on how the homepage should be designed:
Homepage Highlights
In order to ensure that visitors stay and join your platform, you need to design the homepage quite mindfully. Your best shot in this context is  of course an eye-catching & informative first-fold-area that also allows visitors to navigate the website further. Here are some suggestions:
Place important links in the top navigation bar (Classes, Tutors, Signup, etc.)
Put on a catchy website message in the website banner.
Make the banner look more attractive by using a background image
Implement a Getting-started feature that asks users which language they are fluent in and which languages they want to learn (this should lead user to the signup process)
Below the fold section can be used to feature popular language learning classes, top teachers, and testimonials of learners. Other than that, the footer area should feature quick links to various content based pages, social media plugins, as well as quick links to classes for popular languages.
Type of Classes
Before we begin to describe the layout for the Classes' landing page, let's first discuss the type of classes you should offer on your language learning platform.
Live Sessions: Live online classes for the most popular languages that users can access but cannot join
Private Classes: Private sessions that tutor and learner schedule beforehand
Class Recordings: Recordings of past sessions that can be accessed by learners once a tutor provides them the access
As for the layout and design of the Classes landing page, it should unlock a whole new range of options for learners. Below is a list of suggestions that you need to pay attention to:
The page right away should tell learners about the classes, their types and access level
Live sessions should be featured on the top of the page
Other classes (for private lessons) can be featured below
There should be option to filter results based on language they want to learn, level of difficulty, and tutor of their choice
Class results should be featured with useful information such as class name, language, difficulty level, lesson description, tutor's name, and class timings
Tutors
This section will feature tutors listed with the website. Like Classes landing page, it should also feature tutors results with brief and info and relevant filtering & sorting options.
Here are the features that your language learning platform shouldn't miss:
Filter tutor results based on language they speak and teach, price, and availability (Morning-Afternoon-Evening/Mon-Sunday)
Sorting options based on popularity and price
View general information about teachers like name, short intro, rating, nationality, language expertise etc.
Options to visit tutor profile, watch demo class and message them
Tutor Profile & Booking a Private Lesson
The tutor profile page should feature following information to help learners make an informed decision while choosing a tutor:
View tutor's demo video
View tutors general information like nationally, hours taught, overall rating, and other useful information
Recommend teacher to friend on social media (Facebook/Twitter/Google+) or through email
Check tutor's private lessons fee
Book a free trial lesson (or at a lower price), or commence their language learning course by booking the private lesson
Access tutor's schedule in calendar-view so that they can book lessons as per their convenience
See tutor's reviews and ratings from past students
Check tutor's résumé which highlights tutor's career achievements
PROCESS FLOW DIAGRAM FOR BOOKING & SCHEDULING A CLASS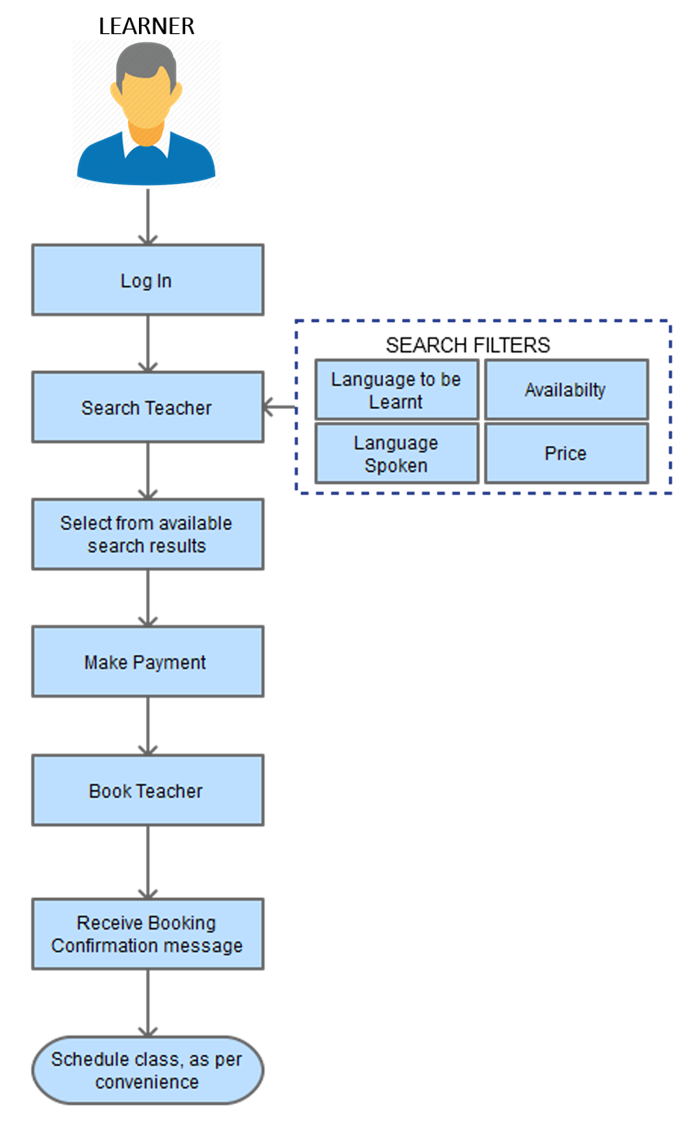 As learners book a lesson on tutor profile page, they should be asked which session and how many lessons they want to book. This should be followed by the checkout process that asks their credit details.
All this information is sufficient and necessary to help learners make a better decision while choosing a teacher for booking private lessons.
Becoming a Tutor
Rather than tutor-student, learning on these platforms are community-based. Therefore, any user can become a tutor on your language learning website by filling a simple registration form and wait for admin's approval.
The tutor registration page should have following features:
Benefits of tutoring with your website
Testimonials by existing tutors
A FAQ section that address general queries a user may have when becoming a tutor; for instance, how will i get paid, how to create a class, etc.
And an effective CTA to invite users further in the process
The registration process should ask users following details:
Personal and contact information
Which language they want to teach, and whether they want to offer live classes
A demo video
Professional experience and certifications, if any.
After application submission, applicants need to wait for a week while the site admin verify their application. Once a tutor's profile is activated, he should be able to manage his profile to help learners know easily about his pricing, availability, and offerings.
PROCESS FLOW DIAGRAM FOR LISTING ONESELF AS LANGUAGE TEACHER ON ONLINE LANGUAGE LEARNING PLATFORM
Now let's list the most important features of the user profile.
User Profile: Feature and Options
Your website should offer following value added feature to users:
Dashboard with options to view class history, make account settings, and manage subscription plan, if applicable (depending on the revenue model)
Option to invite their friends to join your website through a friend referral program that earns them free session, discounted lesson and other such rewards
Since your language learning will be a global network, it is important that users have an exact track of time when they schedule classes with tutors living in different time zones. To address this need, you need to offer users an option to synchronize their account with their personal online calendar.
Now that we have covered all the essential features that an online language learning platform should have, let's list down few features that will make it lovable.
Community: Group chat among learners
This is the feature that is going to drive the traffic for you. This feature will provide users a very easy way to communicate with native speakers via audio and video chat. You can either create your own chat plugin for you website, or associate with Google Hangouts to provide the service like Verbling has. Here are feature highlight for this offering:
Registered users can join a language practice group of people with similar needs – language and difficulty level
Communicate with other users through text/audio/video chat share files
Create a new group chat by specifying the language, difficulty level and maximum participant limit
Check whether there are any slots empty in the existing groups
Video chat is a must have feature for an eLearning marketplace to create an effective real-life learning environment. To deliver lessons and consultation effectively, online learning and consultation solution Yo!Coach puts its trust in CometChat (CometChat Go API is pre-integrated with YoCoach for implementing video call functionality). CometChat is a prefect text and video chat tool which has all the essential features to deliver a great online learning and consultation experience.
Some of the important features provided by CometChat are:
–        Real-time Text Messaging
–        One-on-one Chat
–        One-on-one Video Call
–        File sharing
–        Stickers and emojis
–        Voice notes
–        Collaborative whiteboard
–        Collaborative document
–        Screen sharing
As our text and video chat integration partner, CometChat brings and exclusive offer for Yo!Coach buyers on monthly and yearly subscription for Startup, Growth and Mega Plans of their 'CometChat Go' product. Coupon codes will be provided to new as well as existing Yo!Coach clients to avail 40% discount and an additional 20% discount will also be provided for annual subscriptions.
Launch your online learning marketplace with Yo!Coach and avail this offer from CometChat. Get in Touch
Mobile App
Mobile is the need of the hour, so needless to say, you need to create a language learning app for all major mobile platforms. Implement all the necessary features in the mobile app, so that learners, as well as tutors can access all your services on the go.
Custom Language Tutoring Support
While building an online language learning platform, a feature for providing custom language tutoring support for schools and organizations should also be considered. The mission statement of these websites is to bring language learners together with native speakers. They can extend on it by offering custom-built language learning software for school and organizations and enhance the learning experience in these institutions.
This is an exclusive feature, so by including it in your online tutoring marketplace; you can have an edge over the existing players.
Last but not the least
Building a unique online training portal requires in-depth planning about key features. To compete with the existing players like Verbling, it is important that you offer their best offerings, as well as come up with some new ones to give your target audience something extra. This is where the points mentioned in the post will help you.
If the idea of building a language learning platform makes sense to you, then, FATbit team would be glad to help you with our fully customizable online language learning marketplace software Yo!Coach to launch a language learning platform.
In case you have a unique business idea, partner with FATbit for best outcomes. Contact us now.