Last Updated: 17 May, 2023
An increase in the number of internet users each day has presented various opportunities for the growth of several online businesses. Online sports coaching is one of the business markets growing significantly by the use of digitalization. Considering the current market scenario, latest trends and drivers, and the overall market environment, the online sports coaching industry is poised to grow by USD 18.85 billion during 2019-2031, progressing at a CAGR of 5.7%.
Source: Allied Market Research
Several elements like artificial intelligence, evolving communication tools, the Internet of Things, and modern software have made remote sports coaching more reliable these days. Numerous popular sports coaching platforms are already on the way to changing how sports enthusiasts approach online sports coaching. It has unlocked unprecedented opportunities in the coaching industry. It has started to embed in every aspect of the sports coaching business and is transforming people, processes, and technology.
The use of technology and personal portable devices like smartphones, tablets, and laptops has inclined sports enthusiasts towards this informal but convenient mode of coaching. It made it easy for the athletes to enhance their sports skills and knowledge at the location of their choice. It also allows athletes to partner with clients to inspire them to maximize their personal and professional potential.
Online sports coaching offers numerous benefits to coaches, athletes as well as entrepreneurs. Henceforth, creating a tremendous demand for such platforms in the industry. For budding entrepreneurs who are looking forward to entering this lucrative domain, we have gathered all the necessary information covering everything from key players, to how the platform works, revenue model, essential features, and more. 
Table of Contents:
Key Players In The Sports Coaching Industry
CoachUp
CoachUp is an online sports coaching platform that connects sports learners with private coaches. They have a network of more than  fifteen thousand qualified and experienced coaches across the country. Hundreds of online sessions happen every day on this platform in 30+ sports fields. CoachUp's estimated annual revenue is currently $110.5 million per year.
Launched in: 2011
Headquarters: US
CoachList
CoachList is a leading sports coaching platform that connects athletes, and fitness enthusiasts with experienced coaches. They offer a variety of sessions ranging from individual training, and team coaching to sports camps, health clubs, and more. The estimated revenue generated by this platform is around $4 million per year.
Launched in: 2017
Headquarters: UK and US
TrainingPeaks
TrainingPeaks is a comprehensive sports coaching platform that connects sports enthusiasts, athletes, and sports training seekers with qualified coaches. They offer training in a variety of courses ranging from swimming, cycling, rowing, running, and many more. Clients can plan, track, and analyze their training all in one place. TrainingPeaks estimated revenue was $7.7 million in 2022. More than 500,000 athletes come monthly for their sports training needs on this platform.
Launched in: 2003
Headquarters: US
CoachNow
CoachNow is a popular online sports coaching platform serving 140 countries around the world. They offer programs in 60+ sports categories where the world's best coaches provide training. They provide personalized workout guidance and workout plans to clients. The annual revenue of CoachNow was approximately $6.8 million. 
Launched in: 2014
Headquarters: US
The tremendous success of these online sports coaching platforms must have sparked your interest to establish a similar platform to kick-start your business. However, before embarking on this endeavor, it is crucial to gain understanding of how such a platform operates. 
Therefore, in the next section, we thoroughly explain how a sports coaching platform works.
Planning to launch a similar sports coaching platform ?
How Online Sports Coaching Works
The working of an online sports coaching platform is quite simple. Other than admin, it has two more types of users – coaches, and athletes. With details like coach experience, expertise, reviews, ratings, organization tie-ups, etc., it becomes easy for the athletes to find the right coach as per their specific needs. Below is discussed the detailed workflow of all users of the online sports coaching platform.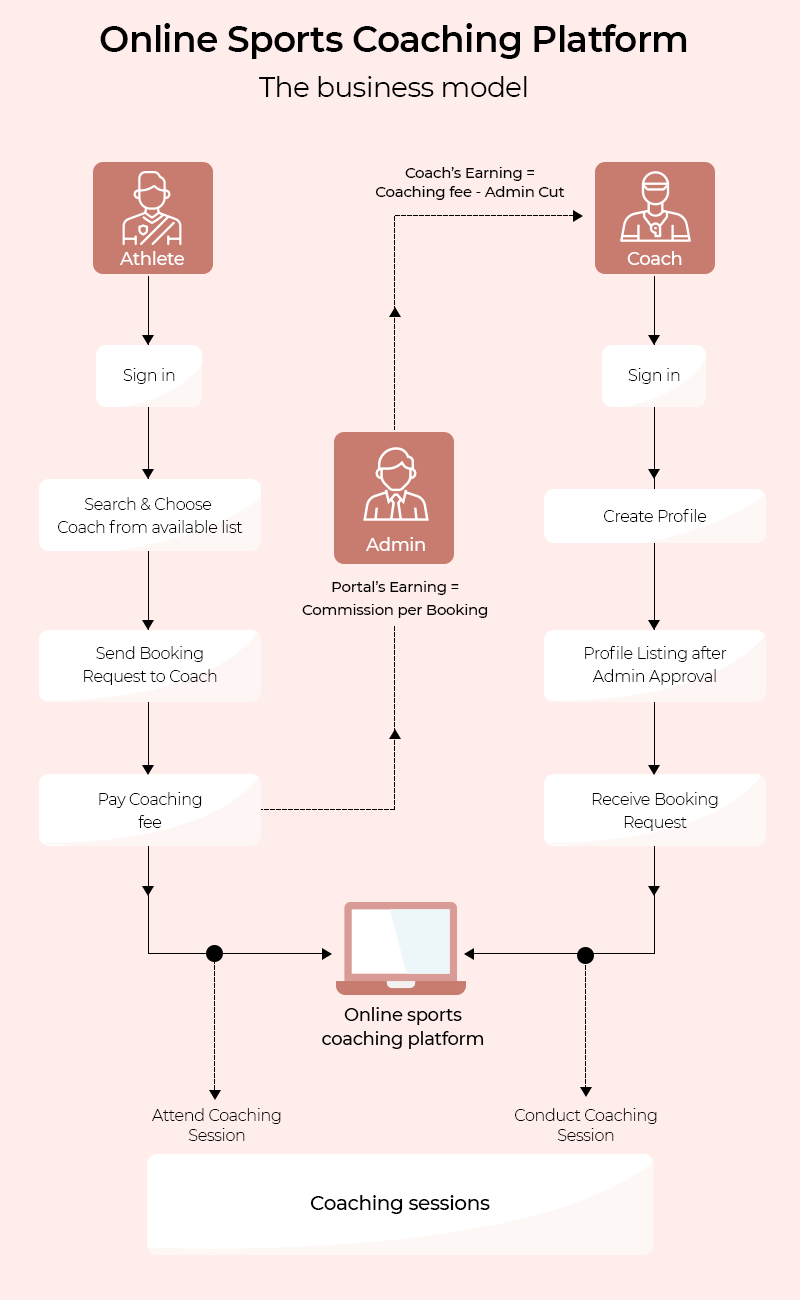 Athletes:
Initially, athletes create an account on the portal.

Search the coaches on the portal as per their requirements and book a live session with them as per their availability.

Make the payment as set by the coach.

Attend the live session by the coach.

Athletes can also review/rate the teachers as per their experience with the teacher.
Coaches:
Coaches create an account on the portal and a request is sent to the admin for the approval of the profile.

After listing, coaches set their availability calendar and receive session booking requests. Coaches can also choose to conduct one-on-one or group sessions.

Coaches then confirm the bookings and deliver the live sessions.

Lastly, coaches receive the payment of the delivered sessions from the admin.
Admin: 
The admin is fully responsible for managing the platform.

Approves the listing requests of the coaches.

After completion of the coaching sessions, charges commission, and transfers payment to the coaches.

Handles session booking, cancellations, and refund requests.

Manages the content of the platform including blogs, themes, and more.

Additionally, checks the performance of the platform by analyzing reports and data.
Simply put, online coaching marketplaces connect athletes with private coaches. The process is as simple as 'search, schedule, and get trained'. Depending on the target market and popularity of sports, different sports are included in the sports coaching marketplace.
Revenue Generation Model
Primarily, these marketplaces make money from the commission they cut from the session fee athletes pay to coaches through the website. Other than that, there are several other revenue streams in this business model:


Build A Platform Supporting Multiple Revenue Streams
Essential Features of an Online Sports Coaching Platform
Now that we have reviewed the business end of the sports coaching marketplaces, let's discuss the essential features required for these marketplaces.
Multilingual for Global Reach: An online sports coaching platform has users from all over the world. Therefore, a platform that supports foreign languages is an important feature, which allows you to connect coaches with sports enthusiasts without worrying about the language barrier.
Collaboration Tools: Coaches and athletes should be able to communicate in real-time via audio/video in order to have an efficient coaching session. In addition to that, collaboration via various other means is also considered essential for online sports coaching. Some of them are:
Text messages

Screen sharing/recording

Sharing documents

Online whiteboard
Easy to Use Interface: An online sports coaching platform should be easy to use. The navigation through the whole system should be smooth and coaches, as well as athletes, should be comfortable while using the platform.
Search Functionality: The search bar with the sports categories and filters within the platform allows athletes to filter out all the irrelevant and non-matching coaches, saving their time and efforts.
Location-Based Session Scheduling: Users (coaches and athletes) should be able to select their respective time zones which makes it easy to mark availability and book sessions. Having this feature eliminates the confusion among the coaches and athletes residing in different time zones.
Multiple Payment Methods: Offering multiple payment methods on the sports coaching platform like a credit card, debit card, net banking, etc. which are faster and more convenient for the athletes is essential for increasing sales and conversions. Also, make sure you offer popular payment gateways that athletes know are secure.
Matching Algorithm: A well-organized sports coaching platform should have an algorithm to help match athletes with coaches specific to their requirements. The platform should leverage the information provided by both the users and suggest recommendations to the coaches as well as athletes.
Review and Rating: Allowing athletes to rate and review coaches after the completion of the session makes the complete system more transparent. The ratings displayed on the profile of coaches make it less time-consuming for future athletes to select the coach as per their requirements.
Multi-Currency: It helps users to set the currency as per their preference which enables the athletes to pay the cost of the sessions in their own currency which is then converted into coaches' currency by the admin before transferring.
PWA: Due to the undeniable significance of mobile devices in today's world, having a mobile app is essential to enable the users to access the platform on the go. Having a PWA of the sports coaching platform combines the best of both website and mobile apps and is the best approach to enhance online presence. One can obtain enormous benefits over competitors utilizing this trending technology.
Build A Feature-Rich Sports Coaching Platform
Important Webpages For Your Platform
It is very crucial to offer the best learning experience to users on your platform, and for that, you need to implement relevant webpages on your platform. Mentioned below are some of the web pages that you should consider in order to build an intuitive sports coaching platform.
Home Page
Homepage is the main page visible to your target audience when they will visit your platform. The homepage should offer a simple and intuitive user experience and must be easy to navigate. You can add more information on your homepage like an overview of your services, along with links to various other content-based pages like about us, blog posts, FAQs, and social media handles. 
Session Page
This page lists all the sessions offered on your platform. The details of the session can be shared on this page, including additional information such as timing, schedule, and price of the sessions. 
Coaches' Page
All coaches on your platform must be listed clearly on this page with relevant filtering and sorting options for clients. This page should provide all necessary information about coaches like their qualifications, experience, languages they can teach in, and their subject expertise. 
Athlete's Page
The Athlete's page should provide all the necessary information needed by students on a coaching platform. The dashboard should display all the information related to sessions (upcoming, scheduled, unscheduled, completed, canceled) in one place.
The Athlete's Page should make the purchasing of lessons/ giftcards for the students a seamless process. Clients should easily be able to search for coaches based on their requirements by applying filters like language, gender, price, accent, experience, and more.
Final Words
In view of the growth of digitalization, the online sports coaching industry will continue to remain unscathed and show promising growth opportunities for investors. The market will be driven by technological integration in sports coaching and increasing demand for sports coaches. In addition, increasing government initiatives and interest of the younger generation in sports is anticipated to boost the growth of the market as well.
And, with the increasing competition, it is essential to choose a reliable solution to launch a feature-rich online sports coaching platform. Yo!Coach, a readymade and white label solution can become the ideal solution to launch an online sports coaching marketplace. With all the basic and advanced features packed into the software, it minimizes the time-to-market and helps entrepreneurs to cater to the needs of athletes and coaches.
Packed with all the features mentioned above, Yo!Coach is a robust software to build a successful sports coaching platform. It will not only help accomplish your business goals but also establish you as a pioneer in the sports coaching industry.
Enquire How Much Sports Coaching Platform will Cost You
Also Read: How to Launch Online Coaching and Mentoring Platform