On-demand video service is the ongoing phenomenon in the Indian internet market-even though there's no constant buzz around it. American video streaming services – Netflix & Amazon Prime are roughly one year old in India, but have already begun to run profitably; and they are not even the top ones.
Local players, namely, Hotstar, Jio TV, Voot TV, and others currently lead the race. And they are reaching wider & deeper into country's growing internet market at an impressive rate; proving at every milestone that a good part of India is watching TV on the internet.
Despite quick market penetration, on-demand & live video streaming service is still in nascent stage in the country and there's much evolution to happen in the field. This puts every service provider – local, foreign, and even upcoming – roughly on an equal footing.
After doing a thorough analysis of this young but competitive market, we have assembled a list of areas that will play the crucial role in the success of online video streaming startups in coming years. So, if you are a budding video streaming service provider, act upon the growth opportunities mentioned below.
Focus on Regional Content
The success of Netflix & Amazon Prime in India so far is driven by their adoption in tier I cities. But the next stage of growth lies in tier II, tier III, and even rural areas of the country – where local content is the key.
Currently, Netflix offers very little Indian content. Amazon Prime has a bigger local content library, but that is still negligible to the amount of video content the country produces.
Indian film industry Bollywood produces more than a 1000 movies each year in more than two dozen languages. Besides that, there is also a huge amount of regional TV content.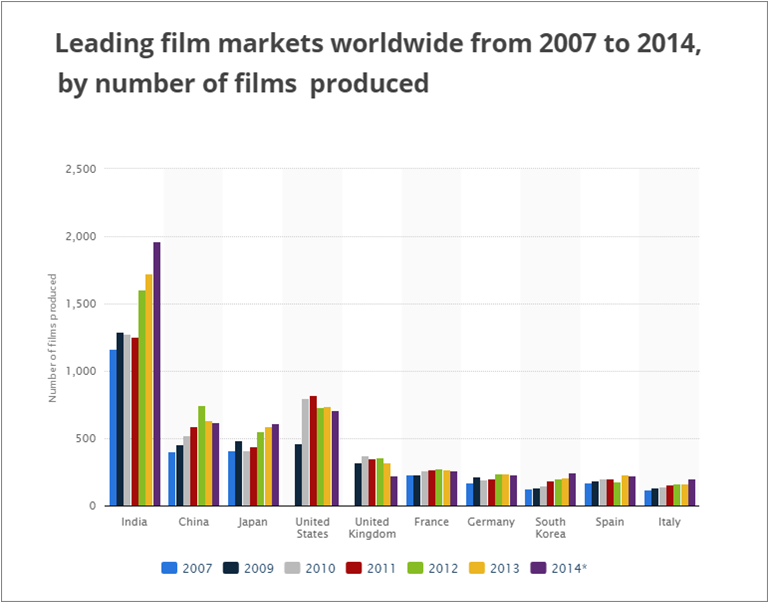 Source: Statista
So far, local players seem to have a better hold on the local content, which has comfortably put them in the leading position. Given its importance, regional content will soon be on the radar of every player. If this assumption is right, for now, it's a pretty much 'the early bird gets the worm' situation for live video streaming service providers in the country.
To have an edge over others, you can buy exclusive rights for certain local production houses/TV channels that you think are most popular among your target audience.
Capitalize on Mobile Trend
Internet penetration in India has doubled in past 3 years (from ≃15% in 2013 to ≃30% in 2016), which is primarily due to the rapidly growing number of smartphone users in the country; in other words, due to mobile internet penetration, which is further accelerated with the launch of Jio SIM by Reliance Comm. Ltd. in September 2016.
As a matter of fact, the rapid growth of live video streaming services in India is also triggered by mobile internet. According to an App Annie research, Jio TV & Jio Cinema sit at the 2nd& 3rd position in India, both of which are mobile-exclusive live TV & movie streaming services. The same research found that time spent on video streaming apps on Android devices has grown by 600% in past one year.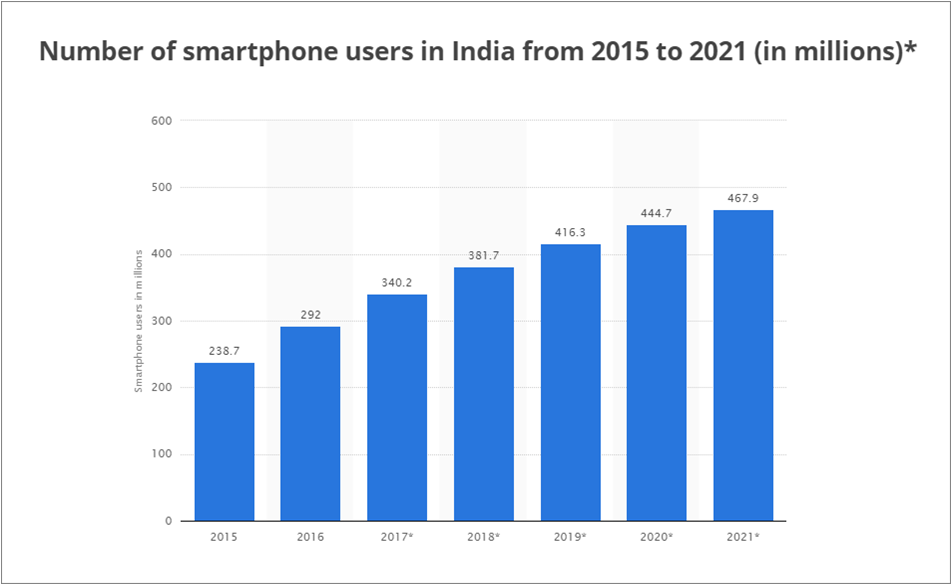 Source: Statista
Currently, there are 300 million smartphone users in the country, and the number is estimated to reach 500 million by 2021. All in all, this makes India a 'mobile-first' economy; thus, it becomes crucial for video streaming service providers to follow a 'mobile-first' approach.
And, as for which mobile platform to focus, India smartphone market is ≃95% Android; so, there's your answer.
Effectively Capture Mobile Leads to Give Your Business a Boost
Show Original Content
The success of Amazon Prime & Netflix in the West is primarily driven by the original content, since pretty much everything else is available on either YouTube (which also recently entered the live TV streaming industry) or other online video streaming services.
In India, the trend of original content is catching up, but rather slowly. So far, Voot TV (through their exclusive rights for Viacom 18 production house), ALT Balaji & TVF Play* seem to be the only players that have a good amount of original content.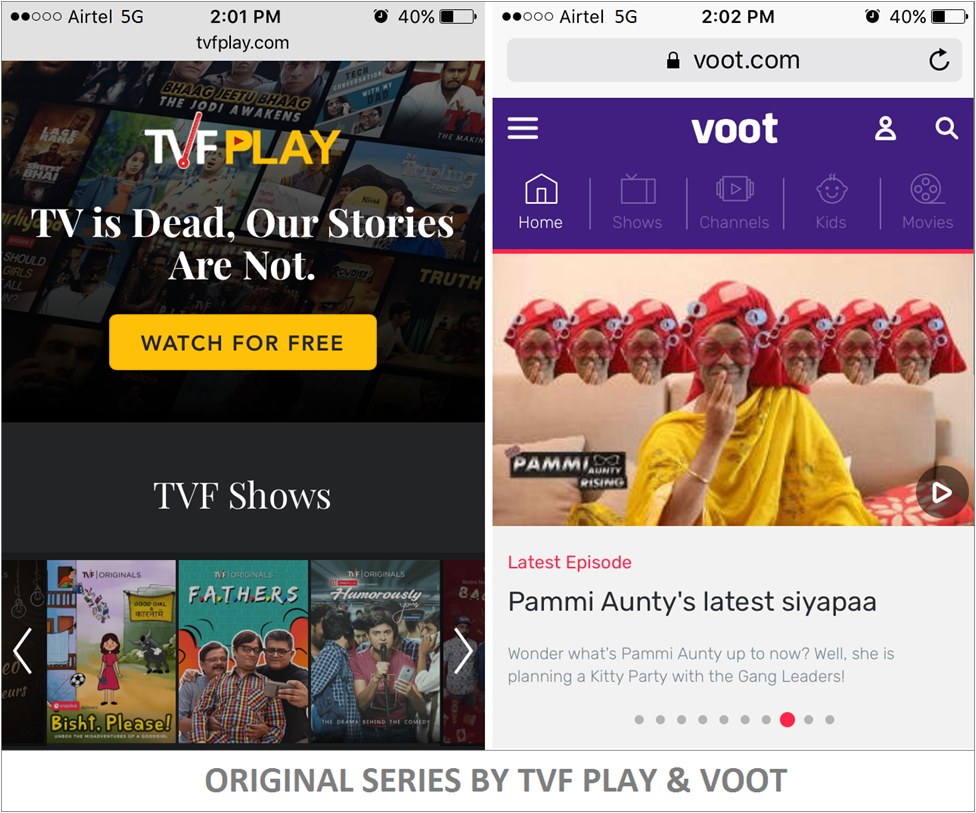 By and large, in long-term, original content is the key differentiator in the entertainment industry. So, it is important for video streaming startups in India to start investing in creating content (TV series & movies) of their own.
If the budget for the production of original series is a problem, then collaborating with popular individual video content creators is another good alternative. YouTube is a good place to search for such individual contributors.
* Initially, FATbit designed & developed the TVF Play website.
Price the Service Smartly
Unlike the US & Europe, India is a tricky market, where consumers are not used to pay for video content due to several reasons – piracy of digital media is rather common in the country, plus, a good amount of video content is already available for free on the internet – on YouTube, TVF play, etc.
Given the situation, there's a tough task ahead for video streaming service providers operating in India. To curb this challenge, highlighting the exclusivity of the content available on your platform is crucial.
Also, the subscription plans should be designed in a manner that they cater needs of a wide range of viewers, and seem light on the pocket for all.
Apart from that, there are few tactics you can consider in order to persuade consumers to subscribe to your platform. Offer registered users some extra value added features and access to premium content such as download & offline viewing feature, ad-free subscription, access to original series, direct mobile carrier billing, etc.
Pay Attention to User Experience
In addition to acting upon the above-listed business growth tactics, you also need to ensure the soundness of technical aspects of your video streaming platform.
India being a vibrant country, comprising different cultures & different languages, inevitably has a wide range of video content consumption habits. With that in mind, you need to pay attention on an intuitive classification of the content available on your website based on genre, region, language, production house, old/new, & so on.
Additionally, a video streaming website/app is a rather resource consuming platform; thus, extra efforts are required to ensure a seamless performance (despite weak network signals) and robustness (despite the load of concurrent users) of the system.
To take care of these concerns, it is important that you outsource your video streaming web project to an agency that is competent enough to handle such projects & experienced enough to deliver a rich user experience to the web audience.
Looking for a reliable agency to build your video streaming website?
Conclusion
Currently, more than 50% of India's population is below the age of 25 (about 700 million). With rapidly growing internet infrastructure in the country, it is certain that a good percentage of this number will become direct customers to video streaming service providers in near future. So, there's no question about the scope of growth of this industry in the country.
For now, the important thing for live TV & on-demand video streaming service providers is to recognize the existing growth opportunities to meet customers' expectations better, and lead the way.