Are you a fan of the popular YouTube channel TheViralFeverVideos? Then we have a good news for you. Now you can watch all their videos and some other cool and humorous shows from the past, all in one place.
FATbit Technologies just completed the work on the tvfplay.com and launched the beta website on 27th May 2015, which surely would prove to be a milestone for both teams – FATbit and TVF. Within 7 days, more than 48,000 people have registered on the site. And now they can enjoy their favorite TVF shows and the popular Qtiyapa series of short videos uninterrupted, as the site can easily handle thousands of concurrent viewers for each video.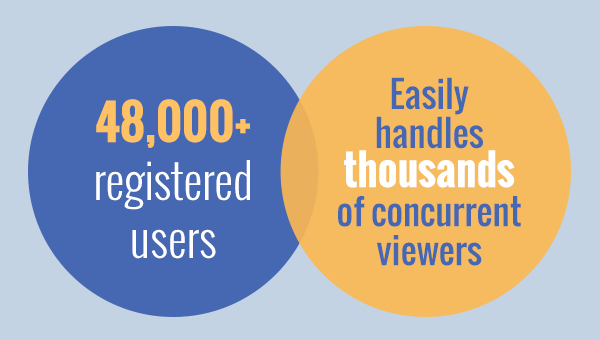 Now, before we introduce the tvfplay.com's features and functionalities, let's first go through the interesting story of TVF team.
TVF Story: Bumps and Bumps and Bumps Then a Long Smooth Ride
TVF is the brainchild of Arunabh Kumar, an IIT Kharagpur's alumnus, who tried but couldn't sell his ideas for 'creating and distributing short humorous videos based on the funny side of day-to-day life' to several production houses including MTV India.
He was constantly told 'Indian youth doesn't want to watch this'. So, he was like 'Okay, screw it! I'll prove them wrong.' And that's exactly what he did with the help of bunch of fellow IITians, as he went on to create his own and India's largest online entertainment network – The Viral Fever Media Labs.
Today, TVF Media Labs has 5 functioning ventures under it featuring different categories of humorous & drama videos and shows. Their YouTube channel has acquired more than 1 million subscribers in shortest time ever, and thousands of new users are subscribing to it every single day. TVF was also the sole representative from India at the International YouTube Fan Festival, 2013.
Phew! Alright, moving back to the website
TVF Play: As Awesome a Website, As Awesome Is TVF
The idea behind creating the site was to make the popular TVF web series as easily available to youths as typical TV series, which they barely watch. TVF team approached us with the idea of building a website where youths can easily watch their favorite TVF videos or web series episodes in just a couple of clicks.
FATbit team undertook the project readily and developed exactly what they were looking for and delivered it just in time before the release of their upcoming web series Pitchers, which will be aired on the site on June 3, 2015 and on their YouTube channel a week later on June 10. So, if you are a fan, you might want to register on the site instead of waiting for an extra week.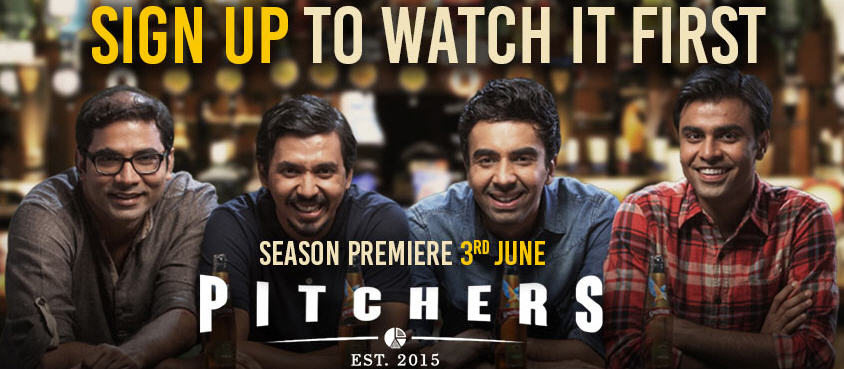 FATbit team took great measures to ensure a good user experience and a seamless content distribution while building the website, which was the prime purpose behind its launch. And of course, FATbit's experience in the web industry certainly came handy here.
The Entire TVF Network at One Place
All videos are free to watch, and users can access them by registering on the site. The sign up form is concise and without unnecessary fields like alternate email, date of birth, etc. Users can easily sign up and Login with their email address, G+ account, or Facebook account.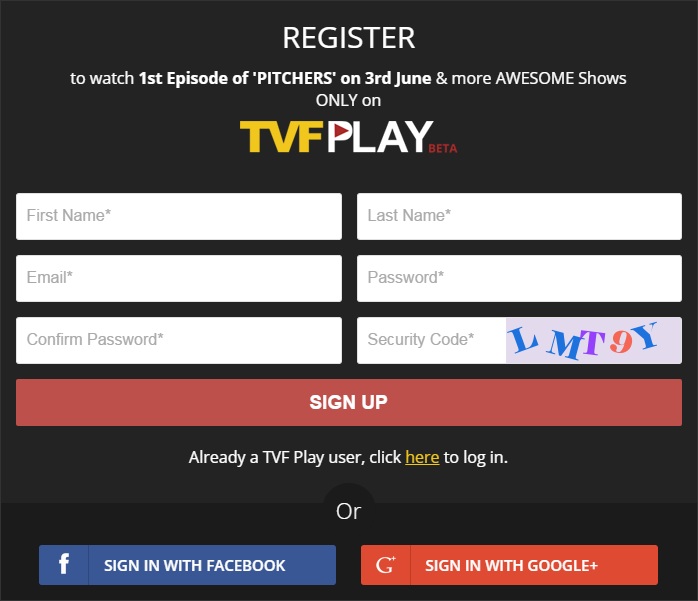 Videos are listed in three categories on the site:
TVF Originals: Web series originally created by TVF team one of which (Permanent Roommates) has become the most watched branded web series in the world.
Qtiyapa Shows: Most popular of their work that primarily features parodies of popular Indian TV series. Some of these videos features Bollywood celebrities, not big-time, but yeah, the likes of Shah Rukh Khan, Ranveer Singh, Parineeti Chopra, Anurag Kashyap, Ayushmann Khurana, Ali Zafar and hardly known political figures like present Delhi CM Arvind Kejrival.
Awesome Shows: These are the TV series from past, humorous and dramatic, from India and west, which the team thinks India's youth of today must watch. (Personal advice 'do watch them')
Good User Experience. Delivered.
1) The top navigation bar features all video categories to engage visitors as they land on the site. The navigation bar tabs expand on mouse hover into a dropdown panel of featured image of top shows of that particular category. With one click alone, registered users can begin with watching their favorite TVF videos and web series. They can also checkout more shows of that category by visiting the category page.
Top video players viz. YouTube, Vimeo and JWPlayer are integrated in the site to ensure seamless high quality buffering and watching of the videos.

Click to Enlarge
2) The navigation bar stays at the screen top as users scroll down, so that they can switch between video categories.

3) The banner area features most popular and upcoming TVF shows, so that users can access them right from there.


4) The below-the-fold section features thumbnails for videos organized into categories, which on mouse hover gives users brief info and options to either visit the dedicated webpage of that video series or play the entire series. Users can also share the web series page with their Facebook and Twitter friends.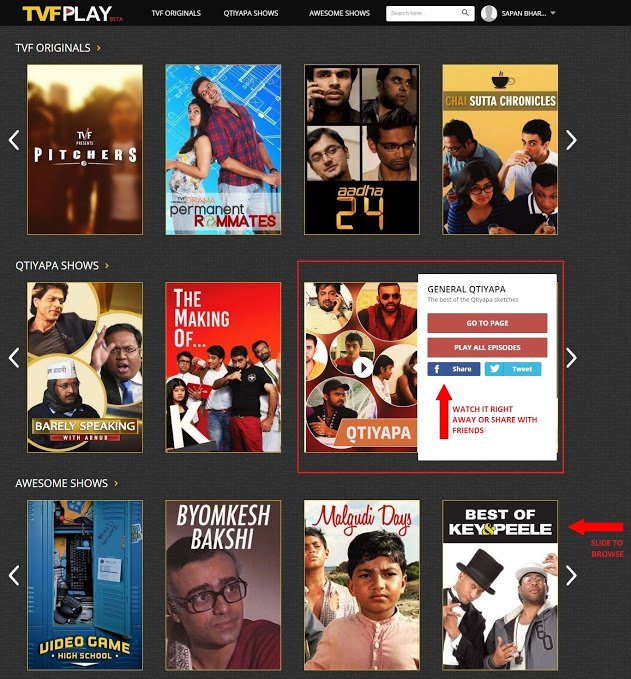 Click to Enlarge
Also Read: How Much Do You Focus on User Experience Design While Building a Website?
So, once users land on the site, they can watch a complete series in not just-a-couple-of-clicks, but one click only. How often do you get such swift options? Even watching something on TV will require at least 5 to 6 presses on the remote controller.
Turn your website into a delight for your target audience.
Consult experts to Enhance it's UX
TVF Play Experience: Better Than That of TV
There is a dedicated webpage for each web series and each video. And to enhance the experience of watching, following features are provided on the web series and video pages:
Browse through other episodes quickly through a vertical slider
Like or dislike a video
Share video with friends on social media
Navigate back quickly to main category
Comment on a video through Facebook & Yahoo account
Play all episodes with just one click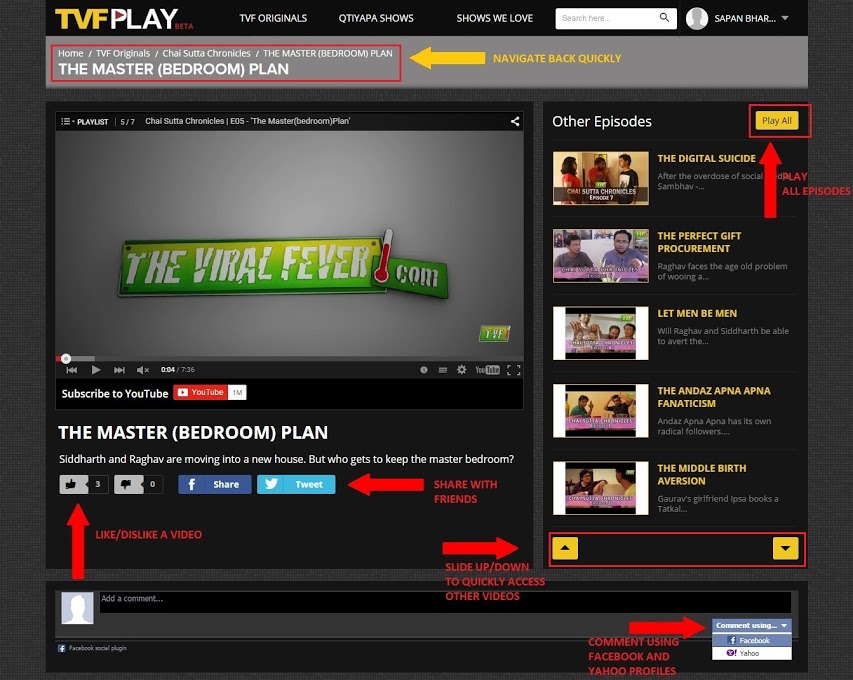 Click to Enlarge
Watch Videos Anywhere: Desktop, Smartphones, Tablets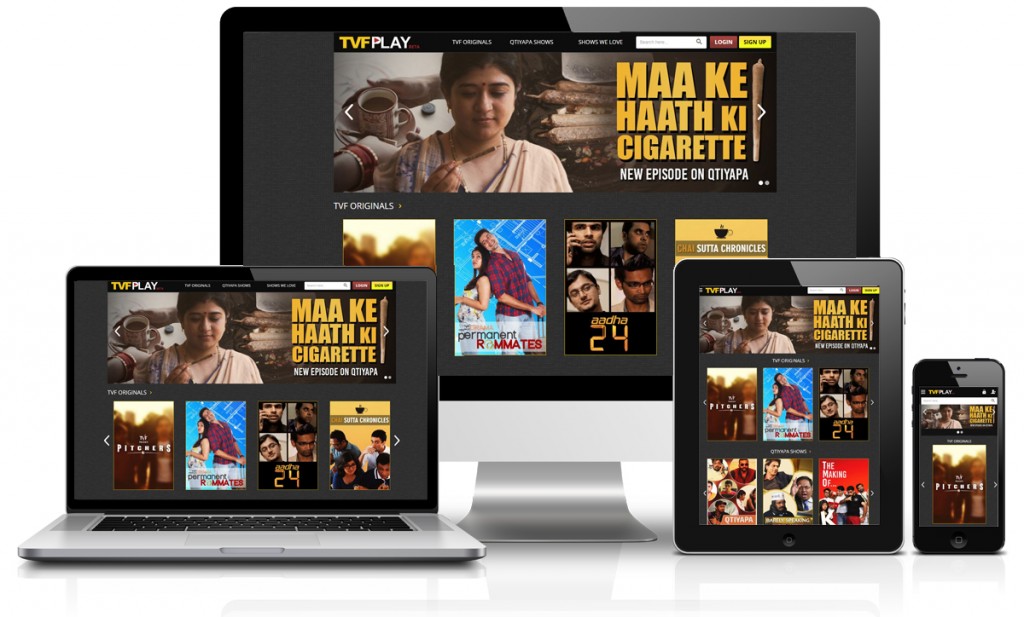 TVF Play is responsive. Of course, it is kind of a no brainer feature for websites in today's mobile era. But mind you, there are countless websites that are still not going for responsive design. Anyway, back to the point. Since, TVF Play is responsive, users can easily access it through all their mobile and desktop devices. Plus, being responsive will also help the site to appear in mobile results, as Google now only shows mobile friendly sites in mobile results.
Make sure the growing mobile audience can find you.
Go Responsive
User Profile Options
Of course the site is built for users primarily, so we cannot wrap things up without mentioning a few features that registered users are provided with. So here they are:
Users are provided the usual profile editing and account management options
Users can share videos with their Facebook and Twitter friends
User can check their 'watched history' and manage it, like on YouTube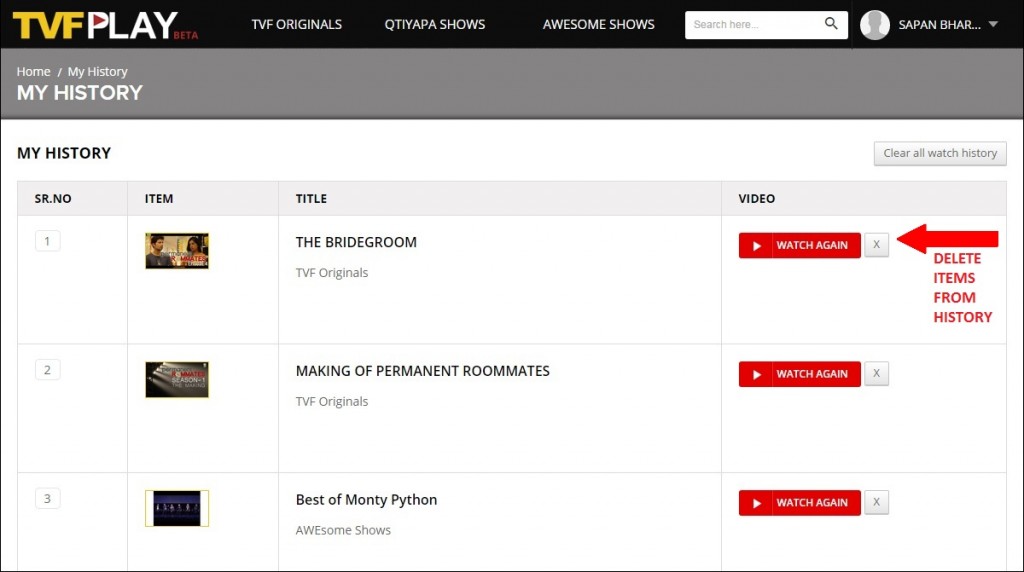 Click to Enlarge
Like they say in the food industry that 'food tastes better when served well'; similarly in the online world your digital product works better when it is showcased properly, can be accessed easily, and is easy to use. So, if you too want your digital product like software, mobile app, content sharing networks, web application, etc. to reach and engage more people, make sure it is presented professionally in the online world.
Need a professional website to boost your reach and sales?
Get in touch
NOTE – The website is in Beta stage, and going through updates. Hence, mentioned design and feature details are likely to change.