Gone are the days when people would take their cars to a washing station and wait in queues to get them washed! With technology taking up major space in our lives, people have got the convenience to avoid always dreaded queues.
Booking a car wash service is now easy with car wash booking system/websites and apps. These websites and apps are built by a particular car wash brand to reach people who do not want to walk into an outlet without a prior appointment. This way, apps, and websites can target online customers and offer a convenient car wash service.
The FATbit team did an in-depth analysis of car wash booking system/websites and apps as they have become a popular service and have a rising market. We have gathered research for aspiring entrepreneurs to read and analyze before they plan to launch a wash booking website or mobile app.. What follows here onward are elaborated business model, revenue model, market players and critical features of it.
Business Model
Car wash booking website and mobile app provides a platform to book a car wash service easily, keeping long queues and waits out of the picture. These websites and apps allow users to check the type of car they own and the service they want to avail according to the requirement. A date will be booked in the name of the user, the user simply visits the service station on the specific date/time. Following is the stepwise working of the website or an app:
Choose the type of service you are looking for

Select the name and model of the car you own

Fill in details like name, address, phone number, preferred date, outlet, etc.

Select the payment mode that you prefer

A receipt will be generated and sent to you on your specified email address and phone number

Take the receipt on the specified date and get your car washed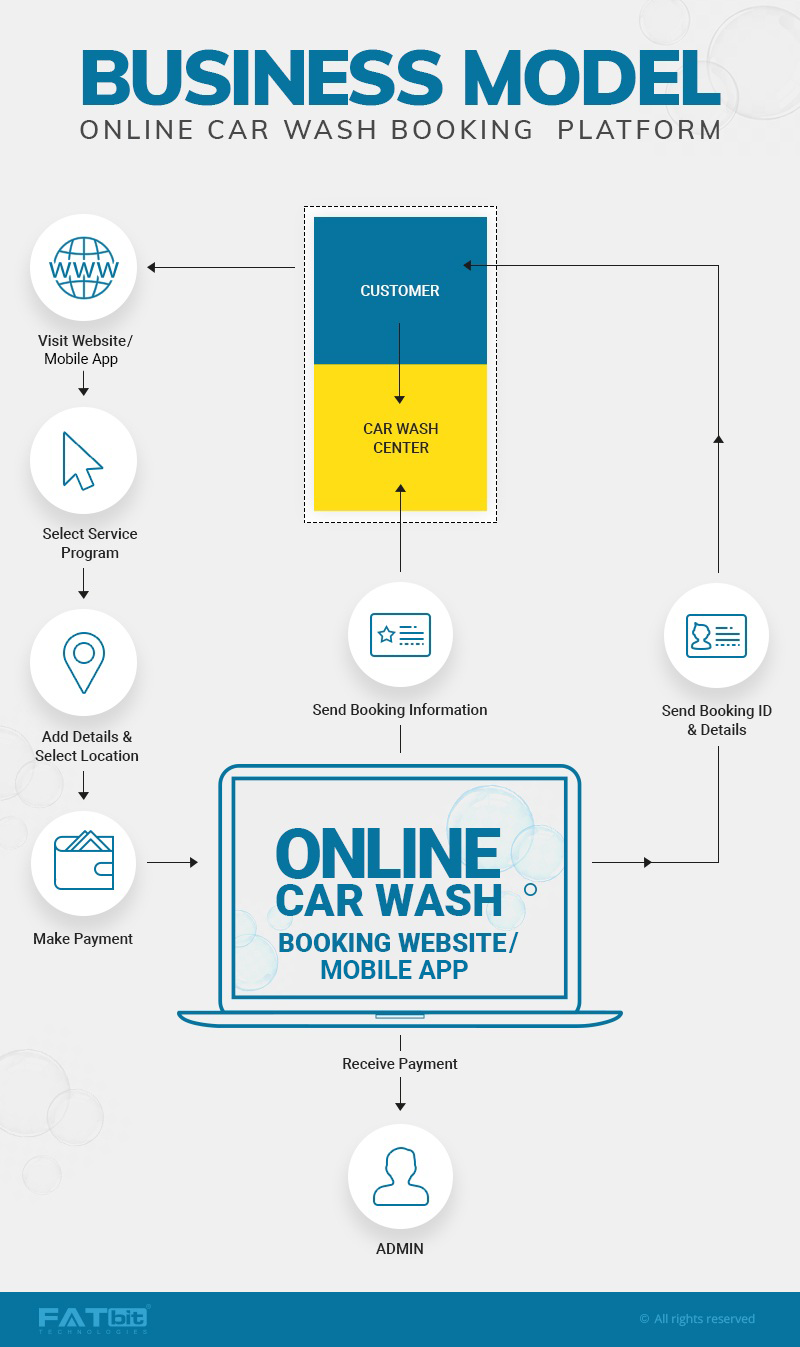 Market Players
3M Car Care (only web)

Mister Car Wash (only web)

Autobell Car Wash (only web)

Speed Car Wash (only web)

Express Car Wash (only web

)
Revenue Model
Primary Revenue Source
The primary revenue source of online car wash booking system/websites and mobile apps is the money they collect from washing customer's cars. The amount for every car wash depends on the type of car and the type of services a customer requires.
Secondary Revenue Source
Advertising
Online Car wash booking system/websites can advertise banner or sidebar ads of relevant websites. These ads can help in sending traffic to other websites. Advertisements of websites that offer full service of the car, car listing websites can grab the attention of the users to the advertisement.
Merchandise
Merchandise is a great way for car wash businesses to yield revenue. They can sell products to keep the car exterior and interior clean on a daily basis. People can be driven to the website not just to book a car wash service but also to buy merchandise.
Franchise
Every state/city needs a car wash place and for your business to reach every corner of the world. You can sell franchises to an aspiring entrepreneur. Mention details like square feet area needed, location, expected ROI so that people planning to invest should have a clear idea before they buy the franchise. The profits and the initial cost of the franchise can be a huge source of revenue for car wash booking websites and apps.
Also Read: Which revenue model would be ideal for your online business
Must-Have Features in Online Car Wash Booking System
Type of Car Wash
The car wash booking website and the app should allow its customers to decide what type of car wash they want to book. Depending on the requirements and budget of the customer, they can book the type of car wash they want. The website and app should have a category section to list various types of car wash, add price and details like services offered in the particular car wash.
Franchise
As discussed above, a car washing business can give away their franchise to aspiring entrepreneurs so that they can reach every corner of the world. A car wash booking website should have a section where business owners can check eligibility details before buying a franchise. All the information regarding franchise and contact details can be added in this section for aspiring entrepreneurs to read.
Merchandise
A car wash booking website or app can add a section where they can sell merchandise to earn extra revenue. It can sell products like Car shampoo, Car exterior foam, Car wax, cleaning gloves and towels. This can be an extra source of income which is why it is extremely important for websites to have this section.
Refer a friend
A happy customer would want other people to try your services, add an option to the website and app so that people can refer other people to your service. Car washing apps and websites can provide special discounts to customers who refer services to other people. This way, people would refer more people to grab the discount and the business will get more customers at the same time.
Blog
Nowadays, with the amount of importance given to content marketing, businesses must have a blog section on their website. A blog section is essential because it engages and educates the visitor. When done right, a dynamic and regularly updated blog section also helps in keeping the website high on Google searches.
About Us
The second most important page of a website after the homepage is the about us page. It is the only page by which the website and app visitors understand the business and connect with it. Through this page, visitors convert into customers. Here the business should explain how it works, benefits of the services they provide, their motto, etc
Testimonials
How can you and your visitors be sure about your service? The best way to assure your service quality is by testimonials from previous customers.
Portfolio or "Our Work" Kind of a Page
This is the section where you get to boast of your work. Upload pictures of before and after the car wash, add videos showing your staff working on a car and how they pay attention to all the details. This is where you can entice them through your work.
Location and Hours
Car wash booking websites and apps are only for booking a car wash service at the nearest possible location. Thus, the website and the app should have a section where visitors can check whether their location has an outlet.  So before visitors actually book an appointment to wash their cars, they will be sure that the outlet is nearby and the timing suits them. So a section where visitors can select the outlet and the timing preference should be on the website and app.
Gift cards
Some happy customers would want their loved ones to avail your services too; either they would refer you to them or give away gift cards on special occasions. Keep an option on your website and app where customers can buy gift cards of any amount feasible to them to gift to their known people. This will help your website drive more sales.
Build an interactive and customer-oriented car wash booking mobile app.
Pricing and offers
Every customer wants to know the price of the services they want to buy. Create a page solely dedicated to prices and the type of services offered. This page can also include offers and discounts which people can avail while buying the service. Keeping the customer informed before they buy the service is very important.
Shortcoming
Last minute cancellation
While analyzing different websites and mobile apps to prepare this business model post, we found that cancellation can be an issue for many businesses. When a customer books a particular appointment with a selected date and time, the business keeps that slot vacant for the particular appointment. If a customer has not paid beforehand for the service, they may not inform the business regarding any cancellation. This would hamper the time and productivity of the business.
To avoid this situation, businesses can charge a nominal advance when a customer books an appointment. This would make the customer come for the service and also inform in case of any cancellation.
Conclusion
Online businesses are no more only about shopping from the comfort of home. At its core, every online business has one motto: to make things easy and time–saving for customers. All the websites and apps have been taking care of the pain points of the customers, one of the major pain points is standing in any queue which is why Car wash booking websites and mobile apps have also gained acceptance among the masses.
Aspiring entrepreneurs can also start a multivendor car wash booking system/website to attract more and more traffic. This will be helpful for car wash businesses as they do not have to individually start a website or app instead they can collaborate with multivendor websites.