Getting a simple business card often seemed to be a huge hassle for small businesses owing to the fragmentation printing market witnessed for a very long time. Moreover, the cost was also an issue with smaller orders. As technology came to the forefront and online stores for custom clothing became a norm, a new business model emerged that had the potential to revolutionize the overall printing industry. The market behind printing stores is huge and online stores like Vistaprint and Solopress have been able to tap into this sector. From business cards to leaflets, these stores offer a one-stop gateway to everything related to printing. Taking cognizance of this market, FATbit did an in-depth analysis of website functionality and business model of printing based online stores in order to enable entrepreneurs to build a similar website. Before we look at the necessary website features, let's dig into the business model in order to have a clear picture.
Business and Revenue Model of Such Websites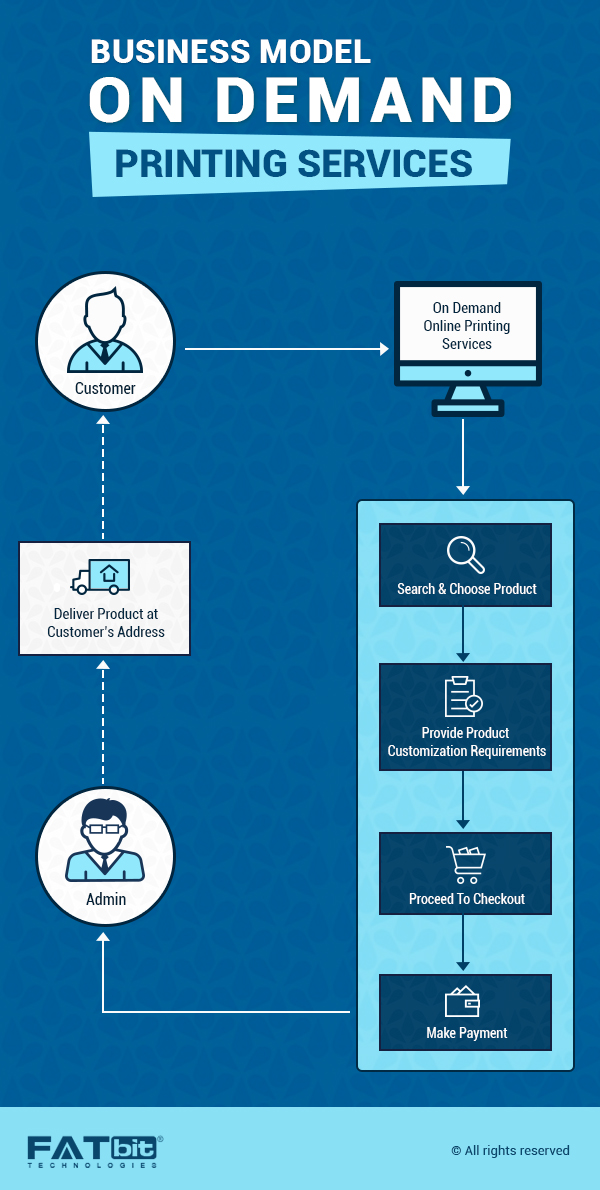 The business models of such websites revolve around targeting small-run orders that are conventionally denied by large scale offline printers. Such a website creates orders in bulk and uses machines to process more material at once, acting as a large-volume distributor for small-volume orders. This cuts cost significantly, which is passed on to the customers.
Leading Players in the Global Market of Online Printing
Solopress.com
VistaPrint.com
Overnightprints.com
Shutterflyinc.com
Instantprint.co.uk
Gotprint.net
How is the Printing Process Undertaken?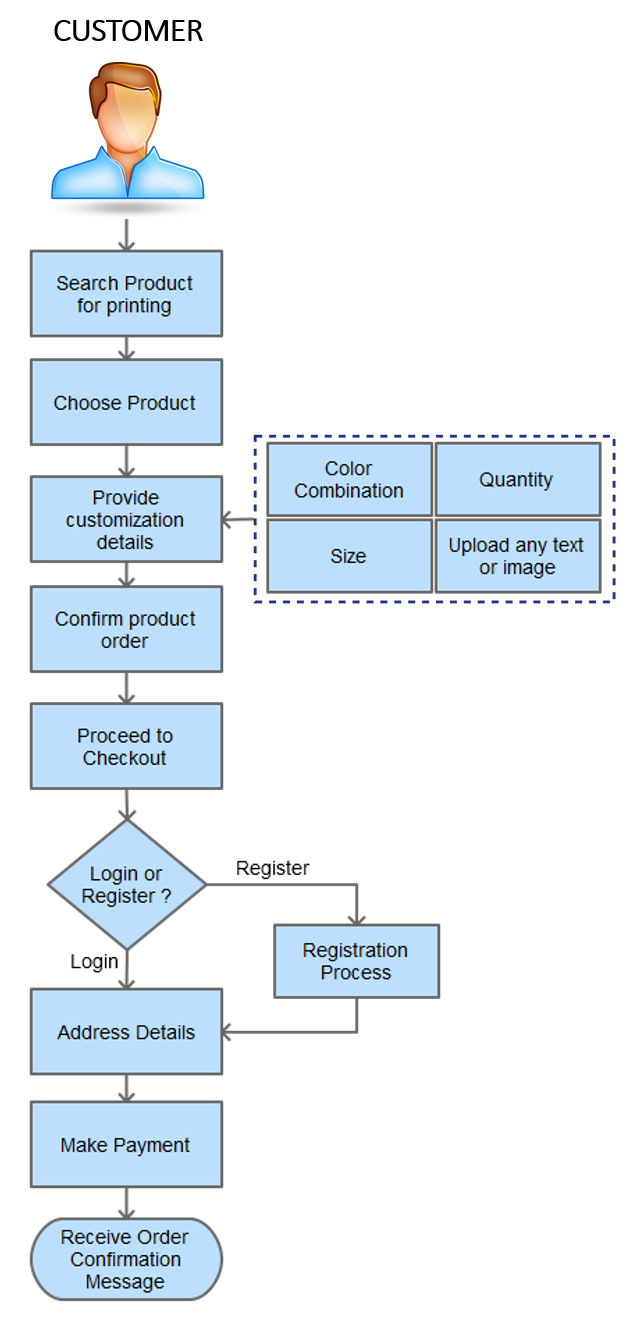 The orders are processed online and the job is printed using a formula based on the type of job, paper stock type, print run quantity, finishing (if any) and ship-by dates, among other factors.
There are specific sizes, paper stocks and ink colors within each category. Using this approach, similar jobs are ganged together resulting in more efficiency.
When it comes to proofing, user can handle it at the front end before placing the order. This way the chances of errors become null.
Want to Know the Cost of Developing an Online Printing Website? Send Your Query
Key Website Features
Online printing website is a niche market, somewhat similar to online custom clothing website as both allow users to get custom made products and let them choose design, size, etc. This is why it should incorporate user-engaging design clubbed with innovative features in order to create a unique identity. Let us go through some of these critical areas to identify essential website features of an online printing website.
Homepage Design
The fact remains that homepage design is an essential part of any website. It is the face of an online business and holds the power to make or break the user experience. While analyzing various online printing websites, we realized the oldest businesses still have the old themed home page but there are few that have worked hard on their index page. Let us look at two of such popular websites. Solopress has a very distinctive homepage design with well laid out items in the form of a grid. Rather than squeezing all the categories in the menu bar, it has chosen to lay all the items on the homepage itself. The overall theme of the website is also subtle and pleasing to the eyes. On the other hand, Vistaprint chose to go for banner images on the homepage along with CTAs, which does appeal to consumers a lot. There is also a section of featured products on the homepage along with testimonials and reviews. Vistaprint has a very refined theme; there is no use of bright colors in order to give the website minimalistic look. These are two distinct examples of home page designs, if you want something new on your website, learn about the trending home page design practices. Other important parts of a printing website (after homepage) are as follows:
Menu Bar
Online printing websites cater to a wide array of items from T-shirts to business cards. This is why menu bar becomes highly crucial in terms of navigation. FATbit analysts recommend that the menu bar must be segregated into different categories and sub categories making it easy for the user to find relevant items. This also removes the hassle of moving from the main category to a subcategory.
Featured Products
As discussed earlier, this is one of the most vital sections of the homepage. Reports have suggested that having featured items on the homepage increases the buying tendency of users. However, it is essential to note that the products featured on the homepage must gel with the overall design of the homepage and not look out of place.
Also Read: Essential Website Features Required to Launch a Digital Downloads Marketplace
Reviews and Testimonials
When it comes to online businesses catering to a niche market, the biggest hurdle in front of them is garnering user trust. The best and the ideal way to achieve that is displaying user reviews and testimonials on the website itself in a prominent location. This not only boosts user confidence in your brand but also helps in increasing conversion rate. We observed Many  printing websites have followed the approach of displaying users review right on the homepage.
Help chat
In the current ecommerce era, there are several new business models mushrooming every now and then making it difficult for a new user to get accustomed to each one. This is where a help chat feature comes in handy. One important aspect to keep in mind is that the function of a real-time help chat cannot be carried out efficiently with an email-based messaging system. In this age and time, you need a 24X7 chat support to offer immediate service and avoid the situation where users have to wait for every reply. All printing websites have different provision to entertain queries of users, some use FAQ, some chat, email and some brands offer all of these features.
Shop by Category
The best solution for product discovery on printing portals is to segregate everything into different categories. This can be either done in the menu bar or even homepage. Both Solopress and Vistaprint have taken the same stand making it easy for the consumer to order the desired product.
Price Estimator
This is one of the key criteria, which has made online ordering of printing products highly feasible. The fact remains that such a marketplace revolves around making custom products. There is a whole lot of customization involved starting from the type of paper to size. This is why it is crucial that an online printing website has a price estimator in place, which can help consumers deduce the final cost.
Build a custom website to start Online Printing Business Contact FATbit
Create Your Own Tool
As discussed above, this business model is driven by customization making it easy for the consumers to create their own custom business cards, leaflets, etc. The "create your own" tool not only has to be simple to use but also include all the required features necessary to build the required product. You can incorporate a real-time editor, which can edit each aspect of the product from size to design and quantity. FATbit analysts recommend the option of partially saving the design, which can be edited at a later stage.
Item Page
Besides creating your own tool, the website should also have item page where users can just select the predefined option to shop for a product. It is crucial to note that the prices associated with the selected option should be in real time and change as per variations in the options.
Checkout
Most of the ecommerce stores do not emphasize much on the checkout process or the cart. But time and again it has been found that the average abandonment rate of the shopping cart is staggering 68%. This means that every three out of four people abandon the shopping cart for one reason or the other. This is why the online printing store must have a user engaging checkout process. Keep it minimal and focus on security of transactions. These are the two most important factors for users.
From manufacturing to technical efficiency such websites work on several arenas trying to streamline the overall printing process starting with user engaging frontend to efficient printing process. There are several channels like sales and delivery you need to look into; along with it, you also need to take cognizance of key partners like manufacturers, suppliers, logistics, and payment processing partners.

The idea behind online printing store is unique and works on the same model as that of an online custom clothing store. This is a niche market with user base looking for something out of the ordinary. In order to entice these users into using your service, you need to have a website design that can relate to the design aesthetics of the items. Just incorporate all the above-mentioned features in order to make the website successful.
Get in touch with FATbit for more assistance regarding web design/development and marketing your printing website.