Over the years, the custom apparel platform has gained immense traction among users. Gone are the days, when people used to prefer clothes sold to the masses. Now it is all about unique and eye-catching designer clothing. This is where platforms like Teespring, Teezily and Teerana come into existence.  We created this post to explain the business and revenue model of such platforms along with unique features that have made them a hit among t-shirt lovers across the world. But before anything else, let's understand the business model and know how such platforms make money.
Business & Revenue Model
Using these platforms, users create campaigns in order to sell custom T-shirts. Users design and market the product themselves. In exchange, the platform fulfills orders on campaigns that have reached their sales goal and ships them to buyers. The platform neither prints t-shirts itself nor produces the apparel that buyers receive. Both of these services are outsourced to third-party brands.
The orders arrive at buyers few days after a campaign ends, which includes time for the t-shirts to be sourced, printed, and delivered. The profits are determined by three main factors – the type of product chosen, the amount of colors in the design being used, and the price set by the campaign creator.
The use of higher quality products and designs with multiple colors result in an increase in base price. The profit from the sale of t-shirts is shared both by the platform as well as campaign creator.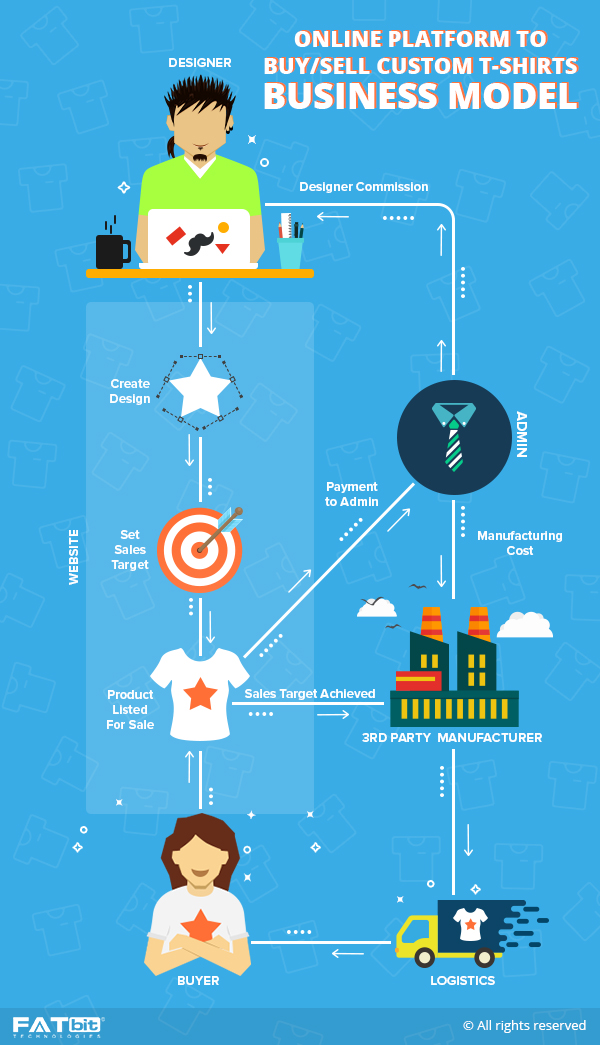 Now let's find out how the overall process works both for sellers as well as buyers.
In-depth analysis of how the platform works
Sellers Section
Launch a campaign: Use the online designer to create the perfect tee design. The designer can also upload their own design or choose one from the library offered by the platform along with clip art & font styles.
Set a sales goal: Designer decides on the number of shirts he is planning for sale. This is the minimum number that needs to be sold for the shirts to be printed. The Minimum Selling Price for different products & styles is different.
Add Brief title & description for explaining the campaign: Designer can add Campaign Title, Description & Campaign length etc. for explaining the cause of artwork.
Share & Spread the word: Share the campaign page with supporters & collect pre-orders towards the designer goals. There is no risk for a buyer to pre-order; they will only be charged if the goal is reached.
Reach the goals for the shirt to get printed: Designer can continue to sell shirts past their goal until the campaign ends. Once it does, the platform handles printing as well as shipping and designer gets a check for the profit.
Buyers Section
Find and add a t-shirt to the cart.
Buyer may see a "Pending Charge" during the campaign, but the platform does not withdraw any money from buyer's account until the order is processed for printing and delivery.
Domestic orders arrive within a speculative time from the end of the campaign, while international orders take few days extra.
If the campaign does not reach its sales goal and is not profitable, then the buyer is not charged and the platform cancels the payment authorization within 24 hours of the end of the campaign.
Flow Process – Product Purchase

Now that we have a brief idea about how this business model works, let's take a look at all the competitors to get an overview of the market dynamics.
Chief Competitors
Teespring.com
Teezily.com
Design4t.com
Teerana.com
Teeleap.com
Fabrily.com
Spreadshirt.com
Website Features
As the scope of this business model revolves around designing T-shirts, the website should also focus immensely on delivering an intuitive user interface. There should not be any clustering of images or text present on website pages. The website should all be about creativity and it must also be depicted in the website design. Let's study important sections key for the success of the website in detail:
Homepage
The homepage should give a clear message about what the site is about. The first fold should contain a search bar along with links to About section, Login, Create a Campaign and other important links. to make the user experience unique on your website, you can allow users to start creating Tshirt design straight away without the need for an account login. After the design is complete, you can ask users to login or register to move the process ahead. A nice and immersive banner image would also be beneficial on the homepage.
Media Coverage
In the current crowdsourced market, it is vital to have a connected audience. More importantly, in order to stand out of the competition, each brand must leverage upon its popularity. This is why you must have a dedicated section on the homepage where you showcases articles from prominent media firms. FATbit highly recommend this approach to entice users into using your online T-shirt designing clone website.
Featured Campaigns
It has been imperative for eCommerce platforms to showcase their featured items in order to increase their presence. The featured campaigns section shows the T-shirts that cross their goals multifold and are most popular among users. It is important to understand that this section only shows number of t-shirts sold and not their cost.
Another use of this section can be to highlight T-shirts from premium members. Users can use paid services to highlight their T-shirts on the homepage. this will give them better traction and more visibility.
 Footer
The footer of the website has to be kept minimal with few links to important pages. There can also be an option to change the language of the website, as well as social networking websites. From the design perspective, FATbit analysts believe that while launching an online Tshirt designing clone, one must focus on the footer as much as the other critical website sections.
Want an intuitive website focused on UX and conversion?
Talk to pro designers
Search
It is vital to understand that search is one of the core aspects for Tshirt discovery when it comes to consumers. This is why you do not any leg room to go wrong on this feature. After brainstorming for some time, FATbit analysts came up with several options that would make the search feature of your website pitch perfect. You can adopt a unique approach to keep the search, minimal yet effective.
The search should show instant results depending upon the query.
Rather than opening a new page, the search would show a Bootstrap dialog.
Results are based on relevancy and but users can streamline the search using advanced filters.
Each product shows the name of the T-shirt, number of items sold, time left, Images of the T-shirt and price.
This minimal method, however nifty, offers advanced functionality via advanced filters.
Login/Signup
With a single link to the login page on the top fold of the website which doubles as sign-up, you can streamline the overall process. In addition to one-click login via social networks you can also offer the traditional way of logging in via email. The same is the case with sign-up which would only require Email and password.
Campaigns Overview
This section houses all the campaigns of the creator as well as the earning from this campaigns. The overview section can be divided into three parts:
Products orders
Profit (Today, Active, All Time)
Amount to be paid
Users can also view all their campaigns and filter them based on dates. A search option can be offered to users making it easy for them to find relevant campaign.
Storefront
The philosophy behind such platforms is to ensure that its users have a full marketplace experience. This is why you can also offer a storefront option where sellers who have multiple campaigns can open a store to make their presence more visible.
The overall process of creating storefront includes:
multiple active campaigns.
Name and Description of the storefront.
Cover Photo.
Select campaigns to showcase in storefront.
Messaging
A connected community is an essential part of any crowdsourced platform. But you can go a step further by adding an innovative marketing tool for the messaging service. Using the messaging tool, sellers can send messages to previous buyers via email. They can also choose to message buyers of a particular campaign or create a group for bulk messaging.
We believe this method to be highly effective, where sellers can increase their productivity by reselling to previous buyers. Make sure your online Tshirt designing clone script carries such features.
Promotions
Ecommerce websites often offer promotional discounts to buyers. If the sellers feel the need to increase sales by doling out discounts, then you can have a promotion section where users can generate coupon codes.
When applied, promotions are deducted from a campaign's profit margin. If there is not a sufficient profit margin, the promotion will not be eligible.
In order to create a promotion, users must input:
Promo ID
Type of promotion
Discount price
Expiration
Create Campaign
Campaigns are the backbone of such platforms, and this is where users can enthrall the buyers with their creativity. The tool offered by your website needs to be highly intuitive. Let's take a look at the overall process in order to have an idea of creating campaigns.
Flow Process – Campaign Creation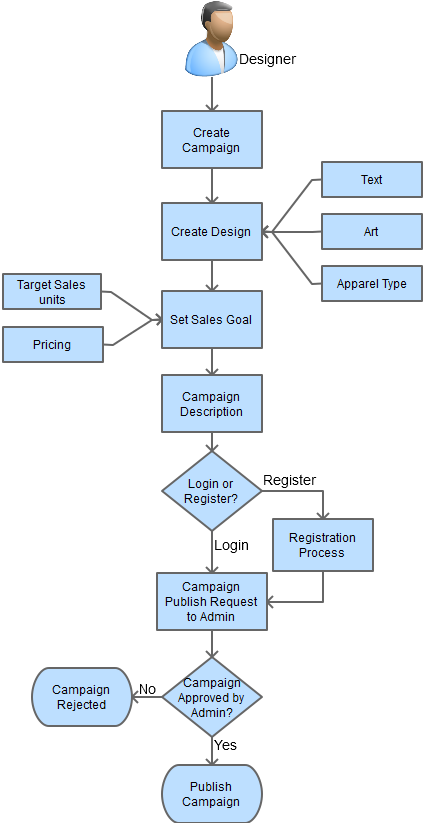 DesignT-shirt
The first step towards starting your campaign involves creating your T-shirt. This includes:
Enter Text or Art or both in the Printable area
Choose Font
Text/Art color
Outline and its color
Alignment options
Style of the T-shirt
Brand of the T-shirt
Color of the T-shirt
Users can print on both front and back of the T-Shirt. There can also be a cost counter available which changes depending upon the design of the shirt.
Set a Goal
After users have created their T-shirt, the second step involves setting the goal for the campaign. The options available to the users include:
Number of T-shirts that user wants to sell.
Selling price of each T-shirt.
Additional T-shirts with same Design.
You can also provide estimated profit margins based on the values provided by the users. Users can also save and preview the campaign beforehand before going further.
Add Description
The third and the final step in this process involves adding campaign title, description, tags, length of the campaign, custom URL and shipping options. Users can also have the option to make their product page informational by adding links and images to the description.
Preview Campaign
Before launching any campaign, users can have an option to preview the campaign page. If they need to make any changes, they can easily make them. The campaign page shows:
Title of the campaign
Front and back photos of the T-shirt
Description
Available styles
Sharing buttons
Number of items sold
Number of days left for campaign to end
Booking
Checkout
You should provide multiple options to buyers for purchasing T-shirts. They can either use their credit cards or checkout with PayPal. They should also have the option of adding another style, size or color to the cart.
Referral Program
In order to multiply user base and promote interaction, you can adopt a referral program. Using this, users can invite their friends and help them start a new campaign. When they start a new campaign, both users earn some money per shirt after it is sold.
Blog
A blog is the easiest way for brands and organizations to connect with target audience. It also helps share vital information with users. TeespringThis is why you need to have an informative blog, designed beautifully with topics ranging from new products, new features, contests, events, and tips.
Track Order
As your platform would undertake shipments of the product itself, there should also be a tracking option available for users, where they can track the delivery of the products via order number. This feature is a must-have for ecommerce platforms as it adds to the convenience of the user.
Final words on Launching your own site
We have covered this unique business model from every angle. Although it is based on a great concept with strong growth prospects, a website without the features mentioned by us, will have a difficult time competing in this niche market. Custom apparel platforms are certainly the next big thing in ecommerce industry. If you are planning to launch a Kickstarter for t-shirts, then, this is the best time to do.
Some focus areas to become successful

Approve campaigns yourself. See and analyze before listing for purchase. Genuine designs should be published.
Sales Target a must: Creating and selling 2-3 t-shirts is not what this business describes. It's a wholesale market but with booking before manufacturing.
Product Quality: Designing is in designer's hand but product quality is to be ensured by you so ensure quality of cloths on which designs are printed.
Share success stories. Tell artists and buyers about people who achieved success due to existence of your portal.
Make sure you pick a flexible website script that includes all the above-listed features. In case you want to launch something unique, consider hiring an experienced team of designers and developers.
Want to know how much an online T-shirt designing clone will cost?
Get a Quote