Just a couple of years ago, who would have thought online pet food delivery would be a viable business idea? We are all aware of the exponential growth in the online food ordering industry. Take a good look around the internet and you will find abundance of online food businesses targeting different niche. For a pet lover like me (dogs, to be more precise), subscription based meal delivery for pets is as remarkable as the first lunar launch. After all, I do love my dog to the moon and back.
In simple words, this post is all about pets, so whenever and wherever I say (or write, for that matter) dogs, please do infer it as any pet in your life.
Pet food delivery business is a perfect solution for dog owners repeatedly experiencing trouble in deciding the right dog food. Dog owners now don't need to spend time and efforts in planning or preparing the right diet.
Needless to say, if you want be an active part of the food industry, you must dig into the business model of online pet food delivery first. A deeper investigation into this niche will help you frame a successful business plan.
Let's take a look now…
Business Model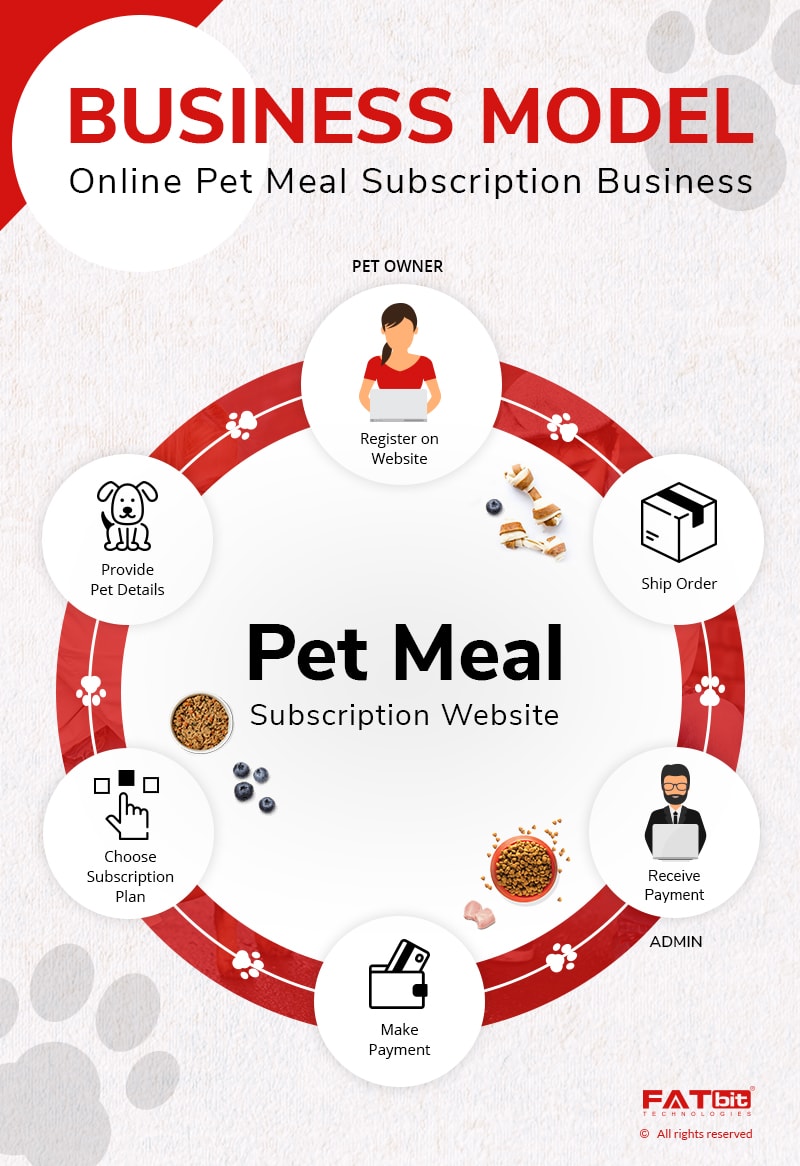 Subscription based Meal Delivery Websites provide owners with a convenient way to get delicious food for their four legged furry friends. Precisely, the website gives an option to users to fill information regarding the dog and choose ingredients they want to be included in their meals. Below is a detailed depiction of how it works:
Register on the website. Add your information for ease of communication.

Add your dog's details including, but not limited to, breed, age, weight, etc. for better recommendation of meals.

A menu consisting of the right meals or dog feed will be displayed according to the information put by you.

People have option to choose from the wide variety of ready made dog feed or pick ingredients from which a customized meal will be prepared.

After completing the process, a food package will be delivered to your doorstep. This package will be delivered regularly after a fixed interval.

Until the customer chooses to opt out of the subscription, a food package will be delivered and a fixed amount of money will be charged to the customer.  
Market Players
Few of the top players in this field are The Farmer's Dog, Pet Plate, and Nom Nom Now. Most of these businesses have established their online presence between the years 2014-2015. This means the market is not tapped by any new business with more innovative features yet; there lies the opportunity for new pet food businesses.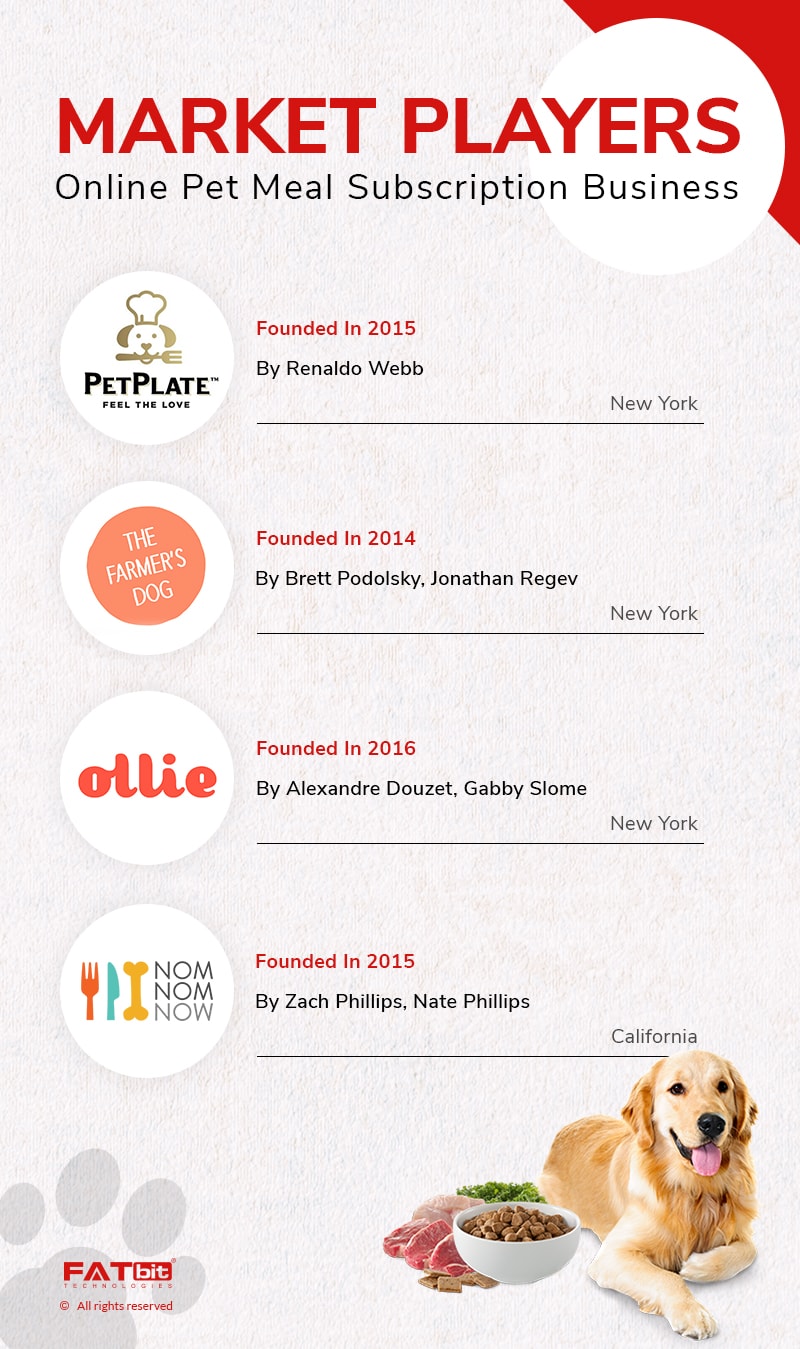 Revenue model
Primary revenue model
Subscription
The primary source of revenue for subscription based online meal kit delivery for pets is the amount the gather from subscription. This type of business model yields continuous revenue from the customer to the business. The cost of the meal kit – the investment for each meal kit preparation = Profit. Subscription based revenue model ensures that the customer gets the meal kit delivered on regular interval and business earns revenue continuously. It is a steady source of revenue for these businesses.  
Secondary revenue model
Advertising: Partner with an online or offline business to display advertisements on your website. The cost of advertisements depends on the size of its size, duration, location and page where it should be displayed, etc.
Shop: Another way to earn extra revenue is to sell grocery and merchandise (leash, collars, tick collars, winter jackets, anti-flea and anti-tick shampoos, etc.) on the website itself. Create a section where you can sell groceries, recipes, cookware, utensils, guides, etc. This will not just help the brand in earning the extra revenue but also helps in increasing the brand's online presence.
Premium Membership: Offer premium membership program to your loyal and repeat customers at nominal charges. In this program, you can offer them extra benefits such free shipping, extra meal kit, Veterinary advice, etc.
Also Read: 3 Major Predictions for Online Businesses in 2018
Critical Features
Testimonials – People don't buy from people they don't trust. And when it comes to meals for the pets, concerns set a new high. Talking about myself, I don't just trust what a business has to about itself, I prefer testimonials. This is where words of vets and dog owners matter the most to me. Use the best trust building factor and watch your dog food business soar high.
Recommended plans– Not all owners know what kind of dog food is best for their dog. Several questions like which food is good for him, what ingredients will help in keeping him active come into the picture. When a user registers on your website, recommend them plans that will help them choose pet meals in a guided way.
Sign up- Create an intuitive and engaging signup page and form so that first time visitors feel a desire to sign up.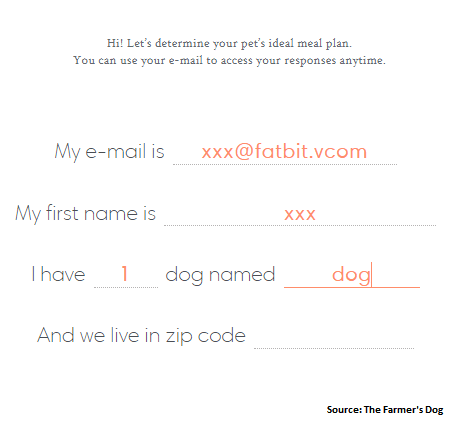 Pet's name- When users register, make sure you do not just take the details of the pet owner but also gather some personalized details of their dog. Add a section where you ask the owner their mutt's name. This gives a sense of personalization which makes the customer stay loyal to your website.
Breed- Ask for dog breed and age right at the time of registration itself. This will be helpful in recommending meal plans accordingly. Every breed of dog has different requirements, which is why the meal kits should be prepared with great care. This section will help you do the same.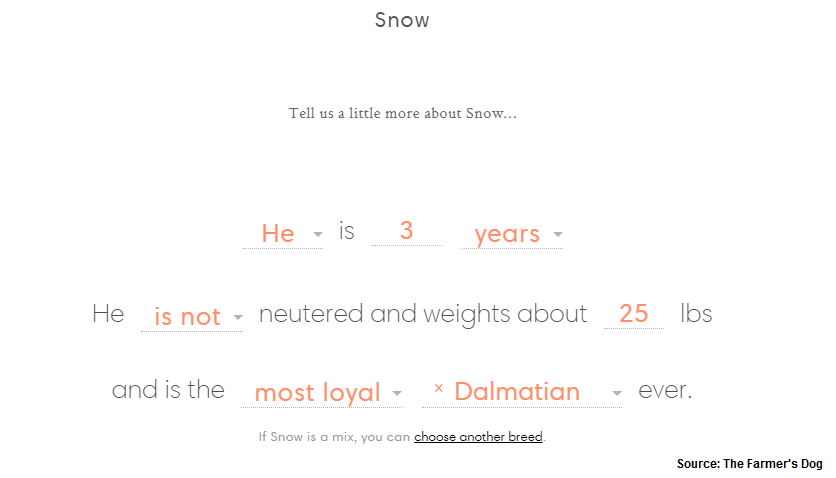 Blog- A blog section is important for mostly all websites, but plays even more important role when you are starting a pet food delivery business. A lot of visitors on your website would be first-time dog owners. They would be confused about a lot of things. A blog section can have content which impart knowledge on how to take care of your dog. Once they understand more about their dog from your website, they are more likely to order a meal plan from you.
DIY- Not all the visitors on your website would want to order pre-packed meal kit from you. Some would want to cook for their dog. Subscription based meal delivery for dogs must have a section where people can pay some money and download recipes they can follow at home for their royal canines.
FAQ- Like mentioned above, first-time dog owner and many other dog owners have various questions related to the meal for dogs of different ages. Some of these questions are common among many of the dog owners. Rather than answering the same question repeatedly, keep a section where all the common questions and their answers are posted. When it comes to their four-legged furry friends, people are really concerned for their food and diet.
How it works- With the increasing number of online businesses, there are a lot of business models. Giving your audience a clear picture of how your business works will help them trust you. Subscription based meal delivery must display their working in a separate section. The best way to let the customers know about your work is through video content.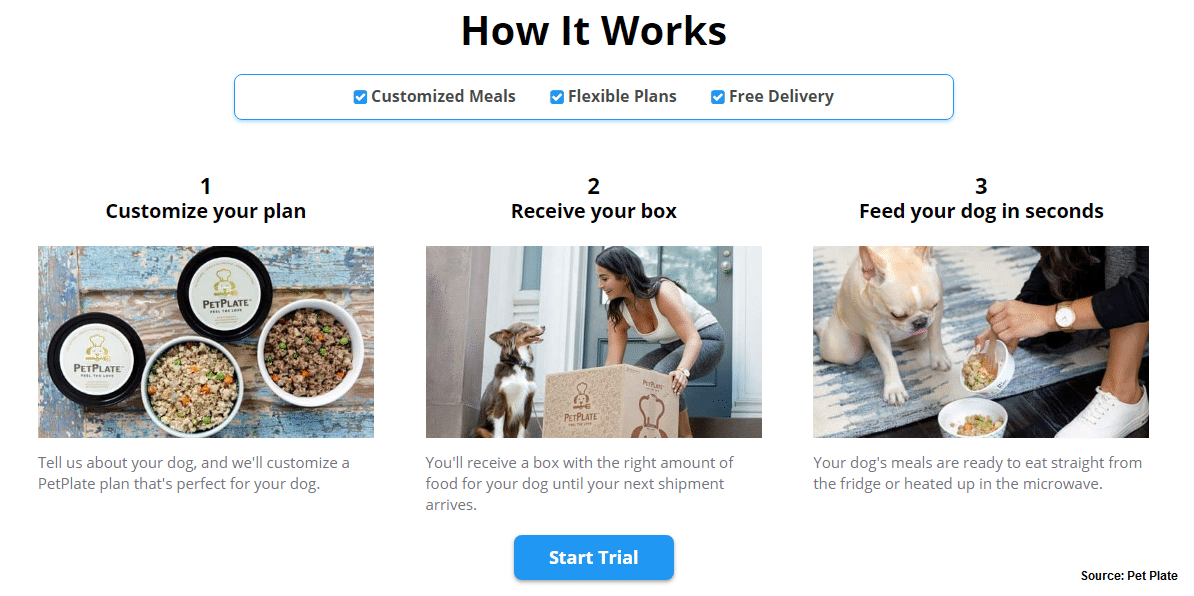 Trial meal- When it comes to food, people want to test and try before they become your customers. And when it comes to feeding their pampered pooch, people want to check if they would like the meals that the website prepares. Provide your customers with an option to book a trail meal before they actually subscribe your product. This feature will not just help customers make a clear decision but also portray that you fully trust in your quality of food.
Recipes- When a person registers on the website, the brand recommends them meal plan they they can serve to their dogs. Other than that, websites must have a section where they can choose the ingredients they want to include in the meal. Let your subscribers select ingredients they know their dog will relish and suggest a recipe to make a meal out of it.
Unique Selling Proposition- The homepage of the subscription based meal delivery for dogs must have their unique selling proposition. The homepage must have a section that entices the customer to subscribe and buy their products. Mention your meal's selling point like tested on many dogs, freshly prepared, personalized meal kits, easy to serve, does not include preservatives, fewer allergies etc.  This is portrayed as a trust-building factor among the owners of the dogs.
Also Read: Tap into Customers' Needs to Find a Solid USP for Your Online Food Ordering Startup
How to choose meals for a mix breed dog- Not everyone owns a purebred dog, and it's ok. Not having the choice of entering what mix breed the dog is, it can come up as a major limitation. When selecting for the type of dog a person owns, it should include a category where people can choose "others" as many people have provided shelter to stray and mix breed dogs. Incase you do not have a clear idea what kind of food is suitable for mix breed dogs, take a vet's opinion. or you can also provide the dog owners with the option to select the type of ingredients they think is suitable for their dog.
Address The Pain Point Of Customers To Create a Successful Meal Delivery Platform
Suggestions
As our team at FATbit was researching on online food ordering and delivery business model, I found out that online meal delivery for pets is a relatively untouched market. Being a dog lover, I focused on what I want to see more of on the internet. But as I said, it's about pets. Very few businesses have explored the meal kit delivery for pets. So if you think that you will be able to produce food for other pets like cats, horses, fishes, birds, etc. then launching and Subscription based meal delivery for pets is a very profitable business.
Conclusion
Subscription based meal delivery for dogs is a rising market and only a few businesses in few countries have acquired the market. For aspiring entrepreneurs, there is huge market waiting to be explored. If you have already made the decision to launch a subscription based meal delivery for dogs then the above-mentioned content will help you make the final decision. Launch a feature-rich and intuitive user experience with FATbit.