Online restaurant & table booking platforms create the hot new trend that meets the needs of today's mobile generation perfectly. Leading player in this marketplace, OpenTable, claims to cater over 16 million people across the world per month. Other popular online restaurant booking services like Yelp SeatMe & Eveve have similar stats to highlight.
For any aspiring entrepreneur, these facts and numbers are nothing short of alluring. And if you find yourself in the same zone where you are pondering over the idea of starting a similar business, then you have come to the right place.
In this post, we will explain everything that you need to know about launching an advanced online restaurant reservation platform – it's business model, essential website features, prominent offerings, UX implementations and more.
Let's begin with the business model & revenue generation channels.
Business & Revenue Generation Model for Online Restaurant Reservation Platforms
Online restaurant reservation platforms primarily provide a platform that allows people to make online table reservations at their favorite restaurants in a seamless & hassle-free manner. Diners can choose a restaurant based on location, timing, cuisine, and number of guests. Apart from this core marketplace feature, these restaurant booking websites maintain restaurant listing with ratings, reviews & menus to help out diners in deciding the right dining outing as per their specific taste.
For restaurants, these portals offer restaurant reservation management system; a software that helps restaurateurs with online table reservation management, table arrangement, party booking management, guest recognition in real time, email marketing, and more.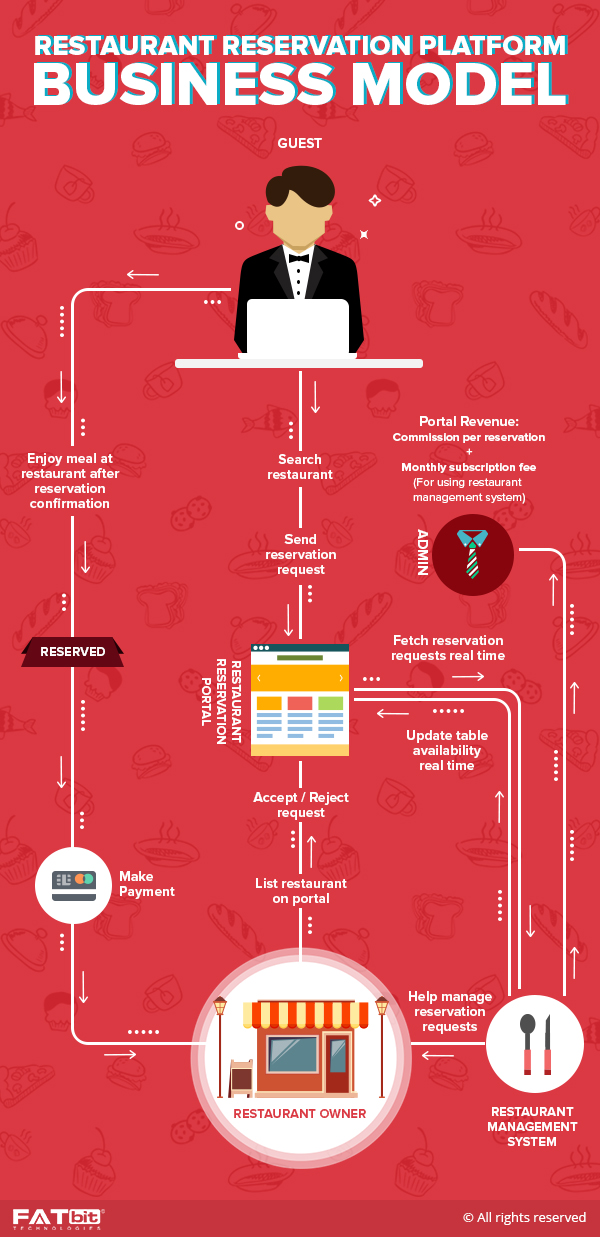 Also Read: Online Food Ordering Marketplace: What Makes It a Good Business Idea & Future Opportunities
How These Portals Make Money
Online restaurants reservation platforms can make money through following revenue generation channels:
Commission cut on each online booking
Primarily, such websites make money by cutting a certain commission on each restaurant table booking. Depending on the market you are serving, you can impose a fixed amount or a percentage of the booking price as the commission.
Restaurant Reservation Management System
Other major revenue channels would be the monthly subscription to the restaurant reservation management system. You can create different plans by offering a different set of features under each (such as basic plan, premium plan, etc.) and decide the price accordingly.
In addition to these, you can also make money by offering banner ads on your website, as well as on-site promotion to listed restaurants.
Now that we have over viewed business model & different revenue generation channels for online restaurant reservation platforms, let's learn about the website feature you would need to implement in your restaurant reservation website script.
Online Restaurant Reservation Platform: Essential Website Features
A restaurant reservation website should not only provide a platform to connect diners with restaurants, but also offers features & services to deliver a rich experience to its both type of audience – diners & restaurateurs. Let's start with features offered to Diners.
Features for Customers/Diners
Restaurant Search
The restaurant search tool box should be right there in the first fold area of the homepage so that the visitors can begin with the search right away. The search box should have following input fields & options:
Number of guests
Time
Date
Locality
Cuisine
Restaurant's name (optional)
Quick Suggestion: To make the homepage of your website more engaging, you can feature some top restaurants and testimonials on it.
Restaurant Search Results
As a diner does a custom restaurant search, a comprehensive search result page should appear. Make sure to add following details & options on the restaurant search result:
Filtering options such as by specific locality, cuisine, price, timing, and restaurants that award 1000 reward points on each reservation.
Sorting options based on rating, popularity, and alphabetical order
Viewing options – list, grid, and map view
Restaurant rating, cuisine offered, pricing range
Available timings
Restaurant Page
While the restaurant listing on the search result page should offer diners basic information about the restaurant, a dedicated restaurant page should be there to cover all the important details related to that particular restaurant. Below is a list of details & features that should be present on the restaurant page:
A reservation chart in a tabular format (rows and columns as timing & weekdays)
Price range
Option for users to save the restaurant for later viewing or booking
Restaurant's description
Cuisine offered
Photographs of the ambiance and cuisine
Menus (for breakfast, lunch, dinner)
Restaurant's contact info, opening hours, address and location in map view
Chef info (if applicable and relevant)
Restaurant's reviews and rating (provided by past diners)
Special offers, private dining options, etc.
Also Read: Features to Make Your Online Food Ordering and Delivery Website Succeed
Making a reservation
In order to make a reservation, a user must be logged in. Besides email address, implement the Facebook or Google+ signup functionality to make the process easier.
Registered diners should be able to proceed with the reservation simply by selecting the time slot in the reservation chart. Next step can be a popped-up form that asks diners a few basic details like name, contact details, special request, whether it is their first visit, etc.
Private Dining
Apart from table booking, your restaurant booking website script should also have a module for private dining to allow people organize private parties at their favorite restaurants. A similar search tool box can be implemented for private dining restaurant search. A few input and filter field you must remember to include here are:
Event size
Preferred neighborhood
Cuisine
Price
Seating capacity
As a user proceeds to contact restaurant after selecting one, a reservation form should appear with following notable fields:
Number of guests
Event type
Is event's date flexible? (so that restaurants can tell diners right away whether a reservation is possible or not)
Such features make your website more valuable for users, as well as engage them for longer stay. Make sure to implement such features in the script you use to build your restaurant reservation clone website.
How to implement website features to deliver rich user experience?
Learn with experts
Rewards Program
To make diners keep coming back to your restaurant reservation website, you must reward them every time they use it. For instance, OpenTable provides its customers reward points every time they honor a reservation. These rewards points can later be used as gift cards or as discounts in future reservations.
Gift Cards
Other than the reward program, you can also include a Gift Cards program to enable your customers to gift their loved one's gift cards that they can use to dine at restaurants listed on your website.
Top 100 Restaurants & Award Badges
To make the platform more interesting for diners and restaurateurs, you can play around with ranking and awards for restaurants. For instance, maintain a list of top 100 restaurants and revise it every month. You can rank restaurants based on their creativity, hospitality, consistency, and of course diner's reviews.
Apart from that, you can also have a program through which restaurant receive some badges on their page for achievements like 50 5-star ratings, 100 positive reviews, catering 1000 diners through the website, etc.
User Profile Options
In addition to the basic profile & account management options, you must ensure following user profile features in your restaurant reservation website script:
Reservations: Under this section, a user's past and upcoming reservations should be listed
Favorites: List of restaurants a user has saved on the website
Reward Points: There should also be reward point counter to keep diners updated on how many points they presently have
Preferences: There should a section where the diner can specify their favorite food type, preferred cuisines, etc. This information should be accessible to restaurateurs so that they can serve them better
In addition, you should also include a feature that allows a user to make reservation for other people.
Also Read: Live the startup dream – Start your online business with these ready to launch e-commerce systems
Help Section & Blog
Like any other ecommerce website based on a unique business model, you need to prepare & maintain a comprehensive Help or FAQ section. You can categorize the Help section as 'For Diners' & 'For Restaurateurs'. You can further subcategorize these sections based on the context of questions.
Besides that, also maintain a blog and post interesting food-related write-ups. Also, use it to inform your customers about your latest offerings.
Now that we have covered features for diners, let's discuss what you can offer to restaurants.
Features for Restaurants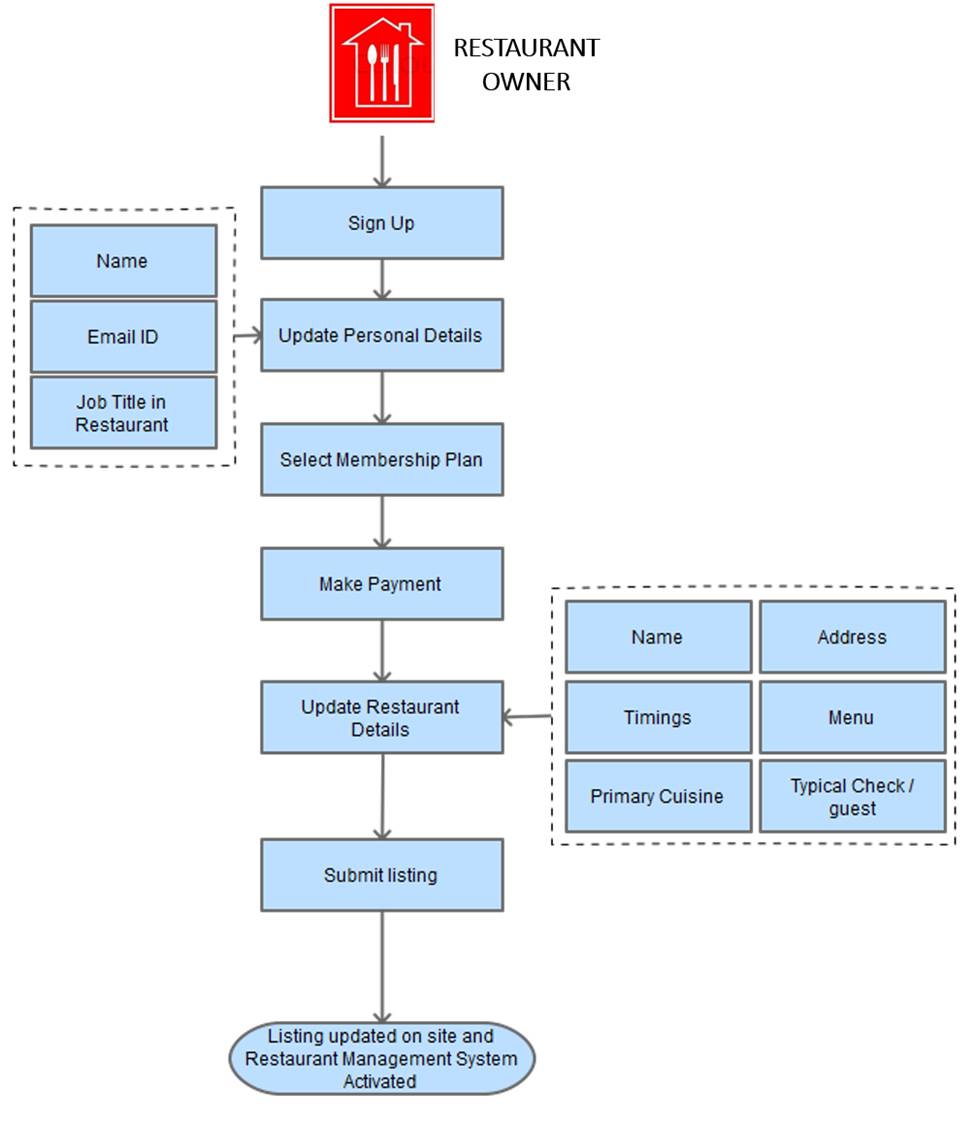 Apart from badges, getting listed in the top restaurants' list, and access to customers' dining preference details, your biggest offering to restaurants will be the 'restaurant reservation management system.
Here is a list of features & functionalities you need to implement in the restaurant reservation management software:
Floor Plan: Restaurateurs should be able to replicate the actual floor plan into digital format and manage it easily through a desktop computer or an iPad.
Table Combination: An option to combine tables should also be there to keep the floor plan flexible, especially whenever there is a need to seat a large group
Schedule: An important feature that will allow restaurateurs to schedule their dining hours and also list the days they are available
Reservation Management: Under this section, include options like checking reservation status for a later date or dining hour, currently available & unavailable tables, manage waitlist and field that marks accompanying number of guests
Diner-book: A record of all the past customers and their food & seating preference
Shift Overview: This section will keep the record of how many diners are visiting a restaurant within a particular time slot so that restaurateurs can arrange things accordingly
Server Section: The 'Server Sections' can help restaurateurs manage their staff more efficiently to provide better hospitality services
Other than the restaurant reservation management system, your website should also have a separate blog for restaurateurs, especially if you plan on competing with the likes of OpenTable, Eveve, and Yelp SeatMe. It will help you in generating additional traffic through blog posts. Planning on using a clone script to get started? Make sure it comes with blog functionality.
Additionally, providing such value-added offerings will certainly help you with the conversion rate.
Want to learn the secrets of higher website conversions?
Get Started
Online Restaurant Reservation – Business Model Canvas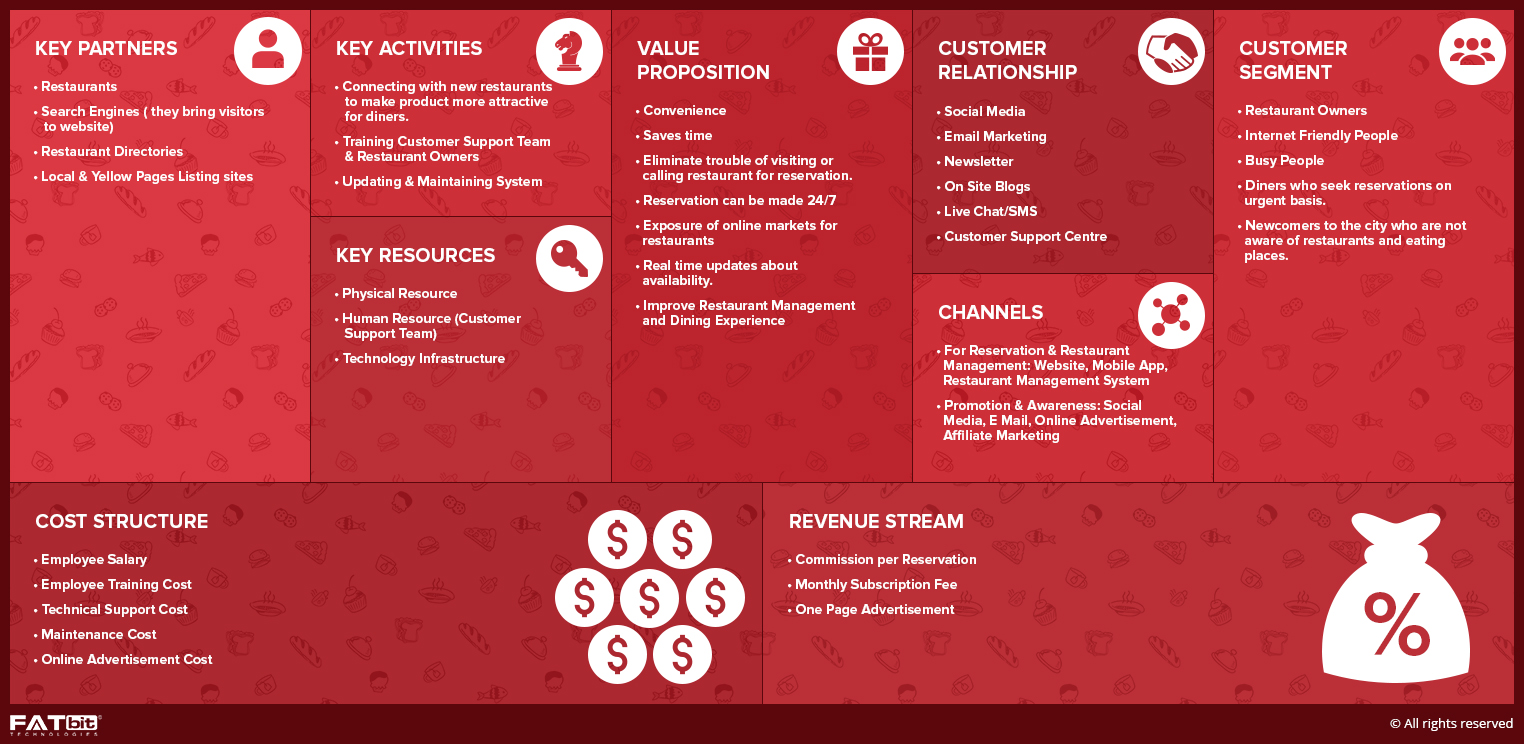 (Click to Enlarge)
Ideas for Scaling your Online Restaurant Reservation Business

Include Hotel Booking: Looking at the customer segment, combining hotel booking and restaurant reservation is one good way of scaling this type of business.
Build a Hotel Booking Management System: Since Restaurant reservation and Hotel booking management system are quite similar. Hotel Booking Management System will be a great addition to the existing product portfolio.
Start Pick-drop facility for premium members: Starting a pick and drop facility as premium membership program will make your business an exceptional one.
Also Read: Business Models That Throve Online Service Sector In 2017
Conclusion
In recent years, restaurant booking marketplace has caught the eye of many entrepreneurs. Many startups have been launched in different markets and most of them are making decent progress. But if you want accelerated growth like the OpenTable & SeatMe, you must be ready to build a comprehensive restaurant reservation management platform. That, along with feature upgrades we have suggested, will help you in reaching the heights you want to reach.
And, in case you want more insights regarding feature upgrades, then we are just a message away.
Request cost estimation for restaurant reservation platfrom
Ask professionals