Takeout and online ordering have become new norms after the arrival of the COVID-19 pandemic. It is evident from the success of Uber Eats, GrubHub, Eat24, and Postmates that starting an online food ordering marketplace is a promising idea in today's era. However, entrepreneurs looking to invest in the online food delivery market must have detailed knowledge of the business model, revenue model, and benefits of an online food ordering marketplace. This blog unveils various aspects that entrepreneurs must understand before launching an online food delivery platform.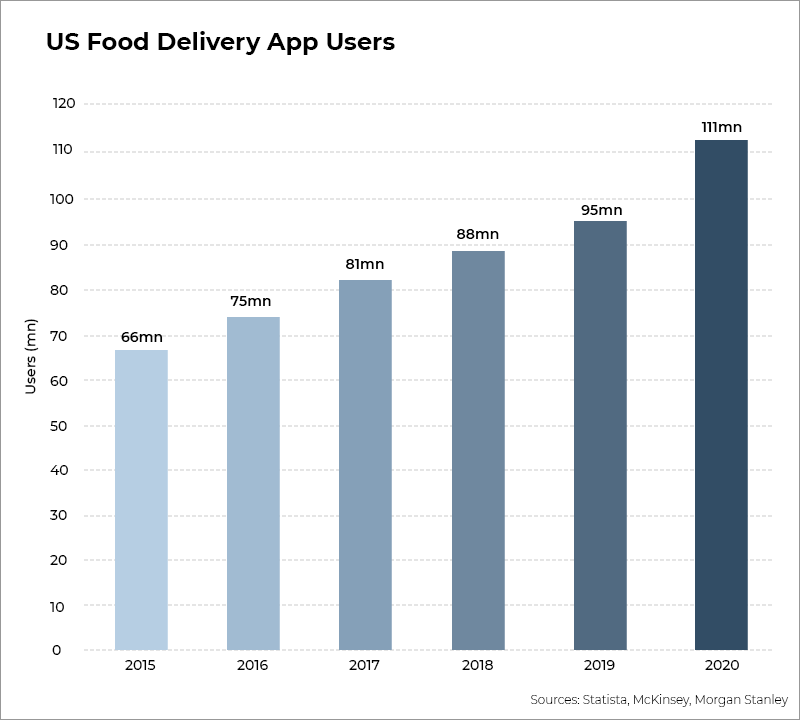 Table of Contents 
How does an Online Food Ordering Marketplace Work? 
There are 4 types of entities involved in the working process of an online food ordering marketplace: Marketplace Owner/Admin, Merchant, Customer, and Delivery Staff. Here is the breakdown of how things work in an online food ordering marketplace: 
The admin ties up with merchants from varied locations and enlists multiple restaurants on the marketplace.

Merchants add restaurant details like name, menu items, operational hours, working days, packaging details, among other things.

Customers register on the marketplace via their email address or social login options. 

After completing the registration process, customers search for their favourite restaurants through an advanced search option available on the marketplace and select food items of their choice. 

Customers confirm the order by making payment through their preferred payment gateway.

Merchants accept the order request and start preparing the food as suggested by  customers.        

Delivery boys after receiving order requests reach the merchants' location to collect the order. Customers can track the order status and the real-time location of the delivery staff. Once the food has been prepared, the delivery staff pickup the order and deliver it to customers. The order delivery is handled either by the marketplace owner or the merchant itself.  

The marketplace owner earns his share of commission on every order placed through the marketplace and the rest of the amount is transferred to the merchant's account. 
How to Earn Money Through an Online Food Ordering Marketplace? 
Entrepreneurs can generate revenue from an online food ordering marketplace by monetization methods like commission fee, on-site restaurant promotions, Delivery fee, subscription charges, and display advertising.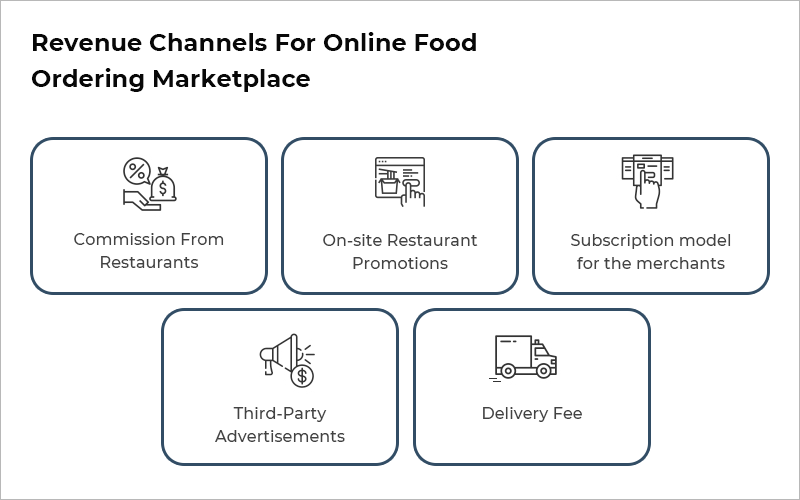 Why Do People Prefer to Order Food Online?  
1. Diverse Food Options 
Many people prefer to order online due to the wide variety of food options available on food ordering platforms. Finding your favourite food items in the menu card of a single restaurant could be challenging. An online food ordering & delivery marketplace enables people to search for restaurants and order food items of their choice. Moreover, multiple food choices are also helpful in case of organizing house parties and family get-togethers.  
2. Convenience
People find it convenient to order food through an online marketplace or an app due to following reasons: 
Customers can place an order anytime, anywhere within just a few clicks using an online food ordering platform. Though it's easy to order food from the comfort of their home, customers don't need to travel to the restaurant to pick up a meal that will save their valuable time and resources.  
Misunderstandings can happen while ordering food over the phone call due to background noise, miscommunications, or low cell phone connectivity. On the other hand, customers can customize a dish as per their preference through an online platform. As menus are simple and  easy to understand, customers will get exactly the food items they selected while placing an order.
Online food ordering platforms help customers to pay an order amount using a payment gateway of their choice such as net banking, digital wallets, cash on delivery, debit or credit cards, and more. To encourage digital transactions, many food ordering platforms also provide offers and discounts to their customers for making online payments.
While planning a visit to a new restaurant, it's hard for customers to get detailed information about the restaurant's prices, taste, food quality, service, among other things. On the contrary, the online food ordering platforms provide details like restaurant's ratings, customer reviews, prices, menu items, and more so that customers can make an informed decision before selecting a restaurant.   
Reduce In-Person Interaction Amid The  COVID-19
Limiting in-person interactions is one of the crucial factors to deter the spread of the COVID-19. The fear of getting affected by the Coronavirus is another factor that is pushing many people to order food from online platforms over the last year. 
Develop an user centric Online Food Ordering Marketplace
Why Starting an Online Food Ordering Marketplace a Good Business Idea?
1. Increasing Demand of Online Food Delivery Services 
Over the last year, SMB's and conglomerates in the online food delivery market have witnessed a huge surge in the demand of their food delivery services due to the Coronavirus pandemic. DoorDash, Grubhub, Uber Eats, and Postmates saw revenue rise of 3 billion US dollars collectively during the second and third quarter of 2020.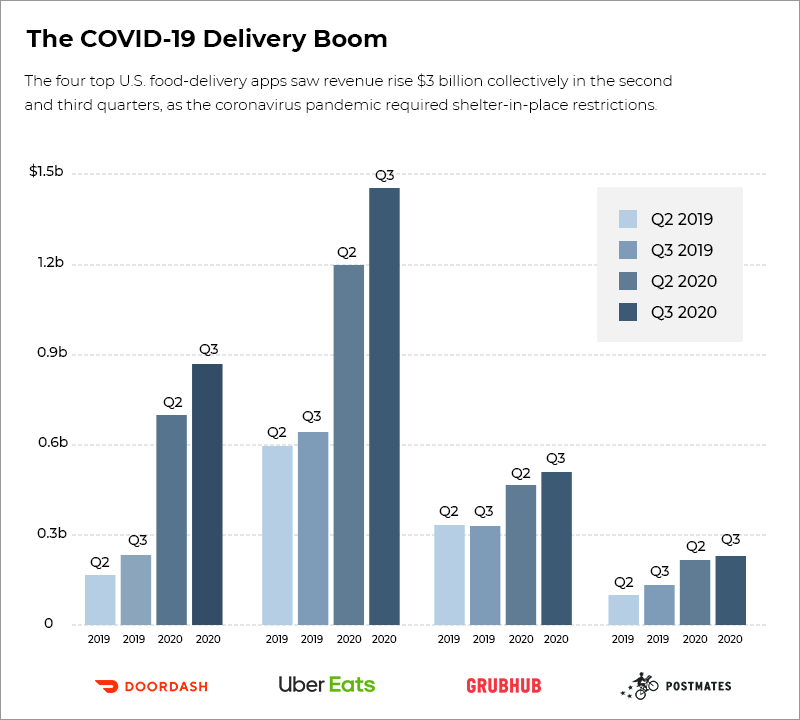 As per a recent report by Statista, the total number of worldwide users are expected to rise to 1589.3m in the food delivery segment by 2024. Moreover, the global online food delivery market is estimated to reach upto $192.16 billion in 2025, according to Business Wire. Factors like the increasing demand and future predictions make it a very sound case for entrepreneurs to start an online food ordering marketplace for their business growth.                
2. User Engagement 
Those who are running their restaurants must start an online food ordering marketplace to reach a wider audience base and to improve their business revenue. It would be easy to provide online food delivery services to users at distant locations. An online food delivery platform could also be used to send push notifications to customers to make them aware of discounts and festive deals available on food items.      
3. Better Logistics Management
Restaurateurs can manage logistics operations more efficiently by starting an online food ordering marketplace. They can track the real-time location of their delivery staff and measure their work progress on a timely basis. Restaurant owners can handle multiple order requests coming from a specific area and allocate the right number of vehicles to delivery points. An online food delivery platform integrated with features like BOPIS, geofencing, location tracker, and more could help restaurant owners run their logistics operations smoothly.                        
4. Support Local Restaurants
The restaurant industry has been hit hard due to the COVID-19 pandemic. The lockdown restrictions imposed by various governments on a timely basis during the last one year have made it difficult for local restaurants to survive in the food industry. Entrepreneurs must invest in the online food ordering marketplace to help small and mid-sized restaurant owners in these crucial times. Restaurateurs can list their restaurants on the marketplace to sell food items online and to improve their brand visibility.  
How a Ready-Made Solution like Yo!Yumm helps in Starting an Online Food Ordering Marketplace? 
In this highly competitive food industry, starting an online food ordering marketplace that drives business growth could be challenging for entrepreneurs. To help startups set up their online food ordering marketplace without any hassle, the team of experienced professionals at FATbit Technologies has developed an online food ordering and delivery solution named "Yo!Yumm" 
Yo!Yumm is a fully customizable multi-restaurant delivery software that enables startups and SMBs in the food industry to quickly launch their online food delivery platform. Yo!Yumm provides an admin panel to help business owners manage their marketplace activities conveniently. It also comes with ready-made mobile apps and web portals for buyers, sellers, & delivery staff so that entrepreneurs can set up their online food ordering marketplace conveniently. 
In order to reduce the COVID-19 transmission and keep people aware of the safety guidelines, Yo!Yumm is integrated with features like contactless deliveries, geo-fencing, digital payments, curbside pickup, COVID-19 awareness notifications, and many more. 
Launch Your Online Food Ordering Marketplace with Yo!Yumm