Here in this post, we will do a quick rundown on:
Online food ordering & delivery marketplace has been a promising business idea from the start. And it is evident from the success of the first generation of online food ordering startups like FoodPanda, GrubHub, Eat24, and others. However, amid the torrent of new online business ideas, which are sprouting all over the web, the sector hasn't received the attention it deserves from aspiring entrepreneurs. As a result, many parts of it still remain unexplored.
Take the travel industry for instance, where the online penetration is 40%. In comparison, for food delivery industry, it sits only at 5%. For the travel industry, future opportunities lie with service enhancement through new technologies. But for food ordering & delivery industry, opportunities are right under the nose; just waiting to be tapped.
How do Online Food Ordering Marketplaces work?
Online food ordering marketplaces are primarily based on the "aggregator business model" in which the business owner earns revenue through service commission. So basically, they provide a centralized hub where all the restaurants & other food outlets of the target market are listed for customers to order from.
Here is a stepwise snapshot of how things work in online food ordering marketplace:
1. Customers explore the portal for cuisines & listed restaurants
2. Customers place the order along with delivery details & make payment
3. Marketplace owner cuts commission & routes order to restaurant for delivery
4. Order is delivered  by the restaurant or a 3rd party delivery service
Let's check the detailed business model of a food delivery business.
Why Online Food Ordering Marketplaces Work?
People's life is getting busier with every passing moment; especially in the metropolitan & surrounding areas. To keep up with the hectic schedule, they need quick, reliable, & anytime-anywhere assistance for various day-to-day tasks.
Like they need Uber to hail cabs & TaskRabbit to find technicians, they need a service like FoodPanda to fill their appetite; especially, when they don't have time & energy to cook at home or go to restaurants.
And as to why a 3rd party aggregator & not restaurant's own ordering & delivery service; well, the reasons are obvious:
a) It is easier for customers to visit a single marketplace website install the mobile application instead of visiting websites (or installing apps) of every restaurant chain in the area. To get some perspective, imagine downloading apps of different online retailers on your phone instead of just one single Amazon app.
b) Customers have reachable access to various food ordering marketplaces and related mobile applications. Therefore they have more options & it becomes easier to explore all the restaurants & cuisines available in the area.
c) Price comparison, reviews & rating for quality assurance, etc. are some other reasons why the concept of 3rd party online food ordering & delivery aggregators gels up well with customers.
Where do Online Food Ordering Marketplaces work?
Potential markets are forming outside metropolitan areas
Historically, food ordering & delivery service (even when done over the phone) has been limited to urban areas, where there is high population density & demand. But with increasing internet penetration & rapid smartphone adoption, semi-urban & rural areas (in developed countries) have also become potential market segments for this sector.
In emerging markets like India, China, Latin America & South-east Asia, tier-II & tier-III cities offer the new market opportunities.
Going Hyperlocal will enable startups to stand against big players
FoodPanda already boasts its presence in hundreds of cities in Europe, Middle-east, South, and South-east Asia. GrubHub also has a very solid presence in the US & UK markets. Similarly, there are other big players with a very good reach in their target markets.
So, what's left for new players of such markets is – targeting hyper-local segments with their online food ordering & delivery venture. Being local, you could have the advantage of understanding customers' needs from customer's perspective, not from just business's perspective. Once your startup clicks well with the local audience, business expansion becomes rather a matter of time.
Areas with scope for service enhancement
A recent survey, which was taken over a period of 6 months, revealed some of the major roadblocks in the way of mass adoption of online food ordering & delivery services.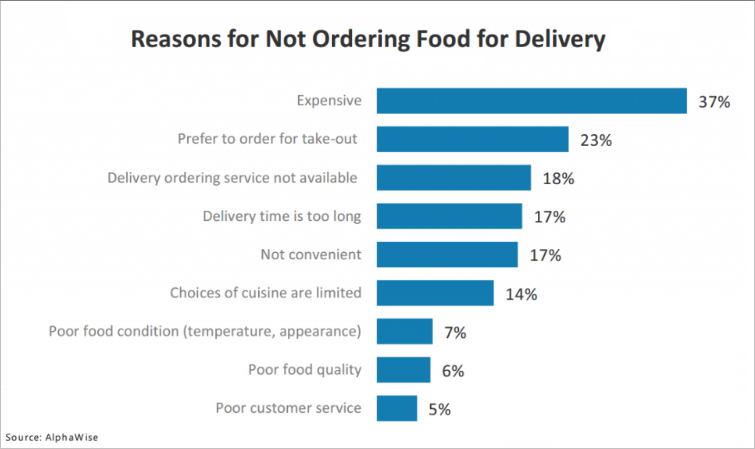 Image: Major reasons that keep customers from ordering food online
For new players, these challenges also represent growth opportunities. By opening themselves to latest technological advancements, new players can work upon improving the delivery, packaging, and customer service to address many of these challenges and make their mark in the industry.
Ideal Solution to Build Food Ordering Website & Mobile App
The reach of the internet is increasing wildly, even outside the cities. The number of working millennial, who are willing to spend for convenience, is also on the rise. It is evident everywhere that the food ordering & delivery sector has a huge scope for online penetration. The market is almost demanding the emergence of more startups like FoodPanda & Grubhub all across the globe. Also, the use of smartphones has grown a necessity of food ordering & delivery mobile application.
Launch your Food Ordering Website with Impeccable UX & Extensive Marketing Features
Aspiring entrepreneurs must capitalize on the current dynamics to give people what they want; and also commence a thriving startup in the process. To accelerate the growth of this potential sector, FATbit Technologies also offers a turnkey solution, named Yo!Yumm, to quickly set up a food ordering website and mobile app.
Those keen on entering this booming sector can reach out to us to learn more about our online food ordering system.