Food ordering and delivery is not a new online business idea; however, it has evolved with technology coming into the forefront. So far, we have seen startups, whose business models were based on grocery delivery, meal-kit delivery, restaurant table booking, midnight food delivery, and more. The most recent being online office food ordering and delivery business, as analyzed by experts at FATbit Technologies.
Getting food from your favorite restaurants during work week can often become a hassle. The online office food ordering and delivery business surely fills the void between busy professionals and delicious food from nearby restaurants.
Many follow online food ordering & delivery business model but only a few startups adhere to the office food-delivery business. This is the reason why new startups like Caviar and Peach have managed to create a niche for themselves and seize the opportunity.
To know how you can earn from this business idea, you need to implement the following business model and key website features. Without further ado, let us look at the business model to get a clear understanding of the market and its dynamics.
How an Online Office Food Delivery Business Works? – Detailed Business Model
Same boring meals may upset any office worker. To bring deliciousness back into the lives of working professionals and removing the hassle of food delivery, this business model clicks the perfect chord. Here is the breakdown of how things work in this innovative business model:
The user will create a profile on the website or get registered with the platform.
Every day at a given specific time (different for breakfast, lunch and dinner), users receive a message of the available meal options.
Interested users place the order and make payment. The order will then get forwarded to the associated restaurant. After the order has been processed, the platform will collect all the order and deliver the same to the respective offices at a given time.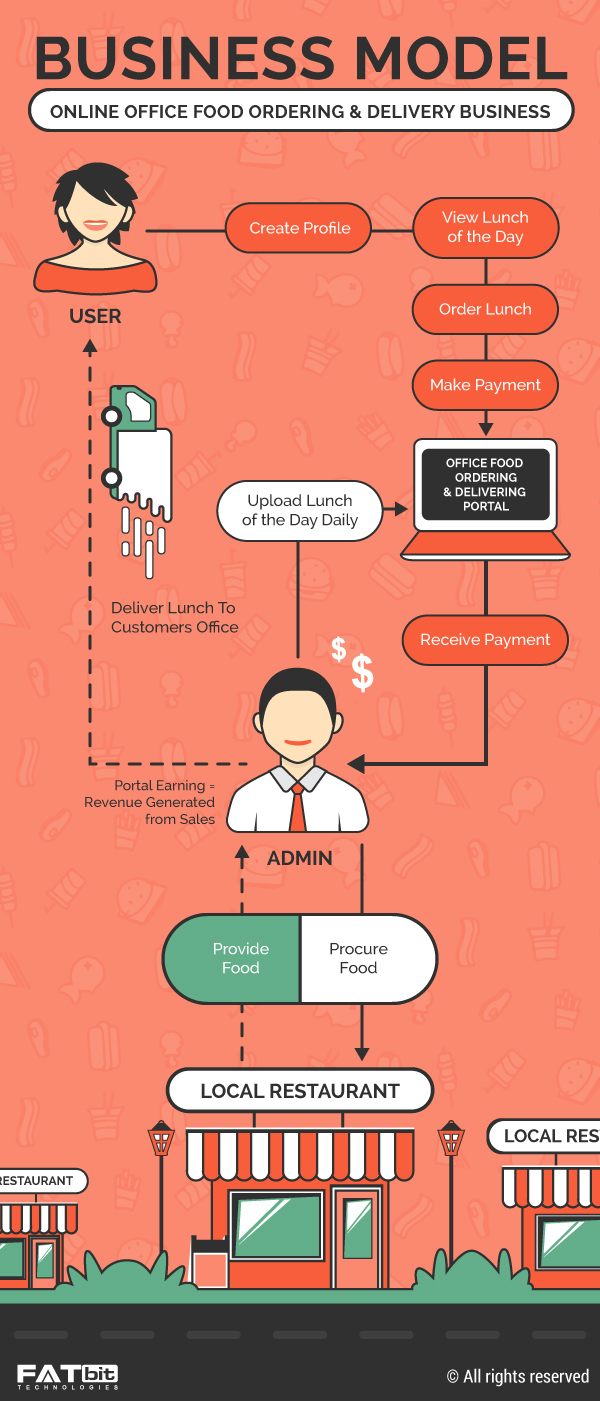 Possible Sources of Income
For those who want to start online office food delivery business, the margins on food are always a concern, which is why it is always advised to have multiple streams of revenue. Moreover, the delivery charges should not make the value of the food rise to a level where the consumers do not consider it value for money. One aspect that falls in favor of such a business model is that you have to deliver all the orders in a single time. This reduces the delivery logistics as well as cost.
The following are the main revenue models that such a startup can incorporate:
Online Advertisements: Google AdSense can be one of the primary sources of generating revenue through advertisements.
Offline Advertisements: Advertisements can be displayed on the company's Food packages. In addition to this, more advertising can be made by sending printed pamphlets along with the meal.
Strategic Partnership: People willing to open a restaurant or small kitchen can sign up by paying a small fee to the platform.
Commission Percentage: Online office food delivery businesses can collaborate with restaurants on pre-decided commission rates based on the quantity of food order.
Need a highly engaging website for your online food delivery venture?
Launch with YoYumm
Major Players in this sector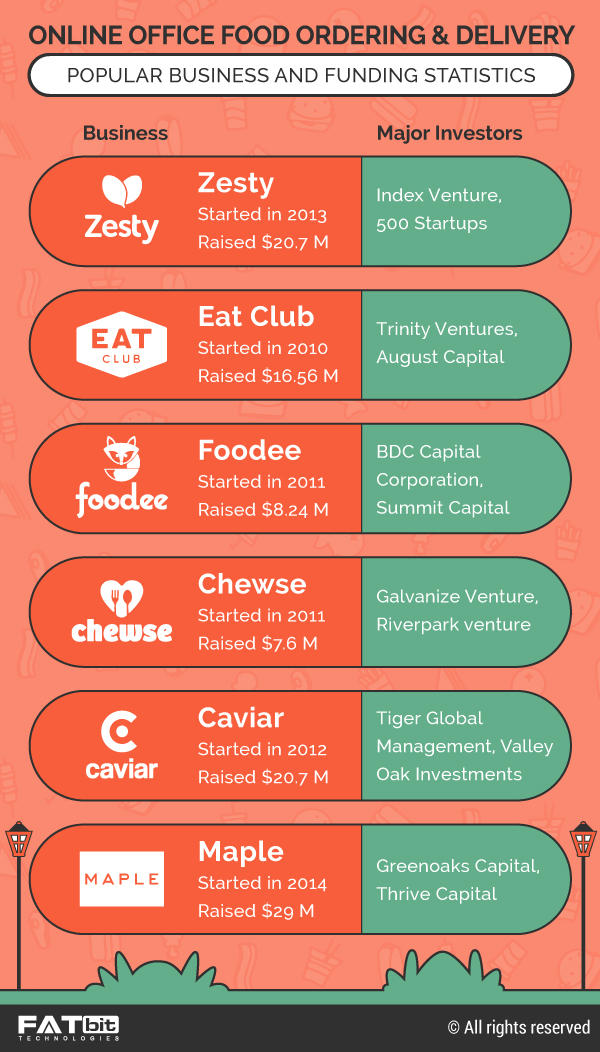 How to register on the website?
The signup process should be easy enough for an average user without much technical know-how. The following steps resemble an ideal signup process:
On the sign-up page, the user fills details like first name, last name, office address, the number of employees, email id, new password, verification through OTP, and credit card details.
After verification and an acknowledgment from the website, the user can start receiving a message regarding meal of the day.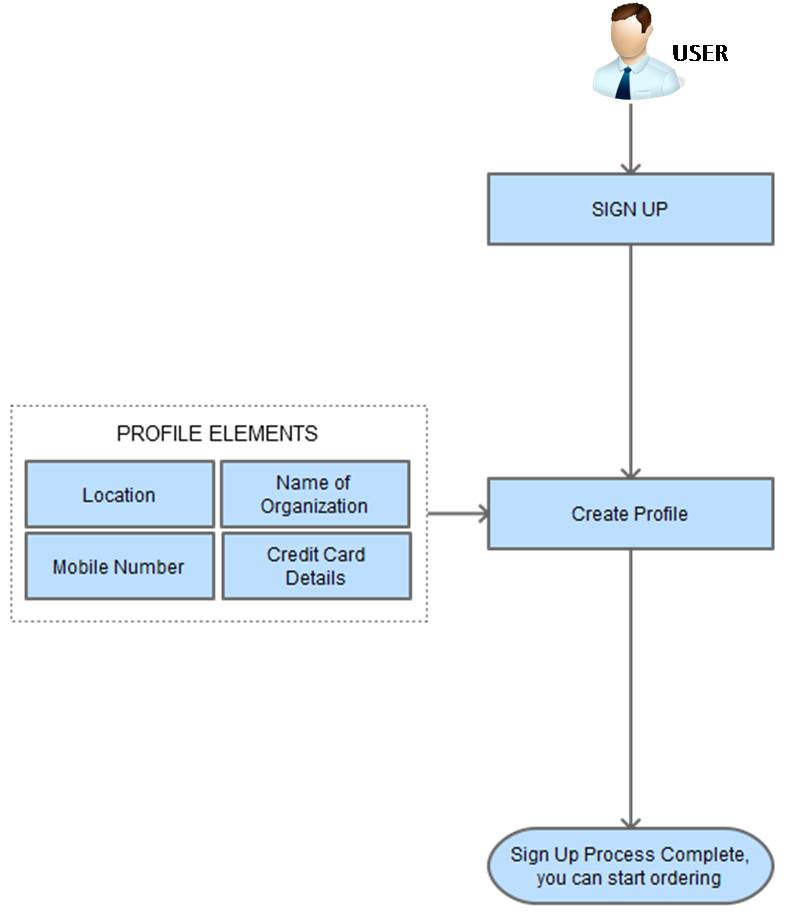 How does user order through website or mobile?
Through Website:
After logging in, the user can choose different options for breakfast/lunch/dinner.
The user then selects his meal and proceeds to order, otherwise, he may log out.
Upon ordering, the lunch is served hot at user's office at the respective time.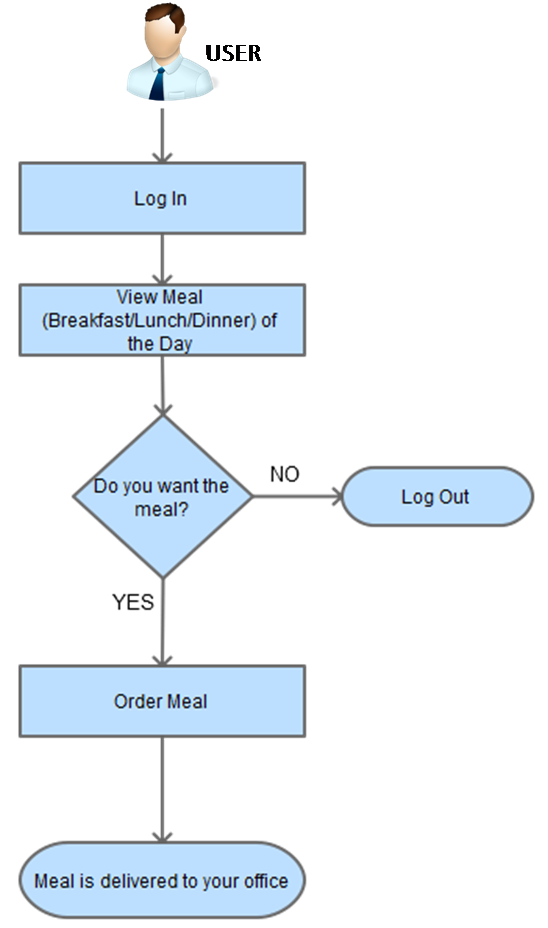 Through Mobile:
The user receives a meal of the day message on his phone.
If the user wants the meal, then he replies "Yes" to the message.
Upon "Yes", the meal is delivered to user's office.
Website Overview
Good user experience is the key to success for any business. When it comes to a website, the user experience is the most important thing for the survival of the online business. Here is a list of website features that we think should be there on any office food ordering and delivery website:
Homepage
The homepage is the first point of contact with the users. If your homepage is not able to garner the attention of the users, chances are that people may stop coming to your website after some time. To make your website's homepage highly engaging, use the following tips:
The banner should have a call to action.
The homepage should not be stuffed with information.
Use high-resolution images, but ensure they are not resourced hungry.
The most recent trend is to use a banner video instead of the banner image. This approach is useful in decreasing the bounce rate of the store by keeping the visitor engaged.
Hence its is always advisable to adhere to these interactive homepage design practises to improve the UX of the website.
Process Workflow
You can dedicate a section on your website's homepage to explain the entire workflow in few simple steps. This is really helpful for new visitors to better understand your services and signup with confidence.
Office Locations
Google map offers an API to showcase all your office locations. This is helpful to gain customer's trust and making people believe that there are human beings that are running the business.
Contact us form
Plain and simple contact form is not good for user engagement. FATbit analysts went through several major websites and found that most of them have implemented the content of the form in paragraphs. Not only this is a unique approach to getting user's attention but crafting a perfect contact page design also it results in more lead generation while providing a personalized experience.
Witness explosive growth in lead generation
Ask the digital marketing experts
Testimonials
Trust in a brand is hard to come by. Showing what other people are talking about your brand is a good way to build trust. By dedicating a place for testimonials or user reviews on your homepage, you can easily build trust and earn more potential customers.
There are numerous methods of obtaining user reviews to continuously improve brand strategies and growth.  
Meal Section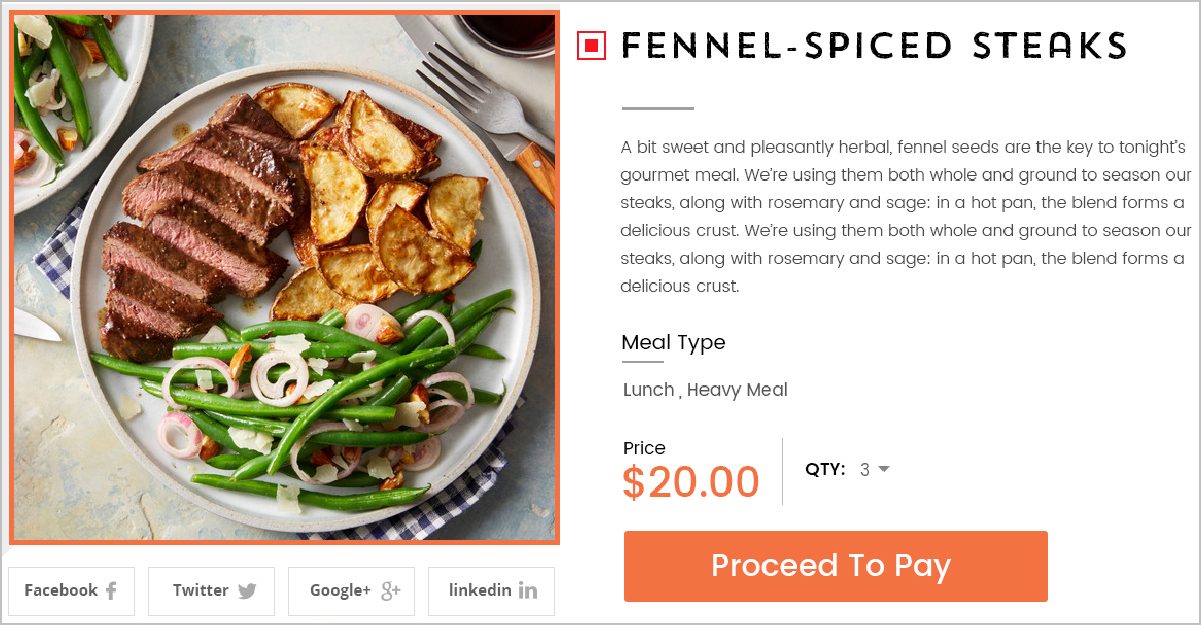 This is the most important section of any office food delivery website. By showing today's meal, visitors are more likely to order it. To increase the engagement, try to put a high definition close-up shot of the cooked meal.
The meal section can also have "Upcoming / Tomorrow's Meal" section, which can be used to showcase meals available on the next day. That way, users can also book meals in advance.
Help Center
The help center should have a proper documentation explaining the working of your mobile app and website. The entire process should be explained in a well-defined way so that the entire experience can instill trust in the visitor.
FAQ Section
Frequently Asked Questions is an important section to which many users will come and clear their doubts. Following are few questions that should be present in the FAQ section:
Can I get a refund?
I didn't receive food on time. What should I do now?
Can I cancel my order?
Can I place a group order?
What payments do you accept?
Recommendations from FATbit
Profile Pages
Every person has his own eating preference. Some may like less spicy food while others may want spicy food. Being the owner of the store, you should respect the wishes of the user and give then exactly what they expect.
Some users may also suffer from certain food allergies and it is vital to allow the user to put such information in his profile. The profile area presents a great opportunity to offer a high level of customer satisfaction.
Social Media Login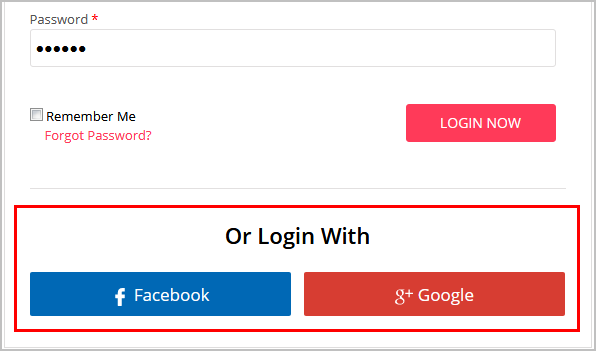 Registering on websites requires time and effort. Instead of filling profiles, visitors should be allowed to use social login to just click and enter the website. Social login buttons are really helpful to drive the user engagement rate.
Cost
The challenge in online office food delivery business model is to offer normal meals at an affordable price. People don't prefer to buy expensive meals on an everyday basis. This is the reason why delivery cost should be less and more discounts should be offered. Moreover, discounts coupons increase the sales and engagement and help to create buzz around the brand.
Group discounts should be offered to large offices having more workforce.
Social Media and Blogging
Blogging and social media is the best way to attract attention and let people know that you exist. Consider starting a major campaign to generate maximum leads to solidify your presence on The Internet.
Start your social media campaign today!
Let us help you!
Conclusion
The office food ordering and delivery business is gradually increasing in parts of America and Europe. As for the startup ecosystem, it presents a tremendous opportunity to fill the need of feeding hungry mouths working tirelessly at the office.
Making a website for your online food ordering and delivery business with features mentioned in the above sections will definitely give you the perfect start in this segment of food tech industry. To get more tips on website design and development for better user engagement, consult experts.