Last Updated: 20th September 2022
The online food industry has grown immensely in recent years and this sudden increase has created a massive opportunity for the food delivery startups. The global revenue of this industry is expected to show a growth rate of 7.5% resulting in a projected volume of US$182,327m by 2024. Furthermore, the reason for this immense growth is that it has expanded the choice and convenience for the customers to order from a wide variety of restaurants from their mobile phones.
What's covered in this post?
Online food ordering platforms have increased the convenience level of the customers as well as boosted the restaurants' sales by creating their strong online presence in the market. Not just the business owner is profiteering, online food ordering is also aiding restaurants and customers and everyone else involved in between. While Seamless, Uber Eats, Delivery, Deliveroo, Grubhub, and Delivery Hero are the top players, local food ordering and delivery startups are also making a name in different countries.
Let's have a look and learn how popular food ordering businesses work and make money.
Business & revenue generation model of food ordering platforms
Online food ordering platforms like Grubhub.com and Deliveryhero.com follow a simple business model. They act as a common platform between customers and restaurants. Subscribed users search for restaurants, place their order, and pay for it online or opt for COD (cash on delivery).

Have a Business Idea in Mind Around This Business Model?
The delivery part is mostly handled by the restaurant owner. However, this is not all you need to know for starting your online food ordering and delivery website. Below are some other critical points;
Online Food Ordering systems partner with local restaurants that offer home

delivery and prepare a database of customers and restaurants.

For every order placed through the website, the restaurant gives a pre-decided commission.
Restaurants

can also get themselves advertised on popular restaurants section on the website homepage for more visibility.



Popular online food ordering & delivery brands
There are many online food ordering & delivery platforms that are popular among customers. Some of them are listed below:
Uber Eats: 

An American online food ordering and delivery platform launched in 2014 currently operational in 1000+ major cities in different countries around the globe. The platform enables food lovers to order their favourite food from local restaurants and get it delivered at their doorstep quickly and conveniently.

Grubhub:

Another American online food ordering and delivery platform, Grubhub was launched in 2004. With a database of more than 30000 restaurants in 800+ countries, it is one of the best food ordering apps making sure to serve its customers.

Have a look at the

Grubhub's success story

.

Deliveroo:

This is a London based online food delivery company successfully operating in over 200 cities worldwide. It enables customers to order food from cloud kitchens and charges fees from customers as well as restaurants for the service. Higher restaurant choices and attractive coupon deals make it one of the best food ordering apps across the globe.

Just Eat:

This British online food order and delivery service is a bridge between the independent takeaway food outlets and customers. Covering more than 82,000 restaurants and charging commission fee from them, Just Eat has been successfully running in 13 major countries becoming one of the preferred food ordering platforms for customers. 

DoorDash:

An American on-demand prepared food delivery service founded in 2013. Established in more than 300 cities, the platform not only focuses on food quality but also works well with restaurants to deliver the food on time.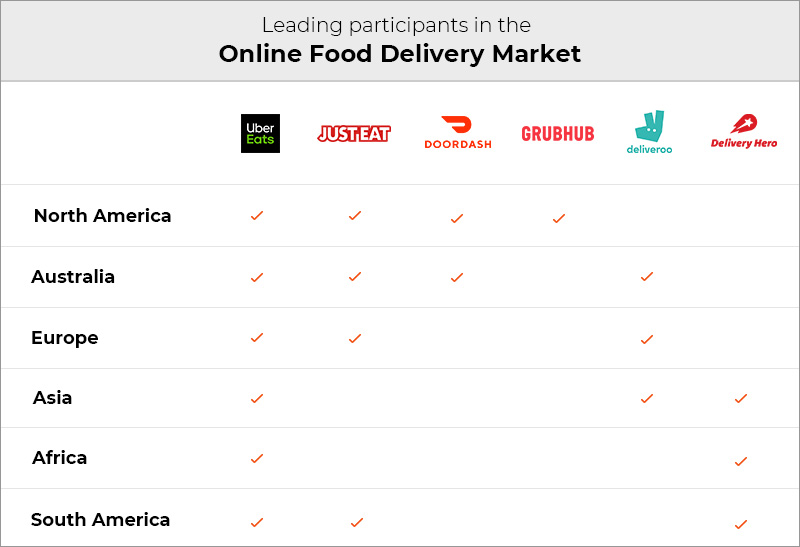 Now, let's learn how you can launch the most popular food ordering startup, and make it successful.
Want to Become the Next Leading Name in This Industry?
Launch & run a successful online food delivery business
Investing in a solution that will launch a website similar to UberEats or Grubhub will not establish you as the next big thing in the food ordering and delivery system. You need to take care of various technical and marketing aspects to make your website stand apart.
Keep the following points in mind while creating and marketing your food ordering portal:
1. Invest in a Custom built website
If you feel that investing in a readymade food ordering and delivery solution is enough to get started, then you are partially right. It will get you 'started'; but to succeed you need much more. Focus on building a unique identity or you will end up looking like any other solution in the market that lacks originality. Give your food venture the advantage of custom design and programming. It is very important to choose a feature-rich, secure platform to launch your website so that people trust you.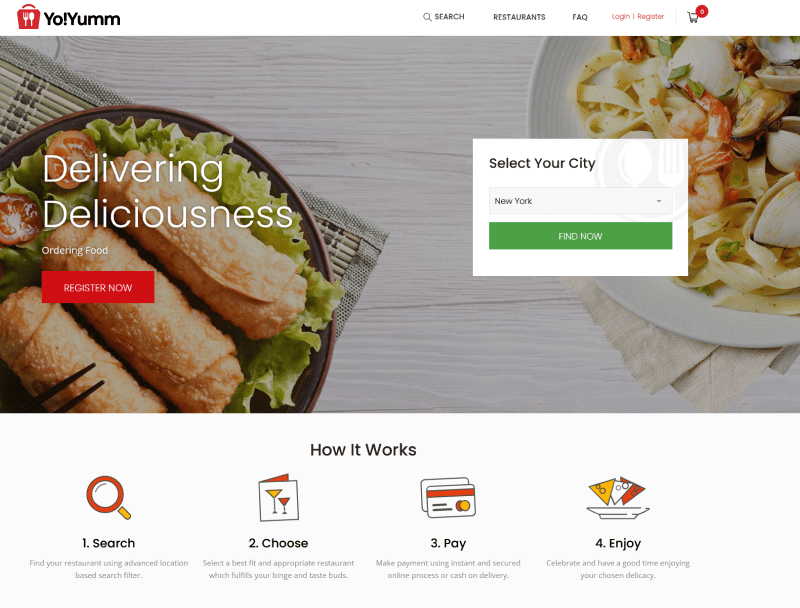 2. Go for Mobile App Development
To engage today's smartphone-clutching users, invest in mobile application development for your online delivery business. With a mobile application, you can also utilize native mobile features to add user experience. Investment Bank UBS forecast delivery sales could rise an annual average of more than 20% to $365 billion worldwide by 2030. Hence, it is necessary to focus on customer-focused experience in this smartphone-driven market.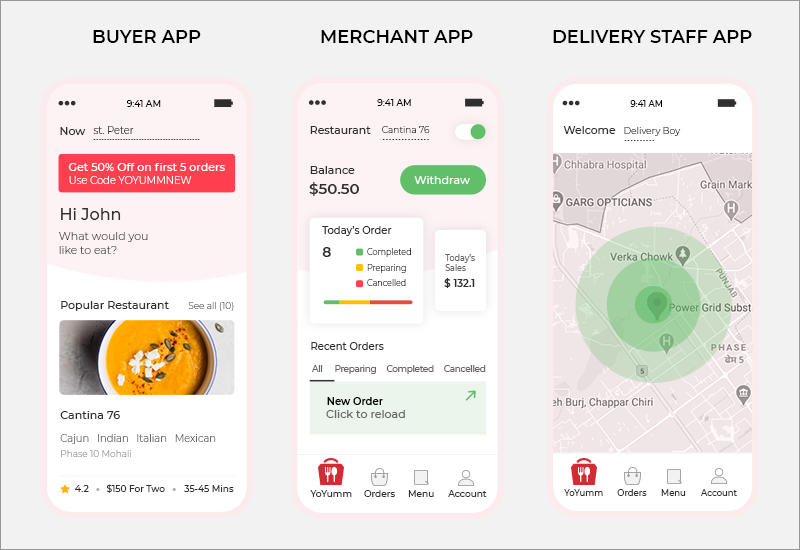 3. Search engine optimized and App store optimized (ASO)
Information architecture and database management systems should be such that a website is easy to read by search engines (like Google and Yahoo) and application stores (like Play Store and App Store). They will act as a free source of constant traffic to your website and mobile app. Expecting such online food delivery website features by default will not be wise. Only an expert team of designers, programmers, and app developers backed by an experienced SEO and ASO team can develop such a system.
4. Create a database to start off
You will need to create an exhaustive database of restaurants in your target location with contact details, menu, areas of delivery, etc. Having an able sales team will help you partner with local restaurants who agree with your commissions and wish to generate business through your website. Make sure your website is scalable enough to manage a huge database of restaurants and customers.
5.Target Smaller Area and Gradually Expand
It is always advisable to start your business with a focus on a limited area. This will help you:
GrubHub the most impactful online food ordering platform started its operation from Chicago. Once it became a local hit in Chicago, GrubHub shifted its focus to other US cities. You must read their success story. 
6. Customize according to local demands
The success of an online food ordering system like UberEats and GrubHub depends on how well it caters to the needs of its locales. Following points will come handy:
7. Think of Alternate Sources of Revenue
Think of new ways through which local businesses can advertise on your website and increase sales. This will push up your profits and make your platform relevant to local businesses. Check out following points for more insights:
UberEats allows large scale restaurants who can shell out a bigger budget for online advertising to feature their restaurant on the home page as well as a subdomain of UberEats. Some restaurants are given the privilege to display their banner and some to be featured in the deals section on their home page.
Some online food ordering systems allow the option of allowing hotel reservations and earn a commission there as well.
Some have a different revenue model and charge fixed monthly revenue for letting a restaurant list their business on the food ordering platform, irrespective of sales generated.
Some allow 3rd party advertising on their website.

The introduction

of gift cards to invite new paying customers and increase

the frequency

of order placement is another

way to generate revenue.
8. Add Helpful and Innovative Features
Develop advanced content filters that allow search based on the timing of food delivery from the very beginning. What if a user wishes to see only the restaurants which allow midnight delivery. This is something very practical that most food ordering websites as well as their clones are missing.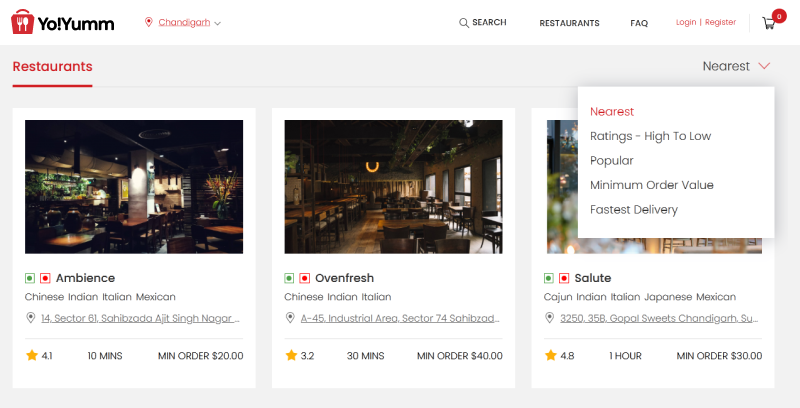 Click to Enlarge (Open in new tab)
Think of how you can automate the entire process of informing restaurants about new orders, avoiding order cancellations, informing customers about an order declined by a restaurant and suggesting alternatives, etc. Following features are must-haves:
Powerful and flexible CMS

Review and rating system

Advanced search option

User-friendly checkout process

Sales report

Revenue statistics

SMS gateway

Live chat integration
9. Make the Order Placement Procedure Simpler
People prefer to order online because of convenience. So, the order placement process should be quick and easy. This is possible only if your site has been created with usability in mind. A solution similar to UberEats, JustEat or GrubHub clone will not have an optimized user experience. An intuitive user interface for mobile applications and websites is a key thing that heightens the credibility of your business. An expert UX designer can help you improve site engagement and conversions as well.
Saving past orders, delivery addresses, partial payment details, and other relevant information in the dashboard is also an efficient way to quicken the online order processing. Introduction of eWallets for quicker payments is also a great option to enable the customers to make the payment quickly making the process quicker and simpler.
Launch a feature-rich online food ordering & delivery system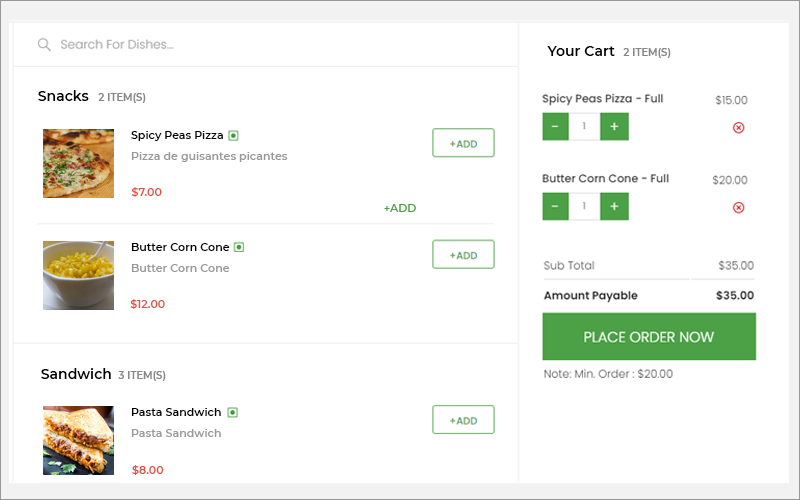 Book your order on yo!yumm
Review your order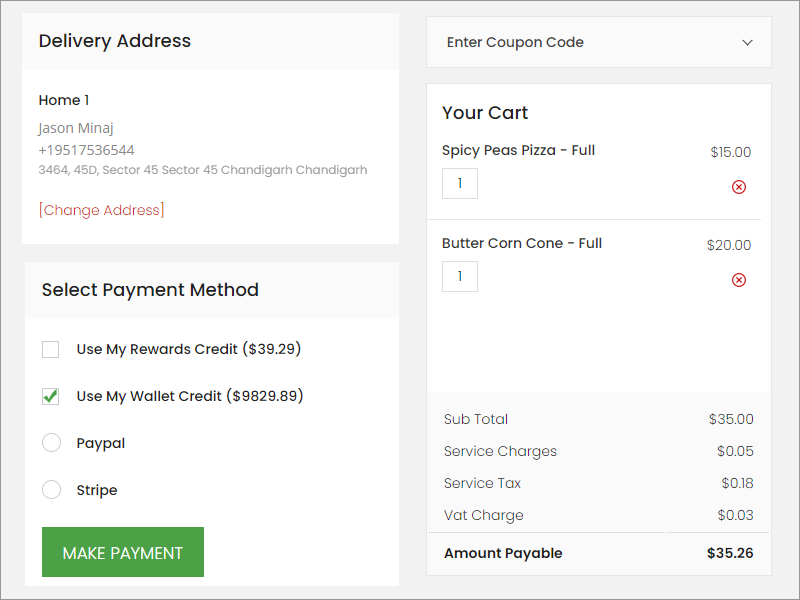 Confirm your order and make payment
Launch and scale your online food delivery business with Yo!Yumm
As development partners of established online brands, we wouldn't recommend you to launch your online food ordering website/app on a readymade solution. To make your own marketplace like Deliveroo, Uber Eats, Seamless, you need a sustainable business model, website/application with unique responsive design and custom features, and a sharp marketing strategy. Don't buy a food ordering marketplace solution first and think about customization later. Join hands with a professional service provider that can help you with design, development as well as online marketing.
This will guarantee you an online food ordering platform that will be perfect in every possible way. Discuss your website requirements with our team to get a website similar to UberEats and Grubhub. Features screenshots are taken from Yo!Yumm (online food ordering system) demo website.