Last Updated: 2nd November 2023
The online food delivery platform provides customers with the choice and convenience of getting food with a few taps on their mobile phones. Earlier too, restaurants used to deliver food, but the process has undergone a rapid change in the past few years. Online food delivery platforms enable restaurants to make the most of both digital and traditional marketing mediums.
Food delivery apps allow customers to browse their favorite restaurants and food with ease. According to Statista, the revenue of the online food delivery industry is expected to show a CAGR of 12.33%, resulting in a market volume of U.S dollars 1.45 trillion by 2027. 
Grubhub, Deliveroo, and Uber Eats are a few examples of these online food delivery apps that promise to deliver healthy & delicious meals right to your doorsteps. It's no surprise that this business model has quickly become popular. FATbit Technologies conducted an in-depth analysis of various mobile apps and platforms that are popular in the online food delivery business.
Entrepreneurs looking to launch an online food ordering and delivery business can choose an existing platform like Yo!Yumm or can hire developers to build a Custom App & Platform for them. But before deep diving into the know-how of this industry, entrepreneurs must know why they need to create a food delivery app for their food delivery business.
Table of Contents
Why Create a Food Delivery App & Platform?
The popularity of food delivery apps is increasing as they conveniently connect consumers and restaurants with each other. There are numerous advantages to integrating a food delivery app into your online food delivery business. Let's explore the reasons, why you should definitely consider creating a food delivery app:
As the number of mobile phone users is increasing, the popularity of ordering food online and receiving orders at their doorstep has also significantly increased. This is eventually creating a huge demand for food delivery apps. Hence, it has become a necessity for entrepreneurs to invest in a food delivery app in order to survive in the industry. 
Reduced Operational Costs
Opting for a food delivery app is an ideal solution for the seamless management of operations eventually cutting down operational costs. When you choose to invest in a food delivery app, you can avail of some of the intuitive features that can help you bring down your operational costs by providing
Real-time tracking

Live order status to customers

Automated management for delivery persons

Multipayment options

Advanced analytics dashboard and reports for quick analysis
All these functionalities can be performed with a single click and need no human assistance, hence, reducing errors and operational costs. 
Reach a Wider Customer Base
As per reports, there are over 1.6 billion people worldwide who used online food delivery apps in 2021. The numbers illustrate the fact that people are finding it more convenient to order food online and getting inclined towards this trend. By creating a food delivery app entrepreneurs can efficiently cater to a larger customer base, eventually increasing their revenue.
All the factors mentioned above show that creating an online food delivery app is a necessity for food entrepreneurs. Therefore, further, in this article, we provide you the information on how you can create your own food delivery app, along with its workflow, revenue models, and must-have features. 
Want To Get Insights Into The Lucrative Food Delivery Industry?
Work Flow of an Online Food Delivery App & Platform
The workflow of an online food delivery app can be explained by categorizing the working of four main stakeholders: admin, restaurant owners or merchants, delivery agents, and customers. 
The workflow is as follows:
The Admin
The admin has complete ownership of the platform. Using the admin panel dashboard, the admin can easily manage the UI of the food delivery platform and keep track of various activities like placed orders, deliveries, newly registered users, and customer reviews. 
Restaurant Owners or Merchants
The merchants register on the platform and add information about their restaurants and offerings. The merchants can either register as a single restaurant or multiple restaurants depending upon the subscription package selected by them. Using the merchant dashboard, restaurant owners can manage and customize menus, accept or reject orders, create offers and discounts for customers, and keep track of their sales and profit.
Delivery Staff
The delivery agents can register on the food delivery platform by creating their accounts on the mobile app. Once the order is accepted, it is broadcasted to the delivery agents present near the restaurant location on the delivery staff app. The delivery agents can accept or reject the order as per their availability.
If the order is not accepted by any delivery agent, the admin then reserves the right to assign the delivery to any delivery partner.
Customers
Customers can either create their accounts on the food delivery platform or place orders as guest users using the food delivery app. The customers can choose to place an order from the number of restaurants delivering to their location. Once the customers select the food items to be ordered, they can place their orders with a few clicks on their mobile phones. 
Seamlessly Manage All Stakeholders On Your Food Delivery Platform
After placing the order, the customers select one of the many payment options available to make payment. The payment is directly transferred to the admin's account which is later credited to the merchant's wallet after deducting the commission amount. Customers can track their orders and delivery. Once the order is delivered and marked completed, the customers can give their reviews and ratings for the restaurant. 
Revenue Channels For Online Food Delivery Platforms
One of the most important factors to consider before starting an online food delivery business is the possible revenue streams. As an entrepreneur, you must set up efficient revenue channels in your food delivery system.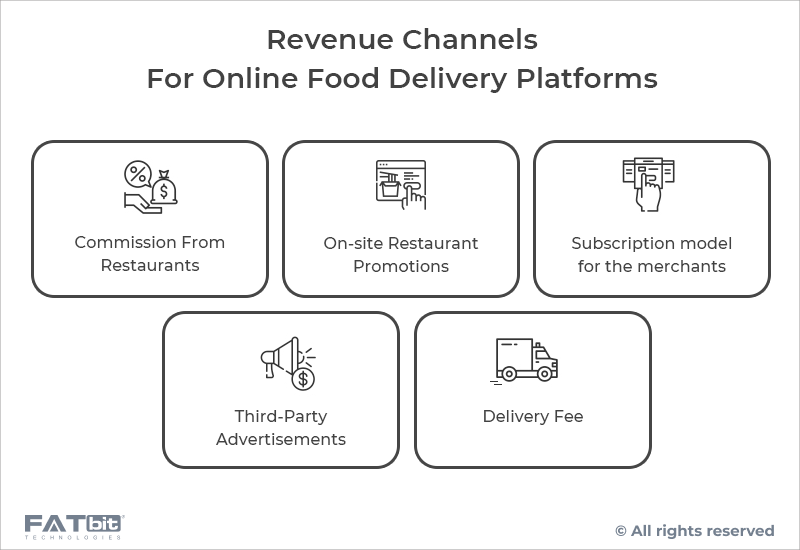 The four major ways of revenue generation for the admin of the food delivery platform can be:
Commission From  Restaurants
The admin sets a specified percentage of commission on every order placed through the platform. The payment made by the customer is received by the admin. The admin credits the amount to the restaurant's wallet after deducting the commission.
On-site Restaurant Promotions
The admin can charge additional fees from registered merchants who wish to run on-site advertisements/promotions on the platform for their restaurant promotion.
Subscription model for the merchants
The admin may set up various subscription packages (individual & corporate) for merchants to register their restaurants on the platform. When a merchant creates an account on the food delivery platform, he/she can choose the subscription package as per his requirement.
If the merchant wants to register a single restaurant on the portal, he can select the individual package whereas to register multiple restaurants, the merchant can subscribe to the corporate package. To subscribe to these packages, merchants would pay pre-decided fees to the admin. 
Third-Party Advertisements
Another effective way for the admin to generate revenue from the food ordering and delivery app is to run third-party advertisements on the platform and mobile app. The admin can charge from the third party for displaying their ads on the food delivery platform.
Delivery Fee
The admin can also generate additional revenue from the orders whose delivery is managed by him/her. The platform owner can charge the delivery fee from the customers. The amount charged as the delivery fee is decided by the admin, therefore, he/she can charge an added fee to generate revenue from it.
Want To Incorporate Multiple Revenue Streams In Your Food Delivery Business?
Must-Have Features To Build a Market-Leading Food Delivery Platform
To drive exponential business growth and provide exceptional user experience, a food delivery app must be equipped with trending features. Below mentioned are some of the features of a food delivery app categorized on the user types.
Admin
Registration and managing profile: The admin should easily be able to register and manage restaurants, customers, and delivery staff on their platform. A dedicated dashboard can help in achieving this goal. 
Offers/Deals Management: This feature is very important to stay connected with your customers and also improves engagement rate. You can notify your customers about loyalty programs, offers, deals, discounts, etc. 
Geo-Fencing: Geo-fencing allows the admin to define the area they want to serve. If they are serving in a specific area, they can review the demographics of that local population and can customize and promote their services accordingly.
Restaurant Management: The admin has to manage multiple restaurants listed on the food delivery platform. With this feature, the admin can seamlessly add or remove restaurants. 
Restaurants
Loyalty program for customers: The restaurants can offer lucrative discounts, offers, and deals for the customers and can improve their user engagement and retention. It is a wonderful approach to earning revenue and bringing new customers to your platform
Order and menu management: With dedicated dashboards, restaurants can easily manage orders and can update their menus with just a click. It also streamlines all the operations for restaurants. 
Instant updates and alerts: This feature allows restaurants to instantly receive alerts and notifications regarding orders and other important information. 
Delivery Tracking: With real-time tracking, restaurants can easily track the delivery staff and the status of the order. 
Customers
Search Filter: The search filter helps customers in finding their preferred restaurants and dishes easily and quickly with specific keywords without having to navigate through the entire app.
Multi-payment options: Customers must be offered multiple payment options so that transaction is quick and easy. You may choose to incorporate popular payment APIs such as PayPal, Stripe, and other options like eWallets, internet banking, etc. In addition to that, it is very important to ensure that the payment procedure is secure. 
Real-time order tracking: The order tracking feature updates the customers about the current location of their food and the estimated delivery time of their orders. 
Ratings and reviews: This feature lets customers give their ratings and reviews for the food and restaurants they order from. Furthermore, this feedback can be efficiently implemented by business owners and restaurants to improve their services. 
Delivery Personnel
Easy registration for delivery person: With an easy registration process, the delivery personnel can conveniently register themselves on the platform, customize their profile, and can begin accepting and delivering orders. However, the verification can be completed by the admins. 
Order management: This feature lets delivery personnel efficiently manage and check out their order requests. Delivery personnel can streamline multiple orders and manage them better. 
GPS tracking and route optimization: With the help of this feature, delivery personnel can work more efficiently. They can deliver more orders in less time with route optimization. 
Status Update: The delivery person can provide information on whether an order is in progress, delayed, or completed and on the way to delivery. 
Want To Know More About Features?
How To Create A Food Delivery App & Platform
Businesses are changing their approach and becoming increasingly mobile-driven. Due to the increasing rate of mobile usage by customers and ease of use, most companies have launched their mobile apps. These mobile apps allow customers to order from a wide array of restaurants on the go and track delivery.
With easy access, fast ordering, and secure online payments, online food ordering mobile apps offer many advantages and are definitely worth an investment. Follow these easy and comprehensive steps to develop your online food delivery app effortlessly. 
Step 1: Conduct research & analyze your niche
The first step is to conduct research and analyze your market. You should thoroughly analyze your competitors, have a look at their strengths and weaknesses, and learn from their mistakes. This in-depth research and market would help you make an app that can cater to the demand of the market. 
Step 2: Choose your business model
After you have researched your competitors and have a sufficient understanding of the market, the next step is to choose a reliable business model. It is very crucial to make a well-informed decision regarding your business model. Your business model should meet your business requirements and must help you in achieving your business goals.
Read this blog to gain more information on various business models for a food delivery business. 
Step 3: Finalize Your Revenue Streams
Once you have decided on a reliable business model, the next important step is to finalize your revenue streams. Multiple revenue streams can help you generate financial gains, hence, you should know all potential sources of revenue for your platform.
Step 4: Select functions and functionality
The next step after finalizing your revenue streams is to select the platform's functionality. Selecting the right set of features and functionality for your food delivery app will help you create an app that is user intuitive, efficient, and easy to use. Additionally, it will help you achieve your business requirements and meet the needs of your target market.
Step 5: Build Your Food Delivery App
The final step is to choose a development process for building your food delivery app. There are several solutions available in the market and each offers unique features and functionalities. Entrepreneurs can either go for custom development or can opt for a ready-made solution. A ready-made solution has its own set of benefits, as it is quick, hassle-free, and cost-effective as compared to custom development. You can choose a solution depending on your business requirements and budget. 
Final Thoughts
In recent years, the food ordering market has grown rapidly. Rather than going to an eatery, people prefer to order food online. This has resulted in huge demand for online food delivery and the outcome is the rise of platforms like Grubhub, Deliveroo, and Uber Eats.
Although there are many startups that have launched in different markets, most of them are making decent progress. That's because this niche relies on locality, which makes it easy for a new startup to generate income from an untapped area. If you want accelerated growth for your online food-delivering business, your solution should be equipped with exclusive functionalities and impressive features.
This would surely help you in capturing the bulk of the market share and driving exponential business growth.
FAQs
Q1: How can I make a food delivery app in the USA?
A: There are majorly two ways to make a food delivery app. One is to build it from scratch with the help of a team of developers and designers which takes a huge amount of effort, time, and money. On the other hand, you can consider a ready-made software solution that is cost-effective, affordable, and less time-consuming. Yo!Yumm is one such ready-made software solution that saves entrepreneurs from all the development pains and builds a food delivery app hassle-free. 
Q2: Can Yo!Yumm create food delivery apps like DoorDash, JustEats, Grubhub, Uber Eats, and Deliveroo ?
A:  Yes, food delivery apps like Doordash, JustEats, Grubhub, Uber Eats, and Deliveroo can be built by customizing Yo!Yumm.
Q3: Can Yo!Yumm build android, iOS, and web apps?
A: Yes, Yo!Yumm can build Android, iOS, and web apps for the online food delivery platform.
Q4: How much does it cost to develop a food delivery app?
A: Cost of a food delivery app depends on several factors like budget, the development process, and the number of integrations. The cost of the development increases with increasing customization, features, and complexity. However, a ready-made software solution like Yo!Yumm is a cost-effective and affordable way to build a food delivery app. To know about the pricing of Yo!Yumm, visit here.