While Airbnb has simplified booking unique places to stay across the world, it didn't cater to people who were in love with open sky and spaces. We speak of campers and their unique needs when it comes to accommodation.
Campsite booking platforms like Hipcamp, CampGrounds and Pitchup are quickly gaining popularity amongst campers that are looking for new and unique experiences. Acknowledging its unique idea and business model, FATbit team decided to learn how technology is helping similar web brands accomplish their goals.
In this blog post are our findings related to website features, revenue generation, and also improvements that we think can enhance the overall experience of camping ground discovery sites.
Let's start with a little brief of their business model.
Business model of Campsite Booking Platform
As we said, such platforms help campers locate campsites near them or in a particular region. What we didn't tell is that they allow it on basis of location, amenities, activities and natural features. This way, they personalizes the whole process of research and booking. This also means there are no surprises when you head out with your backpack.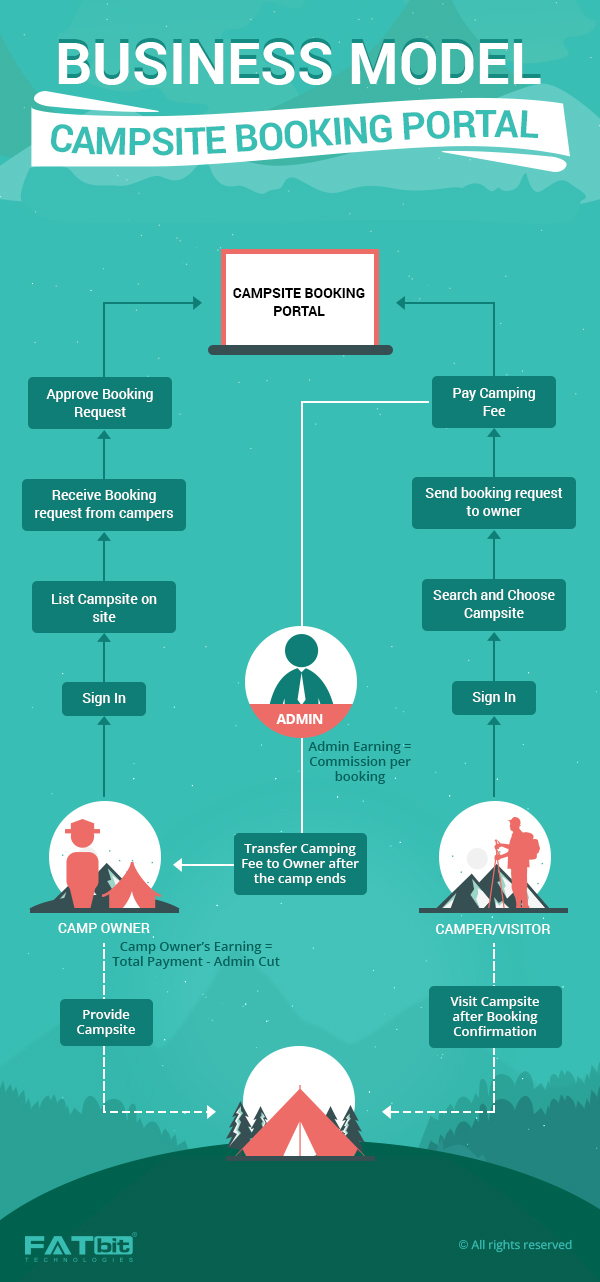 Revenue generation
User base of such online camp booking websites is growing. While there are brands that are presently powered by investors, some are profitable as well. That said, our team of marketers can see many ways of monetizing a clone besides charging a small fee on every booking. Here are few:
Featured properties – Private land owners who want to earn income wouldn't mind paying a little to get featured on your  website's homepage. Clones of leading campsite booking brands can integrate a section to feature properties and earn revenue.
Online store – Campers are a unique set of audience. Hence, it makes sense to sell camping equipment, gear, and merchandise through an online store.
Obviously you need the advantage of an advanced website with smart features to launch a super clone. Let's have a look at website features that you cannot afford to miss out:
Radical Website Features
Hipcamp, CampGrounds and Pitchup have ambitions to expand reach to vast territories, and their respective website has a very central role to it. Here are the website features and aspects that no clone can manage to compromise while building its website:
Homepage essentials
Making an impression with your website homepage and sending your brand message across is very crucial. Leading camp ground discovery sites have managed to score in both. Let's see what established names have in store when it comes to homepage:
Top navigation – Almost everything should be accomplished through the navigation itself. The navigation should bring:
Search functionality
Login and signup
Social media buttons
Land listing and referral link
Header – It is great to have an impressive navigation bar but header is the element that engrosses the visitor on first visit. Go for a prominent search bar to 'search, discover and book everywhere you want to camp'. Appeal to the camping community with an impressive image from community member.
Featured sites – People will not only come to discover camping spots on public land such as National, State, Regional and Army Corps Parks but also be interested in ranches, farms, vineyards and land preserves. List such sites and don't forget to keep:
Book now button
Location details
Use call to action graphics to get sign ups and friend referrals. Make sure your design and development team makes this provision in your clone.
Explainer video – Connecting with camping community is critical to get registered users. Get an engaging video that motivates campers to set out in the wilderness. Don't forget to add social sharing buttons just like Hipcamp. It's not something your clone cannot live without but it can become a crucial marketing and branding resource.
To get higher traffic,  pick a clone script that comes with blog, and deliver rich visual experience. We are done with all the important homepage points except search functionality which deserves special mention. Let's move on to other features.
Camp site pages
Put a lot of effort to create highly informative camp site pages. These pages list everything campers need to know to choose the best location for their weekend escape. Here are the must-have aspects of such pages:
Overview – Introduction to the location
Details – Directions, accommodation, accessibility etc.
Amenities – Restroom, drinking water, picnic table etc.
Activities – hiking, fishing swimming etc
Images and tips section
Booking form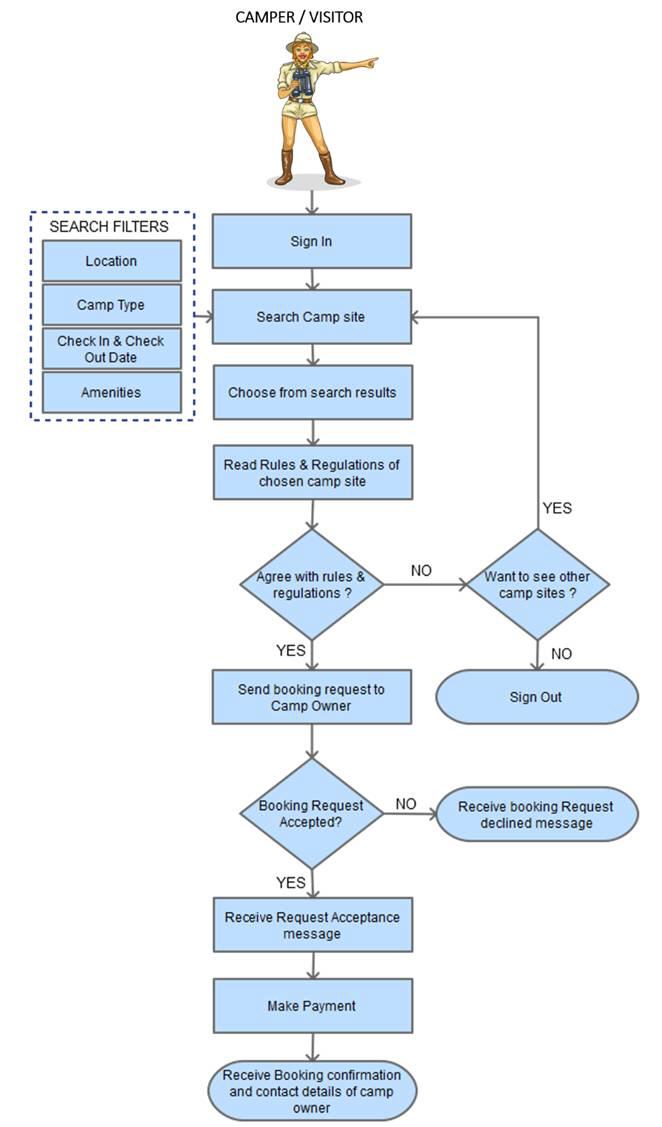 Add such unique features to your camp site discovery website
Consult Experts
Comments functionality
Camping ground pages will be loaded with information but this doesn't mean there is no need to add comments functionality. It will help campers share personal experiences and increase the engagement quotient of the site.
Such features are crucial if you are trying to build a community rather than just a search engine for locating camping spots. Planning to use a clone script to build your site? Make sure it brings such features.
Recommended Read: Things An Entrepreneur Ought To Know Before Planning a Travel Based Start-Up
Instant book form
Campsite bookings are the main revenue generation medium for platforms like FreeCampsites.net, CampGrounds and Pitchup. Therefore, the booking process should be as simple as possible. Deploy a small form on the location page, and ask only for required information. Here are few points to consider:
Check in and out
Pricing
Action button
Search functionality
For any web driven solution based on discovery requires powerful search functionality. The search should work very smoothly, and include auto suggestions to assist the search process. In case, the website couldn't locate the site, then, it must suggest nearby camping grounds and also carry the functionality to notify team.
Land listing functionality
Want your online camp booking portal to become the best resource to search open and private lands? To make it possible, your website needs smart listing functionality. The land listing process can be divided into four steps:
Get started – Choose name and pick location
Basics – Camp overview, phone number, photos etc.
Rules and directions – Insurance enquiry, timings, directions and parking, etc.
Sites – Number of people, price per night, site photos etc.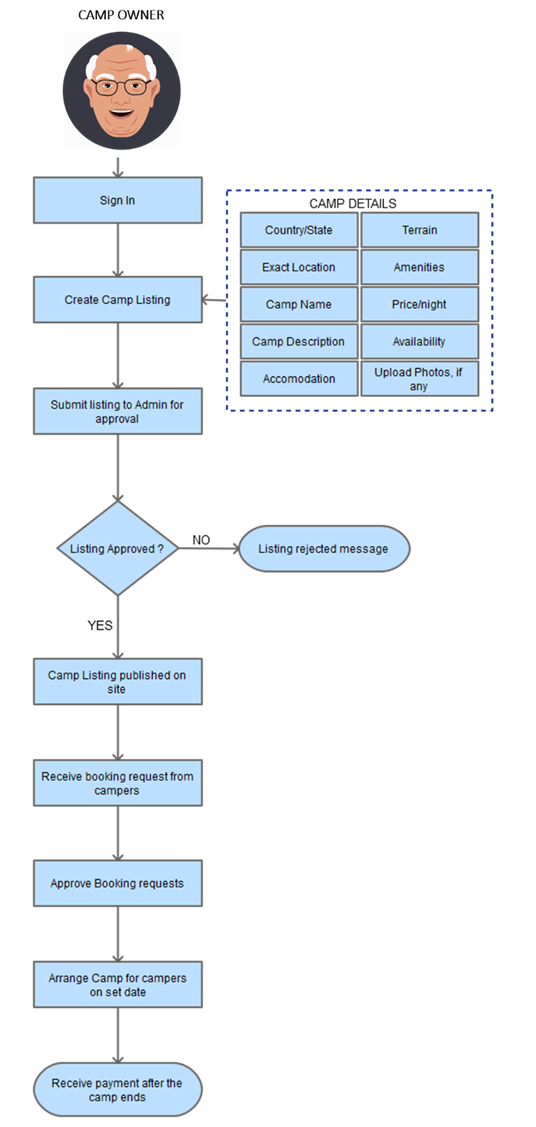 The review step is crucial to check incomplete and spam listings. Integrate such thorough listing process in your clone to get maximum listing. Don't forget to check our listing focused suggestions in the recommendations section (later in the post)!
Hire experienced developers to build your online booking product
Get in touch
Refer feature
Becoming biggest online database of ranches, farms, vineyards, preserves, estates, and open lands available for camping cannot be done without enticement. To gather more site references, give some monetary reward to ones who refers a friend or acquaintance.
Camper and owner pages
Profile pages help users manage their favorite camping spots, site listings, activities and much more. The most prominent elements on these pages can be:
Section for Tips, Photos, and Favorites
Upcoming trips – All the trips planned and booked
Profile image and message functionality
Integrate Manage Account functionality to give users the power to manage their profiles, change notification preferences, and alter other details.
Feedback functionality
Integrate simple yet powerful chat functionality to gather feedback and answer queries. Make the communication quicker by starting the interactions quicker. Don't ask for details like name and email ID to start the communication.
To compete in the growing market of camp site discovery and booking, you need a website that not only matches the technical prowess of Koa.com, HipCamp, and CampGrounds but also improves on it.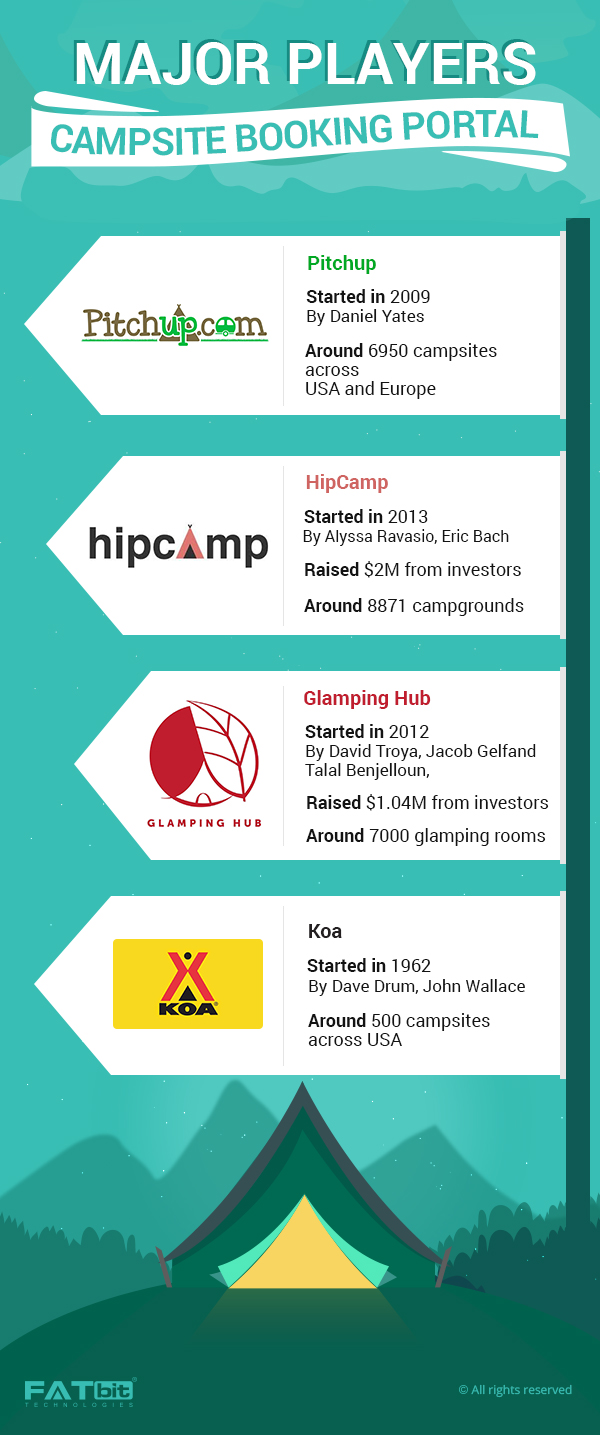 Website recommendations and enhancements
Simple listing process – The process of listing land on your camp site system should be simple and shouldn't discourage land owners. While some details are critical to maintain platform integrity, get rid of useless sections. Divide the process in short steps.
Location tracking functionality – If you plan to cater multiple countries and nothing but superior experience for your users, add location tracking feature just like Koa. This will save visitors a lot of time and effort.
Go for a flexible script – If you are not hiring a dedicated design and development team for creating your camping site search engine, then, pick a flexible clone script. It will simplify future scaling and generate long term benefits.
The idea of launching a search and booking solution for campers has strong local potential and can generate profits for young entrepreneurs in search of new business ideas.
Start your online booking venture and grow like Hipcamp
Enquire about Cost

Want to start a venture similar to HipCamp, CampGrounds and PitchUp? Either wait for quality and flexible script to come up in the market or hire a team of UX designers and developers to get the early bird advantage.
Final Thoughts
If you're planning to create a website similar to HipCamp, CampGround or PitchUp, it's advisable to opt for a white label solution that offers most of the basic functionality to support your business model requirements. As well as giving you speed to market, a white label solution will save you considerable time and money than if you were to build a website from scratch through custom development. At FATbit Technologies, we've helped a diverse range of businesses launch their online rental marketplaces with Yo!Rent – an eCommerce rental platform. YoRent has a simple 4 steps process to setup an online rental marketplace. Also, please feel free to share your thoughts about this blog in the comment section below.