Last Updated: 2nd June, 2023
In this article, we have laid emphasis on the best eCommerce platforms of 2023 to provide business owners reach, digitization and simplified administration of online business operations. Keep reading to know our selections. 
Table of contents
In the past decade, global eCommerce sales grew from $572 billion to a whopping $3.5 trillion. During this period, the eCommerce industry was not only able to proliferate at a rapid rate but also effect a fundamental change in the mindset of entrepreneurs, who suddenly felt an urgent need to create their online presence in a bid to compete with their emerging eCommerce rivals. However, this wasn't the only way the eCommerce industry motivated business owners to launch their eCommerce sites. It offered them an immediate expansion in reach, the ability to conduct business operations without a physical outlet and digitized administration to simplify erratic business operations.
Selection Criteria to Choose Best eCommerce Platforms
To create an objective list of the best eCommerce platforms of 2023, we analyzed the merits and demerits of top eCommerce solutions under six different criterias:
The agility of the eCommerce platform in accordance with the modern eCommerce behavior and shopping trends (see section Dominating Trends in eCommerce Shopping Behaviour )
Key features of the eCommerce platform in comparison with their necessity
The available customer support channels to assist business owners in case of any technicalities
The available security options, policies and integrations for the protection of eCommerce business from online threats and cyber-crime
Viability of the eCommerce platform for businesses and organizations of different sizes
The existing customer reviews to analyze the overall customer experience the platforms provide to business owners
The Top eCommerce Software in 2023 to Power Your Online Business
In the past few years, the demand for both standalone eCommerce stores and multi-vendor marketplaces have increased and thus we have enlisted the best eCommerce solutions into two categories.
eCommerce platforms to develop an online marketplace (Multi-Vendor)

eCommerce solutions to develop a standalone online store (Single-Vendor)

Best eCommerce Platforms to Build Online Marketplace:
Online marketplaces are those eCommerce sites that allow third-party vendors to register and sell or rent products and services. In an online marketplace, the business owner earns via commission (which is one of the primary revenue channels) and enjoys additional revenue streams like paid listings and monthly subscriptions.
Yo!Kart

Yo!Kart is an industry-leading eCommerce marketplace software that is developed using agile methodologies to deliver highly-scalable multi-vendor stores. Unlike the open-source and SaaS-based solutions, Yo!Kart is a ready-made solution that comes with a wide set of features such as order management, vendor management, catalog management, and more. Moreover, the solution is fully customizable and allows for numerous third-party integrations, modules, features, and interfaces addition. Due to the scalability and feature-rich design, Yo!Kart proves to be a practical solution for entrepreneurs looking to enter new industries and markets in the eCommerce marketplace domain.
To simplify and streamline the entire marketplace business process, Yo!Kart offers feature-packed admin and vendor modules that enable effortless marketplace/storefront management.
Yo!Kart also comes with native mobile apps to enhance the overall mCommerce experience for the end-users.
Key Features of YoKart:
Yo!Kart is offered with 20+ payment gateways pre-integrated. All popular and safe payment gateways like PayPal, Stripe connect, Mpesa, AmazonPay and more are available. 

Multilingual and multi-currency

Pick up & Pay at store (BOPIS) 

Cart abandonment recovery system
Pros:
Yo!Kart is a License based solution, providing users lifetime ownership with just a one-time payment.  No Transaction charges, commissions, or any other recurring charges are levied on Yo!Kart clients. 

Fully customizable and backed by an Agile team with proven eCommerce expertise. 

One-year of free technical support

Ready mobile apps

Pre-Integrated with popular APIs like QuickBooks, ShipStation and Stripe Connect
Cons:
Updates are paid. Although there are comprehensive additions in each update, they are not free of cost. 

Limited support for free themes.
Top three clients of Yo!Kart
UNI diamonds, Superlivery, Voyij
Yo!Kart Rating on Capterra: 4.1
Overall 4.1/5
Ease of Use 4.3/5
Customer Service 4.3/5
Pricing plans of Yo!Kart
Yo!Kart is available in four unique value-based tiered pricing plans. All plans are self-hosted and charge a one-time fee for lifetime ownership.
GoQuick for $999
GoQuick Boost for $2499
GoCustom for $7499
GoCustom Prime – Request For Quote
These plans include all standard marketplace features, free installation, source code ownership, and more. Moreover, mobile apps are now part of the multivendor marketplace packages.
Customer Support Features:
One-year of free technical support

Support mediums: Chat, email, and video call

Detailed FAQs
Security:
PCI Compliant

GDPR Compliant

SSL authentication

Restricted SQL injection
Ideal for:
Businesses of all sizes
Growcer
Growcer is a fully customizable hyperlocal marketplace software that was originally developed to help grocery store owners to sell their products on an online platform to compete with online sellers. However, it is compatible with several other hyperlocal business models like online liquor delivery marketplace, funeral products marketplace, and ePharmacy marketplace. Growcer supports the functionality to launch standalone single-vendor sites with advanced geo-fencing and localization settings.
Built to promote hyperlocal eCommerce businesses, Growcer automates several essential business processes such as the billing, reporting, sending push notifications and commission deduction. To streamline the delivery process for the business owner, Growcer comes with a delivery management app with features like routing, calling and order catalogue management. To reduce the workload on vendors in a marketplace, Growcer supports delivery time slots creation, which gives vendors the time for resource gathering and simplifies the business model.
Free demos for Growcer are available on its official website.
Key Features of Growcer:
One year of free technical support

Product Catalog management 

Subscription packages management

Geolocation Based-Listing

Delivery staff management

Multilingual & Multiple Payment Options
Pros:
Growcer is offered with 20+ payment gateways pre-integrated. All popular and safe payment gateways like PayPal, Stripe connect, Mpesa, AmazonPay, and more are available out of the box. 

Completely customizable and scalable

Growcer is License based giving users lifetime ownership with just a one-time payment.  No Transaction charges, commissions, or any other recurring charges are levied on Growcer clients. 

Flexible payment terms 

Free installation

One-year free technical support

Multiple Support Channels
Cons:
Updates are paid. Although there are comprehensive additions in each update, they are not free of cost. 

Limited support for free themes. 
Top three clients of Growcer
Rx-delivered, Pop to shop, Pravasicart
Growcer rating on G2.com: 4.4
Pricing plans of Growcer
Growcer comes in both single-vendor and multi-vendor versions. The license for lifetime ownership of Growcer is available in multiple packages. 
The pricing plans for single vendor Growcer is as follows 
GoQuick for $499
GoCustom for $4499
GoUnlimited for $4999 
The License for Multi Vendor Growcer varies and depends upon the services opted alongside the software. 
All packages are inclusive of multiple services offered alongside the ownership license
Ideal for:
Small to midsize hyperlocal delivery businesses
CS-Cart

CS-Cart is an eCommerce marketplace solution that you can use to develop robust online marketplaces with efficient checkout and cart processing systems. The team of CS-Cart claims it to be the eCommerce solution with maximum features, which span from vendor management, product management and payment options to statistical reporting and debt management. CS-Cart is inclusive of in-built page design features that help you curate pixel-perfect web pages. As the software is developed on open-source technologies like PHP and MySQL, it is easy to scale it to your business requirements (for scaling purposes, extensive developer support is widely available).
After integrating CS-Cart on your website, there are dozens of add-ons on offer that you can use to customize your marketplace without the need of explicit programming. The company also guarantees 4 big updates per year on an average to help its clients catch up with the changing trends. There's also a free 15-days trial of  CS-Cart that one can opt to test the software.
Key Features of CS-Cart:
Pros: 
Cs-Cart has support for all popular 50+ payment gateways 

Built-in Designing tools: You can create your own design from the admin panel of your online marketplace builder, No Coding is required 

Fully customizable 

Free support period which is changes as per the license selected

Regular updates for a specified period depending upon the package selected, upto a maximum of 12 months. 
Cons:
Support can be expensive. 

To get all features, you will have to buy the more expensive packages.
Top three clients of CS-Cart
Shopclues, Nguyenkim, Market marmelada
Cs-Cart Rating on Capterra: 4.7
Pricing plans of Cs-Cart
Lifetime license for Cs-Cart is available in 3 inclusive packages
Multi-vendor $1450
Multi-Vendor Plus $3,500
Multi-Vendor Ultimate $7,500 
Apart from the license, these packages also include services offered.
Ideal for:
Small to mid-size businesses
Yo!Rent
Yo!Rent is one of the top online rental software that supports both renting and selling operations. It is developed by the same team as Yo!Kart for entrepreneurs wanting to join the rental economy with high renting demands such as luxury clothing, heavy construction equipment, cars, recreational vehicles, boats, furniture, and party supplies. Yo!Rent comes with an advanced booking calendar that assists the renters in the management of the delivery timeline. Supporting a wide range of revenue channels. In our list Yo!Rent is the marketplace software with the maximum number of revenue generation streams.
Yo!Rent is also available in a single-vendor variant. It provides multiple user-type interfaces (admin, renter and rentee) to assist the marketplace owner in business management. Along with compatibility with B2C and B2B business verticals, Yo!Rent is suitable for launching online peer-to-peer marketplaces.
Key Features of YoRent:
Advanced booking calendar for seamless booking management.

RFQ Management
Verification & Security Management
Agreement Management & eSign

Multilingual and multi-currency system for convenient international operations.

In-built analytics and reporting

Add-on Rental Services

Real-time inventory management 

Pre-integrated business APIs like 20+ payment gateways, shipping and tax management and others. 
Pros:
Industry-specific designs to provide a seamless user experience.

Support for retailing, selling, and RFQ with the option of enabling or disabling each of these modes.

Yo!Rent is License based, ownership for a lifetime's use is offered with a one-time payment. No other transaction or recurring charges are levied. 

Free installation.

In-built design themes available 

Free live demos (No credentials required)
Cons:
Updates are paid. Although there are comprehensive additions in each update, they are not free of cost. 

Limited support for free themes. 
Top three clients of Yo!Rent
GearlFlow, Aloklub, Find Rent Wear, Machinfo                   
Yo!Rent rating on G2.com:
4.5
Pricing plans of Yo!Rent
Yo!Rent comes in both single-vendor and multi-vendor versions. The license for lifetime ownership of Yo!Rent depends on the services availed alongside the ownership License and is available upon the request for a quote. 
Ideal for:
Rental businesses of all types and all sizes
ShareTribe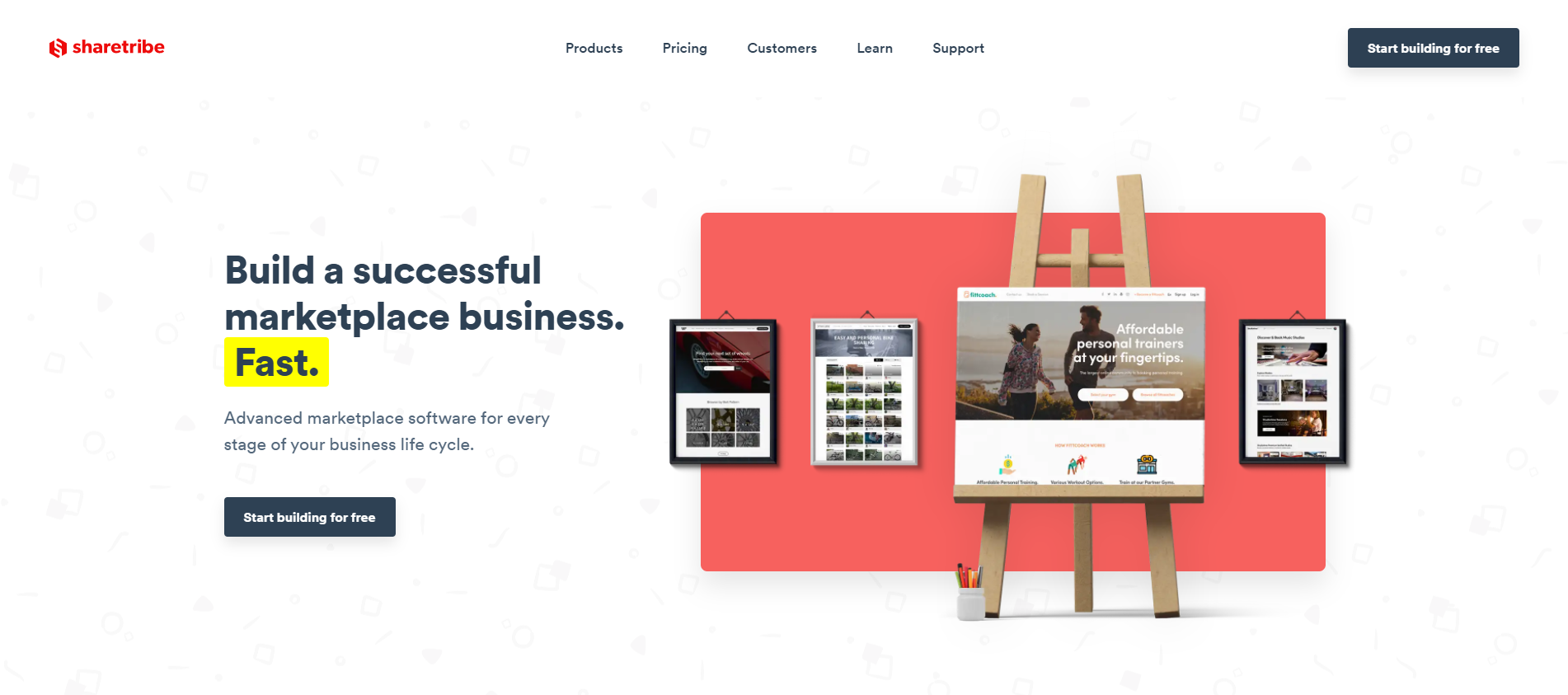 Unlike other marketplace solutions, ShareTribe is a software that is designed to support your online marketplace at every stage of your business lifecycle. You can use the software to launch your multi-vendor business and get expert support for growth and expansion. ShareTribe is available in two different variants that are:
ShareTribe Go

ShareTribe Flex
While Sharetribe Go is suitable for entrepreneurs wanting to launch an online marketplace as soon as possible, ShareTribe Flex is more preferable to those wanting customizations and unique functionality.
ShareTribe comes with a recurrent billing model charged on a monthly basis. Moreover, varying transaction fees is also levied on the owner, which is calculated on monthly total sales volume. Interested entrepreneurs can opt for a free 30-days trial of ShareTribe before purchasing the software.
Key Features of ShareTribe:
Order flow management for seamless operations.

Multiple options to sign up on the marketplace 

Listing calendar functionality

Multilingual & Multi-currency support
Pros:
ShareTribe has support for payment gateways. 

24/7 Support

The services of ShareTribe are bespoke and easy to manage. 

Extensive documentation is available for convenient setup and use. 
Cons:
Lack of personal shipping cart for individual vendors 

Demo not available 

Limited support for payment gateways 

Emailing customers can be a bit complicated. 
Top three clients of ShareTribe
Burly, Club HIFI, Decathlon Go   
Rating on Capterra: 4.4
Overall: 4.4
Ease of Use: 4.9
Customer Service: 4.6
Pricing plans of Sharetribe
Both ShareTribe Go and ShareTribe Flex are subscription based pricing models and come with recurring charges as discussed below 
ShareTribe Go is a fixed pricing model as listed hereunder
Hobby for $79/month
Growth for $159/month
Scale for $239/month
On the other hand ShareTribe Flex is a flexible pricing model  based on cumulative  subscription fee and a transaction fee. The subscription fee is fixed but the transaction fee varies according to the transaction taking place on the platform.
Ideal for:
Startups or entrepreneurs wanting to launch an eCommerce business ASAP
Have an online marketplace idea on your mind?
Best eCommerce Platforms to Develop an MVP Product Marketplace
A Minimum Viable Product (MVP) helps in validating the market demand for an online business idea. It is also often required in a business pitch to acquire funding from investors. Launching a full-fledged marketplace business without proper market validation is risky because on a marketplace, the online platform has to meet the demands of both vendors and customers. Thus, by developing an MVP verified marketplace, vendor and customer demands are validated.
Selection criteria for selecting the best MVP marketplace eCommerce platforms:
Customer Support
Efficient customer support is an imperative in developing an MVP marketplace due to the high requirement for implementing frequent changes based on the various inputs of early adopters. Thus, the provided customer support is a major deciding factor in selecting an eCommerce platform for MVP marketplace development. 
SEO Friendly
MVP marketplaces that can help the business owner understand current traffic, visitor data, bounce rate and page rankings help in planning an efficient SEO strategy. To implement that strategy, the platform should have necessary SEO features like snippet editing, image alt tags and third party integration support to make it SEO friendly. 
UI/UX and Mobile Friendliness
Mobile devices have become the most commonly used devices for exploring and shopping products on the internet. However, regular mobile front-end designs are not suitable for marketplace operations. To conduct those, the UX/UI should have elements to upload vendor reviews, view vendor terms and conditions, and simplify navigation.
Pricing
Frequent updates are often a part of MVP software and are required even after market validation. However, customization in any eCommerce solution is charged on an hourly basis, ranging from $20 per hour to $150 per hour. Thus, it is highly recommended to select a solution whose customization rates fall within the budget. 
Our picks for the best eCommerce platforms to develop an MVP product marketplace are:
Best eCommerce Platforms to Build B2B eCommerce Marketplace
B2B eCommerce marketplaces deal with more complex orders that cannot be accepted or invoiced with simple 'add to cart' button and checkout pages. To support such operations, features like Request-for-Quote module, quotation management and chat messenger are important. Furthermore, the purchase perimeters in B2B operations are also different, requiring more detailed product pages, different search filters, add-ons and approaches for upselling and cross-selling.
Selection criteria for selecting the best B2B marketplace eCommerce platforms:
B2B Features
As stated above, B2B specific features are an important criteria for selecting the top B2B eCommerce platforms. It is better if the software is also fully customizable as unprecedented requirements can arrive anytime in B2B operations. 
Security
Comparatively larger monetary transactions take place on a B2B eCommerce marketplace and sometimes even the sensitive data of clients, such as order history, price negotiations, signed documents, current bank accounts, tax IDs and more are stored. For this reason, B2B ecommerce marketplaces require high levels of security. 
Ownership
B2B businesses need an eCommerce platform that they can own completely. For this reason, SaaS solutions that freeze business accounts on delayed payments and risk accessibility to your own stores are highly not recommended to build a B2B eCommerce marketplace.  
Our picks for the best eCommerce platforms to build a B2B eCommerce marketplace are:
Both aforementioned solutions come with a lifetime usage license that provides full ownership of the software to business owners and have advanced security and B2B features.
Top eCommerce Software to Build an Online Store
Below are the solutions that you can use to develop robust single-store eCommerce websites:
Shopify

Shopify is a SaaS-based solution that helps solopreneurs and SMBs launch an eCommerce store from any part of the world. It is available in three different packages to cater to the varied needs of business owners. The 24/7 customer care support provided by the company also makes it a great eCommerce solution for entrepreneurs with little to no programming experience.
To gauge the solution for your business needs, you may opt for Shopify's 14-days free trial. Once you sign up, you will get the option of 9 free and 64 paid themes. Additionally,s, you can also add free and paid apps to customize your online store. The only downside to selling products on a Shopify-powered eCommerce store is the transaction fee that increases the overall monthly subscription costs, however, it is only applicable when you process payments via a third party.
Key Features of Shopify:
In-built POS (Point of Sale)

SEO and marketing tools

Mobile apps to manage your store 
Pros:
Shopify has its own Shopify payment gateway, and support for all major payment gateways.  

Easy to use 

The notification system is top-notch 
Cons:
Available only via a subscription-based model which means overheads for the business and no lifetime ownership

 Customizations can only be availed from the Shopify team. 
Top three clients of Shopify
KKW Beauty, Kylie Cosmetics, Gymshark
Rating on Capterra: 4.5
Pricing plans of Shopify
Shopify is offered with subscription based pricing models and comes with recurring charges. 
Basic Shopify $29/month 
Shopify $79/month
Advanced Shopify $299/month
Additionally, Shopify for enterprises, Shopify Plus costs start from  $2000/per month
Ideal for:
Solopreuners, Startups and SMBs
BigCommerce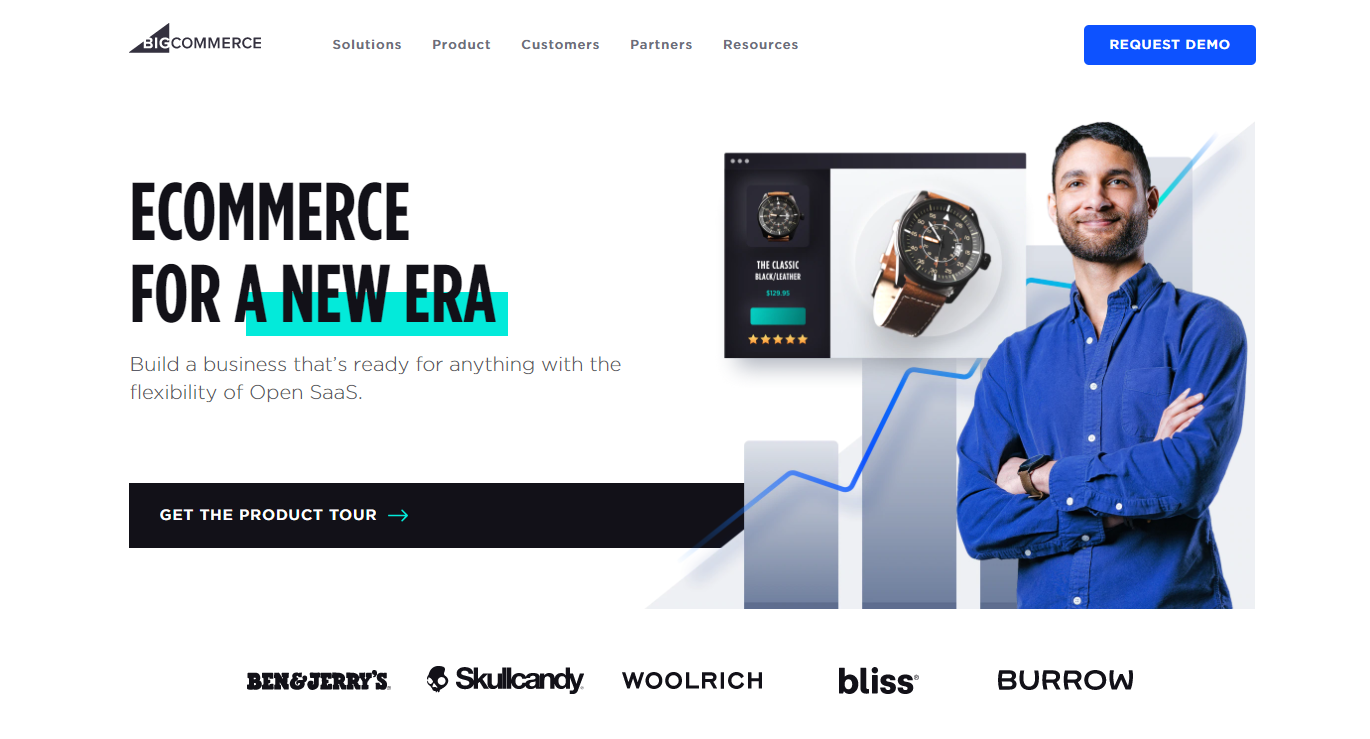 BigCommerce is an eCommerce solution that aims to redefine eCommerce with the flexibility of SaaS subscriptions. It is one of the top eCommerce solutions around the world that explicitly focuses on catering to the aggregate demands of well-established businesses. Another aspect of eCommerce on which the company focuses is disruptive innovation. BigCommerce wants to help businesses turn far-fetched eCommerce experiences into reality with its scalable software.
On signing-up with BigCommerce's 15-days free trial, you get the choice of 12 free themes and the option to select your subscription package after the end of the trial. Till then, you can access almost all features of BigCommerce, including those that are only available in specific plans. Unlike Shopify, BigCommerce does not charge its clients any transaction fee.
Key Features of BigCommerce:
Availability of multiple themes, both free and paid.

Integration with WordPress. 

Streamlined buying experience with single page checkout. 
Pros:
BigCommercce has 35+ payment gateways out of the box and further support for more.

Multiple templates for store personalization 

24/7 customer support 

Express routing and priority support for customers with premium subscriptions
Cons:
Available only via a subscription-based model which means overheads for the business and no lifetime ownership

 Customizations can only be availed from the BigCommerce team. 

There is a limit to maximum sales you can register on a particular plan availed. 

Plugins and themes can be expensive. 
Top three clients of BigCommerce
Winstanleys Pramworld, Skullcandy
Rating on Capterra: 4.3
Pricing plans of BigCommerce
BigCommerce is offered with subscription based pricing models and comes with recurring charges. 
Standard $29/month 
Plus $79/month
Pro $299/month
Additionally, BigCommerce for enterprises, BigCommerce Plus costs depends upon the scale of the store.
Ideal for:
Well-established medium and large-sized businesses
BigCommerce rating on G2.com: 4.2
Tribe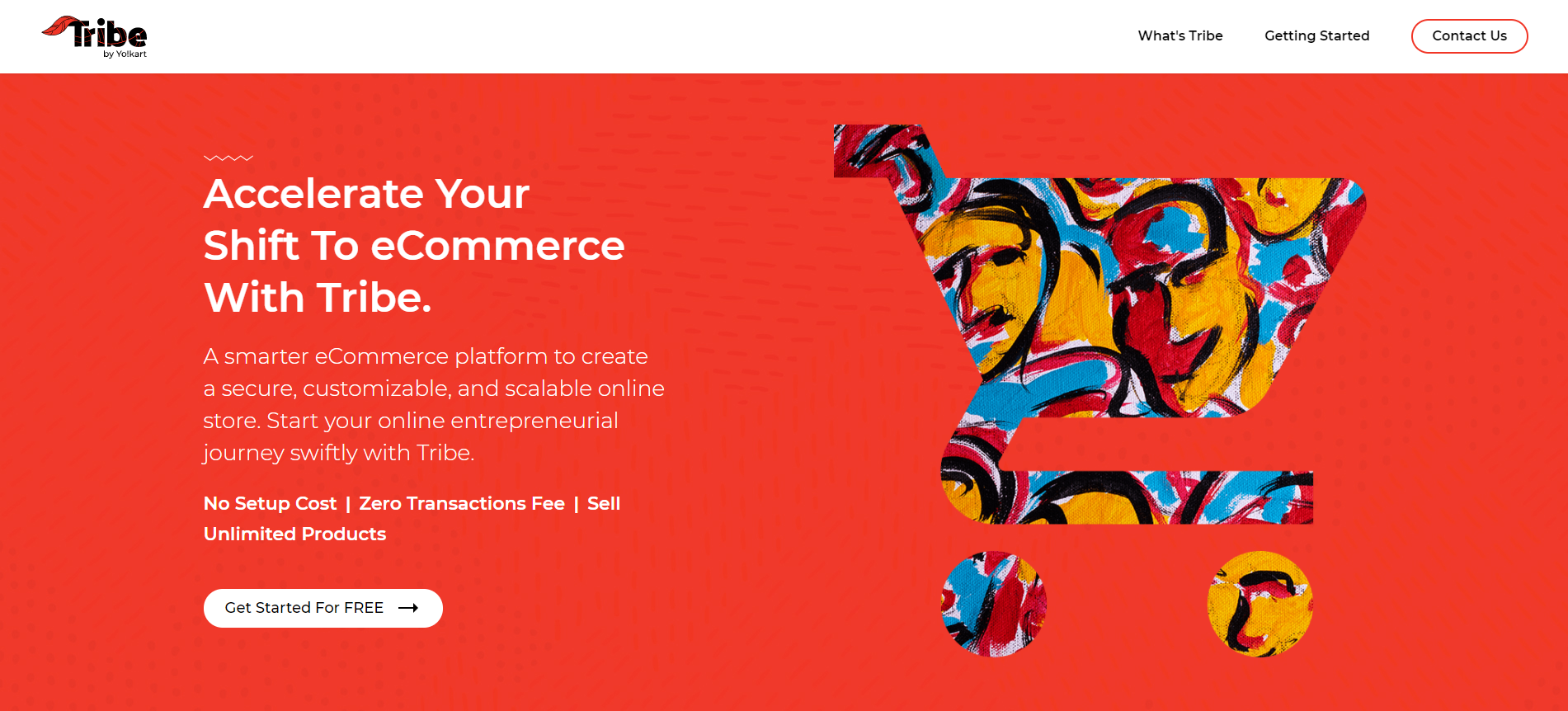 Tribe is a self-hosted eCommerce store solution that is developed on the Laravel framework. Tribe came into being with the aim to assist small business owners and local retailers in establishing an online  channel for business.
Tribe was developed in the heat of the pandemic to help small retailers recover and cope with the economic stagnation. According to Deloitte, the COVID-19  recession was due to a sudden pause in consumer activity, whereas all previous ones were due to various reasons like overexpansion of credit, underpricing of risks or bursting of stock market bubbles. With people under strict lockdowns to stem the spread of the virus, there was a sudden spike in eCommerce activity. In this scenario, the need for offline retailers to go digital was quite evident. To help these retailers go online, Tribe came out as an efficient self-hosted and zero cost solution.
Key Features of Tribe:
Drag & Drop CMS editor for ease and simplicity of store set-up and management. 

In-built POS 

Multiple Pre-integrated business APIs 

Tax and shipping management 

Multi-lingual support for over 70 languages
Pros:
Zero set-up costs, no transaction fee, or any other recurring charges, Tribe is a completely free offering with no hidden costs 

Free installation and three months of free technical support. 

Offered with source code ownership

Backed by Agile team for customizations 

Unlimited addition of products possible, no capping. 

Tribe is offered with 7+ payment gateways pre-integrated out of the box. Additionally there is support for all popular payment gateways. 
Cons:
Limited support for themes 

Removal of Tribe signature in the website footer is a paid customization if needed. 
Pricing plans of Tribe
Tribe is a truly free eCommerce store software. It comes with Zero setup costs, nill transaction or any recurring fee.
Ideal for:
Small Businesses and Local Retailers
WooCommerce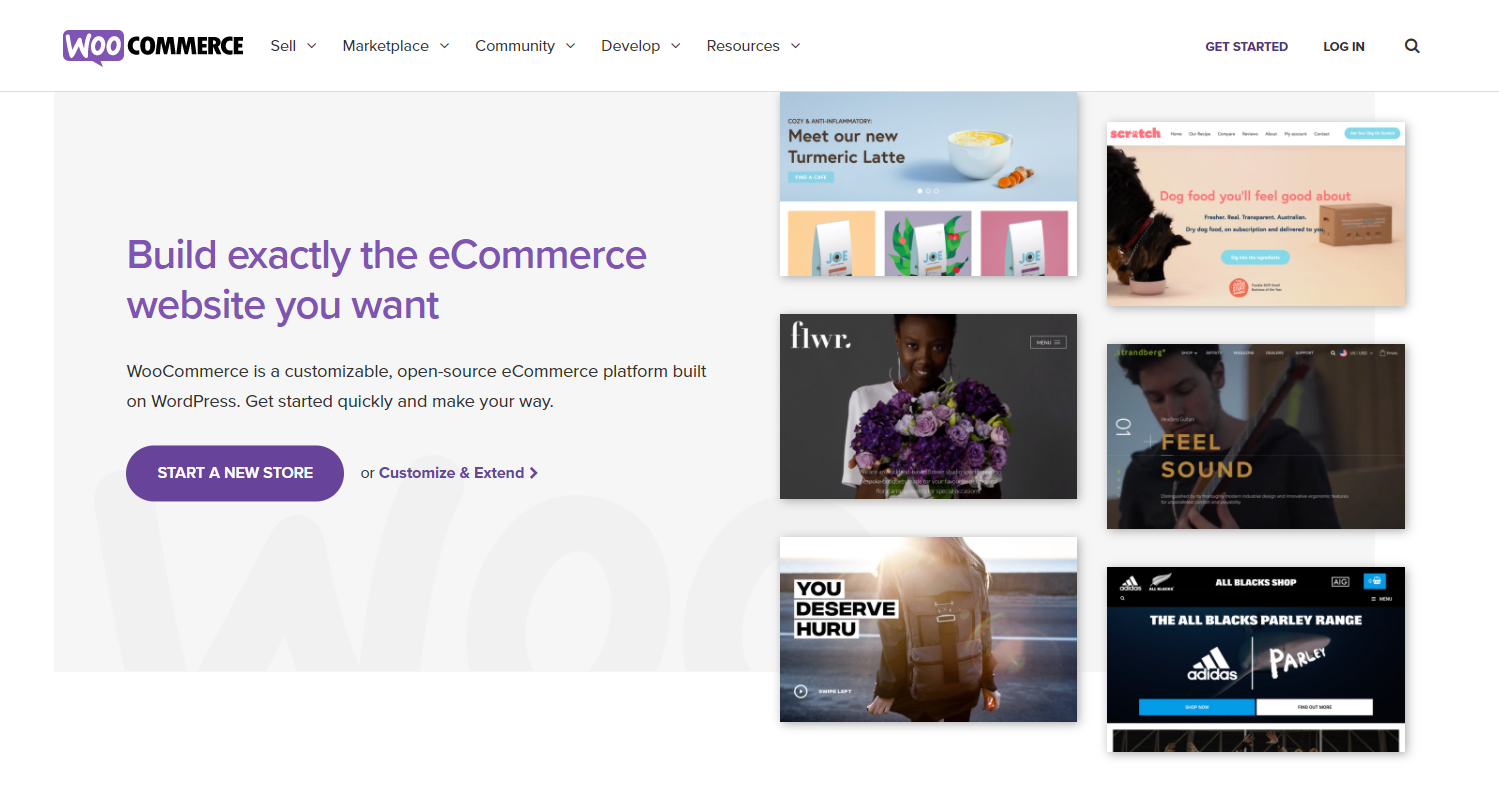 WooCommerce is one of top eCommerce website builders that enables entrepreneurs to create a fully customizable eCommerce store on a WordPress domain. With the help of this solution, website owners using WordPress as their CMS can also convert their existing website into an eCommerce store.
WooCommerce is available in two variants:
As an open-source solution

As a SaaS solution, i.e., WooCommerce Subscriptions
Alongside the open-source solution that can be used to develop varied eCommerce stores, the SaaS version is specifically designed to launch stores that sell products on a subscription basis. For the SaaS version, owners are also required to pay an annual price, which comes with a 30-days money-back policy.
For both the open-source and SaaS variants, WooCommerce has a dedicated marketplace with hundreds of extensions for customizations. Although your WooCommerce variant might be open-source and free of cost, you'd still be required to pay for the paid extensions, some of which are also available with recurrent payment. Also, there are only three free themes available on WooCommerce and the rest are paid.
Key features of WeeCommerce:
Unlimited product listings

Built-in third party payment systems

Localization settings

One-Click refunds
Pros:
WooCommerce has support for 74+ payment gateways. 

Multiple plug-ins are available, some of which are complementary. 

Support mediums: Live chat and email

Good documentation support available
Cons:
Requires technical skills. Installation, Store setup, and management needs time to get adjusted to.

Some Plug-ins and themes are paid. 
Top three clients of WooCommerce
All Blacks Rugby Merchandising, Sewing Machine Ecommerce, Barbecue Ecommerce
Rating on Capterra: 4.5
Pricing plans of WooCommerce
WooCommerce comes with Zero setup costs, but most plugins that are required by the online business are paid 
Ideal for:
Solopreuners, startups and SMBs
Magento

Magento is the other open-source solution in our list that comes with drag and drop customization. It has been owned by several companies in the past and in 2018, became a product of Adobe Inc. that is renowned for its graphic software solutions. After obtaining Magento, Adobe concentrated on the paid version of the software known as Magento Commerce (Magento Enterprise Edition earlier), whose pricing is inclusive of technical support and development. Magento Commerce also comes with Progressive Web Apps to deliver a mobile-friendly user-experience and then we have its cloud version that is developed on the Amazon Web Services infrastructure.
With all these software applications and next gen technology, Magento aims at creating engaging eCommerce experiences. Along with the company, third-party developers and organizations also work on Magento extensions and themes, some of which are openly available on the internet for free.
Key Features of Magento:
Seamless Order management

Product recommendations for higher conversions 

Customer Segmentation

Amazon Sales Channels
Pros:
Magento comes with 3 payment gateways out of the box. There is support for additional integration with popular payment gateways. 

Open Source-community 

Good design options

Magento resources library

Independence of customizations 

Good UI/UX
Cons:
Can get expensive after all customizations are done, suitable for enterprises. 

Technical support is paid. 

To customize Magento, you will need to identify the right Magento certified developer with eCommerce expertise 

Installation can be confusing
Top three clients of Magento
Helly Hansan, Sigma beauty, Ford
Rating on Capterra: 4.3
Overall: 4.3
Ease of Use: 3.6
Customer Service: 3.9
Pricing plans of WooCommerce
Magento open-source is free to download. However, any customizations required will cost extra. Magento commerce is subscription based and is available for $1998/ per month. 
Ideal for:
 Both mid and large size businesses
Suggested Read: Top 5 Magento Alternatives
Wcart
Wcart is a rising SaaS-based eCommerce solution that simplified the way retailers launch a new online store. Merchants of any level, ranging from small to enterprise-scale eCommerce merchants, with many built-in features and customization options. Wcart outstands among its industry-leading advanced functionalities, uptime, theme, security, payment, and a wide variety of built-in API integrations to improve store management without complex backend hurdles. 
The solution is suitable for cross-border business, personalization and a high volume of traffic and sales. But, if a small retailer looks to jump out, the pricing is very high compared to other solutions. Moreover, due to the easy-to-use and beginner-friendly interface of Wcart, it gained a huge market within the eCommerce industry.
Key Features of Wcart:
Pros:
Wcart ensures a seamless omnichannel retail 

Fully future-proofing

New go-to approach in selling

Faster time to market
Cons:
Needs IT expertise to sort some queries

Proper management is required to maintain potential business flow
Top three clients of Wcart
Muscatfoofmarket, EarthnMe, DeeZee
Pricing plans of Wcart
Wcart comes with a very reasonable price tag with flexible monthly and yearly subscription-based pricing models.
Monthly plan: $59/month 
Yearly plan: $39/month
Ideal for:
Startups, SMBs and Enterprises
Best eCommerce Platforms to Develop an eCommerce Store MVP
While launching a single vendor eCommerce store, developing an MVP will provide the necessary features required to conduct specific business operations in the shortest amount of time. The MVP will also significantly reduce the time to market and provide the store owner with the latest and highest demanded features.
Selection criteria for selecting the best eCommerce MVP platforms:
Supported Niches
An MVP solution should atleast have all essential features required to conduct business operations. It should also support multiple niches so that even when customization is required for validation, only minimum features need to be removed or added.
Transaction Fee
An MVP is not the actual product and is only used in the validation phase. In this phase, there can be multiple rounds of collecting early adopter feedback. For each validation round, it is not wise to pay the transaction fee cum commission charges for any entrepreneur. 
Agile Development
MVP development is based on agile development methodology where the software can be improved incrementally in each iteration. Ensure that the eCommerce platform provider follows agile development methodology.
Our picks for the best eCommerce platforms to develop an eCommerce store MVP are:
Best eCommerce Platforms to Build B2B eCommerce Store
Just like B2B marketplaces, single-vendor B2B eCommerce stores also target business-specific audiences, which have a different approach to make purchase decisions. In a B2B scenario, the customers have to look after many more aspects such as the ROI on their purchase, whereas brand value is not as important as it is in B2C operations. Moreover, a similar complex pricing and invoicing problem exists in B2B single vendor stores like it does in marketplaces. 
To overcome the aforementioned problems, here's our selection criteria for selecting the top eCommerce platforms to launch a single vendor B2B store. 
B2B Features
Features such as request for quote module, quotation management, chat module, bulk order discounts, custom fields are important on a B2B eCommerce store. 
Scalability
B2B orders are often repetitive and placed in bulk. eCommerce platforms with scalability issues, especially with a limited number of transactions often fail to keep up with consumer demand and that too, in a very short term. Thus, a scalable platform with unlimited transactions is a priority for conducting B2B operations. 
Sub-Admin Control
It is difficult for a single admin to manage the entire eCommerce store. However, due to the sensitive information of B2B customers, the entire control of the platform cannot be given to multiple admin accounts. For this reason, a B2B eCommerce platform should have features to create multiple password protected sub-admin accounts and assign them different controls over the platform. 
Our picks for the best eCommerce platforms to develop an eCommerce store MVP are:
Dominating Trends In eCommerce Shopping Behaviour
When a digital landscape of thousands of eCommerce businesses materialized, it paved the way for the gradual inception of several eCommerce shopping trends like the credit card culture, cash on delivery, try and buy and so on. These trends underwent further changes in the unprecedented times of COVID-19, when the world had no other option but to order essential and non-essential items online. Both consumers and eCommerce businesses adopted innovative practices and gave rise to the following new trends that will influence the industry for a while.
BOPIS and Contactless Delivery
Contactless delivery was the need of the hour during the pandemic and was hugely appreciated. MNCs like Dominoes, Uber Eats, and InstaCart utilized contactless delivery to recover and boost their sales. BOPIS (Buy Online, Pick-Up in Store) also accelerated in the last decade for introducing local touchpoints for product inspection and eliminating the delivery process. According to Adobe Consumer Survey, 30% consumers preferred BOPIS over waiting for the product to be shipped. This alone surged the global BOPIS year-over-year delivery amount by 259% in August 2020.
mCommerce
The longitudinal penetration of smartphones and advanced mobile technology facilitated the growth of mCommerce. Various mCommerce trends, like chatbots, voice search, and social media are also on a rise at a rapid pace.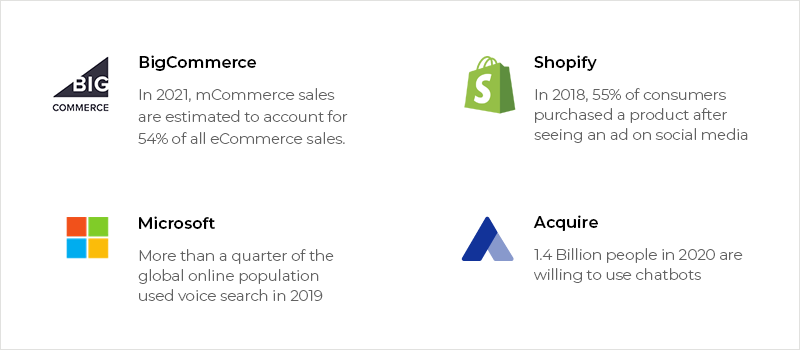 Personalized Shopping
In an interaction with a general consumer, the global consultant leader, BCG, found out that consumers are conscious of brands collecting their information. As a result, consumers expect brands to provide them with a personalized experience in return. They prefer brands to augment the entire shopping experience with tailored UI elements, analyze the shopping history to improvise product recommendations, and save their preferred payment options. This is where personalized shopping unfolds. It refers to the process of utilizing consumer preferences to customize the user experience in a retail or eCommerce environment. One example of personalized shopping is Instagram's shoppable posts that change according to analyzed user behaviour and preferences.
Get consultation to launch your eCommerce store
Multiple Payment Options
Digital currency is fast, safe, easier to manage, and enables contactless transactions. However, it is also characterized by its various facets like virtual currency, eWallets, credit cards, and debit cards with consumers having different preferences for each of them. To make the best use of these digital currencies and sate the varied consumer preferences, it has become important for eCommerce stores to provide multiple payment options.
Omni-channel Sales Experience
In the beginning of the past decade, the eCommerce industry was not able to deliver a fully satisfying customer experience. Trust issues and risk-aversion kept masses uninvolved in eCommerce activities.
With omnichannel sales experience, people were not only able to shop products both online and in the brand's local outlets, but also inspect them before buying and making real-time payments.
The aforementioned trends shaped the modern eCommerce solutions to help business owners launch successful eCommerce websites. While multiple payment options, BOPIS and omnichannel sales experience reduce the cart abandonment rate and improve customer retention, personalized shopping experience and mCommerce increase the reach of eCommerce brands across borders and reduce visitor bounce rate.
Summing Up
While it's evident that no single eCommerce solution is cut out for all business ideas, each of them is superior to one another in terms of features, functionality, security or available customer support. If we keep the technical expertise, turnaround time and cost-effectiveness in mind, readymade solutions like Yo!Kart and Growcer are highly recommended marketplace options for entrepreneurs with little to no technical programming experience. They are also easy and quick to set up.
Open-source solutions are best fit for entrepreneurs who know how to code or can hire a team of developers for eCommerce development. However, unlike traditional open-source systems, both Tribe and Magento support drag-and-drop customizations, which makes them suitable for people with no programming experience.
SaaS solutions on the other hand come with recurrent costs, which means though small businesses and startups can buy them at a little cost, they are not so cost-effective in the long run. That too, excluding the transaction fees that increases the SaaS monthly package costs, making them suitable for eCommerce businesses in their experimental run and well-established businesses with large budgets.
In the end, you can go with the solution that best fulfills your requirements and falls in your budget without compromising on your desired functionality. In case, you get stuck between two solutions, go with the one with better security and support options.
FAQs
1. What is an eCommerce Platform?
According to popular opinion, eCommerce websites like Amazon, Etsy, eBay, Walmart, and others that are conducting retail online business marketplaces are usually considered to be eCommerce platforms. But, contrary to the popularly held belief, an eCommerce platform is a turnkey solution that can be used to build online eCommerce websites like Amazon, Etsy, Walmart, Ikea, or others.
Using eCommerce platforms, SMBs and enterprises can launch a contemporary eCommerce marketplace (website) in a quick time without the need to develop a website from scratch or acquire any coding skills.
2. What types of eCommerce platforms are there?
eCommerce platforms can be differentiated based on their availability as cloud-hosted solutions or self-hosted software.
SaaS-based eCommerce platforms like Shopify are cloud-hosted and are available at recurring subscription fees. The business does not own the software, it uses the software till it pays the subscription charges.
Self-hosted eCommerce platforms are either standalone and available at a one-time payment like Yo!Kart or come as open-source software like Magento that can be customized using development teams.
3. What are the key features of an eCommerce Platform?
Key features of eCommerce platforms that help businesses compete with the likes of Amazon, Etsy, Ikea, and other popular online websites are as follows: 
Customizability allows businesses to tailor the front end of the eCommerce website or add functionalities and features by working on the flexible back end of the eCommerce platform.
Scalability allows the eCommerce platform to grow with the business and seamlessly incorporate increased traffic on the website. 
Security gives the necessary assurance to the buyers and seller(s) to trust the eCommerce platform with their personal data and conduct commerce in a trusted ecosystem.
4. What are the benefits of using an eCommerce platform?
An eCommerce platform will save time and resources spent on developing a website from scratch. Top eCommerce platforms allow SMBs and enterprises to build contemporary online retail stores with features to match popular online shopping websites.
The best eCommerce platforms also come with business APIs pre-integrated, that allow startups to forge partnerships with third-party service providers and gain essential eCommerce functionalities to facilitate seamless online business operations and extend vital functionalities to the seller(s) and buyers.
5. How to select the best eCommerce platform for your business plan?
All top eCommerce platforms have their own respective strengths that underpin their success. The best choice for your business will depend on multiple factors subject to your business plan.
Investment capital is a key determiner, as the setup costs of eCommerce platforms vary. 
Some top eCommerce platforms come with a capping on maximum products that can be sold.
So, the future plans of the business or the specific vertical the online business serves may require a highly scalable eCommerce platform.
As a startup, you may not consider having a dedicated developer team. Affordable after-sales and technical support can be beneficial for a successful start to your business.
Products on sale In a competitive space, overheads resulting from recurring eCommerce platform fees may undermine the value proposition of the products or services on offer, so choosing standalone license-based or open-source software over SaaS-based can be better. On the other hand, startups with fewer initial requirements can be up and running with SaaS-based software, with hosting, and maintenance managed by the providers. This can be beneficial, especially when compared to open-source software.
6. How to know which eCommerce platform is right to my business in 2023?
The first step in your approach should be to define your business requirements. Once defined, you can search various eCommerce platforms that match the requirements. In the second step, you can contact the sales teams of respective eCommerce platforms to set up demos and clear any doubts. Lastly, you can filter your selection based on the provided customer support, available reviews and budget limitations.
7. Are SaaS based eCommerce platforms reliable in the long run?
SaaS based solutions might seem affordable at first, but they are not cost effective in the long run. This is because of various reasons:

-You are never transferred the ownership of the platform.
-SaaS eCommerce platforms involve monthly recurrent costs plus processing fees for every transaction (for example, if platform fee is $80 per month with 2% processing fee, the total fee a business owner with $2000 monthly sales need to pay is $120 ($80 platform fee + $40 payment processing fee)).
-Low-tier packages have limited listings and sales ceiling.
8. Can I use single-vendor eCommerce platforms to develop a eCommerce marketplace?
Some single-vendor eCommerce platforms also support the functionality to develop a multi-vendor eCommerce marketplace. However, they are not specifically developed for marketplace operations and may lack in some areas (such as extensive features for handling multiple vendors) when compared to marketplace solutions.
9. What are the disadvantages of migrating to a different eCommerce platform?
There are no specific disadvantages of migrating to a different eCommerce platform. With the right support team, the migration can be completed in a very less time.
10. Which is the best eCommerce platform for 2023 from the list mentioned above?
We have made the list after evaluating renowned eCommerce platforms as per the aforementioned selection criteria. However, it is not possible to call any solution the absolute best. This is because every eCommerce platform has different advantages and disadvantages in relation to the varying requirements of every business.
11. What are some top sites to check the user reviews of these eCommerce platforms?
You can visit Capterra, G2, Clutch, TrustPilot, Goodfirms and SoftwareSuggest to view the genuine reviews of eCommerce platforms. All these review sites are highly renowned for the authenticity of their reviews.