The web has seen huge innovations in the recent past with desktop websites getting intuitive and responsive. You were able to get a similar experience irrespective of the device. However with the introduction of mobile apps, consumers started to leave mobile web and move towards native application which provided a better user experience.
Native mobile apps can take advantage of the core level hardware features. They offer a richer experience to consumers, something which was not possible in case of mobile web. However, with advancements in technology, a new approach towards mobile web is diminishing the gap between native apps and mobile web.
This new web development approach is known as Progressive Web Apps.
What is Progressive Web App (PWA)?
A PWA is not an API or a technology, but it is a web development approach that uses a combination of tools and technologies already available to create targeted, ideal user experiences.
It is basically the culmination of experiences that merge best of web as well as apps. They offer user experience similar to a mobile app, but the users do not have to install an application for it.
(Image Source: developers.google)
It loads quickly, even on flaky networks, sends relevant push notifications, has an icon on the home screen, and loads as a top-level, full screen experience.
Essential aspects of PWA
Can be used by any user, regardless of platform or mobile device and it works on the browser and built with progressive enhancement as a core tenet.
Due to responsive nature, it can work on desktop, mobiles, tablets and any other screen alike.
It works using service workers making it available even when the network is flaky or offline.
It feels like an app and does not have any resemblance with a mobile web, giving it a superior finish.
As service workers can be regularly updated in the background, the app is always up to date, without the need to update it manually.
The data is served using https which makes it difficult for penetrate ensuring that content is not tempered.
Due to W3C manifest and registration scope of service workers, search engines can register it as an application, making it easy to identify.
With built in features like push notification, one can easily target consumers.
As PWA can be installed on the device, it offers the best of the both worlds without the need of app store.
It can be easily shared via URL.
Ecommerce on mobile devices
Last year USA saw a staggering growth in ecommerce sales at 15%. Bulk of it was due to the popularity of mobile devices. More and more people are starting to shop regularly on smartphones. Ecommerce vendors are also adopting mobile apps widely. According to a report by Comscore, last year, 19% of all ecommerce sales came from a mobile device and 72% of all online shoppers use mobile devices to do research before making the purchase.
This makes it important for ecommerce stores to have a mobile first strategy in place. However launching a mobile app is not always the best policy when it comes to mobile first strategy. There are several countries where internet penetration is still in its adolescent stage. In such regions, consumer use low end devices which makes it difficult for a mobile app to run. The best possible solution in that case is having a PWA.
Benefits of having a PWA for your online business
Improved user experience – As already discussed in the post, PWAs works on an "App shell" design with the user interface of the app getting stored at a faster loading time. This increases the overall user experience and offers an experience similar to a native application.
Optimized engagement – Push notifications are one of the essential aspects of native apps that drive engagement with the consumers. Web push notifications take that functionality to mobile web, and can be leveraged by PWAs. By offering real time and personalized push notifications, you can engage with your customers on a deeper level.
Wider audience – The fact of the matter is that progressive web apps are platform independent. This means it uses the resources of the web browser, making it more widely available to the customers. Also PWAs are lightweight meaning it can also run on legacy devices without the need for backward compatibility.
Time and money efficient – One of the biggest issues with mobile first strategy is that you have to support multiple platforms and a mirage of devices. This is not only time consuming but also drains your financial resources. However, by launching a progressive web app, you can easily support all the platforms using standalone app. Additionally, you can also add new features to the app without worrying out compatibility issues.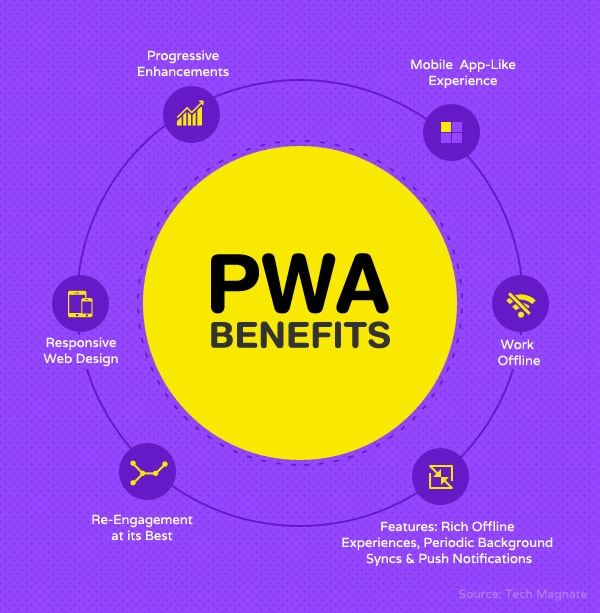 Conclusion
The fact of the matter is that progressive web apps are the future of mobile web. Earlier online businesses were trying to offer a similar experience on desktops as well as mobile devices. Now with consumers getting used to mobile apps, online businesses are shifting their focus on enhancing the user experience on mobile websites and making it similar to that of mobile apps.
Looking for mobile app development services for your online business?