Last Updated: 18th January, 2023
Two-sided marketplaces are those that bring two user groups together to help them get network benefits from each other and generate economic value. You can build a two-sided marketplace regardless of the industry you are in.
Companies like eBay in eCommerce, Facebook in social media advertising, Uber in transportation industry, and Upwork in gig economy, and dating apps are all examples of two-sided marketplaces, which serve the interests of multiple audiences like manufacturers, wholesalers, sellers, and buyers.
A two-sided marketplace works like a freemium model where the design plays the commanding role in attracting users in large numbers, which reflects on the increased value of products or services. The more the number of users on the platform, the higher the value of products, and vice versa. Let's read in details on How to Build a Two Sided Marketplace.
Table of Contents
How are Two-sided Marketplaces Changing the Industry?
The network effects, both cross-side and same-side, of two-sided marketplaces have brought a substantial change in the conventional business setting and the competition in it. Due to the increased speed of delivery as compared to that in traditional business models, and greater-than-one supplier-to-consumer ratio, two-sided marketplaces have brought an industry-level disruption and transformation.
With the shift of these marketplaces from brick-and-mortar to the ecommerce, the old barriers to market entry have gotten eliminated. Customers are free to find a balance between cost, service quality, and speed of delivery. Anyone who can enter into the market with the potential to offer their service at the most affordable cost is bound to succeed.
The most recent trend is building the "Airbnb of something", where something can be replaced with almost any niche online marketplace idea. You can find relevant and recent examples of two-sided marketplaces in different industries. For example, in the past few years, online learning industry segment has seen many brands come to life such as Skillshare, Coursera, Pluralsight, Lynda (Now LinkedIn Learning) and more.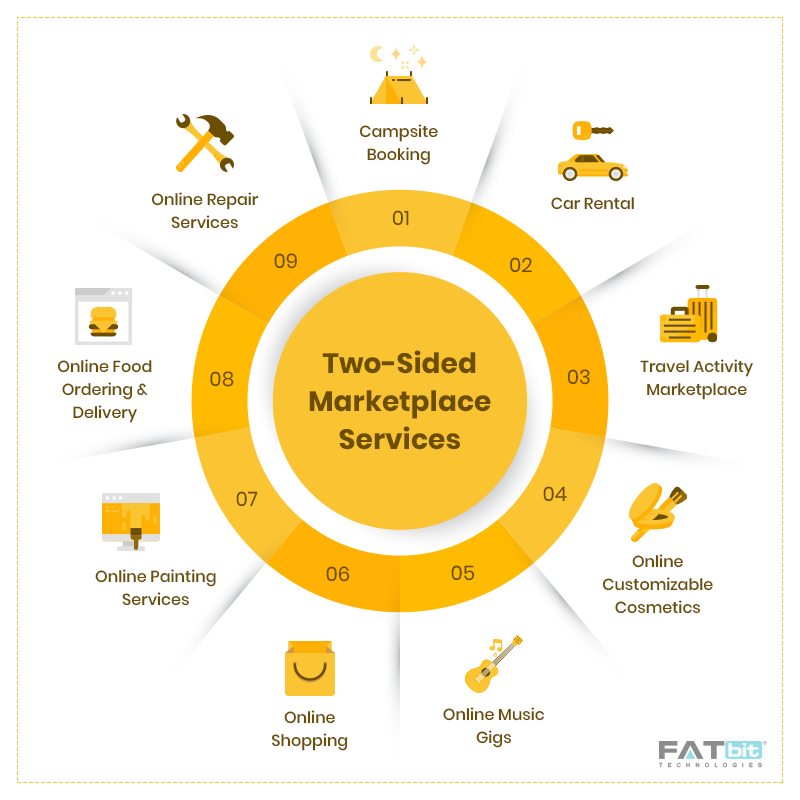 Building a two-sided marketplace requires incorporating the website features in balance and keeping a constant check to maintain that balance. The marketplace should be such that it helps deliver the services in a faster and more efficient way and enables supply and demand equilibrium too. This will ensure valuable user experience, in return.
Once you successfully build your online two-sided marketplace, this economy will enable you to add to the growth, as the economy continues to see digitalization. S&P 500 two-sided marketplaces saw a 330% increase in their net earnings in the past decade when compared to the overall improvement in S&P 500 i.e. 16%.
Two Important Tips Before Creating Two-Sided Marketplace Strategy
No doubt, the initial planning and designing of a two-sided marketplace is challenging, but once you get a hold of it, you can take it to great heights in no time. We've listed below a few strategies that can help you start with buoyancy.
1. Start Slow
A two-sided marketplace requires a patient entrepreneur, as it runs on a slow burner. Big investments do help some businesses scale and succeed quickly to stand out from the crowd. Nevertheless, it is different when it comes to a platform business model. This business model requires time more than money for it to scale.
In the beginning, focus more on associating with a team of people who can build the product you want to offer, and those who can help you build the two or more separate groups of users.
2. Focus on a Relevant Audience
Before you try to attract a larger target audience to your marketplace, focus on winning the trust of early adopters.
It is all about meeting the needs and demands of your most targeted users in the beginning so that you reach out to a larger group of potential users through word-of-mouth marketing.
Precisely, focus on one geographical area before targeting the other areas.
Looking for Two-Sided Marketplace Software?
What is The Business Model for a Two-Sided Marketplace?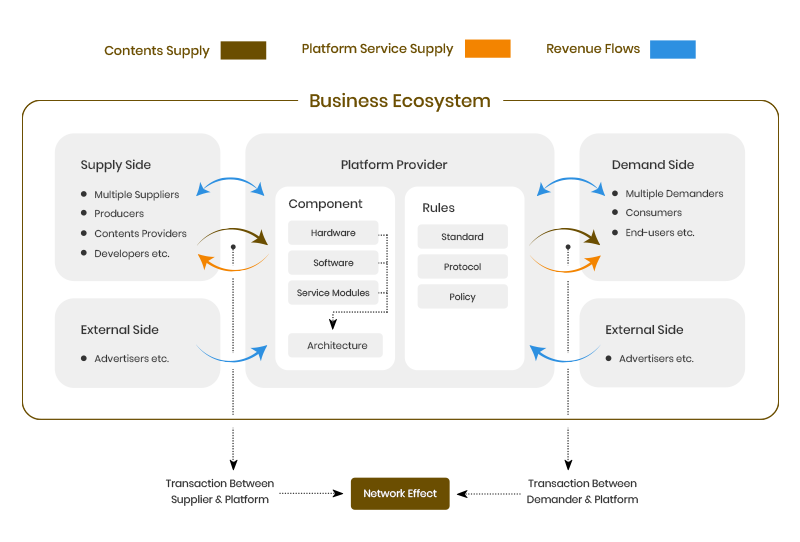 Click to Enlarge
Source: Author's elaboration, based on Kim (2014) and Eisenmann et al.,(2008)
A two-sided marketplace business model is both simple and complex. Such a marketplace model enables you to sell products or services like any other marketplace. However, here, neither you manufacture the products, nor you sell them. Even the content is not something that you create on your own.
As a two-sided marketplace owner, you act as an intermediary between the demand and supply sides. You need to enable the exchange of services or products between the buyers and sellers or manufacturers, while also enabling proper, direct interaction between them. While this sounds easy, many businesses fail to do so and quit.
Fret not, because the following examples of the few successful ones will help you understand how to create value for your targeted users with your venture:
Example 1 – How Airbnb, the popular asset-sharing platform, manages its two sides of users is, it helps travelers find a suitable accommodation within their budget. Travelers can book a place with ease even during the peak times.
On the other hand, the company helps homeowners grow their income by increasing their assets' utilization. This adds to their assets' value too.     
While managing the demand and supply sides this way, Airbnb charges a commission on every booking. Compared to hotel chains who invest a lot in designing and financing their spaces, Airbnb works more like a travel portal without investing in building or expanding their real estate.

Example 2 – Social media platform, Facebook allows people to become its users and contribute to the user-generated content and share the same with their acquaintances and friends. How Facebook creates value out of it is by allowing advertisers to place highly targeted ads as users share and like posts, providing access to different data like their education, interests, income and location.

Example 3 – eBay is a goods and services exchange marketplace, which brings together sellers to market their own products without spending on advertising. This helps them sell products with an easy payment method and make profits quickly.
Buyers can make purchases easily as they can choose from different sellers using one platform. They get all the information at one place and can make safe transactions with buyer protection framework provided to sellers by eBay.
eBay creates value via the transactions. The overhead costs remain much lesser. Also, eBay doesn't have to maintain any inventory of its own.
Are there Market Ready Solutions Available to Start a Two-sided Marketplace?
Yes, let's take a look at a few of our ready-made solutions that can help you build an online two-sided marketplace like one of the above mentioned, but with less time and effort: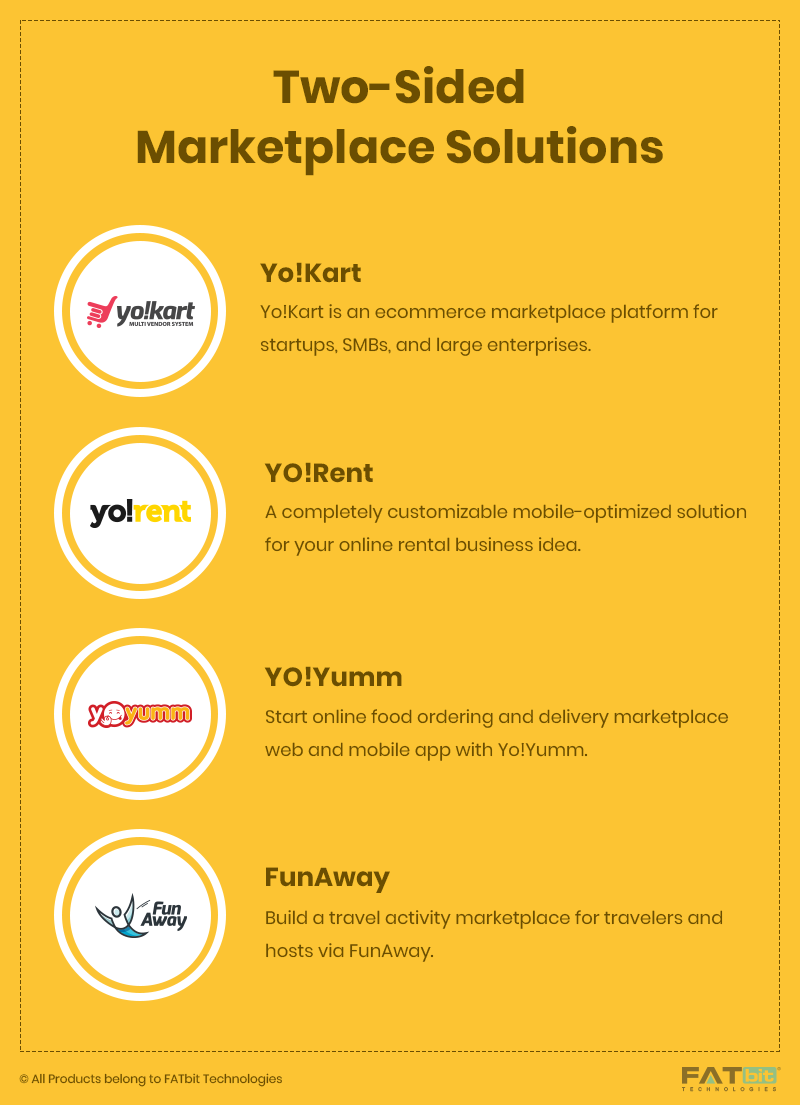 Want to know more about Two-Sided Marketplace Platform
Yo!Kart 
Yo!Kart is an ecommerce marketplace platform for startups, SMBs, and large enterprises. It enables an entrepreneur start his/her ecommerce marketplace and list different products such as apparel, furniture, groceries, hardware, and fashion, to name a few.
Yo!Coach
Launch your two-sided marketplace with Yo!Coach, a ready-made online consultation platform. It is extensively researched and built to cater the needs of online consultation vertical. Device agnostic user centered design provides a seamless user experience.
Yo!Rent
A completely customizable mobile-optimized solution for your online rental business idea. Incorporate unique features in your books, travel gear, furniture, or clothing rental marketplace where you can rent out or sell products.
Yo!Gigs
Yo!Gigs is an all-in-one software purpose-built for services businesses to build a platform for connecting service providers with service seekers. This is a fully customizable solution that comes with a lifetime license built to cater to the needs of the services businesses. The solution enables businesses to offer a top-class experience to their users by managing all the cumbersome tasks in a hassle-free way.
Yo!Yumm
Start online food ordering and delivery marketplace web and mobile app with Yo!Yumm, which is completely customizable and comes with essential features such as discount coupon generation, customer insights, and more to make the product market ready.
FunAway
Build a wide network of travelers and hosts via FunAway, a travel activity marketplace solution that is cost-efficient and user-friendly. Its review & rating system helps build trust among prospective customers. It enables a traveler to make advance bookings without hassle.
Final Thoughts
Two sided marketplaces have a bright future and the best business idea to invest in this niche. Also, we have tried to explain How to Build a Two Sided Marketplace. Still have any queries related to two sided marketplaces, please feel free to share them in the connect section. We will be glad to help you.
What's your Online Two-Sided Marketplace Idea?