As technology continues to reshape the tutoring industry, the demand for online tutoring services is increasing. This surge in demand has attracted many entrepreneurs to venture into this domain and start their online tutoring businesses. It may be a daunting task to achieve continuous growth and success in your business. However, by implementing certain effective business strategies and key elements, this can be done easily.
Therefore, to help you out, we have compiled a list of extensive tips and valuable information that can help you harness the lucrative opportunities this industry has to offer. The tips mentioned in this article can benefit various businesses in their growth endeavor. Whether you are an aspiring entrepreneur with a new business idea or an existing player seeking to expand your business, this article will touch upon all important aspects.
Different Business Scenarios Catered in This Blog
Let's understand the different scenarios or challenges that business owners usually face while running/expanding their business.
Small Businesses Looking to Expand: Small businesses looking to expand their business operations and reach a wider audience base.
Offline Tutoring Businesses: Tutoring businesses primarily operating in physical locations, seeking transit from offline to online.
Businesses With a Website: Businesses operating on a website with moderate online presence, and lacks advanced functionality w.r.t tutoring business.
Single Tutors Seeking Expansion: Single tutors looking to expand their reach and attract more students.
Non-Profitable Revenue Model: Businesses facing challenges with their current revenue model and its profitability.
Business Owners Struggling with Slow Growth: Marketplaces struggling with sluggish growth, lower user retention rate, less user engagement, and unsatisfactory user experience.
Online Platforms Stuck with Outdated Technology: Platforms operating on outdated technology, hampering their business growth and future success.
Businesses Operating On an Ineffective Business Model: Business owners lacking a clear understanding of the suitable business model for their venture, are making losses and are on the verge of shutting down their businesses.
Budding Entrepreneurs Planning to Launch a New Tutoring Business: Aspiring entrepreneurs who are planning to enter the tutoring business and establish an online platform.
These were some of the business scenarios prevalent in the tutoring industry. Furthermore, let's explore the key strategies in detail that can cater to challenges faced by different businesses.
Key Strategies For Expanding Your Tutoring Business
Achieving sustainable growth and expanding your business could be a challenging task that requires meticulous planning. To assist you in this journey, we have curated this list of essential considerations and strategies that can help you expand your business effortlessly.
1. Understand the Industry
To successfully expand your tutoring business, it's important to first gain insights into the industry. Thoroughly research the demand for tutoring services in local and global markets. Do competitor analysis, get an understanding of their growth strategies, and implement those insights into your business.
Focus on your target audience, and collect their demographic information like their age, gender, learning preferences, and more. Implement the data collected in research to build a platform that can cater to various learning needs.
2. Identify a Unique Business Model
In this highly competitive industry, being unique matters immensely. To differentiate your business from your competitors you need to identify a unique business model. For instance, one of the reasons behind the success of platforms like Udemy and Coursera is that they have launched their platforms with unique business models.
Udemy's business model includes self-paced, pre-recorded courses in a broad range of topics, competitive pricing, lifetime access to courses, community learning, and more. These unique offerings made Udemy a popular player in the industry instantly after its launch.
Coursera's business model includes partnerships with reputed universities, organizations, specialized degree programs, free and paid courses, subscriptions, and blended learning options. By catering to both individual and corporate learning needs, Coursera established a unique platform in the education landscape.
Identifying your own unique business model can provide you with a competitive edge in the industry and help you in achieving success in the long run.
3. Build an Online Tutoring Platform
In today's digital world, setting up an online platform is crucial in the tutoring industry and offers numerous opportunities for entrepreneurs. If you are currently offline, transitioning online would open a world of new opportunities and propel your business to new heights.
When you set up your online platform make sure you invest in robust technology, infrastructure, and incorporate features & functionality that enhance the learning experience on your platform. Also, prioritize user satisfaction and engagement by offering intuitive and easy-to-use interfaces.
Set Up Your Own Online Tutoring Platform
4. Leverage the Latest Technology
Incorporating the latest technology into your business can help you in catering to users in a better way and will eventually increase your revenue. Provide collaborative and interactive learning features on your platform with advanced video conferencing tools, virtual whiteboard, screen sharing & recording, text pad, audio/video chat, progress tracking, insights, reports, and more tech-driven features.
Moreover, make sure the technology you are using to build your platform is also the latest, and your platform is future-ready. If you have a website that lacks tutoring industry-specific features and has outdated technology you can consider migrating/rebuilding your website to a modern & advanced platform.
Suggested Read: Looking to Migrate Your Tutoring Website to Another Technology?
5. Offer a Variety of Tutoring Courses
To get an edge over your competitors it is always suggested to offer diverse courses to learners on your platform. By expanding your tutoring business with a variety of courses such as one-to-one sessions, group classes, pre-recorded classes, live sessions, class packages, and more, you can cater to a wider audience base and meet their varying educational needs.
Also, you can offer diverse subjects ranging from Algebra, Maths, Art, and Language, to Coding, and more, and attract learners with varied educational goals and preferences. Additionally, you can also offer a variety of other services such as study material, pdf documents, notes, etc. for a more collaborative learning experience.
6. Diversify Your Revenue Streams
Revenue is the most important aspect of any business. For expanding your business and ensuring its sustainable growth you must diversify your revenue streams and for that you can implement the following revenue streams: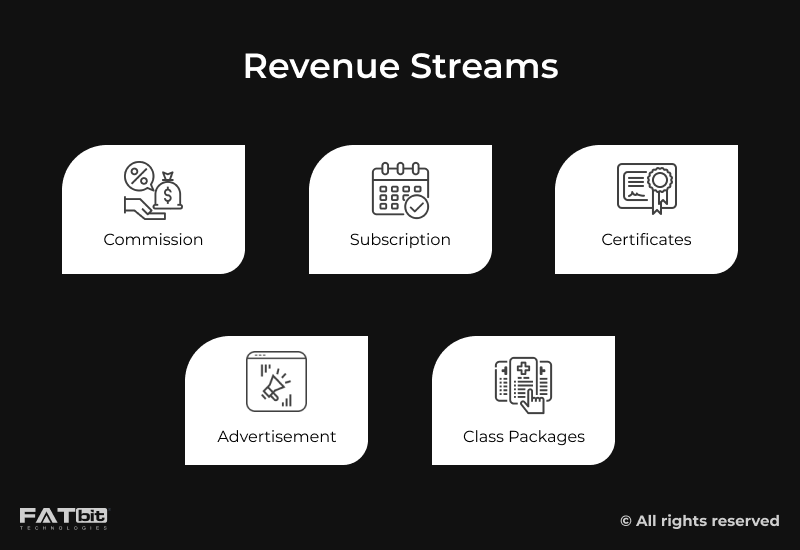 Commissions: Take commission from the tutor's earnings after the successful completion of the session on your platform.
Subscriptions: Charge monthly, or yearly subscriptions, from the learners for accessing the platform.
Certifications: Provide certification to learners after completion of their courses in return for a fee.
Advertisements: Advertise products and services from other businesses aligned with your target audience.
Class packages: Sell a collection of classes covering one topic from one subject in a single package and earn a fixed revenue.
By implementing these revenue channels you can unlock greater growth opportunities for your online tutoring business.
Implement Diverse Revenue Channels In Your Tutoring Business
7. Market Your Platform
Marketing plays an important role in the success of any online tutoring business. Without effective marketing strategies, even the most well-designed platforms can struggle to gain traction and attract learners. Consider the following key elements while marketing your platform.
Develop a comprehensive marketing plan to promote your business.

Effectively emphasize tutors' qualifications, expertise, and teaching abilities on the platform. Highlight their accomplishments, certifications, and teaching experience to build trust and credibility with potential learners.

Regularly publish informative blogs, articles, and guides related to education.

Take advantage of multiple marketing channels such as online advertising, , search engine optimization, social media marketing, email marketing, and more to attract your target audience.

Boost your platform with consistent branding elements such as logo, color scheme, and theme.

Consider offering referral programs where existing students can be rewarded for referring new students. This can also help you tap into the power of word-of-mouth marketing.
By implementing these marketing strategies you can significantly increase awareness about your tutoring business in the industry.
8. Increase Retention Rate
The growth and revenue of an online tutoring business majorly depend on the retention rate of its learners on the platform. Ensure that your platform is user-friendly and visually appealing. Streamline the registration process for both tutors and students and make the onboarding process quick and hassle-free. Integrate interactive features such as quizzes, discussion forums, progress tracking, and more to make the learning process engaging for learners.
Another effective way to increase student retention rate is by offering them rewards and incentives. Students who consistently attend sessions, achieve specific milestones, or demonstrate significant progress can be offered tangible rewards such as certificates of achievement, or even discounts/coupons on future tutoring sessions.
9. Build Trust
Building credibility among your target audience is of utmost importance. By establishing a trustworthy reputation in the industry, you can attract more learners, and foster long-term relationships with them. Encourage your satisfied learners to provide testimonials about their positive experiences with your online tutoring services. Display these testimonials prominently on your platform to showcase the effectiveness of your services.
Additionally, implement a rating and review system where students can review their experience and give feedback to tutors. Positive reviews act as social proof for the upcoming learners assuring potential students of the quality and reliability of your tutoring services.
10. Establish Partnerships
Establishing partnerships with reputable organizations is a proven strategy to build trust and credibility for a successful online tutoring business. Many leading online tutoring businesses like Udemy, and Coursera have established partnerships with reputable organizations such as Google, Microsoft, and more and have become popular for their unique offerings among learners.
Moreover, these platforms have collaborated with prominent universities and organizations to offer accredited courses from these universities to their students. Such collaborations can significantly enhance your brand reputation and attract more learners.
11. Track KPIs
Tracking the key performance indicators (KPIs) is essential for the success and growth of your online tutoring business. By measuring and analyzing the specific metrics you can gain valuable insights into learners' behavior, engagement, and satisfaction.
Some important metrics that you should track are:
By monitoring these metrics you can make data-driven decisions and grow your business steadily. Moreover, you can utilize these insights to continuously enhance your platform, services, and overall learning experience.
Take Your Tutoring Business To New Heights With Our Feature-Rich Software
Final Thoughts
The key points discussed in this blog are crucial considerations for both expanding an existing online tutoring business and starting one from scratch. By implementing these points you can continuously improve and lay a strong foundation for your tutoring business. Also remember, success in the online tutoring industry comes from prioritizing learners' satisfaction, delivering excellence, and continuously adapting to meet learners' needs.