As per a Korean saying, "Even if the beads are too much, they become treasure after sewn." In general, innovativeness, and risk-taking are associated with entrepreneurial activity. Therefore, the adoption of new technology is a key entrepreneurial characteristic. Further, implementing cutting-edge technology is an essential mechanism for firms to stay ahead of the curve. In this blog, we discuss the need to migrate your tutoring website to another platform, the scope, the process, and how we can assist you better with the migration of your online tutoring platform.
Table of Contents
What is Platform Migration?
Migration refers to the process of transferring data between different types of databases, file formats, and storage devices. In technical terms, migration means moving from the current platform to a better platform. 
Why is there a Need for Migrating a Tutoring Website to Another Technology
With data of varying formats, the existing system may require an upgrade to a larger one or its data can be migrated to another platform. Depending on the project's requirements, a few points can be the reason behind this need to arise.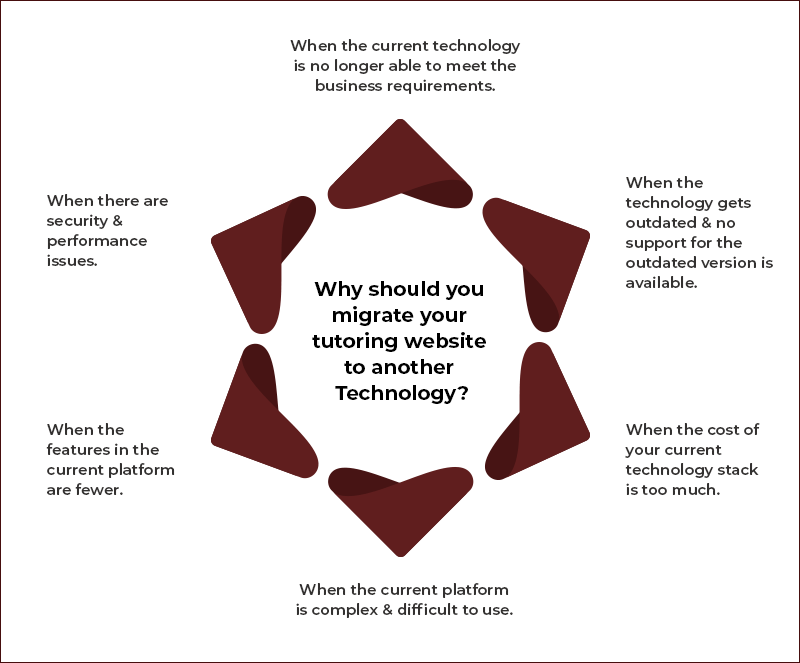 These are:
When the current technology is no longer able to meet the business requirements.

When the technology gets outdated and no support for the outdated version is available.

When the cost of your current technology stack is too much. 

When the current platform is complex and difficult to use.

When the features in the current platform are fewer. 

When there are security and performance issues.
In all of the above-mentioned scenarios, data migration is the best option for your tutoring website. Also, the integrity of data demands that migration is done right.
Understanding the Scope of Migration for A Tutoring Website
Data migration is a complex task that requires a lot of planning. Therefore, before the migration of the website takes place, the team of developers working on the migration project should interact with you. This is pivotal so that as a team both can have a good understanding of the system's flow. Also, data must be assessed by the developers before migration takes place to ensure a successful implementation without its loss. 
Further, you should share the detailed project requirements for a successful migration. Further, proper documentation should be prepared by the developers with all the migration details so that both of you are on the same page. Here, it is also important to note that the success of any data migration project is directly dependent on the volume, diversity, and quality of data being transferred.
Catering to Scope Creeps
The term scope creep refers to the change in technical requirements that are being introduced in the project without the extension in timeline or increment in the project budget. Some common reasons for these creeps to emerge during the process of migration are mentioned below:
Misunderstanding the Project Requirements-

This is the most common reason behind scope creeps that creates trouble for developers during migration as the project requirements were not fully understood.

Developers Agreeing to Change Requests-

Agreeing to all change requests may help in building a positive relationship with the client but it will ultimately have an effect on the project. So before agreeing to a change request, make sure that the priority and urgency of the same are clearly communicated as multiple change requests will impact the project.

Other Factors-

There are countless other factors like economical changes in the market, personal emergencies, new features being added to existing technology, and more, that can impact the project scope.
Once the project requirements are clear, you can consider different alternatives and replatform your tutoring website
Planning to replatform your tutoring website?
Steps to the Process of Migrating Your Tutoring Website
As not every migration is the same, each migration will require proper planning and execution. So certain ground rules will have to be set to migrate your online tutoring website smoothly.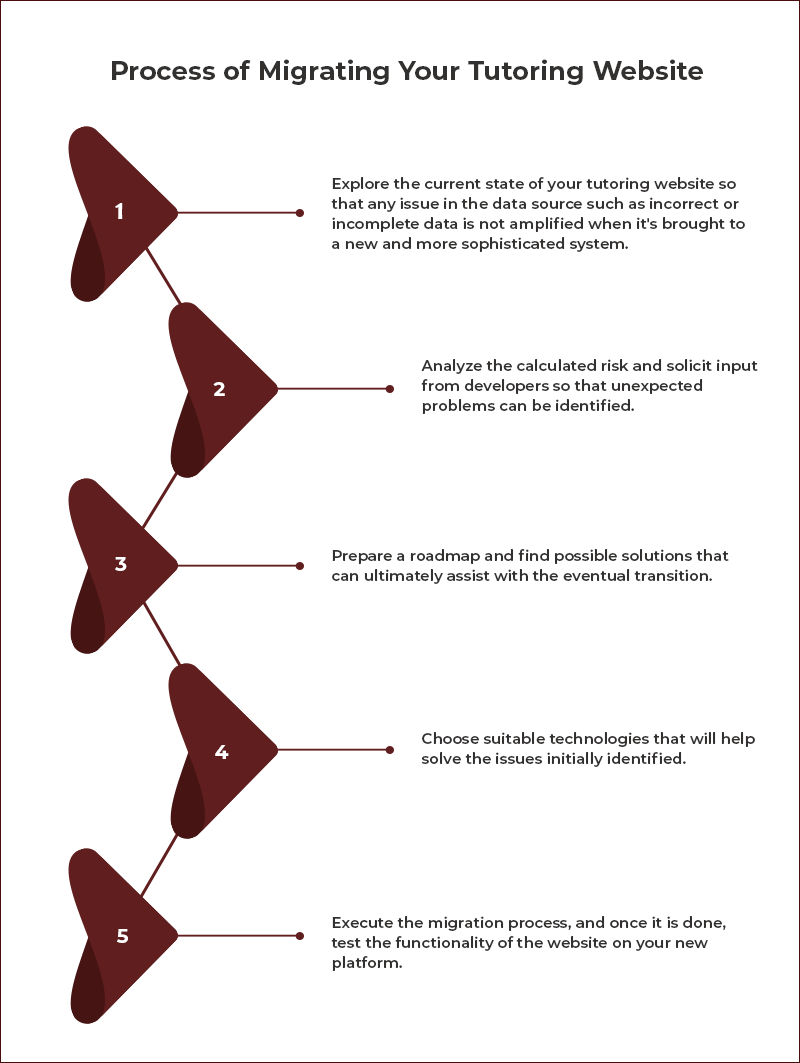 Explore the current state of your tutoring website so that any issue in the data source such as incorrect or incomplete data is not amplified when it's brought to a new and more sophisticated system. 

Analyze the calculated risk and solicit input from developers so that unexpected problems can be identified.

Prepare a roadmap and find possible solutions that can ultimately assist with the eventual transition. 

Choose suitable technologies that will help solve the issues initially identified.

Execute the migration process, and once it is done, test the functionality of the website on your new platform.
But, before you move forward with the migration phase, it is important to have a few points under consideration.
Final Migration Considerations
To decide on the Project Budget and Timeline- As you work to formulate your migration plan, it is important to define the project timeline and budget.
User Experience- Existing users of your tutoring website are accustomed to the architecture, functionality, and features of the platform. Hence, migration must be done with minimal disruption.
Future Opportunities- During migration, it is important to consider that not only short-term issues in your current environment are being addressed. But with a compelling roadmap, it can help you in growing your online tutoring business.
The Right Online Tutoring Software
To leverage the benefits of migration it is important to find the right solution that is compatible with your tutoring website. Hence, a software solution that simplifies migration, is more efficient, cost-effective, and meets your online tutoring business needs is important. 
Which is why Yo!Coach, an online tutoring and consultation software solution that is designed by a team of exemplary experts is the right choice for you to migrate your online tutoring website. It is a versatile solution integrated with an array of exemplary features and functionalities that will help you stay ahead of the competitive curve. In addition, the following factors make it the best fit for your business needs.
List of Platforms Successfully Migrated to Yo!Coach
Country – Spain 
StarTalki is a Spain-based online language learning platform that connects language learners with qualified teachers for private sessions. Each session is conducted through a live video chat. 
Country – South Africa
Startwise is the first on-demand online mentorship platform in South Africa. It was built to bridge the gap that exists in the country between professionals and the business world. It empowers business owners and professionals to connect with business coaches and mentors seamlessly.
List of Platforms Upgraded to Yo!Coach's Latest Version
Country – China 
A Hong-Kong-based online tutoring platform that offers learning and skill improvement opportunities to learners across the world. Its vision is to bring people closer, matching tutors and learners. 
Country – UK
Read With Us is an interactive online reading tutors platform that individuals can use to improve their children's reading skills, language fluency, and vocabulary. It provides a fun and interactive way for one-to-one reading sessions and inspires children to read more.  
Country – USA 
NoorTutor is another online tutoring platform where students can find private tutors for learning subjects and different languages. Further, the interactive online environment not only facilitates tutors to interact with students via 1-on-1 or group sessions but also helps them to expand their knowledge. 
Country – UK
Another eLearning platform that enables sharing of skills, experience, and knowledge via 1-to-1 online sessions. The platform consists of mentors and learners where mentors are anybody with the desire to share their knowledge and skills while learners are those with the desire to learn. 
Get a ballpark estimate for migrating your online tutoring website
Conclusion 
Replatforming from one technology to another can be an arduous task, but the benefits will outweigh the challenges. Moreover, as innovation continues to play a vital role in competitive business environments, it can be a key driver of platform performance. Platform migration can work wonders for your existing online tutoring website. If you're faced with questions or concerns related to platform migration, feel free to reach out to our team of experts.