When it comes to clothing, there is no such concept as 'one-size-fits-all'. That's why custom tailored clothes have always been the first choice of style conscious people. And thanks to online custom clothing platforms like IndoChino, Black Lapel & Blank Label, custom tailoring process has become quite convenient & much quicker these days.
The rise of this unique business model has drawn great many people back to custom clothing, who otherwise were compromising with what standard sizes apparel stores offer; even if ill-fitted. Recognizing this shift in the clothing industry in its early phase, FATbit team developed Stitch – a custom tailoring system to help aspiring entrepreneurs capitalize on this small but successful online business idea.
Following are few reasons why Stitch is the right platform to launch this unique online business.
STITCH meets business process requirements impeccably
Websites like IndoChino & Blank Label has put the entire custom tailoring process online, which any regular internet user can easily handle with just a few clicks of mouse. These custom clothing platforms allow users to choose fabric, color, pattern & stitching style of their clothes, give their measurement, and get their custom tailored clothes delivered at home.  As of now, the service is available primarily for men's formal wear.
At the backend, the website owner of a custom clothing platform maintains a huge database of fabrics & customized design patterns, processes customer orders, outsources the custom tailoring jobs to partner tailors, as well as takes care of the delivery.
Stitch is carefully built considering all these functions & business processes. FATbit team also worked further to enhance the usability of these features to develop a system that not only meets the business requirements ideally, but also provides good user-experience.
Quality at Affordable Price
Stitch comprises all the high-end features that you will find in any big player of the online custom clothing industry. There is a vast list of customization options for collar, cuffs, pocket, pleat, etc., as seen in the screenshot below.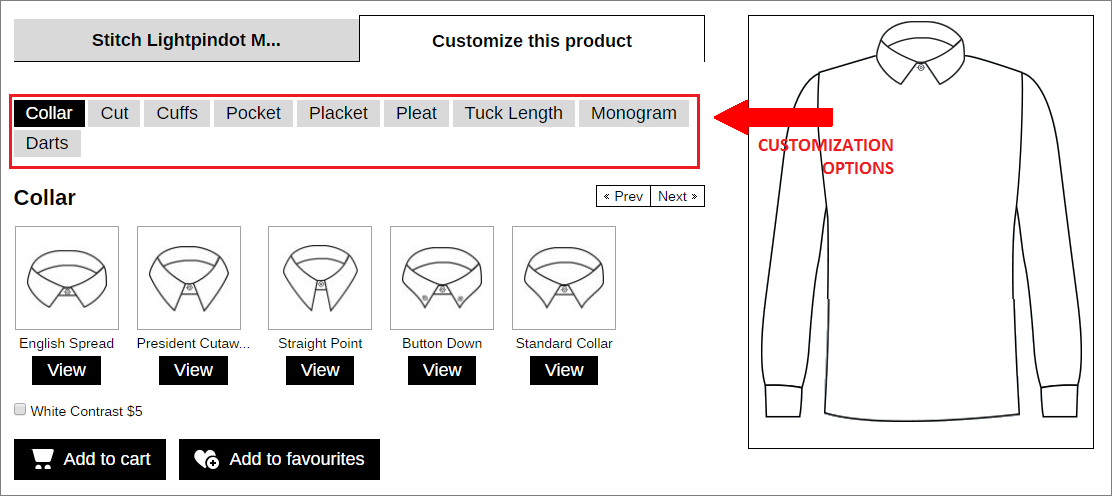 The system itself is completely customizable & scalable; meaning, from website theme to adding new cloth customization features, you can customize everything in the platform, as well as add new custom cloth category. Stich is also responsive and optimized for all standard mobile screen sizes.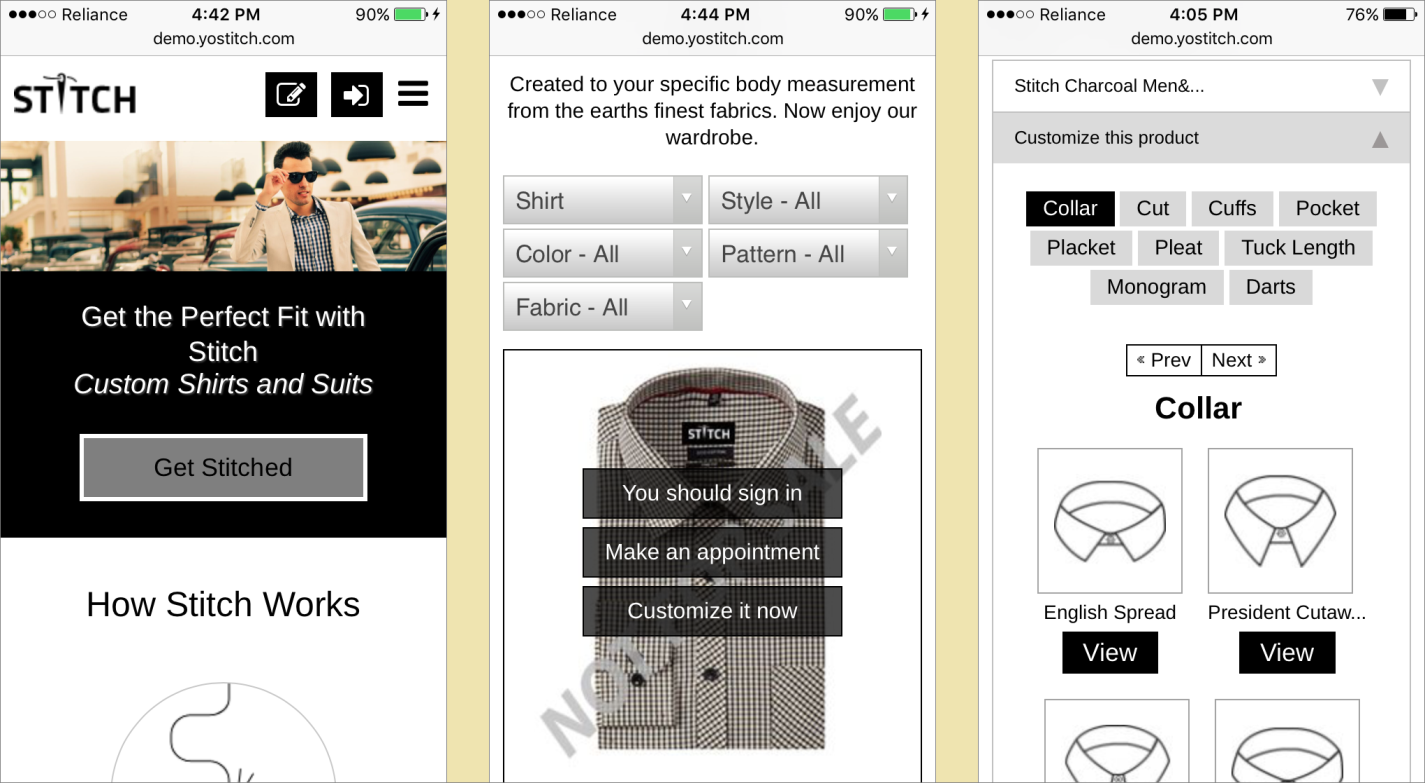 Responsive web layout is a necessity in today's mobile oriented world Go Responsive with FATbit
In spite of being such a comprehensive and feature-rich system, Stitch is available at just $999 – which is quite a profitable deal for opening a fully-fledged online marketplace based on a potential business idea.
Comprehensive customization
Like on any other popular custom clothing website, stitch offers customization for men formal wear including shirt, trousers, blazer, and waistcoat. The system offers a comprehensive list of customization options, which pretty much covers everything one could think of when customizing above listed cloth types.
For each type of clothing, there are several options for customization. And under each option a bunch of patterns are given to choose from. The animation below (for customizing a shirt) will give you a clearer picture on the comprehensiveness of Stitch.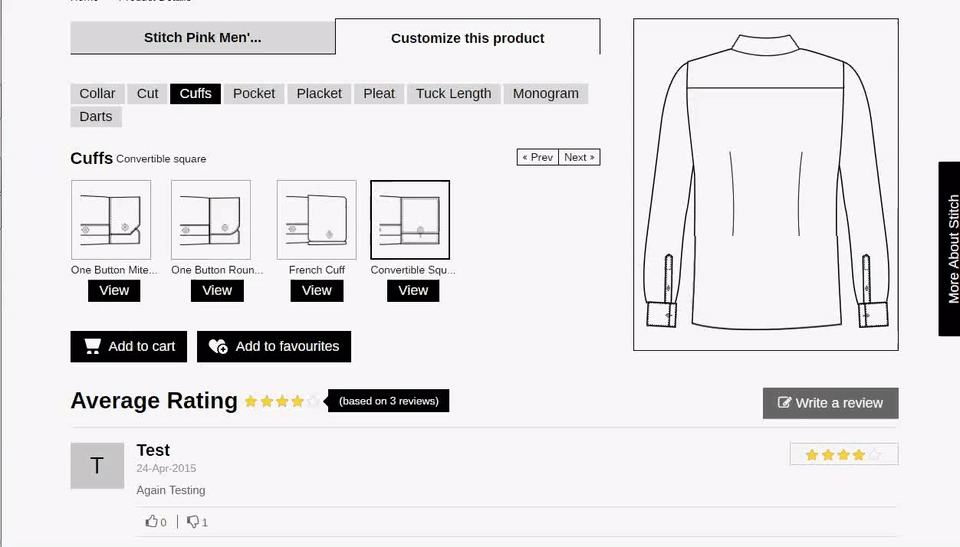 Also notice how quick and easy it is for customers to customize their clothes and see how the final product will look. Customers who prefer wearing custom clothes would no doubt be thankful for such a system.
A user-friendly design
Expert UX designers were in constant coordination throughout the development of Stitch. That is why the result is a system, which despite being comprehensive, is easy to use for customers and easy to manage for the site admin.
FATbit team had intentionally used line-drawing graphics in Stitch instead of actual photographs of the fabrics in order to make the system quick to load, and enable customers to quickly customize their clothes.
(Here is a brief explanation on the use of line-drawing graphics in Stitch)
Many players of the online custom clothing industry use high-definition fabric photographs for customization options to make their platform look better. But if you do a side-by-side comparison of one of such portals with Stitch, you will easily feel Stitch provides a much better user-experience.
Appreciated by FinanceOnline
Stitch has already been appreciated by many entrepreneurs and their target audience. Recently it got attention of FinanceOnline, a popular B2B directory for software reviews, trusted by thousands of businesses.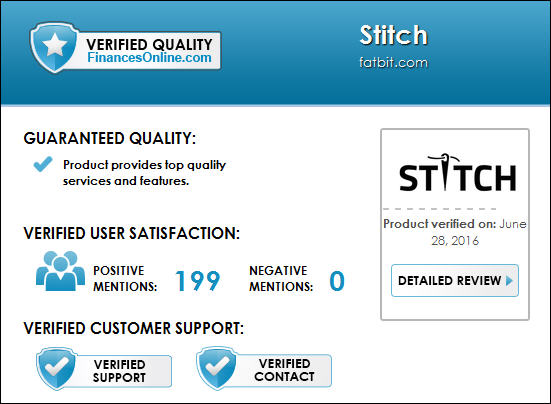 SaaS & B2B experts at FinanceOnline examined Stitch carefully on different parameters, and were impressed by its comprehensiveness and user-friendliness.After giving Stitch an all positive feedback, they also awarded it with two of their most prominent industry awards – 2016 Great User-Experience Award & Expert's Choice Award for 2016 for their online shopping cart software category. You can read the full Stitch review here.
User-Experience plays a crucial role in the success of a website Enhance it with FATbit
Stitch is the result of combined efforts of dedicated web designers, developers, UX-experts, and marketers. For FATbit team, these awards were certainly a reaffirmation that Stitch meets the industry standards of being a great product. We take pride in what we have built, and the recognition it has been receiving inspires us further to turn it into an even better product.
If you are set to open a custom clothing platform, go ahead give Stitch live demo a try.