On demand economy has opened avenues for new business models and spa & salon discovery portals are among the top few businesses that are still far of meeting existing demand. Currently, there are very few businesses connecting the spa and salon services with end customers online and they are making good revenue. Their websites play the key role in making spa & salon search/booking business successful.
FATbit analysts took cognizance of this business model and saw a huge potential. The team did an in-depth analysis of its revenue model, essential website features, and considerations for the entrepreneurs who are about to start this soon. The points ahead will help you envisage the perfect script that is required to build a successful online spa/salon booking website. Let's quickly brush up few prevalent facts about this industry first.
What makes a spa & salon search & booking website highly demanded?
Getting an appointment at a local spa/salon turns out to be a hassle most of the times. Either you do not get the preferred time or you have to sit in the waiting area. Many-a-times, there are better deals in other salons, but most of the consumers remain unaware of them and tend to waste time sitting in a busy and expensive beauty salon. An online spa and salon booking website is the best possible solution to get rid of such hitches. It provides free of cost search and booking appointments with salons, spas and proves beneficial for both the customers and businesses, as one gets convenience and the latter gets heavy footfall. Following are the details of how online spa/salon booking websites make money and what their business model is like.
Business & revenue model
Online appointment websites are becoming a rage these days. Websites like Ziffi and Vbooky have already made a name for themselves in the online spa and salon-booking arena. These websites focus on health and wellness segment while Zomato and BookMyShow are about restaurant and entertainment sectors respectively. The aggregators of spas and salons offer all the information about a particular business to the consumer at the touch of a button. They also make the appointments, a walk in the park so that the consumer does not have to waste any time. This is a win-win situation for both consumers as well as businesses. The platform can generate revenue in the following ways:
Using a subscription led model where it charges a subscription from the businesses
With an affiliate model where the platform gets money for each recommendation
Adopting a commission based model where the platform charges a service fee for each transaction.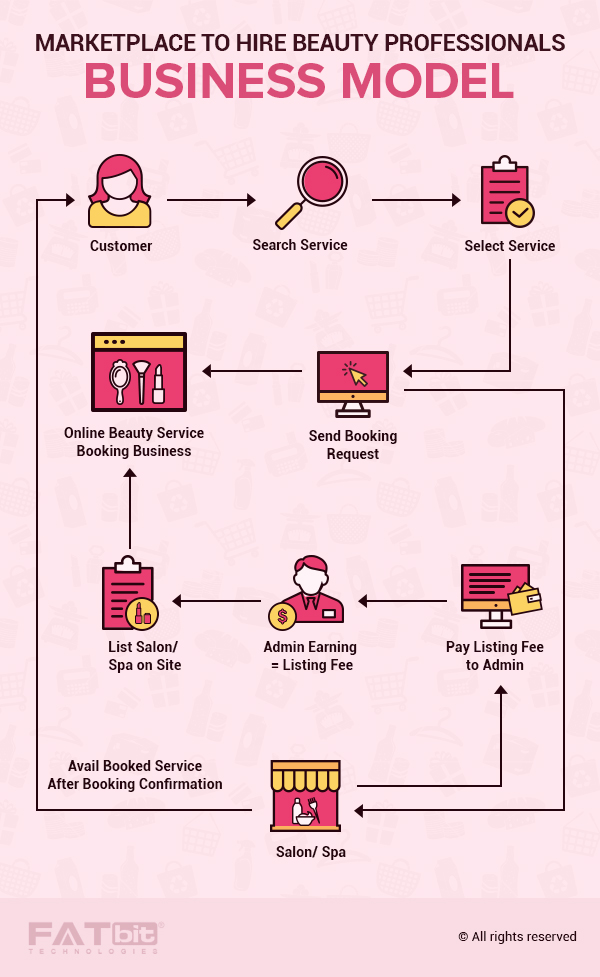 What does statistics say about online appointments business?
Currently, more than three million consumers are the part of technology adoption cycle in India. This figure is slated to reach close to 100 million in the next five years. The business model runs on the basis of convenience, reasonable price and good quality of service making it highly sustainable.
Leading market players
Ziffi.com
Vbooky.com
Styleseat.com
Bookmyspa.in
Website functionality
Now that we have gone through its business model, market dynamics and main competitors in this sector, let us look at the critical website features that are necessary to build an online spa and salon-booking website. Most of the service based ecommerce websites follow a common website theme. When it comes to online salon booking website, the focus must be on the ease of search and making appointments.
Following are the crucial script features for entrepreneurs looking to start an online spa/salon aggregator:
Homepage
The most unavoidable consideration for every online salon booking marketplace is that its customers are particular about style and beauty. This is why the website must put a clear emphasis on UI and offer a more chic user experience. The following ingredients are of umpteen importance for the homepage of every online salon aggregator:
A banner image and tagline should clearly state what the website is all about
A custom search box along with location selector
A "how it works" section, which states the overall functionality of the website for consumers as well as business owners
Listing of all the categories right on the homepage for easier navigation
In addition to the above, the footer area needs to be minimal, with links to content pages, social media profiles, and other offered services.
Featured businesses
Studies show that putting forth the figures that portray your dominance in a given market certainly makes a difference, particularly in ecommerce zone. The same can be said for a spa and salon-booking marketplace as it should clearly state figures like number of businesses, users and bookings per minute. There can also be featured businesses displayed in this section, in order to increase their presence.
City Selector
When it comes to any search aggregator, location selector is highly critical. The search system of online spa and salon-booking website should have this feature as it makes it easy for the consumer to find relevant business closer to their intended area.
Login-Registration Process
For any ecommerce website, registration process holds the key to enabling the visitor to turn into a registered user. This is why the registration process must be thoroughly introspected to ensure ease of login/signup. Moreover, the platform must differentiate between the login process of business as well as the consumer. Do not create a clone of available forms but devise something that can grab attention and appears simple.
Rather than having a dedicated page for signup/login, you can use a popup approach, which is highly user-friendly. In addition to it, you can also incorporate social logins via Facebook, Twitter, Google, etc. Also, keep the registration form as minimal as possible. Certainly, you won't like to see users switching to other sites due to long registration process that takes lot of user's time. FATbit analysts emphasis on the value of this approach while looking for an online spa/salon booking website script.
Well-defined categories
As discussed earlier, the online spa and salon-booking website must have well-defined categories, making it easier for the consumer to find relevant services. For example, if a person is looking for hair cut service or body massage, they should be able to go into that particular category without browsing through the list of all service providers.
A Good UX Design can Build Trust, Generate Leads and Boost Sales
Upgrade Your Website
Search functionality
As already discussed, search functionality is the crux of an online spa and salon aggregator. Not only the search must be placed at a prominent place on the homepage, but it should also offer rock solid functionality. The auto complete feature is necessary nowadays to make the search faster. Moreover, the consumers must have the option to streamline the search by selecting a relevant category as well as location.
Search listing
The salon search results ought to be displayed along with filtering options so that the consumer can phase out all the irrelevant results. This can be based on:
Price
Location
Availability of online booking
Gender preference
Ratings
Map view
Another nifty feature can be the dynamic map view in the side panel that is updated with the location markers of the businesses as the user selects or hovers over a listed result.
Profile page of salons/spas
The Spa/Salon page better known as the profile page of the business should be designed in such a way that it provides all the vital information without clogging the page. The profile page should be exquisitely designed with all the relevant information like photos & videos, location Information, services offered, availability schedule information, brief overview & list of reviews shared by previous consumers. Clone scripts have higher chances of missing one or the other feature, so make sure you get the following components added to your business page if you are about to buy a spa & salon portal script:
Complete address & contact info
Services offered
Brief overview of the business
Social media profiles
Images and videos of their previous work as well as establishment
Business hours
Location in map-view
Reviews/testimonials of previous clients
Appointment booking tab
Book appointment form
Rather than just being a salon/spa search aggregator, having an online booking feature built right into the platform will surely give any website an edge over the competition. According to the analysts at FATbit, this approach needs to be highly efficient as it bridges the gap between the two entities. The booking tab must contain the following information:
Type of service required
Date
Time
This ought to be followed by the checkout process, where clients need to provide their credit details and finalize the order.
PROCESS FLOW DIAGRAM FOR BOOKING A BEAUTY SERVICE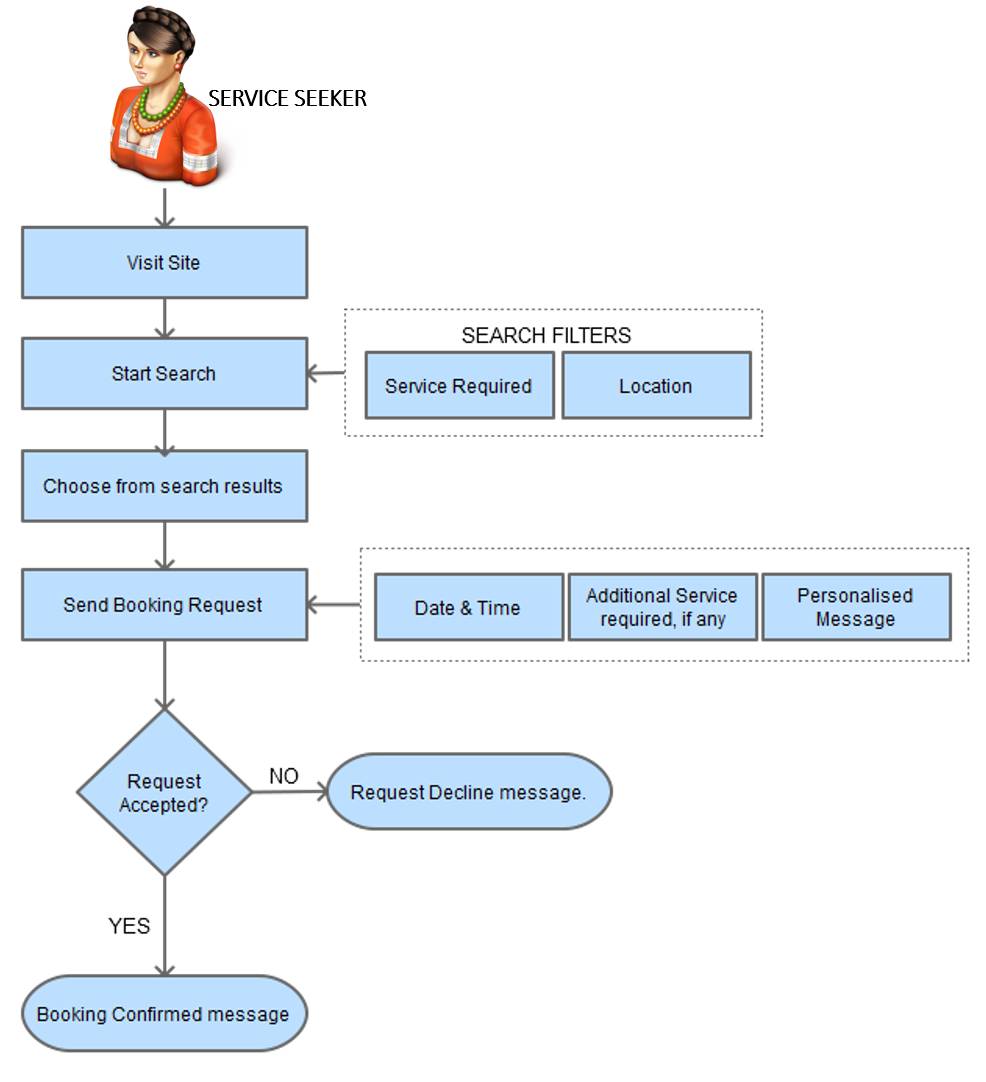 Reviews/testimonials
There is no denying the fact that most of the first time ecommerce users rely on user reviews and testimonials while making a decision. This is why an online spa and salon-booking marketplace must include this option to enable customers to rate and post reviews about businesses. FATbit analysts believe that this feature is a must have for an online salon aggregator.
Manage account/dashboard
The dashboard is generally considered the control hub of any platform. This is the section where users can get all the information related to their account. This information helps the users to manage the account more efficiently. FATbit analysts believe the dashboard design of a spa and salon-booking website must contain the following sections:
Bookings
Edit profile
Recommendations
Payment history
Reward/referral program
One of the most innovative ways with which ecommerce websites optimize user adoption of their platform is a reward and referral program. Allowing users to invite their friends to join the website and offering them rewards points in return, which can be used towards the payment for future appointments is a well thought out strategy.
Mobile apps
In the current market dynamics, having a mobile optimized website or more importantly, a native mobile application has become highly essential. Websites like Ziffi and StyleSeat have launched their respective mobile apps on the app store. One important aspect of these native apps is that they follow the same design themes as a desktop website for an identical user experience. It helps offer optimal user experience to users.

How to scale online beauty/wellness service booking business?

Add new categories: Adding new categories like ayurveda, yoga, laser, aquatic therapy, nutrition consulting, meditation etc. will prove to be a good scaling option.
Sell beauty/wellness products online: Achieve a competitive edge over your competitors by adding online store to sell beauty products.
Enter new geographic market: To generate more revenue and improve the reach of your business enter new geographic market.
Start subscription box business: Integrate your current business with subscription box business and start delivering box of beauty products each month to your customers for a fixed subscription fee.
Provide beauty services at home: Build your own team of beauty professionals and start providing beauty services at customer's place.
Launch exclusive offline for wellness services and beauty products: Once the brand has made its place in the market, setup offline store. Business can also earn from franchisee model.
Conclusion
As already discussed, a salon booking website must present itself in a more chic way. The USP of a salon booking website is the ease of booking and you must incorporate the same while designing the website. Make sure that you take all the points suggested by FATbit analysis into account. The fact remains that such business models depend heavily on location; therefore, it is easy for any new startup having advanced features to capture the market share. If you are one of those entrepreneurs looking to enter this sector, then you must hire a professional UI/UX team that can implement all the suggestions made by us in the spa and salon-booking website script. If you have any additional requirements, you can surely consult our experienced design & development team to launch a similar marketplace.
Want to Know How Much an Online Spa Booking Website Will Cost You?
Get a quote