Last Updated: 23rd March, 2021
What's covered in this post?
Online grocery shopping is catching up with consumers rapidly. According to Orian Research, the global online grocery market would grow with a CAGR of 23.7 % in the period of 2020- 2025. One more research suggests that the grocery ecommerce business will be expected to reach $250 Billion within the next five years.
Major Players of the Grocery Industry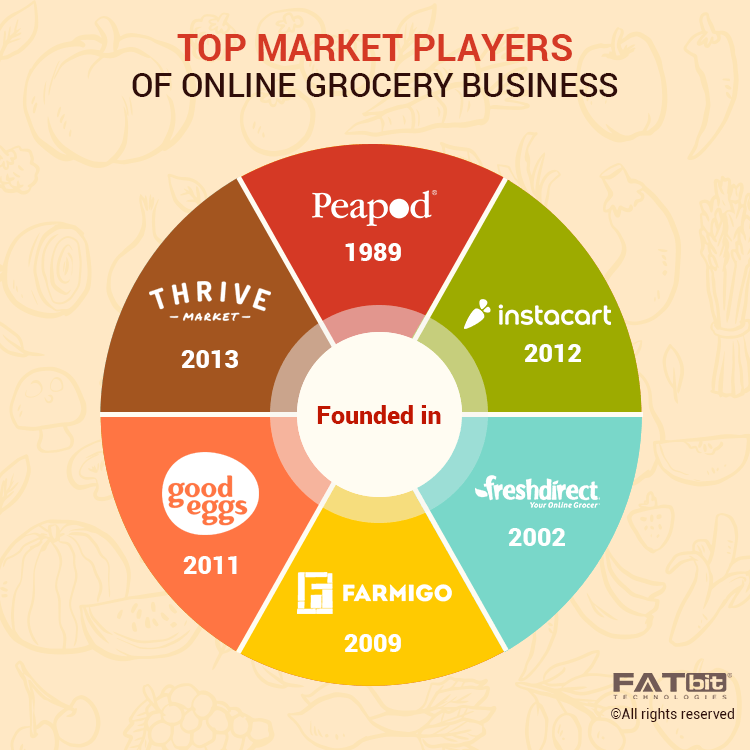 The top retailers of grocery eCommerce industry are not only popular among customers but many aspiring entrepreneurs or business owners study their order to cash process or frameworks before starting their own grocery ordering and delivery business. Some of the leading grocery brands are:
Peapod, Fresh Direct, Shipt, Instacart, Fresh City Farms, Grocery Market, Loblaws,Inabuggy, Grocery, Spud, Thrice Market, Boxed, Grocery Market, Food Land, Cornershop, El Grocer, Good Eggs, Carrefour, SafeWay, Farm Drop, Talabat, The Fruit Box, Arabind, Rappi,  La Ruche qui dit Oui!, Aussie Health Products, The Veggie Box by Victoria Whitelaw, Domicilious, Far, Box, Organic Delivery Company, Aussie Health Products, Mercadoni, etc.
Business Models to Start an Online Grocery Business
To get successful in starting and operating an online grocery business, you need to focus on the following factors:
Selecting and enhancing (if required) grocery business model 

Creating roadmap to transform the business model into an agile, efficient, and a precise operating model

Determining the target market 

Segregating the delivery regions

Competitor analysis

Grocery website and mobile apps
Out of all these factors, entrepreneurs or business owners often waste so much time and resources in choosing the right grocery business model.
To help you out with it, we explained the three major business models in the grocery industry.
Online Grocery Store Business Model:
A business owner starts his online grocery store (website/app) and delivers groceries to customers in a specific city or region. Either, he has inventory stored in a warehouse or running an offline grocery store. In this business model, there are mainly two players- 1. Business Owner (who is also the admin & seller of the store) and 2. Customers.
Hybrid Grocery Business Model:
It is a combination of inventory and marketplace grocery business model. One of the best examples of this business model is Peapod. Contact Us to know more about it.
Online Grocery Marketplace Business Model:
A business owner starts an online grocery marketplace by tieing up with local grocery producers/retailers who will sell their grocery products on the marketplace. Key players in this business model are-: 1. Business Owner, 2. Sellers, 3. Buyers, 4. Delivery Staff.
Specifically, in this post- we will be discussing the vital aspects of the marketplace business model.
How Does an Online Grocery Marketplace Work?
View Canvas Model for Online Grocery Business
How Ecommerce Grocery Platform Makes Money? – Revenue Model of Online Grocery Marketplace Business
Commission on Each Transaction:  Admin can charge a commission on every transaction from the seller.
Vendor Subscription: A vendor has to pay a fixed amount of money to admin in order to list, access, and sell on grocery marketplace. A vendor can choose the required subscription plan from a number of available options and can also upgrade or downgrade the plan according to his/her requirements.
Commission on Delivery: On every transaction, admin can charge a fixed delivery fee from both buyer and delivery boy.
Secondary Revenue Streams:
On-site promotion for merchants/grocery sellers

Hosting banners ads

Start a blog and publish sponsored content on it
Sell useful merchandise such as jars, reusable carry bags, etc. (it will also help you in branding)
Seller user data to market research firms
Launch an Online Grocery Marketplace along with Ready-made Mobile Apps
Key Features for Online Grocery Marketplace
It is essential that your grocery marketplace website is quick to load, easy to use, mobile-friendly, and has the following unique features:
Key Admin Features in Grocery Marketplace:
Multiple Levels of Administrative Access

Vendor Approval & Management

Product Approval System

Advanced Reports & Statistics

Subscription Packages Management

Tax & Currency Management
Progressive Web Apps (PWA)
Delivery Staff Management
Key Seller Features in Grocery Marketplace:
Separate Vendor Dashboard
Order Cancellation/Refund Requests Management
Shop Management
Sales Report & Other Statistics
Wallet Management
Bulk Imports/ Exports
Delivery Slots Management
Pin Shop on the Map
Key Buyer Features in Grocery Marketplace:
Multi-cart
Auto-Detect Location
Order Substitution
Delivery Schedule
Single Item Cancellation
Order Tracking
Click and Collect
Order Return/Cancellation Requests
Key Delivery Staff Features in Grocery Marketplace:
Profile Management
Define Delivery Radius
Accept or Reject Order
Route Navigation To Sellers' And Buyers' Location
Delivery Order Management
Order Cancellation at Anytime
Push Notifications
Convenience of Operating
Other Features for Online Grocery Business Website
Discount coupons
These days, it is a common practice among businesses to send discount coupons to make the most out of seasonal sales. So your website must have the feature to receive & process these discount coupons.
Search Tool
If customers can't find what they are looking for by browsing product categories, they should be able to search for it. To enhance customer experience, the search tool should have the auto-suggest feature & should be error-tolerant to minor spelling mistakes.
Social Commerce Features
Features such as sharing products on social media, social signup, or selling directly on Facebook, would also help your business get good exposure.
SEO Ready
Make sure that your marketplace website has all keys features to get easily crawled by search engine bots and to rank better.
Mobile-Friendly
It is certain that most customers will buy from you on mobile. So make sure to enhance your store's on-the-go purchase experience, whether you make the website responsive, build a separate mobile website, or an app.
Launch your Feature-Packed Grocery Ordering and Delivery Marketplace
Challenges Associated with Online Grocery Business
As mentioned earlier, the unique challenges this business model presents are due to the nature of grocery products, which are either perishable or intended for immediate consumption. Let's discuss the major ones in detail:
Storage & Delivery Infrastructure
Regular online stores can afford to tackle instances like delays in delivery, wrong item delivery, returns, etc. But for online grocery stores, it will be a pretty much 'do or die' situation. Therefore, the entire supply chain – from farms/manufacturers to storehouse & then to the customers – needs to be very robust & time-efficient.
Additionally, since perishable food products need to be stored & delivered in refrigerated chambers, storage infrastructure would add up the business operations cost marginally.
There are certain steps you need to take to combat these challenges. Some of which are:
Integrate a robust, Just-in-time (JIT) inventory management system API with your grocery store that automates things to reduce storage cost & wastage.
Partner with a reliable delivery service provider that can meet your customers' expectations with assurance.
Segment the delivery network into hyper-local networks to manage deliveries better & make them faster.
Low-Profit Margins & Quality Assurance
Today, people shop online not just for convenience but also because they expect to get better prices. Online grocers face the same challenge of offering competitive pricing. But with too much money spent on building & maintaining the storage infrastructure & efficient supply chain, keeping satisfactory profit margins might become difficult.
Other than that, when it comes to vegetables & fruits, most customers prefer to buy only after physically checking them for their freshness & quality. When shopping online, such an option is not possible. So, to persuade customers to buy groceries online remains a persistent challenge.
There are a bunch of steps you can take to address these problems:
Add more non-perishable categories to your store, such as packaged foods, personal care & beauty products, household items, etc. as their storage & delivery cost less.

Merge your online & offline grocery business to enhance customer experience and to cut down the operation cost wherever possible. Below we have a breakdown of ways to do it:

Customer checks products online for availability & buys them at the store after confirming the quality.

Customer orders online & pick up the order at the store (both a & b will save the delivery cost).

Customer visits store & orders online to get groceries conveniently delivered at home.

Self-checkout at stores by using technologies like iBeacon (reduce operation cost & enhance customer experience).
Online grocery marketplaces that don't have physical stores can launch their offline chains to benefit from the blended online-offline grocery shopping concept.
Ecommerce Grocery Business in the US, UK, and Canada
We analyzed the current state of the online grocery supermarket business across various countries and provide historical background to identify key grocery industry trends.
Ecommerce Grocery Business in the US is Just Getting Started
To gain insight into the current and future state of the online grocery business in the US, we scrutinized both incumbent companies and innovative newcomers.
According to eMarketer, a subscription-based market research company, the US grocery eCommerce is the fastest-growing product category online.
The online grocery delivery industry in the US is currently lying around $20-$25 billion. By 2021, this number will reach $38.16 billion.
How to win over the US grocery customers? (Online Grocery Shopping Habits in the US)
To lure the young, affluent, and urban US households, you have to work on 3 major things:
Seamless Customer Experience on your online grocery marketplace.

Eliminating the logistics and supply chain hurdles.

Entice Millennials
Online Grocery Business in the United Kingdom (UK)
Online grocery shopping in the United Kingdom is the fastest-growing purchase channel. According to Statista, the UK will become the second-largest grocery market after China in 2020. No doubt, when we talk about edible grocery sales, the online grocery supermarket business in the UK has changed a lot because of Asda, Ocado, and Tesco. But yes, there is a huge scope of new online grocery websites in the country.
How to win over the UK grocery customers? (Online Grocery Shopping Habits in the UK)
Attentive service and friendly interaction play a major role throughout the entire eCommerce grocery experience. Also,
Overall low Grocery Bills
Easy to Navigate eCommerce grocery website
Better Loyalty Scheme
Ecommerce Grocery Business in Canada
In the emerging eCommerce horizon, Canadians want their groceries to be delivered directly to their homes. Currently, they are spending around $6.4 billion per year on online grocery shopping.
How to win over the Canadian grocery customers? (Ecommerce Grocery Shopping Habits in Canada)
By analyzing the Canadian shopper journey and working aggressively at every step of their purchase journey is the key step in winning them over.
Free Shipping

Organic Grocery products

Seamless Customer Experience
Conclusion
Grocery consumption is the basic human need, and people are increasingly relying on online shopping. So, the online grocery business idea fits perfectly in the current dynamics, despite the above-mentioned challenges.
The important thing for entrepreneurs planning to enter this sector is to be aware of these challenges & know how to go about them by leveraging the right technology, trends & tactics. And that's where this post serves as a valuable resource.
Discuss Your Queries with our Industry Experts