Last Updated: 11th June, 2021
Visiting supermarkets for your monthly groceries means long checkout lines and an exhausting search for your favourite products. On the other hand, visiting your neighbourhood stores doesn't give you variety & ease of shopping. With technology coming to the center stage, online grocery platforms have solved the problems encountered by people during shopping by giving them access to quality products without wasting any time or energy.
Consumers' grocery shopping behaviour has changed significantly over the last year due to the COVID-19 pandemic. According to Inmar Intelligence, almost 78.7 % of the U.S. residents have started buying groceries online after the arrival of Coronavirus, up from 39% before the pandemic. Considering the increasing demand of online grocery delivery services, entrepreneurs have the right opportunity to uplift their business by creating an online grocery marketplace for consumers.
Table of Contents
Why Must You Start an Online Grocery Platform?
Below-listed is some noteworthy reasons for starting an online grocery delivery platform:
Surging Demand of Online Grocery Delivery Services
1.) The demand for online grocery delivery services has increased amid the COVID-19 pandemic. As per a survey conducted by Coresight Research, almost 49% of the U.S. residents have started buying groceries online after the arrival of the Coronavirus.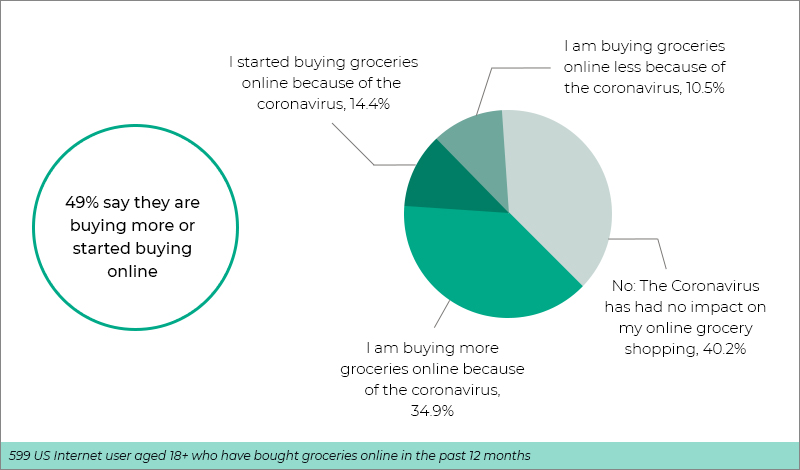 Source: SuperMarketNews
 2.) According to Statista, sales of online grocery delivery services and in- store pickups surged in 2020 and reached 6.1 billion U.S. dollars in 2021.
Since the COVID-19 is here to stay for a long time, people will likely continue using online grocery delivery services in the future.
Supports Offline Vendors
The lockdown restrictions imposed by the government have made it difficult for offline grocery vendors to survive in the market. You can start your online grocery marketplace to serve small and mid-sized grocery vendors in these trying times. You can help offline vendors by adding and listing their offline stores to your online grocery delivery marketplace. Moreover, starting a platform would also create job opportunities for delivery boys and daily wagers.
Covers Umbrella Niche
Apart from selling grocery items, you can also offer fruits, vegetables, meat & seafood, pharmaceutical products, etc., through your store/marketplace. In addition to grocery items, users will be able to order other food products from the comfort of their home amid the pandemic situation.
Enhances User Engagement
If you're running an offline grocery store, then creating an online grocery delivery platform could be the best way to improve user engagement. You can easily inform your customers about new grocery products offered by your grocery store. It would be easy to send timely updates and make your customers aware of the discounts, upcoming offers, and festive deals on your products.
Increases Brand Awareness
A grocery website enhances user engagement and works as a source to increase brand awareness. You can promote your store or marketplace on social media platforms and run digital marketing campaigns to gain more visibility. A wider market reach will play a significant role in building a solid brand presence and boosting your business revenue.
Launch Your Own Online Grocery Marketplace
Important Things to Consider While Launching an Online Grocery Platform
Business Model
The popularity of grocery delivery portals is powered by convenience and ease of shopping. Although many players have attempted various grocery retail models in the digital space and failed, only those have been successful that have adapted a lean business model relying on a convenient mix of warehousing and cash-&-carry. Below listed are some popular business models that you must consider for your startup as per your business needs:
Grocery Store Business Model
If you're running an offline grocery store, then opting for a grocery store business model could be a cost-effective and quicker solution to establish an online presence. There are two entities involved in the grocery store business model: Seller and Buyer. A seller, who is also an admin, sells his products to multiple buyers via his online store.
Multi Vendor Marketplace  Model
You must go with a multi vendor marketplace model, if you want to enlist multiple sellers on your marketplace and help them to sell their products to several customers. In this model, customers will have a choice to buy grocery items from different sellers or brands. Admin, Buyer, Seller, and Delivery Staff are types of entities involved in the multi vendor marketplace model.
Revenue Model
Commissions, subscription fees, affiliate partnerships, and display ads are some revenue generation methods that can help entrepreneurs earn money from their platforms.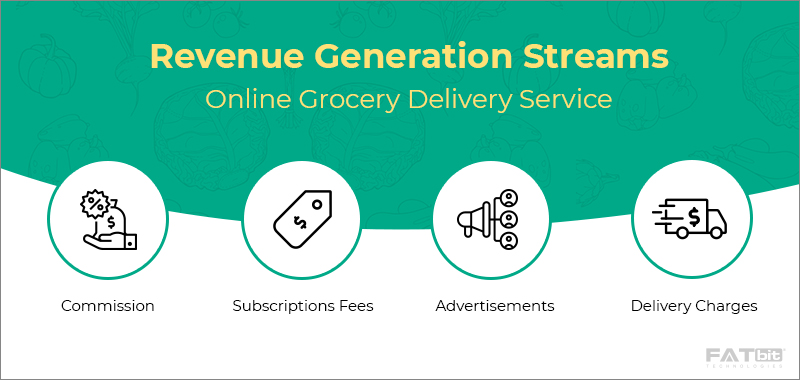 Grocery Apps For Buyer and Delivery Staff
It has become vital for all eCommerce websites to have a mobile app in the current era of mobility. This increases the reach of your platform and makes it easier for users to shop on the go. This is why you need to invest in developing a mobile app for your grocery business. Over the last few years, many grocery companies have started building their mobile apps to surpass each other in terms of revenue and audience base. In order to be future-ready, you must create mobile apps for buyers and delivery staff.
Buyer App: A Buyer App will be designed to make online grocery shopping an enjoyable experience for all buyers.
Delivery Staff App: An app for delivery boys will streamline the grocery delivery process for the delivery boys.
Suggested Read: Guide For Building a Grocery Delivery App
Must-Have Features of an Ecommerce Grocery Platform
Delivery Time Slots
In this hyperlocal sector, delivery is a major challenge for online grocery portals. This feature enables users to select their desired time slots for grocery delivery as per their location.
BOPIS
Many grocery retailers adopt an omnichannel strategy in the form of click and collect to enhance the user experience and streamline the supply chain. BOPIS(Buy Online, Pickup in Store) is all about a user making a purchase online and then collects it from the pickup location.
Progressive Web Apps (PWA)
A web application that delivers a native app-like experience to users by bringing consistency between web and native apps and replacing both with a single specimen. It can be installed on the home screen, which means better user adoption. Further, it improves SEO and boosts conversion rates.
Multilingual
Adding multilingual functionality to your grocery delivery platform will increase its global reach and help you capture new users from varied locations.
Multiple Payment Options
You can offer various payment modes like cash on delivery, net banking, credit/debit cards so that users can select the desired option as per their preference.
Real-Time Tracking and Updates
Users will track the real-time location of delivery boys and receive timely notifications regarding the order status.
Chat Support
There is no denying that you need to put particular focus on creating a personal connection with customers. This can be achieved via a chat feature available on all pages. This real-time chat allows buyers to discuss all their queries with customer support.
Inventory Management
This feature enables sellers to manage inventory-related data. They can monitor stocked goods and track inventory status. Moreover, having an inventory management system would make it easy for sellers to manage order refunds/cancellation requests.
Analyze Sales Reports
Marketplace owners can analyze sales reports and check the overall performance of their platform. It will help them draft future strategies and marketing plans for their platform. This feature also enables sellers to check sales reports of their stores registered on the platform.
How to Launch an Online Grocery Platform?
After conducting in-depth research, we have prepared this comprehensive post with all the information that entrepreneurs must have to set up an online grocery platform. However, creating one from scratch could be challenging and time-consuming. In such a situation, consultation could be sought from a quality-driven software development company like FATbit Technologies. In order to help entrepreneurs launch their online grocery marketplace, the team of experts at FATbit Technologies has developed the following grocery ecommerce solutions:
Growcer
It is an ecommerce grocery solution designed to help entrepreneurs launch a multi-vendor marketplace conveniently. Growcer also comes with readymade grocery apps for buyers and delivery staff.
Growcer Lite
It is a grocery store solution equipped with all necessary features to set up a single-vendor online store. Growcer lite comes with a readymade mobile app for buyers.
Launch Your Online Grocery Platform
The Top Players in the Grocery Industry
1. FreshDirect
It is an online grocery marketplace that delivers groceries to your doorstep and offers next day delivery. Currently, FreshDirect is operating in New York City. FreshDirect offers a lot of discounts to its customers to encourage them to buy through their website.
2. Peapod
Peapod is the oldest and the most popular online grocery service in the marketplace operating in 24 U.S. urban markets. It offers fresh quality products, priced fairly, and delivered with reliable service. The customer can order groceries by using the peapod app, which can be easily downloaded from the Google Play store.
3. Instacart
Instacart offers grocery delivery and pickup services across the United States and Canada. It has partnerships with over 350 retailers (including Kroger, Loblaw, Target Corporation, etc), that have around 25,000 grocery stores. Instacart lets you shop from grocery stores listed on its website or app, then sends a personal shopper who picks, packs, and delivers the order to you.
4. Shipt
Founded in 2012 and owned by Target Corporation, Shipt is known for its same-day delivery services. Initially, the company targeted regions that had no grocery delivery services before expanding into other demographics.
5. Walmart Grocery
It enables shoppers to order food and other goods for pickup and delivery. According to the latest development, Walmart Grocery app is merging with Walmart's main app & website, and the new version will be rolled out in phases.
Conclusion
Grocery delivery at doorsteps is the newest ecommerce business to witness steep growth all over the globe. As stated by us, you need to incorporate every possible strategy to convert first time buyers into loyal customers by focusing on design, user experience, and powerful features.
While selecting a platform to get started, you also need a team that can add custom features and makes upgrades as per your plans. So, invest in a solution and team that will give you long term returns by building an advanced version of your online grocery platform.