Mobile technology has gained a ton of traction and made great strides within the retail space over the past few years. With the growth of internet usage and eCommerce apps, more and more people are going online for buying clothes, paying bills, learning skills, and purchasing household goods & groceries. Nowadays, E-Commerce mobile apps are growing at an astounding rate and grocery-based apps are also following the same footsteps.
Grocery Delivery Apps: A True Blessing For Online Grocery Shoppers 
The frenetic pace of people using grocery delivery apps loaded with tap-and-collect facilities, multiple payment options, and same-day on-door deliveries have almost made the brick-and-mortars a refugee in their own land. Moreover, on-demand grocery delivery apps not only provide a smoother shopping experience & convenience to shoppers but also help businesses to grow their brand awareness & build customer loyalty. That's why entrepreneurs are showing keen interest in setting up an online grocery store and building their own grocery delivery apps.
In the present scenario, the grocery industry is going through a sharp growth curve and there are ample opportunities to thrive. Due to the COVID-19 crisis, traditional grocery supply chains are challenged in an unprecedented manner. People are facing difficulties getting essential groceries as malls, grocery stores, and supermarkets are closed during the complete lockdown. In such trying times, developing a grocery delivery app is the need of the hour, and grocers are leaving no stone unturned to go online & create their own grocery shopping apps.
In this blog post, the following topics will be covered:
So, without wasting any further time, let's dive right in.
Understanding COVID-19's Impact on Online Grocery Business
While the Coronavirus pandemic has brought numerous major industries around the globe to a screeching halt, the online grocery delivery sector has been given a powerful opportunity to hit the accelerator. Measures like social distancing and quarantine have fueled spikes in the demand for online grocery shopping. With growing sales of online grocery, the usage of grocery ordering & delivery apps is expanding worldwide quite rapidly.
Since people grapple with realities of lockdown, getting food supplies is one of the biggest challenges in this current situation. Food and essential supplies are going out of stock as panic buying continues at brick-and-mortar locations. As a result, grocery ordering & delivery apps climbed up the charts and witnessed a massive surge in the number of daily downloads.
Online Grocery Market Forecast: Grocery Delivery Apps are Thriving amid Coronavirus Lockdown
Following are some recent facts and statistics depicting the massive increase in the usage of Grocery delivery and ordering apps during COVID-19:
Global shopping apps downloads reached 106M at the beginning of April.
Amazon's app downloads have grown by 20% since January.
Daily download rates of Instacart, Walmart Grocery, and Shipt have seen a massive surge by 218%, 160%, and 124% respectively, since February.
Image Source: Statista
At the beginning of April, Walmart Grocery was ranked #1 on Google Play store and #2 on the App store.
Instacart also admitted a growing demand for its services – sales have increased 10 times so far, and for certain areas like California, New York, Washington, and Oregon – even 20 times.
Of the daily downloads recorded, Walmart grocery saw a maximum of 54,000 downloads per day, whereas Instacart saw 38,500 downloads per day since February.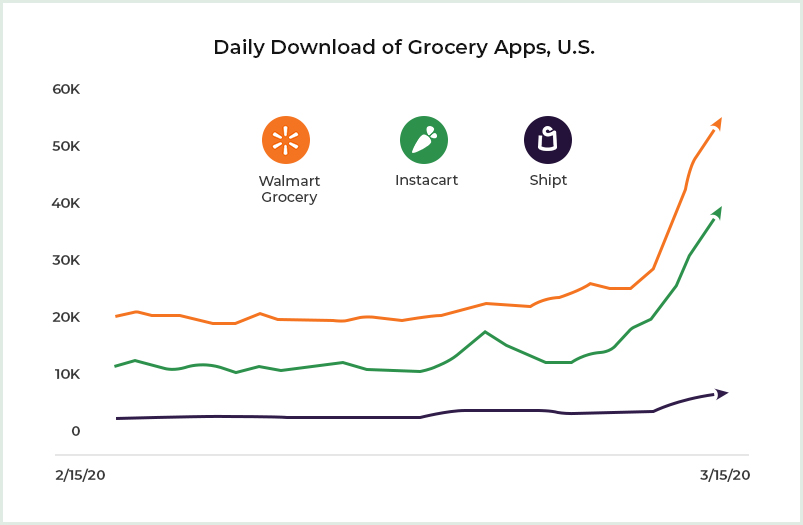 As per the recent reports by Google trends, the number of searches around grocery delivery services have increased dramatically.
According to Apptopia, the Target app has also broken records for daily downloads. The app saw more than 53,100 daily downloads in the month of March while it was seeing 25,000 in February.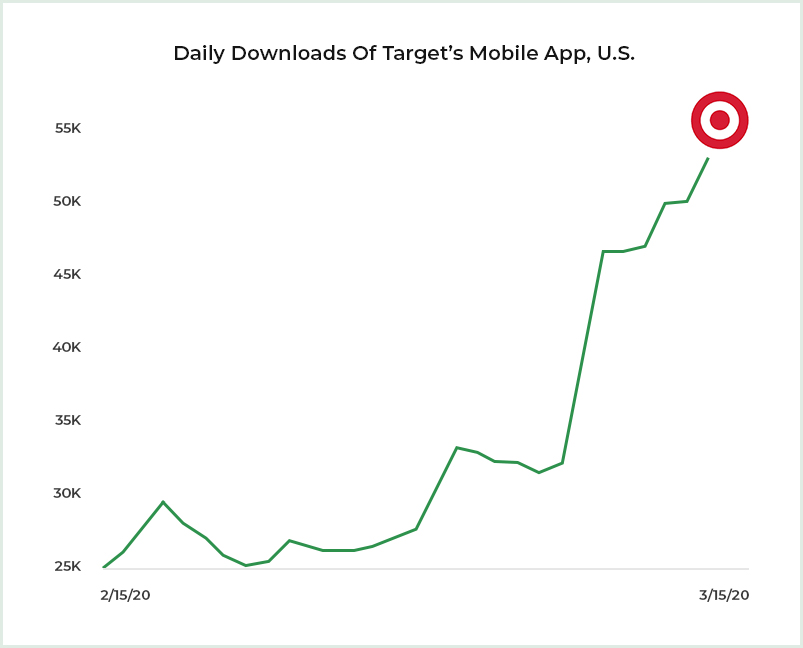 Shopping online through grocery apps is not something new but the current global situation has made it an absolute necessity. Here are some perks of using grocery shopping apps during Corona outbreak:
Promotes Social Distancing
Ordering products using grocery ordering apps is an effective way to ensure social distancing. Moreover, it could prevent virus transmission by providing a safe and convenient shopping experience to users.
Reduces Goods Wastage
Grocery apps could play a crucial role in streamlining the grocery supply chain and managing product stocks which will help in reducing the wastage of grocery products.
Supports Small-Scale Grocers
Local independent grocers are the lifeline for the grocery delivery application. A Grocery shopping app could help small and mid-sized grocers in running their business in this uncertain situation.
Boosts Global Economy
Grocery delivery boy apps could contribute to global economic stability and provide an economic boost by generating job opportunities for the daily wagers and delivery workers.
Quick Delivery
Delivery boy apps could ensure quick and timely delivery of products. Delivery boys will do all the leg work for you using grocery delivery apps and deliver what you need to your door.
The above-written statistics and benefits of launching on-demand grocery apps have given rise to entrepreneurs' interest in setting up their online grocery marketplaces and building grocery ordering and delivery apps.
If you're one of those who are willing to invest in grocery app development to lift your grocery business during COVID-19, then check out some essential features that you should include in grocery shopping and grocery delivery apps to make them a sheer success.
Must-have Features of a Grocery Ordering App (Buyer App)
A Grocery ordering app allows customers to buy groceries without leaving their homes. These apps are designed to make online grocery shopping an enjoyable experience for all the buyers. A grocery buyer app lets the customers do online grocery shopping and provide home delivery services as per their preferred time. Here are some crucial features of a grocery shopping app:
Stress-Free Registration
The registration process should be simple and user-friendly. Giving instant access to customers via multiple social media profiles could be a great way to retain them and reap more visitors.
Refined Product Search
Integration of smart search in your on-demand grocery app is inevitable as it will help users to find preferred items with specific keywords without navigating through the entire app.
Wishlist
This feature will help a customer to save an item for future purchases. Customers can add grocery items to their wishlist and buy them later on.
Cart Sharing
It is an excellent feature for increasing cart value and reducing cart abandonment rates. Customers can share their shopping carts with their friends and family through the cart sharing feature.
Recommended Products
This feature will display the recommended product list on the basis of the previous search preferences of the user. Moreover, providing targeted product recommendations could play a crucial role in increasing the average order value of your online store.
Price Comparison
It is another must-have feature of a grocery shopping app that will help users to know what other brands are priced at for similar products. This feature will allow customers to compare similar products without making them leave the app.
Self-Pickup (BOPIS – Buy Online, Pickup In-Store)
This feature is also known as click and collect which enables shoppers to place an order online and schedule an in-store pick up as per their comfort.
Order & Delivery Tracking
From the order dispatch to the estimated time for delivery, this real-time tracking feature will help users to know the status of their order.
Multilingual Functionality
Adding a multilingual feature in your grocery shopping app can help you expand your customer base over multiple regions and stay ahead of your competitors.
Repeat Orders
It will help your grocery shoppers to select regularly used items quickly from their purchase history.
Voice Search
Adding a voice search in your grocery shopping app could play a key role in improving the user experience. It will  allow users to use a voice command to place an order or find a product.
Delivery Scheduler
This allows the users to schedule their delivery in advance as per their convenience. The customers can select a delivery date for their order during the checkout process.
Push Notifications
It is a great feature for increasing customer engagement and triggering app usage. Push notifications will allow you to update your customers about flash sales, ongoing deals & discounts, and much more.
Multiple Payment Options
Including multiple payment methods like cash on delivery, credit & debit cards, digital wallets, Net banking, etc. in your grocery app will make your customers feel the ease of getting payments done in a quick manner.
Coupon Codes & Rewards
Most of the customers are always on the lookout for rebates and offers. So, the integration of discount coupon codes and loyalty reward programs will enhance user engagement and encourage them to purchase more.
Easy Checkout Process
This feature is vital for creating an exceptional shopping journey for consumers. A simplified checkout process will help users to place on order within a few easy steps and increase conversion rates.
Rating & Reviews
With reviews & rating systems, customers can share their buying and browsing experience. This feature will play a crucial role in building trust among customers.
Must-have Features of a Grocery Delivery App (Delivery Boy App)
A Grocery Delivery Boy app is designed to streamline the grocery delivery process for all the delivery boys and to ensure a seamless & on-time grocery delivery. Have a look at some necessary features of a grocery delivery app:
Hassle-free Registration
The delivery boy can register in the grocery delivery app by filling up a few details like name, email id, and phone number. Once the delivery boy registers himself, he can log in the app anytime by using his username & password/OTP. You could also include social media profiles for providing instant app access.
Profile Management
This feature will help delivery boys in managing their profiles in an efficient manner. They can easily update their profile by adding personal details, uploading a profile picture, and adding bank account details.
Wallet Management
This option will allow drivers to manage all their payments and virtual credits. A delivery boy can also check & manage the withdrawal requests with this feature.
Order Management
The delivery agent will be able to check the number of orders placed, manage order delivery status, and accept or reject order requests.
Email Notification
These notifications will appear in the customer's device when the order is placed or will be out for delivery. Buyers, vendors, and delivery boys will receive order status emails, cancellation, funds & replacement requests emails, withdrawal request emails, gift card emails, share & earn emails, etc. with this feature.
Geo Location
It is one of the must-have features through which the delivery boy will get the location of the customer through GPS. The delivery boy can find the best route suggestions to make multiple deliveries easier using route optimization.
Delivery History
The delivery boy can check his order delivery history, how many orders he has delivered in a day, or even the total number of order requests to date.
Earning Status
This feature will help delivery drivers to keep a track of their earnings. Moreover, delivery boys will be able to transfer their earnings to their bank account as and when required.
The overall cost of a grocery shopping or delivery app depends on numerous factors. Let's have a look at ones that influence the app development price the most:
App Intricacy
Your app complexity and the number of features you're willing to add will be the biggest cost drivers in your grocery app development.
Size of Development Team
The cost of your grocery app will highly depend on the number of app developers involved in the app development process. The price could also vary depending on the incorporation of niche developers and specialists.
Choice of Platforms
In this modern era, android is the most used mobile platform with iOS following the suit. So, your choice of platform would play a major role in depicting the cost of your application.
Preferable Location
The hourly rate charged by the developers fluctuates from region to region. This is because the availability of resources, expertise, and experience of the company varies significantly.
The above-written facts are more than enough to clarify the fact that developing an app from scratch is an arduous task that requires time & effort, along with huge capital investment to hire a development team. This is where an on-demand grocery solution like Growcer comes to save the day.
Suggested Read: BOPIS (Click and Collect) Shopping: Creating an Omnichannel Experience in Grocery Retail Industry
Growcer: A Turnkey E-commerce Grocery Solution
Growcer is a feature-packed eCommerce grocery software that provides ready-made android & iOS mobile apps for buyers as well as delivery staff. Moreover, our impeccable grocery solution comes with web portals of admin, buyer, seller, and delivery staff that makes it a one-stop platform for creating an online eCommerce grocery website and launching a readymade grocery app at optimal prices.
Willing to Launch Your Grocery Mobile Apps with Growcer?