In the age of eCommerce and multiple channel selling, grocery inventory requires ongoing maintenance and keen observation to meet the rising demands of customers. Grocery retailers earlier managed the inventory using simpler methods as there was only one channel to sell through the storefront but now they put up with a titanic struggle. And, it's no secret that a mismanaged inventory is an accelerated path to business failure where the overheads can skyrocket if the sale is not on an upward trajectory. Covered in this blog are the various aspects of the grocery store inventory management software and its importance for your grocery business.
Why is Grocery Inventory Management Software Important?
In the grocery delivery industry, the efficiency of inventory management has a direct impact on customer satisfaction. It is intricate and involves multiple aspects towards delivery. Any error in the process can have long-term consequences that can be expensive for the company and might also affect its growth and reputation.
For correct order delivery, businesses need to analyze the risks involved in grocery inventory management and proactively find solutions to the associated problems. Critical issues involved with manual inventory management can be resolved by automation.
Overcoming Challenges Through Benefits of a Grocery Inventory Management Software
Inventory management is complex and has a lot of challenges. Luckily, store inventory management softwares' provide solutions that are beneficial to overcoming them. A few of them are:
| Challenge | Solution |
| --- | --- |
| Unclear Communication: Miscommunication can have a far-reaching impact on multifarious and complex grocery inventory management processes. It can damage the efficiency and effectiveness of a business while severely affecting profitability and sales. For example, correct prices are critical to keeping the record of products in the inventory. But, if there was an update in the prices that was not communicated before the labels were printed, then the products would be sold at the wrong price. Revisions for such errors would take a lot of time and if not detected early. | Dashboard Collaboration for Real-time Data: Consisting of numerous components, it is vital to have clear communication for a seamless flow in inventory management. Automation software can be used for dashboard collaboration to remove communication barriers. It would streamline the communication flow across departments by providing real-time inventory information. Timely and clear information helps with a decrease in the chances of errors that are otherwise generated through miscommunication. |
| Warehouse Efficiency: Inventory control at a warehouse for managing grocery orders involves several labor-intensive steps. These include receiving, storing, packing, and shipping grocery products. Warehouse management if not done efficiently can result in overselling of products and running out of items. | Transparent Performance: Grocery store inventory management software can be used to overcome warehouse inefficiencies by measuring performance metrics like order processing speed, inventory turnover, customer satisfaction, and more. Data can also be tracked to monitor historical and seasonal trends for the prediction of consumer orders that can help stock grocery items. |
| Inventory Loss: Loss of inventory due to spoilage, theft, or damage is a major challenge for the grocery retail industry. Grocery items can become unusable due to expiration dates or rotten if not sold in time, resulting in a loss of potential profit. Avoiding such a situation requires identification, tracking, and measurement of the problem areas. | Reduce Chances of Human Error: Good inventory management software can help in tackling the shrinkage problem. Data in real-time can help you in knowing your stock's lifecycle. Older products can be organized in such a way at the warehouse that they get sold first. Tagging items with barcodes and mobile scanners can also prevent human error and inventory shrinkage due to theft or negligence. |
| Managing Warehouse Space: Managing warehouse space efficiently is a challenging task. Planning and designing warehouse spaces to accommodate grocery items with different shapes and sizes at a moderate temperature can be intimidating. Using an inventory management platform to better manage the stock deliveries becomes vital. It can account for an important factor, such as available space. | Optimize Space: An inventory management system optimizes storage space along with the flow of inventory. Storage can be categorized as compartment, shelf, and more. The process of picking, packing, and shipping can also be automated which further helps with space optimization. |
| Haphazard Customer Services: Chaos in inventory can ultimately lead to unsatisfied customers. They will turn to customer service for their order-related issues to be addressed at the earliest. Unresponsive, slow to respond, or rude customer support can damage the business. | Invest in Right Systems or Technologies: A good inventory management system enhances the overall customer experience. A POS-enabled software helps business owners to keep track of the stock levels, primarily the items that are in demand. Retailers can forecast analysis and arrange for future demand increasing the trust of customers as they will easily get what they need. |
Salient Features of Grocery Inventory Management Software
Softwares' designed specifically for grocery stores can have distinctive features, pivotal to providing their customers with an advanced shopping experience. However, there are some standard features that grocery inventory management software incorporates. These features are:
| | |
| --- | --- |
| Bulk Products Upload | Promotions & Offers Management |
| Order Management | Reports & Analytics |
| Real-time Inventory Tracking | Returns Handling |
| Delivery Person Tracker | Edit Product Details |
| Real-time Route Optimization | Inventory Depletion Alerts |
| Product List & Dynamic Category Management | Seamless Payment Gateway Integration |
How to Choose the Best Inventory Management Software for your Grocery Store?
When it comes to choosing the best grocery inventory management software, you should first have clear and defined business goals. This includes thinking about both long-term and short-term as otherwise, you risk running out of solutions and your requirement will quickly outgrow the software. A few of the goals that can be considered are:
Increasing business profitability (stock control)

Market expansion (sell in more countries and platforms globally)

Increasing efficiency (process automation)

Reducing business costs (saving on labor)

Increasing customer satisfaction (faster order fulfillment)

Boosting relationships with suppliers (communicating reordering points)
The next step is to evaluate your current order volume and predicted growth rate. The following questions can be asked:
How many orders do you receive in a month?

How many grocery products do you sell?

Are your products consumed before expiration?

Do you sell on eCommerce platforms?

Are you planning to integrate immediately with a specific platform?
To make a sustainable decision in narrowing down your research towards the right inventory management software, you can also assess your capacity and expertise. Other factors to consider include:
Time

Features

Integrations

Ease of use

Scalability
Time
Grocery inventory management software nowadays can be complex due to the vast features and functionalities they offer. Setting up the system can be time-consuming. Additionally, the amount of products you sell impacts how quickly the system becomes ready to use. Once they are up, a lot of time is saved. 
Features
This is a very important aspect as features need to be compared and evaluated before choosing a grocery inventory management software. Features add value to a solution and help with managing, controlling, tracking, and planning the inventory. But, you should consider the best fit for your use cases and consider investment, as a feature-laden product might not be suitable for your business.
Integrations
While choosing an inventory management software it is important to ensure that it supports integration with any tools as per your requirements or it integrates with existing systems. As sharing of data between applications takes place during integration so high data security risks are involved. Taking this into consideration, the software must comply with the data privacy regulations that are applicable. 
Ease of Use
Usability is another important factor to consider while selecting grocery store inventory management software. Effectively being able to use a platform is critical irrespective of it being free or not. It also determines the efficiency of the system. A solution that complicates processes, is not simple, and has a high learning curve, will require time, energy, investment, and most likely won't be a suitable choice. 
Scalability
A scalable solution does not require to be redesigned in case the workload increases. It maintains a high level of performance despite the increase. For instance, on getting started, a distributor gets an inventory management system that caters to the business needs at the time. As the business starts to grow, the system should be able to handle the load. Hence, for future expansion and ever-changing business requirements, the system should be scalable.
Get Expert Assistance for your Inventory Management Software
Why is Growcer an All-round Solution for Ordering, Delivery, and Inventory Management?
Growcer is a multi-vendor grocery eCommerce solution that enables entrepreneurs to launch an advanced grocery ordering and delivery marketplace. It comes pre-equipped with an inventory module that helps the admin/business owner better organize and track the inventory. 
The process of inventory management in Growcer is not only user-friendly but at the same time is a highly scalable feature. It enables the administrator or the seller to add products for sale on the website. 
Growcer also offers robust mobile apps for both buyers and delivery staff (iOS and Android) and is enriched with user-centric functionality. The dedicated admin panel offers advanced reporting capabilities and has a rich product catalog system.
Growcer's Inventory Management Module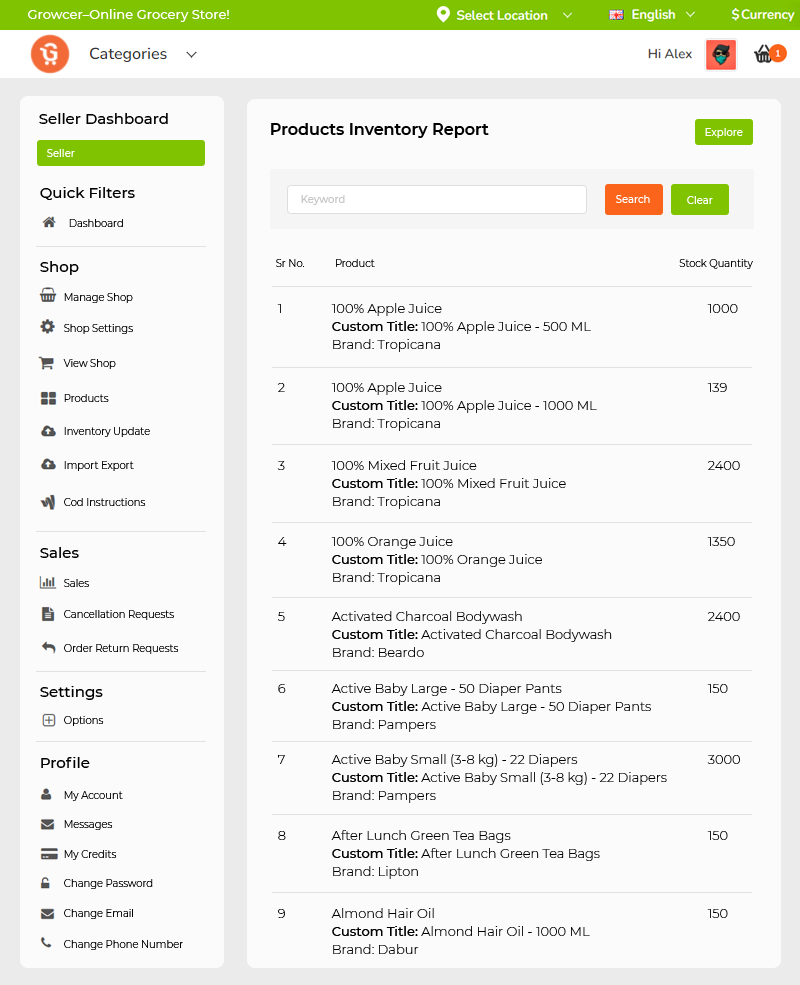 Grocery inventory management software is made up of a combination of modules. All of them work in alliance with each other to accomplish the main goal, i.e. inventory management. Here are the fundamental aspects of Growcer's inventory management system or how the inventory management system works:
Whenever buyers add any term in the search bar- the platform itself tries to determine what they are searching for? For example: If a user types "herbs", it can be assumed that they are exploring herbs for their dish. On the other hand, if they type "organic fresh dill", the intent is clearer that it is used to enhance the flavor.

In every search query, we get a core product. Here it is "dill". Next, we check if a customer adds product modifiers. Here, "organic" and "fresh" are product modifiers. Mentioning specific brands or categories helps with better organization of results.

Product modifiers, help in matching the query to the products, skewing through the catalog database to find relevant products.

On entering data into the inventory, retailers organize it department-wise. On the other hand, if they don't then the product is added to a pre-set list of standard departments.

Every product in the catalog has attributes such as price name, location, UPC (Universal Product Code is a barcode symbology), SKU (stock-keeping unit ). 

A more detailed list of attributes can also be accommodated, including multiple images, nutritional information, seasonality info, dietary labels (gluten-free, vegan, and more). 

The more attributes collected, the more flexible and fine-grained data taxonomy and search can be done for our store owners and customers down the line.

In Growcer, we have:
– Store-specific Attributes:

Such as availability and flexibility to each vendor for adding a price against the product. But, it will not

vary from location to location.
– Listed Item-specific Attributes:

Include-name, product descriptions, approved photos, nutritional information, size/weight, and more.

If the price of an item needs to be changed in a particular store – The retailers can update product attributes at any time through a form fill available on our user-friendly web portal.

Other factors can affect

the pricing

of what you see on the storefront and the basket check out. These are:
– Listing-specific Deals:

Specific

consumer packaged goods can be offered on sale or coupons.
– Loyalty Discount: Loyalty discount can be offered by certain retailers.
– Location-based Deals: Location or region-specific deals sales or coupons can be offered.
– Delivery Discount: Free delivery for first-time orders or if a buyer adds certain products to the basket.
– Combo Discount: Certain amount can be waived off if a customer chooses to buy a certain number of products. For example, you buy 5 organic grocery items, then a certain amount from the total purchase will be discounted.
– Credit Scores or Gift Cards:

Scores a gift card added or issued to individual customer profiles.

Dynamic pricing basket is calculated to present listing prices in our app. The above-mentioned contextual details are taken into consideration.

Once the contextual information is pulled, the basket total is calculated in real-time. 

As part of order creation, our total calculations ascertain the final amount. A payment authorization via different payment methods is also created.

Sometimes, customers can request replacements. Though particularly hard to predict as customers purchase items in a vast array of contexts. 

Whatever may be the cause for replacement, each grocery item has a product ID, name, and several sub-attributes like categories, nutritional information, and more. 

Sellers can easily track and keep a record of returned orders to track inventory and sales accordingly. 

Our sophisticatedly built inventory management system provides real-time inventory updates about the stock. 

Re-stocking of products can be done using

import-export features available in the system to update the CSV and the database.
APIs that can be Integrated with Growcer for an Enhanced Inventory Management Experience/System
Growcer has a premium integration architecture that allows you to get several APIs that enable streamlining of internal processes, enhancing efficiencies, and driving business growth. Following APIs can be integrated at an additional cost for optimized grocery inventory management:
Quickbooks

Xero

MYOB Advanced

Zono Inventory

Odoo

Part Keepr
Apart from these, any other APIs related with Enterprise Resource Planning (ERP), Transportation Management System (TMS), WMS (Warehouse Management System), Telematics, Dock/Yard can also be integrated (at an extra price).
Manage your Grocery Inventory with Growcer
Conclusion
If you are running an online grocery store or are thinking of reshaping your business to make it omnichannel, it is essential to incorporate a proper grocery inventory management software like Growcer. It will give you a better chance for future growth and will also help in keeping your customers happy.
Common Grocery Inventory Management Questions Asked by Clients
Q1. What results can I expect from using grocery inventory management software?
Ans. Empowered employees, lower costs, faster response time to customers' orders, improved planning, and optimized warehouse layouts are just a few of the results that you can expect to receive on using an inventory management solution like Growcer.
Q2. Who is accountable for effective inventory management?
Ans. Ultimately the responsibility falls on the department head. But, you need to be sure that they are well aware of their roles, responsibilities, and targets expected to reach. 
Q3. How can excess or obsolete inventory be eliminated?
Ans. The typical approach is to reduce the prices and wait for extra demand to pick the slack. But if unwanted stock is still a struggle to dispose of, several alternatives can be considered. Giveaways and charitable donations are a great way to engage existing customers and boost brand perception.
Q4. What is the best way to manage inventory?
Ans. The best way to manage inventory depends on:
Q5. While reporting inventory levels, should it be broken down into categories such as safety, replenishment, excess, or obsolete stock?
Ans. For sound decisions about appropriate levels of each category, the breakdown makes it easier. It helps in determining the minimum safety stock needed to provide an insurance policy from product defects or distribution uncertainties so that customers get the accurate order. It helps in re-stocking and in finding ways to avoid a backlog of excess or obsolete stock.
Q6. How much does a grocery store inventory management software cost?
The cost of a grocery inventory management software depends on your requirements. Each has its advantages, features, and functionalities, so they cost accordingly. Growcer is a cost-effective grocery retail software that comes with the required inventory module and provides streamlined ordering and delivery functionality.