When designing a signboard, whether for personal use or official, everybody has a set design in their mind. But the real challenge is to bring that design to reality, which often requires several iterations; thus, becomes a time & resource consuming task.
Repeat visits to the printing shop, inaccuracy in printed design, final design falling short of customer's expectations due to communication gap, and so on – the sign printing industry faces these inevitable challenges, which often make customers reluctant to get sign boards printed at all.
Enter online custom design & sign printing platforms – and all these challenges are addressed quite effectively. Sign printing websites offer versatile printing options and deliver them efficiently. It spans from printing a number plate for household purposes to fabric banners for advertising.
Types of sign-board printing these online platforms offer:
Plastic sign
Name badge Engraving
Name badge color printing
Wood sign
Aluminum sign
Acrylic sign
Vinyl text
Decal
Banner
Noticing the growing trend of custom sign printing websites, FATbit did an in-depth analysis of their business model and essential website features to help aspiring entrepreneurs build a similar online platform. Let's have a closer look on the business model & key features to get a clearer picture on how to accomplish this feat.
Online Sign Printing Platform Business Model
The business model of custom sign printing websites is simple. It takes an inefficient offline sector online and streamlines designing, printing, & delivery services and charges customer for the convenience. Besides that, these websites also allow customers to design their own signboard (with a designing tool embedded on the website) to eliminated the chances of wrong printed design completely. Here is a step-wise description of the process:
Customer chooses the type of the signboard and material
Customer design the signboard on the website by adding different details like text, graphic, background color, border, etc.
Next comes the selection of signboard fixing method – ex: screw, adhesive tapes, hanging, suction cups, etc.
Final design with signboard & fixing details are added to the shopping cart and the order is made
After customer has filled in all the details and completed the payment, the signboard will be created as per the design and delivered to customer's doorstep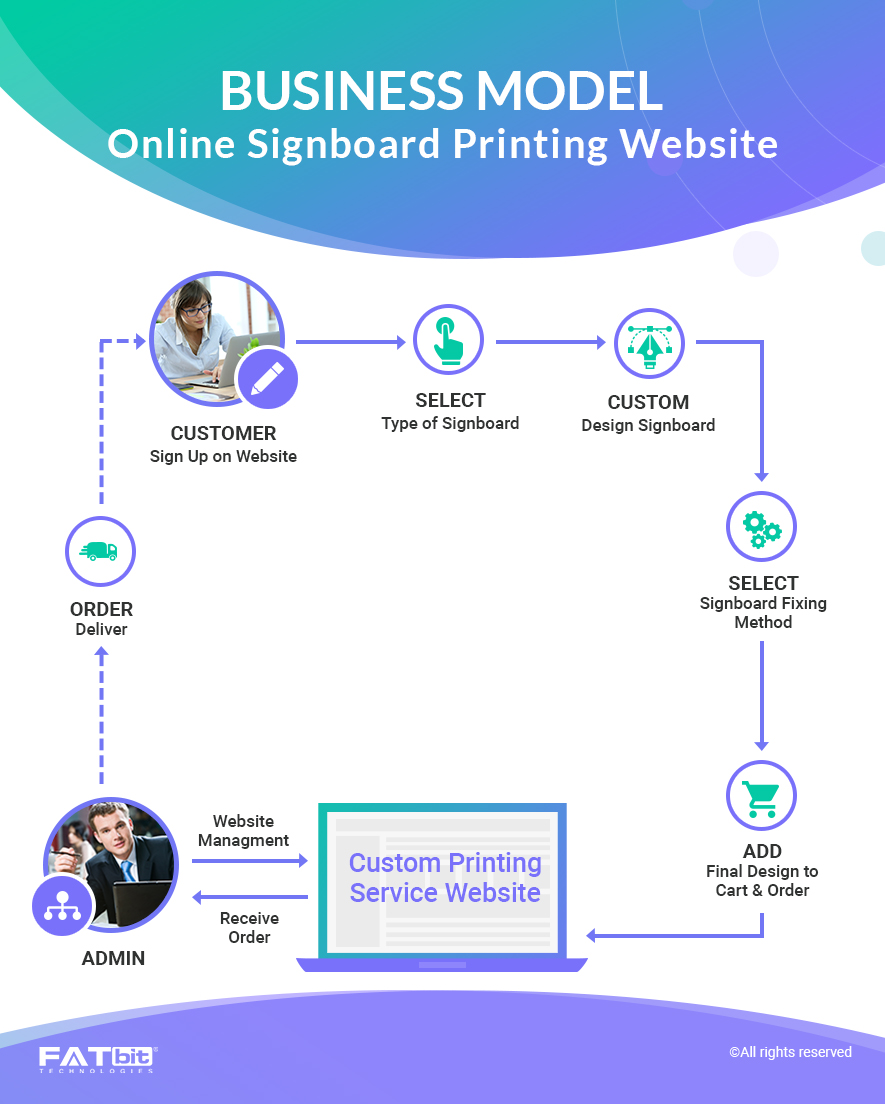 Leading players – online signboard printing sector
Make signs
Signomatic
The sign chef
Build a sign
Revenue Model
For a website to function smoothly and to cater to the end motive of the owner, it is very important to have a revenue model in place. The primary revenue source of these websites is to sell the signboard whose cost would cover the designing, man hours, delivery, etc.
Along with the primary revenue model,website owner can also use secondary sources of revenue to make some extra bucks.
Usually, websites selling signs and banners get a lot of traffic. Reason being, people not only visit them to get their signboard printed, but also for design inspirations. So,displayed advertisements can be a huge source of income for sign printing websites.
There are a lot of customers who do not want to take the effort to design a sign board for themselves and need expert's assistance. For such customers, a section should be made available where they can briefly describe their design idea and professional designers give it the final look. Based on the size, complexity, and time, you can charge for the additional design service.
Critical features for a signboard design & printing website
When planning to start a custom signboard printing website, it is essential to do a feature analysis of the competitors. Through this analysis, entrepreneurs can strategically plan the unique features of their website. Following mentioned features will help you in delivering good experience to users as well as in standing out of the competition.
Designing page/ create your own- A custom sign printing website's biggest advantage is that it allows customers to design their own signboards. Therefore, the designing tool should be such that it lets the customer select different options to design their perfect signboard. It should allow the customer to decide the material, the background color, the text, graphics, among many other specifications – all in an easy & intuitive manner.
Samples- Not every customer knows how to design a sign board which is why it is very important to provide samples of every category of signs. It offers customers a reference to look at when they are designing their own sign board. Website owner scan provide samples that are prominently used,which user can use to get their own designed done quickly and in a better way. Website owners should provide samples suitable for every type of customers.
Chat- There are many custom sign printing websites, and pretty much every website has some distinct features and functionalities. Therefore, sometimes it becomes difficult for users to understand the process & proceed with the order in an intuitive manner. These challenges can be addressed effectively by offering support via a live chat feature. In case your staff can't be online 24×7, offer email support & a FAQ section to address the queries that customers might have when using your website.
Also Read: Conversational Commerce Is the New Fad of Online Businesses; So Are Chatbots
Testimonials- The biggest hurdle for a business is to build trust in customers for its services.  In the online world, the best way to achieve this is to display user review and testimonials on the business website. The testimonials should be placed in a prominent location so that it easily comes in user's attention – such as on the homepage. This not only helps in boosting the confidence of users in your brand but also helps in increasing the conversion rate.
Segregate Products into categories- A custom sign building website may include many types of sign design & printing services. Thus, creating different categories based on the type of signboard will allow customers to easily navigate within the website& proceed with their choice. This can be either done by displaying all the categories through a dropdown menu bar or in the top navigation bar.
Price Estimator- This is one of the key factors that makes ordering custom sign board online a much better choice. Often, there is a lot of customization required when designing a sign – starting from the material, text on signs, etc. That is why it crucial that an online sign printing website has a price estimator in place so that customers know the estimated price of the product in real-time.
DIY Video- Sign printing websites reduce the efforts & time for customers to get a signboard built. To further ease the pain of calling a technician to install the signboard it is important that websites include tutorials on how to fix the sign on the desired place. Do-it-yourself videos should be included on the printing websites as it will help customers in fixing the signboards on their own.
Also Read: Website functionality to create advance on-demand online printing store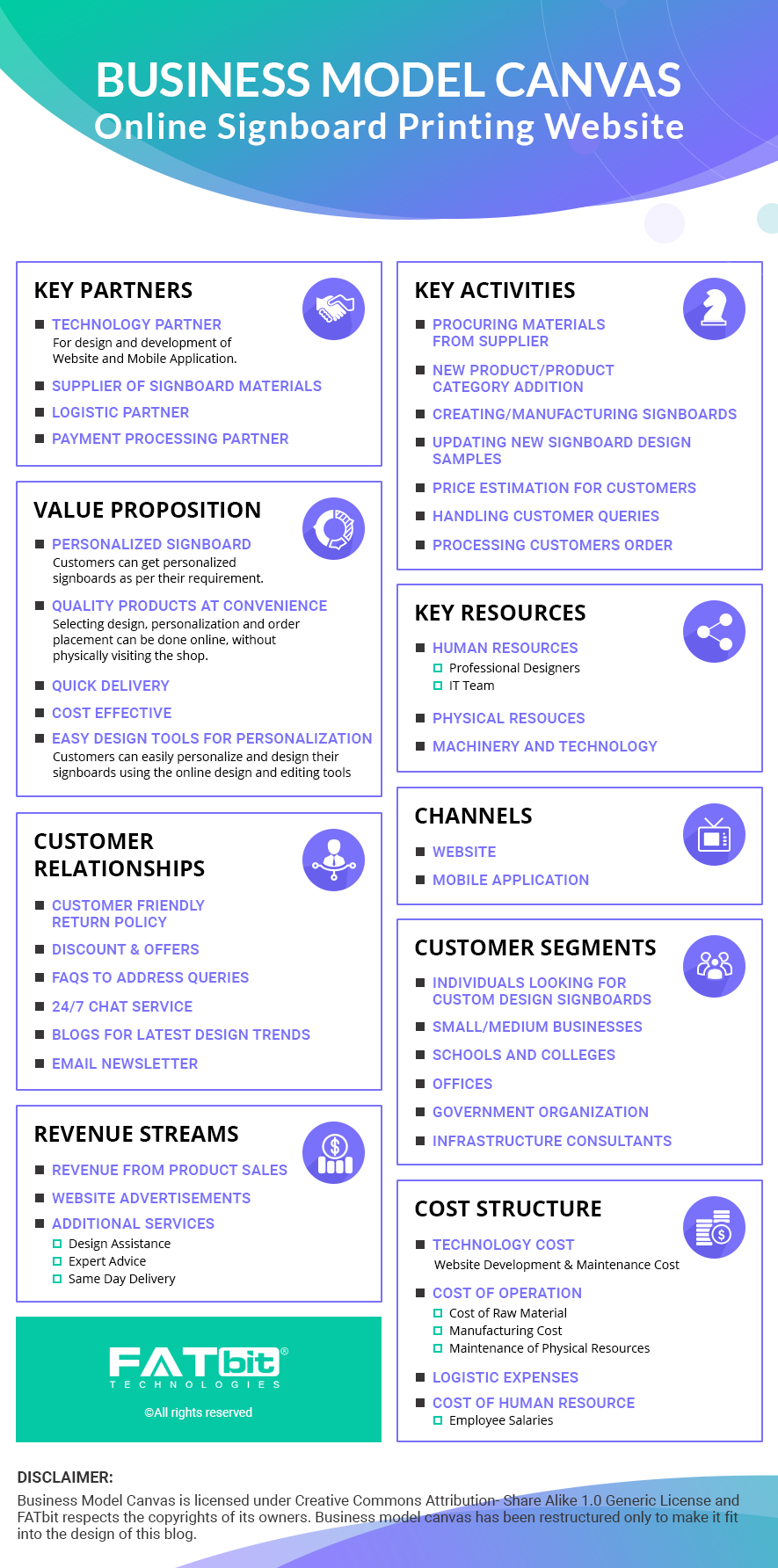 Conclusion
The custom sign printing website has reduced the hassle and discomfort of creating a signboard significantly. Now customers can design the sign board according to their preferences and be free of the concern 'how the end product might look?' These reasons have contributed in the rise of online custom sign printing sector in past couple of years. The industry is still in nascent stage and offers great opportunities for new startups. Implementing all the key & value added features discussed in this post can help new players immensely in making their mark in the industry.
Ready to build an online custom signboard printing platform?