Millions of businesses live on internet these days. Whether it's about selling shoes or academic notes, ecommerce has made everything doable with a click so we get everything online. There are various ecommerce sellers, however, the most interesting of ecommerce business models are the online marketplaces, which apparently rule this industry and are increasing day by day.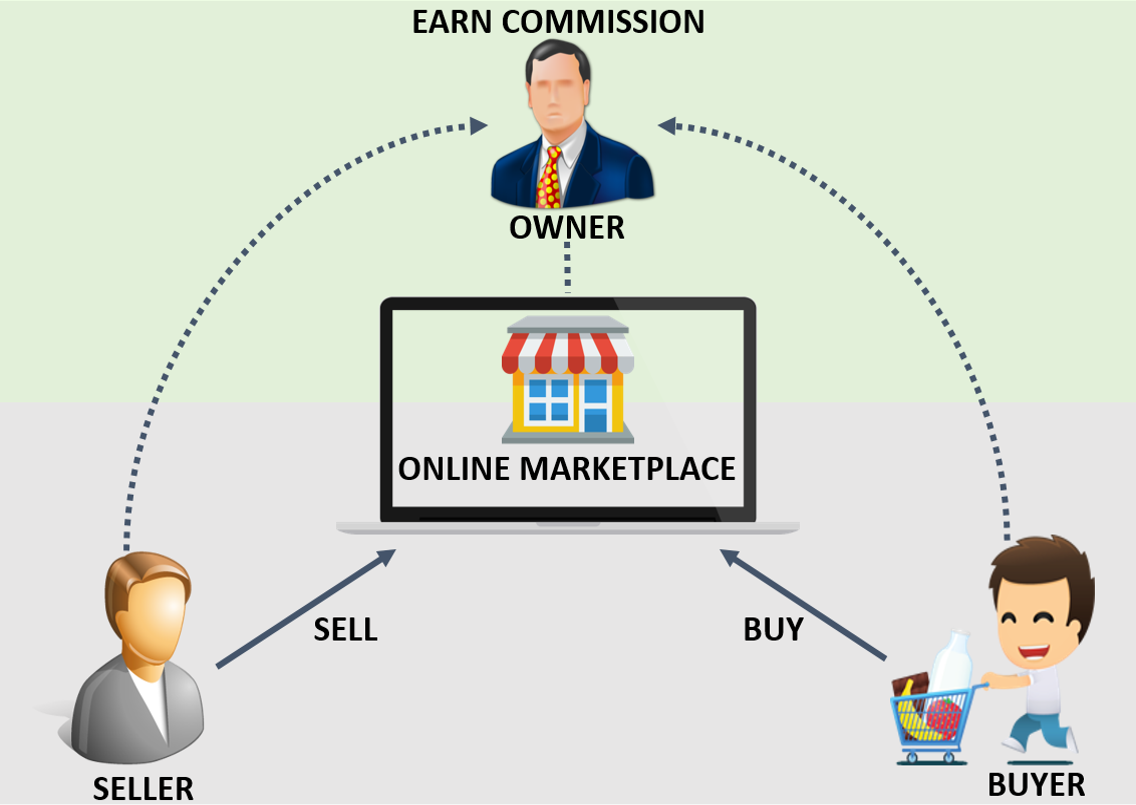 Online marketplaces operate on the simple revenue sharing business model. The service providers (Sellers) and service seekers (Buyers) visit the online marketplace to sell and buy products/services respectively and the owner of the marketplace earn revenue by charging a commission on each purchase made through the online marketplace.
Online marketplaces are ruling the internet and will continue to do so for at least next ten years. But to make money from this business model, you've got to be sure which of them are most demanded.
Knowing that delighting a customer is not a cakewalk for any new business, we have created a list of online marketplace based businesses that will continue to remain favorites of customers as well as investors in the coming time too. If you look at this sphere of ecommerce as a business opportunity, then check the following list:
Online Travel Activity Search & Booking Platform
The present generation likes to do everything online. And making travel arrangements is no exception. We plan our trips online, book tickets online, explore local activities online, and while travelling, we navigate our way online.
According to a Statista report, in 2015, more than 148 million travel related bookings were made online, cumulatively generating a whopping $533.5 billion. With 10% year-over-year growth, the online travel industry is growing at an impressive rate, offering abundant opportunities for new entrants.
There are many potential business models for aspiring entrepreneurs to enter this booming ecommerce sector. However, the most famous of all is online travel activity search & booking portals, as it has simplified the way people plan their trips, do bookings, and find local attractions.
Some of the key players of the industry include Expedia, Trivago, Priceline, & Tripadvisor.
There's a quick, reliable, & cost-effective way to launch online travel business
Online Shopping Marketplace business
Online shopping is one of the biggest areas that have grown tremendously with the emergence of online marketplace business model. This transformation has not only benefited the buyers but also the small and medium sellers who needed an opportunity to expand their business.
Etsy.com is one such peer to peer marketplace focused on unique handmade and vintage items, empowering individuals to set up their online stores and reach out to thousands of potential buyers.
Other popular websites which are often considered generic in the class of online shopping include- amazon.com, ebay.com and flipkart.com.
Build a BIG Ecommerce Store using Multi-Vendor System YoKart
P2P Car Renting Marketplace
Why book a cab when you can rent a self-driven car? Peer to peer car renting marketplace is booming business connecting car renters with car owners. Realizing the need of such a service, many entrepreneurs have started online car renting business. For such portals, booking fee of every booked trip is the major source of revenue generation.
Turo.com, This San Francisco based peer to peer car sharing marketplace got covered in the "Hottest on demand Startups" in 2015 by Forbes.
Others who have tasted their share of success from P2P Car sharing marketplace include- getaround.com, Zipcar.com and Drivy.com
P2P Freelancing Marketplace
Working independently has become more common across all generations and this has led to a new hiring paradigm. Companies especially the small and medium one's are hiring freelancers for their projects rather than full time employees. Not only the employees but employers too prefer online marketplaces for finding targeted talent as they benefit more and get to meet qualified professionals at a reasonable cost.
If you understand this change, you are the one who will reap the maximum benefits from it. Freelancer.com, Fiverr.com and Fourerr.com are some of the online marketplaces for freelancers. Such marketplaces make money by charging fee on every successful completed project and with huge amount of registered users, these websites also manage to earn from on page advertisements.
Freelancer.com, the leading peer to peer marketplace for freelancing had around 18,000,000 users as of March 2016.
 P2P Home Renting marketplace
The online marketplace, which helps travelers book accommodation from local hosts is one of the most loved and popular marketplace; Airbnb is one such portal. By providing an economic lodging and breakfast solution Airbnb has created a name for itself and is one of the first online marketplaces providing such service. With travel industry growing at a considerable pace, the need for such marketplaces is increasing every day. Both travelers and hosts – by renting out vacant or unused space and booking homely accommodation benefit from it respectively.
With total valuation of $25 billion Airbnb has 60 million users and 640,000 registered hosts. Other P2P home renting marketplaces that act as inspiration for founding a similar business are FlipKey, HomeAway and GuesttoGuest.
Home Renting Marketplaces are here to stay. Launch your own
Online Food ordering and delivery marketplace
Off late the trend of online food ordering and delivery marketplaces has been catching up. With food being a necessity and frequency of re-order being high many entrepreneurs are trying their hand at food business.
Easy to use and understand interface, large database of restaurants and good delivery service has helped online food ordering and delivery marketplaces like FoodPanda win customers and investors. Till now FoodPanda has received a funding of $218 million and partnered with more than 60,000 restaurants.
Revenue comes from the commission per order and the listing fee charged from restaurant owners for listing their restaurant and menu on site. Other popular online food ordering and delivery marketplaces are Zomato, JustEat and Delivery Hero.
Online marketplace for On demand local services
Yellow pages and local directories are things of the past, Online marketplace for local services have substituted them to a large extent. Service professionals for jobs like elder care, babysitting, plumbing, gardening, cleaning, errand etc. are now just a click away. On demand local services have simplified booking service providers in a big way. Studies show that the need of such jobs is growing rapidly. If you are keen to create a marketplace that offers secure future plus high prospects of earning, this could be a good option for you. Viewing the value for both the service providers and seekers, local discovery portals are considered the future of on demand economy.
Angie's List, a US based marketplace for local services has over 3 million members and reported a revenue of $315 million in 2014. Angie's List is one of the biggest online marketplaces for local service ranging from home improvement to health to auto and other professional services.
Other popular online local marketplaces are Thumbtack, Zaask and Task Rabbit.
If you too plan to start your online marketplace business, then this is the right time to put your best foot forward and take the online marketplace world by storm. FATbit team would be happy to assist you with website design and development task on this journey to success.
Consult Ecommerce Experts Who can tell you everything about Development of Online Marketplace