Gone are the days when people used to buy gifts from local shops and send them to their near and dear ones. Online marketplaces have enabled them to buy articles and send them directly to the recipient. While initially, single-seller-based eCommerce websites introduced customers to this possibility, the popularity of sending gifts has given birth to another niche: online gift marketplaces.
People are shifting towards shopping everything online, be it clothes, furniture, or mobile phones. It makes good business sense for entrepreneurs considering startup ideas ― to build an online marketplace where people can buy gifts. According to Technavio, it is estimated that the gifts retailing industry's market share will see an increase of US $ 14.60 bn in the period 2020 to 2025, progressing at a CAGR of 3.37%.
Online gifting marketplace websites are built to ease the buying process for the end-users. They can shop from products offered by multiple sellers.  And in just a few clicks, they can send gifts to their relatives or friends anywhere in the world.
The FATbit team did an in-depth analysis of the online gifting marketplace as the business is gaining traction with people globally. New businesses are already setting an eye for this particular niche. We have gathered research for aspiring entrepreneurs to read and analyze before they plan to build an online marketplace. Read further to understand the benefits, business model, revenue model, critical features, and shortcomings of an online gift marketplace.
Business Model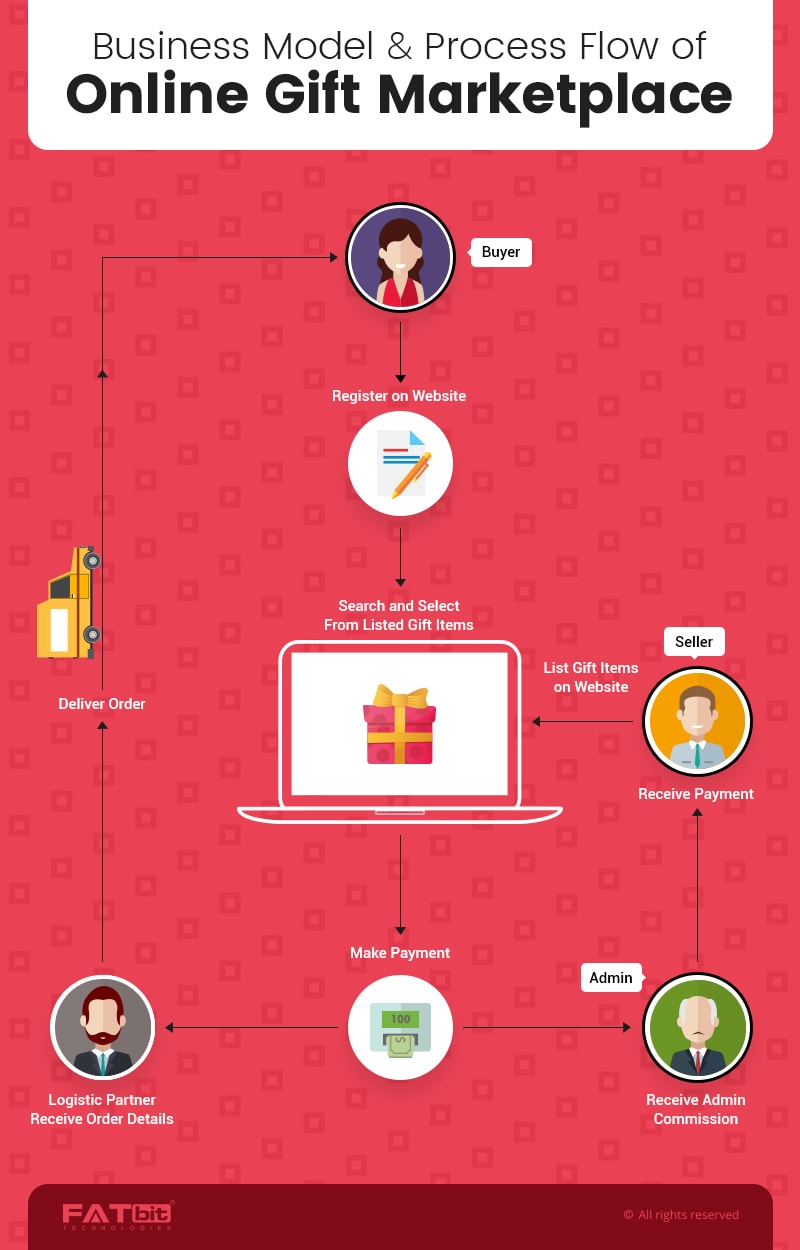 Online Gift marketplace provides gift sellers with a platform to showcase their product to the customers. This gives the customers a single place from where they can choose and pick a gift for their loved ones. Online gifting marketplace is basically a niche based eCommerce marketplace. Here, sellers display their products for the customers to choose from. Following is the stepwise working of a typical gift-marketplace website:
For Users
Register to the website
Choose from the category what gift you are planning to give to your loved ones
Pick the gift, select a date when you want the gift to delivered
Add the billing address and the delivery address
Pay for the product
For Sellers
Register on the website
List all the products
Mention the specification of the product like customizable, non-returnable, same day delivery, etc.
Wait for orders
Revenue Model
Online gift marketplaces have a great way of generating revenue, they can partner with online businesses and brands to display advertisements on their website. They can strategize their campaign in such a way that only businesses whose target audience visits their website should display their advertisement.
As there are many occasions throughout the year for which users exchange gifts, there are higher chances if the visitors like your website, they would want to be a part of it. Provide users the option to pay a membership fee after which they can get gifts delivered to their loved ones at no delivery charges. Other benefits such as an exclusive list of gift items can also be considered as part of the membership benefits.
The website owner can charge the customers for some service that they provide. For instance, people who want their gift to be delivered on the same day, can be asked to pay an additional service fee for faster delivery. There are other services for which the website owner can gather revenue from, make sure you keep a note of these services and mention them on the website.
To showcase some product on the homepage, website owners can charge sellers additionally. Sponsored products get a lot of attention from the users as they are listed on the homepage and other prominent pages. The website admin can charge a monthly or weekly fee to get sellers' product in the list of sponsored products.
Critical Features
Easy Categories- When people find gifts for their loved ones, they often like to see the options available. It is very important for an online gift marketplace to have simple categories from which the visitor can find their perfect gift. Usually, the customers have their priorities for questions such as for whom are they buying the gift? What is the occasion? What is the budget?
Blog- One of the best ways to improve traffic on your website is by adding a blog section to the gifting marketplace website. A Blog is helpful as it helps in improving the SEO of your website and also imparts knowledge to your visitors. We all have tried to find gift ideas online and have read articles on it. People would be happy to read the article and buy the product from the same website.
Live Chat- To make a conversational interface on your website, add a live chat. Live chat is important as most customers are confused as to what they want to buy within a set budget. The live chat can help them with an instant solution. Customers can chat with the business and take opinions regarding the gift. The business can ask questions to know their preference and tell them a best-suited gift or a list of best-picked gifts.
Shipping and Delivery- Gifts are something that people want to be delivered on a fixed date, ranging from the same day to a specified day in the future. Businesses should have the option to mention the date on which the customers want the gift to be delivered. They can also have a specific section where only those products are listed that can be delivered in a day.
Testimonials- A new visitor to an online gift marketplace website is unknown to the service and the product quality of the website. How to assure 100% quality and service to your website visitors? By mentioning it on the website everywhere? No, for a new visitor gets assurance of the website's quality and service through testimonials of old customers. Have a section on your website where the customers can write testimonials and new visitors can read the same.
Personalized Gifts- Some people prefer to give a gift to their loved ones with a personal touch to it. Adding a photo in a photo frame, writing a name on a pillow, and other such practices are very common. If you have vendors who can provide you with such customized gifts, have a dedicated section for the same and let your customers customize their products according to their preferences.
Social Sharing- Social sharing buttons are very important for an online gift marketplace website. People would like to take the opinions of other people, especially friends. For example: if one friend in a group found a particular product, he/she would like to show it to the rest of the group before making the purchase.
Multilingual & Multicurrency– It is important that a gift marketplace website must have multilingual and multicurrency options to help people of different language and currency preferences can send gifts without much hassle. For example: – A son in Australia would want to send a Mother's day gift to his mother in the US. He would prefer to pay in Australian Dollars.
Competitive Advantage of building an online gifting marketplace
The eCommerce space is getting competitive for generic marketplaces that have products from various categories on offer (Also called horizontal marketplaces). Especially for markets where the more prominent players like Amazon operate. The startup competes directly with these marketplaces and it becomes difficult to leverage a USP to the target audience.
On the contrary, when an online business narrows down on offering products or services from a niche, it has a competitive advantage that can be leveraged to gain consumers' attention.
Etsy, Airbnb, Fiverr, and others are examples of how niche-based marketplaces can be potentially disruptive in the competitive space.
An online marketplace for gifts is a niche that is gaining popularity ― offering entrepreneurs an opportunity to enter the eCommerce space with a USP that can help it gain traction amongst a user base. 
Let's understand what benefits can be extended with a gifts-exclusive marketplace.
A well-defined business: 
With a well-defined purpose of the website ― customers visiting have clarity of what to expect. It is time-saving for them as well, since they can jump straight to what they want, especially if they are considering choices for the same.
Likewise, it is easier to onboard sellers and market the business.
Offer more value to the customer: 
With clarity on customers' intent, gift marketplace businesses can tailor marketing strategies to offer more value to the customers.
Special prices, marketing campaigns on festivals and occasions ― when a higher sale is anticipated, and showcasing bestselling or unique gift items are some of the many ways that businesses can implement to enhance the shopping experience and encourage sales on their marketplace.
Offer targeted allied services:
Gift marketplaces also have the opportunity to add value to their business by tailoring purpose-driven allied services around the products on offer.
For instance, wrapping is an essential part of gifts. The business can offer multiple customizable wrapping choices to the users. As discussed above, these services also open up additional revenue streams for the marketplace.
Launchpad unique products 
A gifts marketplace can also be a platform for sellers to launch unique products, suitable for gifting.
It can help audition such products, which otherwise will be lost on less focused horizontal marketplace platforms.
Planning to Start your Gift Marketplace?
How to Build Online Gifting Marketplace 
Step 1: Ideate 
The first step, as with any business undertaking, is research. The scope of a marketplace is extensive. The success of the business will depend on building online marketplace with features that gives end-users an enhanced shopping experience and encourages conversions, empowers sellers to sell conveniently with result-oriented tools, and allows the admin to manage eCommerce operations effectively.
By conducting market surveys, a definitive action plan can be chalked out.
Step:2 Build Online Marketplace 
There are two popular approaches to building an online marketplace:
One approach is to hire a development team to build the marketplace from scratch. This approach is best suited for existing online businesses with a precise plan or someone with an in-house development team. Moreover, this process is resource-intensive and time-consuming.
The second and more popular approach is to employ a customizable turnkey eCommerce marketplace software and customize it in line with your business plan.
This approach involves fewer resources and can extend a competitive advantage by way of faster time to market.
Moreover, readymade marketplace solutions, that have been in use in the industry, lend the assurance of a tried and trusted product. Reviews and ratings from third-party sources would confirm that.
Step 3: Launching an MVP 
A Minimum Viable Product or MVP is the version of a product with a minimum set of features that makes it usable and allows you to gain feedback from the early adopters of the product.
The feedback can propel further development or changes if needed. This approach minimizes risk by giving an option to pivot. It reduces development costs further along with the reduction in time-to-market. Additionally, it gives you the opportunity to pitch the idea to the investors in a working model, unlike a prototype.
Step 4: Streamlining with API integrations
Third-party API integrations ease eCommerce operations in the marketplace. Analytics, tax management, marketing add-ons, shipping fulfillment providers, and many other integrations can be added in line with the business plan. Integrations can be done at the start or gradually as the scope of the online business grows. This is an additional advantage of an MVP-first approach ― it lets a business scale align with customer feedback.
At this stage, appropriate payment gateways can be decided and integrated.
Step 5: Marketing the eCommerce business 
Now, coming to the business end of your eCommerce business ― gaining the attention of customers and sellers to your online marketplace.
Your marketing strategy will start with first identifying and understanding the target customers.
Next, identify the USPs of your marketplace. A gift-marketplace is a niche vertical business so this step will be easier. Any additional service or advantage over the existing competition can be a significant leverage tool.
Based on those insights, develop a brand voice that resonates with the target audience, keeping the business objectives at its core.
Ideally, a multi-pronged marketing strategy that includes several marketing channels can augur well.
Employ a purpose-driven SEO strategy implementing Google ads, quality content, social media marketing, and others. The plan can include distributing the content amongst all channels.
Pain Points that need planning
One of the major pain points of online gift marketplace with perishable products is the expiration date. Items such as flowers, cakes, edible items, etc. are some products which have a limited shelf life. So the seller has to be very careful to ensure the date of delivery is in tandem with the longevity of freshness.
Another challenge will be the delivery of delicate gift products. The marketplace will have to find a way around ensuring delicate items are delivered with care.
Looking for an instant way to start an online gift marketplace
Conclusion
If you think about it, every online business aims towards providing comfort to the customers. All of them make sure that they address the pain point of the customers through their website. One major pain point of customers is standing in long queues and getting a parcel delivered at the right time on the given address. This becomes even a bigger hassle at the time of a festival or a special occasion. These problems are perfectly addressed by an online marketplace for gifts. This particular niche helps in reaching out to gift senders and receivers with unmatched ease.
Given the demand, entrepreneurs can plan to build online marketplace in this niche.