Gone are the days when people used to buy gifts from local shops and send them to their near and dear ones. Online marketplaces have enabled them to buy articles and have them sent directly to the recipient. While it all used to happen on conventional ecommerce websites, the popularity of sending gifts gave birth to another niche: online gift marketplaces.
People are shifting towards shopping everything online, be it the clothes, furniture or mobile phones. Having a marketplace where people can buy gifts comes is the need of the hour. Online gift marketplace websites are built to ease the work of the users. They don't need to visit the local gift gallery, select a gift, get it wrapped and then get it couriered to their loved ones. Now, in just a few clicks, customers can send any gift to their relative or friend anywhere in the world.
The FATbit team did an in-depth analysis of the online gift marketplace as it has become popular among people globally. New businesses are already setting an eye for this particular niche. We have gathered research for aspiring entrepreneurs to read and analyze before they plan to launch an online gift marketplace. Read further to understand the business model, revenue model, critical features and shortcoming of an online gift marketplace.
Business Model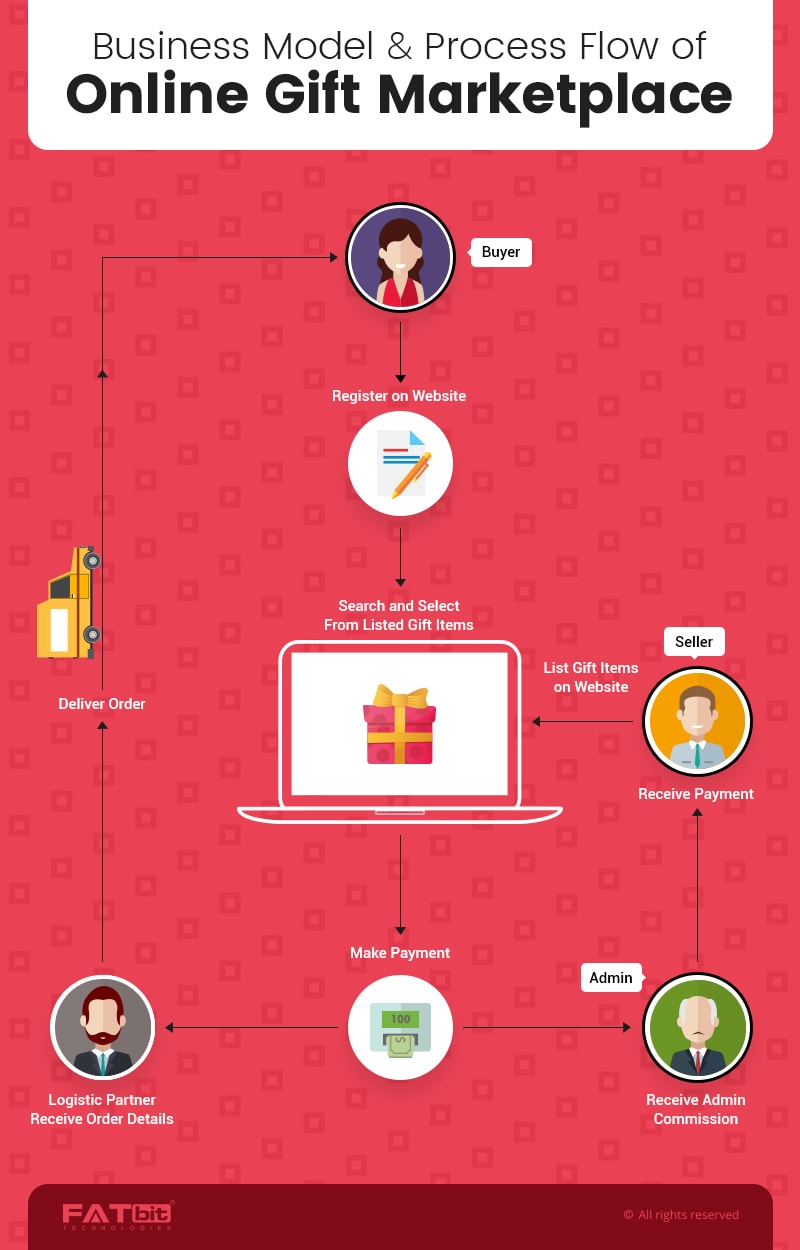 Online Gift marketplace provides gift sellers with a platform to showcase their product to the customers. This gives the customers a single place from where they can choose and pick a gift for their loved ones. Online gift marketplace is basically a niche based ecommerce marketplace. Here, sellers display their products and visitors buy what they believe to be a good gift. Following is the stepwise working of the website:
For Users
Register to the website
Choose from the category what gift you are planning to give to your loved ones
Pick the gift, select a date when you want the gift to delivered
Add the billing address and the delivery address
Pay for the product
For Sellers
Register on the website
List all the products
Mention the specification of the product like customizable, non-returnable, same day delivery, etc.
Wait for orders
Revenue Model
Online gift marketplaces have a great way of generating revenue, they can partner with online businesses and brands to display advertisement on their website. They can strategize their campaign in such a way that only business whose target audience visits their website should display their advertisement. Website that provide hotel booking service or performance or gig marketplace can advertise their business on online gift marketplace.
As there are many occasions throughout the year for which users exchange gifts, there are higher chances if the visitor like your website, they would want to be a part of it. Provide users the option to pay a membership fee after which they can get gifts delivered to their loved ones at no delivery charges, will have an exclusive list of gift items.
The website owner can charge the customers for some service which they provide. For example: Those people who want their gift to be delivered on the same day. Extra charges can be taken by the customer to deliver the gift on the same day. There are other services for which the website owner can gather revenue from, make sure you keep a note of these services and mention them on the website.
To showcase some product on the homepage, website owners can charge sellers additionally. Sponsored products get a lot of attention from the users as they are listed on the homepage and other prominent pages. The website admin can charge a monthly or weekly fee to get sellers' product in the list of sponsored product.
Also read: Which Revenue Model Will Be Ideal For Your Online Business?
Critical Features
Easy Categories- When people find gifts for their loved ones, they often like to see the options available. It is very important for an online gift marketplace to have simple categories from which the visitor can find their perfect gift. Usually the visitor has an answer for questions such as for whom are you buying the gift? What is the occasion? What is the budget? One of the following answers will give you a clearer direction in the website.
Blog- One of the best way to improve traffic on your website is by adding a blog section to the gift marketplace website. A Blog is helpful as it helps in improving the SEO of your website and also imparts knowledge to your visitors. We all have tried to find gift ideas online and have read articles on it. People would be happy to read the article and buy the product from the same website.
Live Chat- To make a conversational interface on your website, add a live chat. Live chat is important as mostly customers are confused as to what they want to buy within a set budget. The live chat can help them with instant solution. Customers can chat with the business and take opinion regarding the gift. The business can ask question to know their preference and tell them a best suited gift or a list of best picked gifts.
Shipping and Delivery- Gifts are something that people want to be delivered on a fix date, ranging from the same day to a specified day in the future. Businesses should have the option to mention the date on which the customers want the gift to be delivered. They can also have a specific section where only those products are listed that can be delivered in a day.
Testimonials- A new visitor to an online gift marketplace website is unknown to the service and the product quality of the website. How to assure 100% quality and service to your website visitor? By mentioning it on the website everywhere? No, for a new visitor gets assurance of the website's quality and service through testimonials of old customers. Have a section on your website where the customers can write testimonials and new visitors can read the same.
Personalized Gifts- Some people prefer to give a gift to their loved ones with a personal touch to it. Adding a photo in a photo frame, writing a name on a pillow, etc. being among common practices. If you have vendors who can provide you such customized gifts, have a dedicated section for the same and let your customers customize their products according to their preference.
Social Sharing- Social sharing buttons are very important for an online gift marketplace website. People would like to take the opinions of other people, especially friends. For example: if one friend in a group found a particular product, he/she would like to show it to the rest of the group before making the purchase.
Multi lingual/ Multi currency- It is important that a gift marketplace website must have multi-lingual and multicurrency options to help people of different language and currency preferences can send gifts without much hassle. For example: – A son in Australia would want to send a Mother's day gift to his mother in India. He would prefer to pay in Australian Dollars.
Return Policy- Online gift marketplace must have a dedicated section where they mention the return policies of their items. Customized and perishable items cannot be returned to the seller. Website owners must inform the customers about the same before they buy such products.
Also read: Future Technologies That Will Revolutionize Online Businesses
Shortcomings
One of the major problems of online gift marketplace with perishable products is the expiration date. Items such as flowers, cakes, edible items, etc. are some products which have a limited shelf life. So the seller has to be very careful to ensure the date of delivery is in tandem with the longevity of freshness.
Looking for an instant way to start an online gift marketplace
Conclusion
If you think about it, every online business aims towards providing comfort to the customers. All of them make sure that they address the pain point of the customers through their website. One major pain point of customers is standing in long queues and getting a parceled delivered at the right time on the given address. This becomes even a bigger hassle at the time of a festival or a special occasion.  These problems are perfectly addressed by an online marketplace for gifts. This particular niche helps in reaching out to gift senders and receivers with unmatched ease.
The business model and its important feature we discussed above will definitely help your start your own gift marketplace in a more efficient manner.